I wrote back in December that if Nutrisystem (NASDAQ:NTRI) hit the $17-$18 range, "I'd back up the truck". It did - but I didn't, as I was a little spooked by Q4 earnings and 2016 guidance. And I'm still kicking myself: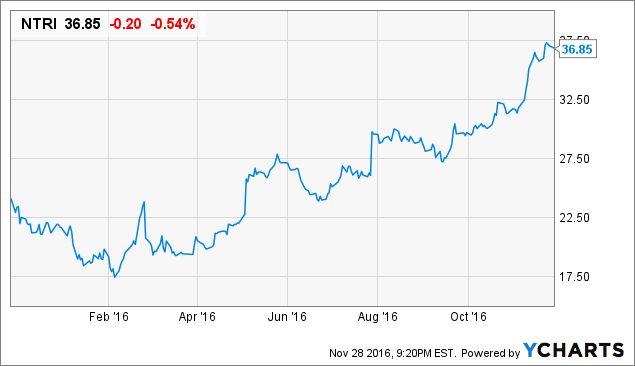 NTRI has better than doubled from February lows, as a string of strong quarters - full-year guidance has been raised after each of the first three earnings releases, including the Q3 report last month - has propelled the stock ever higher. Nutrisystem is well on track for its third straight year of double-digit revenue growth, as CEO Dawn Zier has executed a truly impressive turnaround at the company.
And yet, I've been reasonably concerned about the stock, particularly since it reached the high 20s this summer. The market somewhat shrugged at the Q3 results, as at least some investors certainly were expecting a bigger beat. Yet NTRI has tacked on another ~17% or so in gains off post-earnings levels around $31, thanks to a strong post-election rally that has outpaced the broad market.
I understand the enthusiasm, to be sure, and NTRI's execution has even converted bearish traders: short interest, which was over 20% as recently as early as 2014, is at a decade-long low, down to under 7% at this point. NTRI has combined revenue growth with margin expansion, and managed to invest in new initiatives, including the South Beach Diet. That product is set for a full launch in January, and given success in the legacy business, I understand why expectations for SBD are rather high.
But NTRI now is trading at 27x+ 2016 EPS - excluding new initiative spend and a non-cash IT charge - plus its ~$1.50 per share in cash, and that's a multiple that implies a reasonably long growth runway. That's despite NTRI being a somewhat cyclical stock and despite the fact that margins in the legacy business look like they're getting near peak levels and that the hoped-for contribution from retail sales isn't materializing. I don't think there's a short case yet - there's not a catalyst in sight, for one - but the market is pricing in years of growth from a company that hasn't always delivered. And I remain somewhat skeptical about how much of the admittedly impressive growth of late is coming from low-hanging fruit - and how sustainable that growth really is.
An Impressive 2016
Coming out of earnings, NTRI seemed a victim of the expectations it had created: to my eye, the Q3 report was even more impressive than Q1 and Q2, both of which spiked the stock. Revenue increased 19% in the quarter - sales are up 17% through the first nine months - and strength was broad. New customer sales rose 18%, reactivation revenue climbed 20%, and retail shipments increased 18% (though the latter segment still is just ~6% of the overall business). Gross margin increased 300 bps, and 180 bps even excluding the impact of one-time shipping issues in the year-prior quarter.
Nutrisystem did pay for its growth somewhat: marketing costs rose 250 bps as a percentage of sales, with media spend up 35% year-over-year according to the 10-Q. But Adjusted EBITDA margins still expanded 70 bps, which combined with the revenue increase drove 25% growth year-over-year. Backing out costs related to rollouts and beta tests of Shake360 and South Beach Diet, Adjusted EBITDA increased roughly 37%.
The growth itself isn't new, but revenue growth did come in above already-strong recent levels (and about 7 points ahead of analyst expectations). The acceleration seems to put to rest any fears that Nutrisystem might have trouble lapping more difficult comparisons or would see a slowdown ahead of the key "diet season" at the beginning of 2017. Full-year guidance was raised again: at the midpoint, Nutrisystem expects nearly 16% sales growth, after a 15% increase in 2015. Excluding $0.14 in costs related to new initiatives and a $0.03 impact from an IT asset writedown in Q3, EPS is guided to ~$1.29, a 36% increase year-over-year and nearly double 2014 levels.
Overall, the performance, particularly this year (2015 was a bit choppier) is simply textbook. Nutrisystem is delivering double-digit revenue growth and driving operating leverage while still investing in new initiatives and paying a dividend (the yield is just under 2% at this point). It's little wonder the stock is roaring: what else could an investor want?
I Have Some Concerns...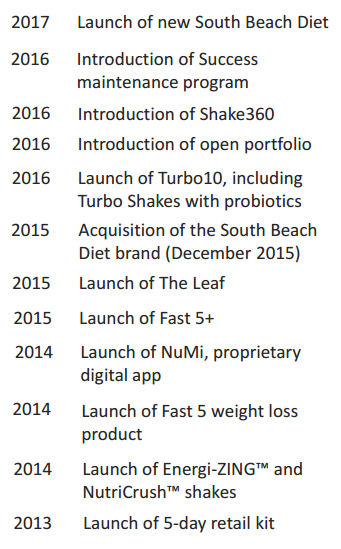 source: Nutrisystem Q3 presentation
What's driven the growth over the past three years is the legacy business, and the question there is: how much of this growth simply is recapturing lost customers and other low-hanging fruit? As strong as 2016 performance looks, guided revenue and net income (again, adjusting out new initiative spend and the IT charge) are only up about 5% and 14%, respectively, from levels seen in 2010.
There are two ways to look at that, of course: one is to argue that NTRI remains well below peak levels. Indeed, 2007 revenue was 45% higher than the midpoint of 2016 top-line guidance, and net income more than double. (That divergence also shows the leverage inherent in the model as revenue grows.) But I'd argue that part of the issue is that the diet industry is smaller, and that appears to be true - though it depends on how someone defines the "diet market". At the least, both anecdotally and statistically, it does seem like Americans are more focused on diet as a lifestyle as opposed to the Nutrisystem/Weight Watchers (NYSE:WTW) plan of going on a diet.
And so I wonder when growth for NTRI will start to moderate - though obviously my concerns about 2016 were misplaced. The legacy business gets a built-in benefit from reactivation revenue: more customers in 2016 means more customers who cancel (the average length of stay is 12-13 weeks) and thus more customers who can be targeted for a return in 2017 and beyond. Those customers appear to offer solid incremental margins: Nutrisystem discounts more heavily for them, impacting gross margin, but with cost of acquisition much more minimal, the EBIT contribution remains healthy (no pun intended).
That aside, however, there are reasons to question whether growth is sustainable enough to support the current valuation. New customer acquisition has come via marketing spend - wisely, to be sure, but Nutrisystem's market share likely is at a decade-high peak, and that should make incremental acquisition more difficult. Retail was supposed to be a growth market, but NTRI actually pulled down full-year guidance to $33 million - down about 6% year-over-year - and projected "modest growth" in 2017. Shake360 hasn't had an impact yet, though Nutrisystem hasn't put any muscle behind it. And much of the recent growth in the business of late has come from upsells to Uniquely Yours - which pressures growth margin and whose penetration appears to be over 40% - and shakes. On those fronts, I'm not sure how much growth really is left for the new customer channel.
The one remaining catalyst is South Beach Diet, and how that plays out is anyone's guess at this point. Nutrisystem only paid $15 million for the assets - against a current market cap over $1 billion - but it was clearly a savvy move, and with a fair amount of marketing going behind it, SBD could be a legitimate growth driver. Early takeaways from testing, as detailed on the Q3 call, look reasonably positive: there isn't a lot of overlap between the customer bases, and SBD remains a recognizable brand.
Nutrisystem isn't expecting a huge boost in 2017, as front-loaded marketing spend will impact margins. But if South Beach is a hit, NTRI has a clear path to $650 million-plus in revenue (10% growth from 2016 levels gets it to $600M) and, considering incremental margins, something close to $2 in EPS.
And there we get to the problem with the stock near $37: does a Nutrisystem with a working, growing SBD revenue stream merit a 20x+ multiple to EPS and ~13x on an EV/EBITDA basis? From a 'feel' standpoint, that seems aggressive: this is a more cyclical company than some might realize at the moment, which, after a seven-year economic expansion, should imply multiples contracting, not expanding. From a historical standpoint, that's a concern as well: NTRI typically has struggled when its EPS multiple exceeds 20x, let alone 25x, in large part because it's failed to maintain consistency in its operations and in its earnings.
Maybe this time is different, and if South Beach is a hit, consistency won't be any investor's concern. But in the absence of certainty on either point, I can't help but come back to what Nutrisystem is at its core: a company that has had some ups and downs in its history, one with a good deal of cyclical exposure (revenue fell 32% between 2007 and 2009, though there were a few self-inflicted wounds), and one in an industry that probably is declining over the long term. I'm skeptical that NTRI can consistently hold a 20x+ multiple, and that means that to support $37, either SBD has to accelerate earnings growth or the stock has to come down from current levels. Without a driver in retail, and with the company lapping some of the more successful recent rollouts, there doesn't appear to be much else that can get NTRI up past $2 - quickly - and drive upside from current levels.
Admittedly, I made a similar argument at $30 a few months ago, and I may simply be a small brick in the 'wall of worry' NTRI will continue to climb. Certainly, I don't think a short is in order: Zier has done a fantastic job in her four years at the helm, and early results from South Beach - which should be available in some form on the Q4 call in February - can drive further upside. But I can't shake the feeling that NTRI is being priced as if it's a growth stock, even with a checkered history on that front and with questions about what, beyond reactivation revenue, can continue to drive accelerated growth in the legacy Nutrisystem direct segment. Everything is working for Nutrisystem right now, admittedly - my concern is that the stock is priced like that will never change.
Disclosure: I/we have no positions in any stocks mentioned, and no plans to initiate any positions within the next 72 hours.
I wrote this article myself, and it expresses my own opinions. I am not receiving compensation for it (other than from Seeking Alpha). I have no business relationship with any company whose stock is mentioned in this article.