Advanced Micro Devices' (NYSE:AMD) next generation GPU architecture, Vega, is rumored to debut before the end of the year. The first version of Vega, Vega 10, is reported to have specifications that put it ahead of Nvidia's (NASDAQ:NVDA) current best consumer graphics card, the Titan X. Vega 10 therefore represents a threat to Nvidia's current dominance of high performance (gaming-oriented) PC graphics. Nvidia's counter to Vega will most likely come in the form of its next generation Volta GPUs. But when will Volta arrive?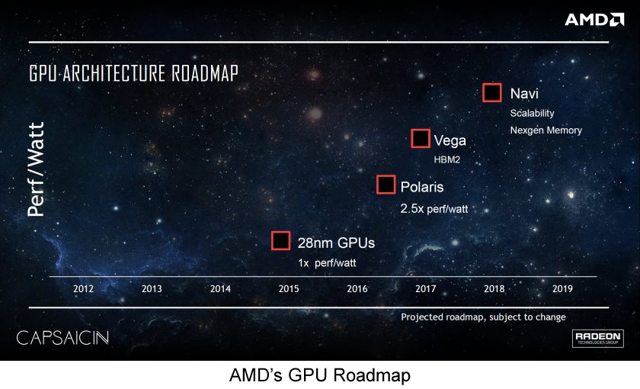 Click to enlarge
Source: WCCFTech
Beyond Titan X
As it became clear in mid-Summer that Nvidia's Pascal architecture GPUs were going to dominate the high end of the graphics card market, rumors began to appear that AMD would bring out Vega before the end of the year.
A report by WCCFTech on October 6 provides perhaps the most detailed view of Vega. Vega 10 will offer 16 GB of HBM2 (High Bandwidth Memory) and be capable of 12 TFLOPs (single precision assumed). Vega would also be fabricated on a 14 nm FinFET process, presumably by Global Foundries.
The greater amount of detail is consistent with end stage rumor evolution for consumer tech products, so the report is fairly credible. AMD appears to be positioning Vega 10, which will appear in a "Fury Pro" graphics card, to take on the Titan X. The Titan X is spec'd to have less memory of lower bandwidth, and probably is capable of about 11 TFLOPs.
If AMD's pricing of its Polaris graphics cards is any indication, Fury Pro will probably undercut the Titan X ($1200 list), while offering slightly better performance. And there may be less capable versions of Vega 10, perhaps without HBM2, that could go toe to toe with the GTX 10 series. This is doubtful, however, since reports have tended to reserve this role for Vega 11, due in early 2017.
Even if AMD doesn't deliver quite the performance promised by the reports, the threat of Vega in high-end GPUs appears to be very real. What can Nvidia do to counter the Vega threat? Most discussions I've seen tend to assume, reasonably, that Nvidia will just focus on squeezing more performance out of the current generation Pascal architecture. After all, Pascal is less than a year old.
However, I'm not convinced that there's much more performance to be had from the Pascal generation. The Titan X uses the GP102 GPU that has 3584 graphics cores, but this is actually the same number of cores as the top of the line GP100. So the main difference is that the GP100 uses HBM2 memory, while the Titan X does not.
The GP100 hasn't been offered in a consumer graphics card, and may never be. But we can get some idea of its capability from the PCIe version of the Tesla P100 accelerator for data centers. It's spec'd at 9.3 TFLOPs, slower than Titan X. This is probably due to the lack of a cooling fan on the Tesla card.
Adding a GP100 with a cooling fan, higher clock rate, and HBM2 memory would probably get the Titan X to parity with Vega 10, but is this the best option? The Titan X would become even more expensive.
The Volta Option
The next generation Volta architecture may be a better choice. Nvidia has been planning Volta for some time, and in early GPU roadmaps by Nvidia, Volta was shown as the successor to Maxwell.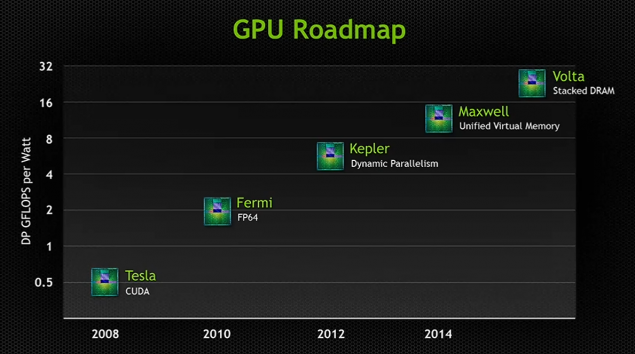 Source: WCCFTech
Pascal was subsequently inserted between Maxwell and Volta, and made its debut at Nvidia's GPU Technology Conference in April 2016.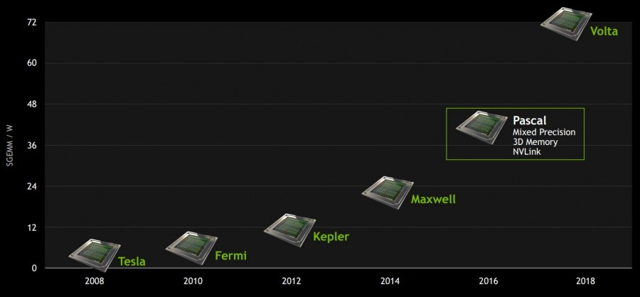 Click to enlarge
Source: VideoCardz
It has widely been assumed that Pascal was inserted because Volta was intended for a 10 nm process, which wasn't ready in 2016. However, rumors began to appear by mid-Summer that Volta would be available in 2017 on the same TSMC (NYSE:TSM) 16 nm process that is currently used for Pascal.
The perceived need to counter Vega seems to be driving the rumors of a Volta launch on 16 nm, but TSMC's Q3 earnings report should have laid to rest any concern that 10 nm would not be ready for Volta in 2017. TSMC explicitly stated during its conference call that it would begin the 10 nm production ramp in 2016 Q4, with delivery of the first 10 nm wafers in 2017 Q1. As a long-standing customer of TSMC, Nvidia undoubtedly would be afforded access to 10 nm, if it wants.
Moving to 10 nm so quickly would be unprecedented in the GPU business, but it's in keeping with broader trends among the major foundries and their mobile device customers. Even though Intel's cadence has slowed, the cadence of the foundries such as TSMC and Samsung (OTC:SSNLF) is accelerating. Samsung recently announced that it had commenced mass production of systems on chip (SOCs) on its 10 nm process. Since Samsung had started mass production on its 14 nm node in early 2015, this represents a less than two-year cadence.
The acceleration in node transitions is being driven by the intense competition in the mobile device market rather than GPUs, but Nvidia is in a position to take advantage of it. Moving to 10 nm so quickly involves a lot of extra engineering expense for Nvidia, but it can afford it. Nvidia had an exceptionally profitable fiscal Q3, with record revenue of $2 billion and net income of $542 million.
There have been other hints that Volta will arrive sometime in 2017. One was the advance preview of Xavier, Nvidia's next generation processor for autonomous vehicles. Nvidia disclosed that Xavier will use its Volta GPU architecture for its on-chip GPU. Nvidia did also state that Xavier will be fabricated on TSMC's 16 nm process. This was probably a concession to cost for the chip.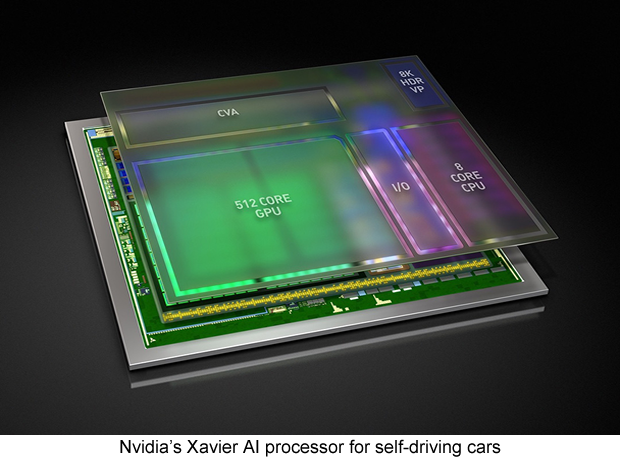 Another hint of Volta's availability came from an IBM (NYSE:IBM) presentation to the Hot Chips conference in August. IBM disclosed that its forthcoming Power9 server processors would support Nvidia's NVLink 2.0, which is also considered to be a feature of Volta. Power9 is also due in 2017.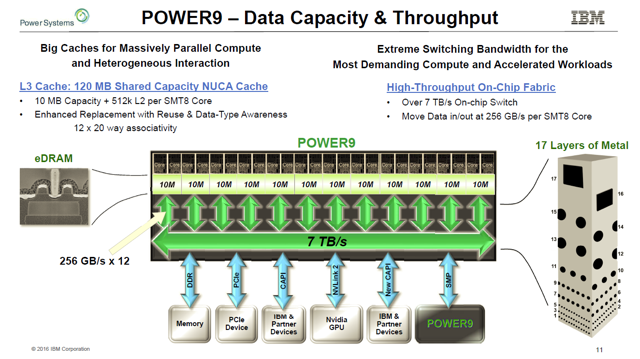 Click to enlarge
The weight of the evidence indicates that Volta will arrive in 2017. We may not know exactly when, or on what process node. My expectation is that, given the availability of the 10 nm process from TSMC, Nvidia will move directly to 10 nm for Volta discrete GPUs, and these will be available by H2.
Investor Takeaway
Once Volta arrives, Nvidia will reclaim the high end of the GPU market, if, indeed, it loses it to AMD's Vega. There may be some period of time in which Vega claims performance superiority, but I expect this to be short-lived.
Nvidia will probably do with Volta what it did with Pascal: First, offer high performance GPUs for data center acceleration and gaming, then quickly propagate downward to lower-price tiers. I expect Volta, representing a new architecture as well as a new process node, to be devastating to AMD, and cement Nvidia's dominance of all markets for discrete GPUs. I remain long Nvidia and recommend it as a buy. I continue to rate AMD a short-term buy based on the stock's momentum.
Disclosure: I am/we are long NVDA.
I wrote this article myself, and it expresses my own opinions. I am not receiving compensation for it (other than from Seeking Alpha). I have no business relationship with any company whose stock is mentioned in this article.
Editor's Note: This article discusses one or more securities that do not trade on a major U.S. exchange. Please be aware of the risks associated with these stocks.