Brexit and Trump have shocked the world. People in the United Kingdom were driven (righteously or not) by fear of immigration and wanted control of their own border, in such a way that they were able to vote themselves out of the European Union. The effect on the financial markets was severe. The pound dropped, firms had to increase prices due to increased import costs and some firms plunged severely on this news. One of these businesses was easyJet (OTCQX:ESYJY), a British budget airline which I've recently covered on Seeking Alpha. Investors dumped this stock on fear of less revenue and profit (as people will simply buy fewer tickets due to currency woes), losing out on the single aviation market, which will increase costs and the uncertainty on what this political onslaught might bring the coming years. These events have many worried.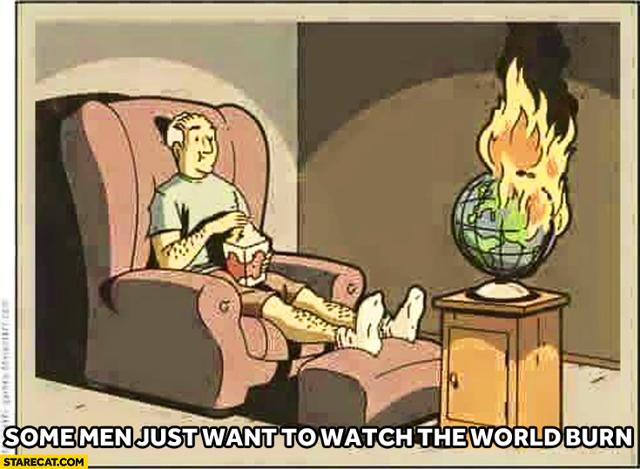 Click to enlarge
Not much later, across the ocean, Trump won the US presidential election. His winning is often linked to Brexit. As easyJet got hammered in the UK after the referendum, what about US airlines? Reason enough to have a look at the airlines on the other side of the ocean by analyzing the airline ETF JETS (NYSEARCA:JETS) as well as its individual holdings, especially as the largest percentage in this ETF sits in the biggest four US airlines.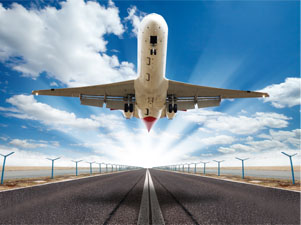 ETFs are not normally part of my routine coverage, but for some people who, for example, are time-constrained, are the only option they have for a proper investment. And I'm sure there is interest in airlines, as Buffett recently announced an investment in the airline industry. This article will cover an impact analysis of EU as well as US airlines based on the outcome of Brexit and Trump. Furthermore, I'll look at what Trump could mean for the US airline industry.
JETS: Where are we now?
I've covered JETS before as I believe airlines have always been massively misunderstood investments. JETS is an ETF which exposes investors to the global airline industry, from operator to manufacturer but with a significant part exposed to US airlines.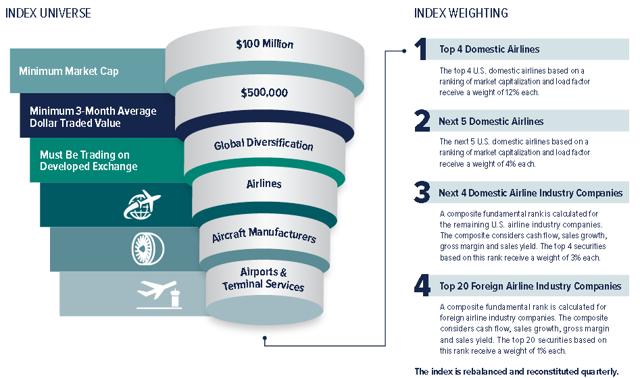 Click to enlarge
Source: JETS
In other words, the actual structure of this ETF is very specifically focused to one side of the world. Overall, cost is much in line with other ETFs and reasonable at 0.6%: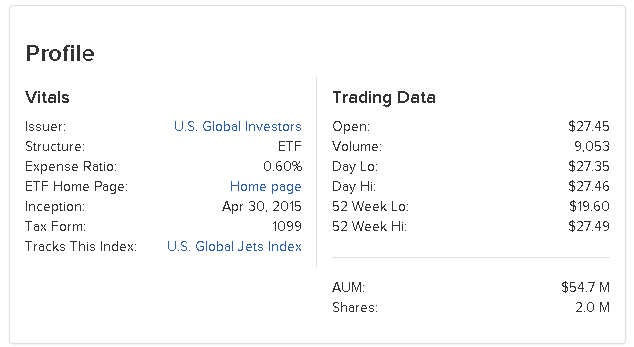 Source: ETF Database
Performance wise, the ETF has reached an all-time high. This was driven by legendary investor Warren Buffett who took a considerable stake in airlines, specifically the four main holdings of this ETF. Citigroup (NYSE:C) agreed and did the same investment. Specific reasons, as always in Berkshire style, were not given by the guru himself. Nevertheless, this change of heart is a remarkable change of mind as Buffett has always had a strong negative opinion about airlines, even recently a few years back. Airlines suffer from a strong stigma of being unreliable and simply impacted by too many factors (terror, debt, politics, currency woes, high capital costs and so forth). Airlines have a horrid track record.
Nothing fundamentally has changed recently, (debt is still an issue, profitability is always volatile, strikes and terror threats have not gone away) yet investors can be pulled in simply because a large investor is willing to take the shot. Some might claim that low valuation (as P/E, load factors, stricter capacity growth) have a strong influence on the share price. But there is no evidence that this is the case; only that the airline industry has a significant smaller P/E in contrast to other sectors: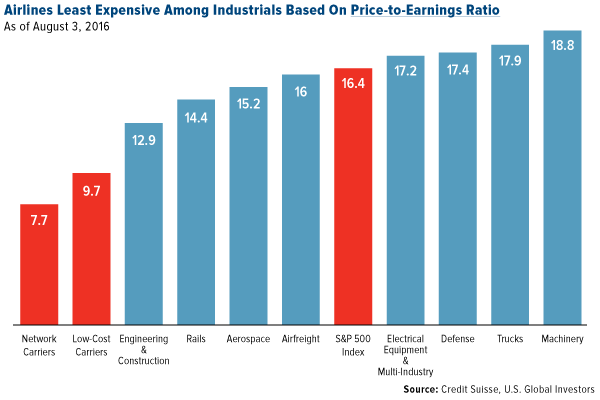 I understand that investors get wary of opportunities and hence look at airlines at some point. Simply because it has a low P/E in contrast to other sectors is something I don't value as a proper judgment as I believe there are solid reasons why investors never wanted to do anything with airlines in the airlines.
Furthermore, I've done some digging in Google Scholar, specifically in academic articles to search for a relationship between variables such as load factors, capacity and share price growth but I couldn't find anything. Only that factors; such as the load factor has significant positive relationships with income for example. But that's not rocket science; as if an airline A has a load factor of 50% in comparison to airline B which has a load factor of 100%, it obviously earns less if all other variables are held equal. It's not like net income and share price are heavily positively correlated: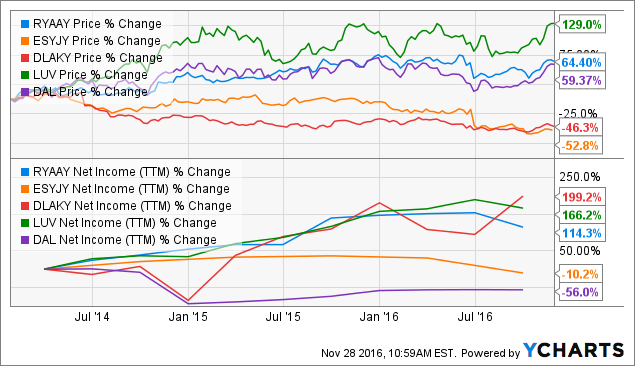 Lufthansa (OTCQX:DLAKY) had the highest increase in net income growth over the three years, yet still lost nearly 50%. On the other hand, Delta (NYSE:DAL) saw its net income decrease while the price still went up 60%.
Neither is price/earnings ratio, for example: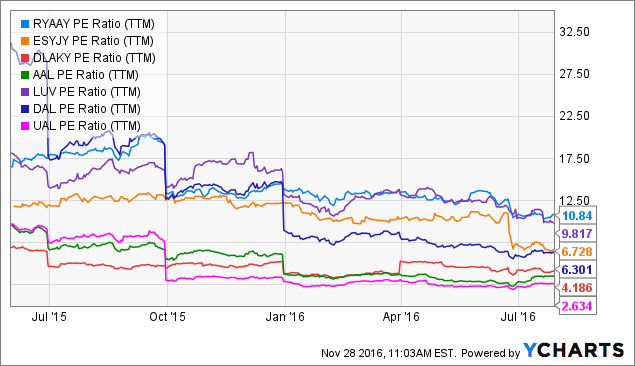 P/E has barely moved over these years and doesn't move individually per firm in contrast to competitors. Every firm remains relatively in the same bandwidth over time.
Brexit & Trump and US/EU airlines
Let's see a comparison between EU airlines after the Brexit referendum and Trump election, as well as the impact on the main four US airlines.
Let's look at the EU airlines; Ryanair (NASDAQ:RYAAY), easyJet, Lufthansa and Air France-KLM (OTCPK:AFLYY) when Brexit happened: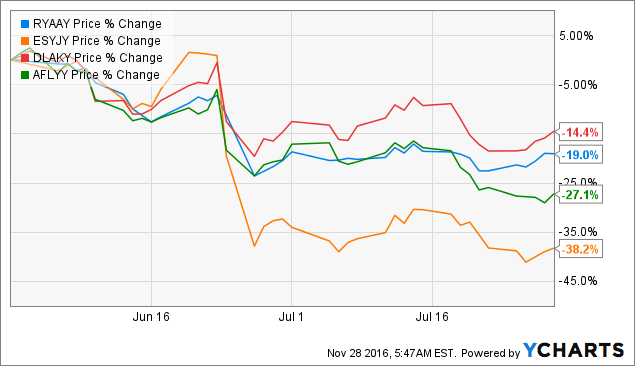 The impact overall is negative as Brexit simply tears up the European Common Aviation Area (ECAA). This makes it difficult for flights between the UK and the EU, as well as the open skies agreement from EU-US, as the UK won't be part of this anymore. easyJet suffered the most as it simply didn't have an airline operating certificate (AOC) in an EU country. The certificate would ensure the airline has unrestrained access to the ECAA.
Let's look at the other American counterparts, the four main holders of the JETS ETF; Delta, American Airlines (NASDAQ:AAL), United (NYSE:UAL) and Southwest (NYSE:LUV).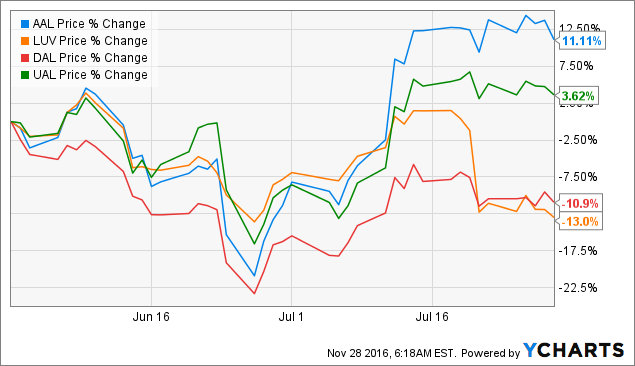 The impact was not so severe, and more importantly, the US airlines recovered much quicker.
Then move on a few months to the impact of Trump which was barely noticeable for European airlines: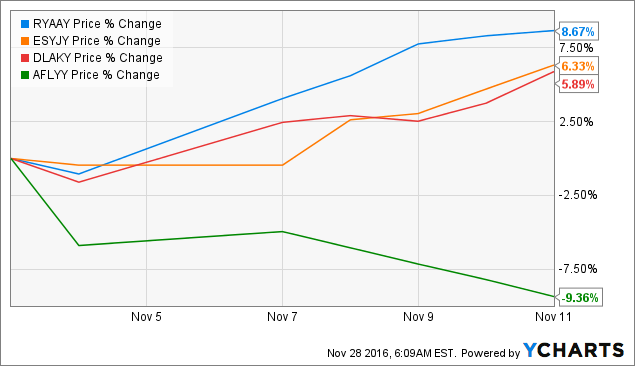 It was barely noticeable in the longer trend.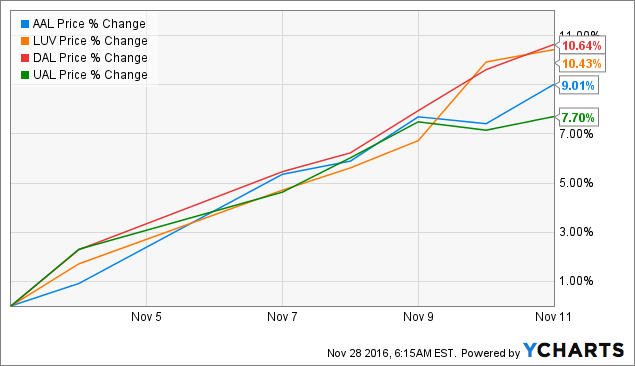 The overall impact was more positive for American airlines in comparison to its European counterparts.
Trump: A Bit Of Airline History
Trump seemed to have an opinion on nearly everything, but didn't mention much on airlines in general. Articles on Trump and the multi-billion dollar aviation industry have been flying under the radar. One should not forget that many US airlines were facing issues which were in holdup during the Obama registration, a fixed gridlock. Now with Trump as future president, US airlines are reaching out. Issues in particular are transferring air traffic control from the Federal Aviation Administration to a new not-for-profit entity, which seems rather difficult to make a priority. The other issue would be favourable subsidies from Middle Eastern countries to their carriers such as Etihad and Qatar airways. Trump has been blasting about how unfair certain trade deals are, and in essence, US airlines are saying the same. Unfortunately, there is also a voice which addresses that Trump's aggression could jeopardize trade deals:
Starting on the airline side, revoking just one trade agreement such as NAFTA or US-China would cause airline traffic to and from that region to plummet, costing US airlines more jobs than Norwegian Air International or the MEB3 ever have.
Furthermore, Trump's ideas mostly focus on improvement of infrastructure, such as airports. But will that improve the issues of airlines? Trump was quoted:
You land at LaGuardia, you land at Kennedy, you land at LAX, you land at Newark," Trump said during the first presidential debate. "We've become a third world country."
Interestingly enough, comparing this with the Middle Eastern airports is not fair as they are using low-income workers without issues of labour unions. This will not be the same in the US.
Even though I understand that many might not find history appealing, in the case of airlines, investments and the new US elect president, it could shed some additional light on the case of Trump and airlines. Trump actually had an airline business, 'Trump airlines'.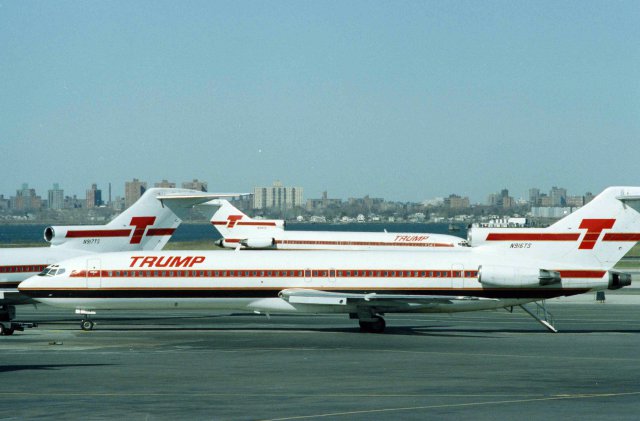 In 1988, he bought Eastern Air Shuttle, which at the time ran for 27 years. This purchase was done by loans and they were provided by a consortium of banks. Not surprisingly, he changed the interior from 'normal-classic' to that specific 'Trump-look'. Unfortunately, there was a lack of interest from customers wanting to fly in this manner, as well as the oil price issues during the Gulf War. It ended in misery where Trump defaulted on his loans. Interestingly enough, Trump gloated and boasted as usual about his airline being the best at any US transportation company and using scare tactics to take away people from the only competitor, Pan Am Corp. I believe based on his earlier experience in the airline industry, it doesn't cover much ground to believe he's going to bring golden years to the airline sector going forward. He has much more daunting tasks ahead of him.
The other part in this story is Trump and the price of oil. The two will obviously be linked as Trump has mentioned a lot about oil related policies (Iran), environment policies and others fly the same boat. Harold Hamm, billionaire oil man has stated:
"I can tell you now that we will be energy independent."
Personally I don't believe in nationalism and protectionism as we currently live in a world which is more dependable upon each other as it has ever been. With Trump wanting to get rid of these policies and sail its own ship is admirable (especially as many of these climate summits for example have always deemed to be very expensive and inefficient). The issue is that it brings a lot of uncertainty. And uncertainty has never been good for investors as it creates an immense fog on whether or not long-term investment in a particular firm will be worth wile. And not just investors, also for business as uncertainty will make oil prices much more volatile. As this is a large expenditure post for airlines, many have (simple to complex) hedging strategies to deal with fluctuations in oil price in a variety of currencies. Summed up, the aviation industry is facing a lot of political backlash but feels supported by one of the largest investors of all time. I don't feel both have similar interests.
Conclusion
I think the main point of concern is political uncertainty, which ultimately drives the pockets of the population which buy airplane tickets (hence more unstable revenue for airlines), as well as the volatility concerning the oil price as it's the main cost driver for airplanes. With the trade negotiations for the US and other countries as well as the UK and EU (with the potential further disintegration of the European Union), it seems the era of consistent share price growth for some airlines (such as easyJet and Ryanair) are likely to be over for now.
The 1+1 thinking method would simply suggest that with Trump in the office, the economy will boost like never before. This will bring jobs, an increase in hourly salary and simply an increase in spending which should in turn allow airlines share price to lift off. Nevertheless, politicians keeping their word in such a way is not enough rational for an investment thesis. Based on this, I'm avoiding JETS for now.
Disclaimer: I do not hold positions in this ETF. This article provides opinions and information, but does not contain recommendations or personal investment advice to any specific person for any particular purpose. Do your own research or obtain suitable personal advice. You are responsible for your own investment decisions. This information is not a recommendation or solicitation to buy or sell securities, nor am I a registered investment advisor.
Disclosure: I/we have no positions in any stocks mentioned, and no plans to initiate any positions within the next 72 hours.
I wrote this article myself, and it expresses my own opinions. I am not receiving compensation for it (other than from Seeking Alpha). I have no business relationship with any company whose stock is mentioned in this article.
Editor's Note: This article discusses one or more securities that do not trade on a major U.S. exchange. Please be aware of the risks associated with these stocks.