Seadrill's (NYSE:SDRL) latest results must have wowed investors as the company was able to turn in a stronger-than-expected bottom line performance last quarter that beat the market's estimates. Seadrill's cost reductions played a key role in helping the company trump estimates, with the performance being met positively by investors as its shares rose.
But, in my opinion, the shot in the arm that Seadrill shares have enjoyed as a result of its better-than-expected bottom line last quarter will not last long. I am saying this because the offshore drilling industry is still not ready for a turnaround while Seadrill does not have a strong enough backlog to overcome the downturn. Let's see why.
The finances will continue to weaken
Last quarter, Seadrill witnessed a massive decline in its financial performance across the board on a quarter-over-quarter basis. For instance, its revenue was down 14% sequentially as the company had to idle six more units, while it witnessed another drop in day rate reductions. However, what was more alarming was the fact that its EBITDA dropped at a faster pace of 21% as compared to the revenue.
This rapid drop in the EBITDA as compared to the revenue can be attributed to the declines in day rates at Seadrill. For instance, Seadrill's day rate for the West Ariel was reduced to $120,000/day from July 2016 until the contract runs out in February 2018, and this will negatively impact Seadrill's backlog by $20 million.
Additionally, Seadrill had to accept a lower day rate for the West Freedom as well that reduced its backlog by $16 million, while extending the contract at the same time. Now, Seadrill has been using this strategy of increasing contract lengths by offering customers lower day rates. This strategy is having a negative impact on its backlog, while also eating into the company's margins.
The bad part is that Seadrill will continue to witness lower day rates going forward. This is because the company anticipates that the West Jupiter and AOD III units will witness further day rate drops in the fourth quarter. Thus, the weak financial performance of Seadrill is set to continue, especially on the bottom line, driven by lower day rates and backlog reductions.
More negatives to consider
Due to the weakness in the offshore drilling market, Seadrill is witnessing a consistent decline in its backlog. For instance, last quarter, the company's backlog fell by $600 million on a sequential basis to $3 billion. The following chart shows how Seadrill's backlog is distributed in the following years: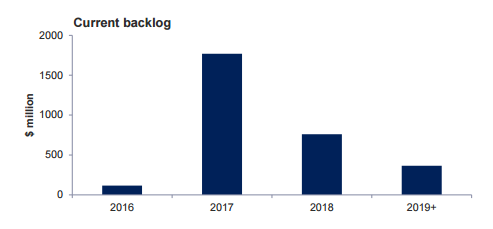 Source: Seadrill
As seen above, Seadrill's revenue backlog for 2017 is around $1.5-$2 billion. However, it won't be surprising if the company loses more of this backlog going forward due to contract terminations and lower day rates. Now, what's more alarming is that Seadrill's potential backlog for next is half of the revenue that the company has generated in the last four quarters.
Therefore, further weakness in the company's financial performance is highly-likely, raising a red flag for investors. Moreover, a quick turnaround cannot be expected in offshore drilling, with Seadrill itself expecting a weak 2017.
This is because Seadrill anticipates that capital spending in the upstream segment will drop once again in 2017 after massive declines of 24% last year and 27% this year. As reported by World Oil:
"The current downturn is now forcing companies to take a long, hard look at their expenditure. Helping them are the lower costs of services and materials, which fell by 15% last year and are expected to decline 17% this year, according to the agency. Rig-rental rates will probably stay down because of oversupply, while low steel prices are reducing the cost of other equipment, BP CEO Bob Dudley said in July."
Thus, the downtrend in oil spending is set to continue for another year, which is bad news for Seadrill since lower capital investments mean less business for the offshore drilling industry. As a result, in order to compete for whatever projects are available on the market, Seadrill will have to bid aggressively and lower day rates further.
Conclusion
Seadrill's bad times are not over yet. The company's bottom line will continue to get weaker as its backlog diminishes, while the possibility of a turnaround in the offshore drilling industry is remote. As such, investors should continue to avoid Seadrill despite better-than-expected results last quarter as it is set to face more weakness going forward.
Disclosure: I/we have no positions in any stocks mentioned, and no plans to initiate any positions within the next 72 hours.
I wrote this article myself, and it expresses my own opinions. I am not receiving compensation for it (other than from Seeking Alpha). I have no business relationship with any company whose stock is mentioned in this article.