The pressure can be real when holding a controversial name like Prospect Capital (NASDAQ:PSEC). Here we have a name that has rebounded and stayed well above the $7 mark after having been crushed to enter 2016. Remember the panic when it hit the $5 range? As we close out 2016 it looks like the name will stay around or above the $8 mark. But the name has strong believers, stronger detractors and those who like to just watch the storm unfold in the comments section of these articles. Here is the bottom line. I have covered this name more than any other here at Seeking Alpha, and I provided a lot of color on buybacks, insider activity, credit downgrades and the spin-offs. I have talked in detail about why the name is a winner and offers us 'free-money', but that you also need to be conscientious.
Right now the company is seemingly underinvested. It is being more conservative than it has in the past. You can look to my history of articles and dig up investing activity. Here is my latest piece; I am due for another. In plain language it finances companies and earns interest on the money it lends. The company examines a lot of potential deals, makes some, not others. I try to keep you up-to-date as best I can. It is an income name that has offered growth this year. While we look at the name from so many different angles, at the end of the day it comes down to performance.
Now, before I say anymore on this topic, I must say it is getting old reading piece after piece questioning the distribution. For the last time, as of now the distribution is NOT in jeopardy. What makes me say this? Well the company just released its fiscal Q1 results that ended on September 30, 2016. This quarter followed a fiscal Q4 2016 that was a homerun. Expectations were high but for this fiscal Q1 2017, my expectations were not met. Does this mean we panic and sell everything? There is a litany of articles asking this question. Panic and hysteria. Yellow journalism? Perhaps. I myself am often guilty of the eye-popping headlines. But it keeps the story interesting, so long as the content is researched. And that takes me to my main point. Why are people continuing to question the distribution?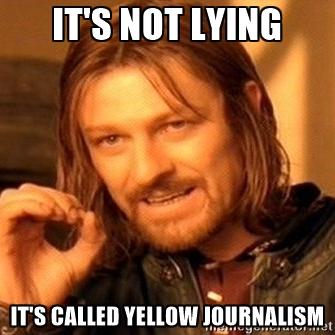 Source: libertyflames.net
Let me be clear. I was expecting perfect coverage on the distribution given the macroeconomic pressure in the quarter, but I also assumed there would not be spillover coverage. It was a so-so quarter. The headline numbers show PSEC missed on earnings and revenues. Some have speculated this is the reason that distribution may be cut again. But there are key takeaways that you need to be aware of which factor into the company's ability to pay its distribution. Net investment income came in at $78.9 million or $0.22 per weighted average share for the quarter. This net investment income was a miss against estimates of $0.02 and fell 17% year-over-year. Keep in mind the company paid $0.25 per share in distributions, so this number definitely hurts. When looking at the non-GAAP distributable income figure, we see this came in at $76.9 million, or $0.22 per share. Thus, the distribution exceeded this by $0.03. However, just last quarter we saw the company exceed its distribution by $0.02.
I talk a lot about so-called "spillback." What I mean is income in excess of distributions last quarter buffered the shortfall this quarter. Further, there is currently a reserve in excess distributions. Just take a look at the last year and a half alone. And what I mean by this is that if we rewind to the fiscal 2015 year, which ended June 30, 2015, the company generated $1.31 in distributable income, exceeding the $1.19 paid out. In fiscal Q1 2016, there was another $0.03 in "spillback." In fiscal Q2, there was $0.03. In fiscal Q3 there was a penny shortfall. And here we see another $0.02 shortfall. Doing the math for the fiscal year there was a $0.04 in excess. So that means there is about $0.19 that is yet to be distributed in the last year and a half. But wait, there's more. If we factor in total undistributed income, it was $0.30 to enter the quarter (looking beyond the last 18 months), so there is still $0.27 in undistributed income.
Source: quickmemes.com
So what does this all mean? I have said the reserve provides a cushion in case the company "misses" or under-earns the payout, which we saw in the present quarter. While a special distribution would be very welcome news for every shareholder, the fact that our distribution is secure is what is most important. That is it. Legally, the company must payout 90% of taxable income which doesn't always jive with distributable income but is close. The distribution is safe. What remains to be seen is if there is a special distribution, which would he welcomed holiday gift.
So what does this all mean? Enough with the naysayers. Are there better companies out there? Sure. Better investments? Sure. Although it is subjective because at any given time period, one holding outperforms another. Everyone wants to get up in arms about the name falling from the mid-teens to where it is now. Or be upset about the cut to the current distribution level. I will kindly remind you that I did not get behind the name until it was trading at about $9.00, after the cut. I then pounded the table louder than anyone when the stock fell to the $5 range. The stock still trades at a hefty discount-to-NAV. The distribution is safe. This is an income name. I maintain my buy rating.
So what do you think? Do you see a distribution cut coming? What are your concerns? Are you buying or selling here? Let the community know below.
Note from the author: Christopher F. Davis has been a leading contributor with Seeking Alpha since early 2012. If you like his material and want to see more, scroll to the top of the article and hit "follow." He also writes a lot of "breaking" articles, which are time sensitive, actionable investing ideas. If you would like to be among the first to be updated, be sure to check the box for "Real-time alerts on this author" under "Follow."
Disclosure: I am/we are long PSEC.
I wrote this article myself, and it expresses my own opinions. I am not receiving compensation for it (other than from Seeking Alpha). I have no business relationship with any company whose stock is mentioned in this article.