SJW Corp (NYSE:SJW), a California based water utility company, has seen its stock rise by about 27% since I first recommended the stock back in September. Many investors, including myself, may become somewhat concerned about valuations and the basis of the rally. This article will consider whether or not SJW Corp. can still be considered a good investment and the reasons behind the rally.

Click to enlarge
Basis of the rally
It often happens that a stock sees a substantial rise based on mere speculation and possibility of some future benefit the company may see, as was the case with Regions Financial. I generally revise a stock downwards after a rally-of-hope. It should, however, be noted from the outset that SJW did not see the rise in its share price mainly as a result of some potential benefit from less regulation in the future but rather largely as a result of beating analyst estimates on both earnings and revenue.
Analysts have also increasingly been revising their estimates for SJW's earnings and revenue upwards for the next quarter which has been supportive of the rising price. This article will not repeat my previous analysis of SJW's growth potential which can be found here.
Earnings in review
SJW reported an increase of approximately 20% in operating revenue for the first 9-months of 2016 over the same time period in the previous financial year. The company also reported an increase in diluted EPS from $1.06 in the first 9-months of the previous financial year to $1.90 in the current financial year.
SJW also reported a third quarter increase in operating revenues of approximately 35% over the same quarter in the previous financial year. 3rd quarter diluted EPS increased from $0.46 in the previous financial year to $0.92 in the current financial year. In considering these strong results it becomes apparent that the significant rally in SJW stock can by and large be justified.
Since first writing on SJW I have been contacted by persons who have expressed concerns over SJW's billing practices and have been informed that a number of complaints are being filled against SJW at the CPUC. I cannot comment on the merits of these complaints and merely point this out as a potential risk that investors may have to take cognizance of. I can further only express my believe that SJW as a well-managed company will engage with its customers in a positive manner and note that negative sentiment towards utility companies' billing practices are often overblown.
Outlook and Valuation
The stock price has rallied significantly whilst the dividend paid in the first 9-months has increased by a mere 3.4%, from $0.59 to $0.61, which makes the stock significantly less attractive for dividend investors at present levels. The stock does, however, remain attractive for growth investors despite the higher valuation.
SJW is now trading at 2.79 times book value which is significantly above its 5-year average price to book value of 1.79. It is, however, not as significantly overvalued relative to its industry group's average price to book value of about 2.4. The higher price to book value at SJW may also very well be warranted considering that over the past 3-years SJW has grown its earnings at an average rate of 19.3% whilst its industry group has on average seen a decline of 15.7%.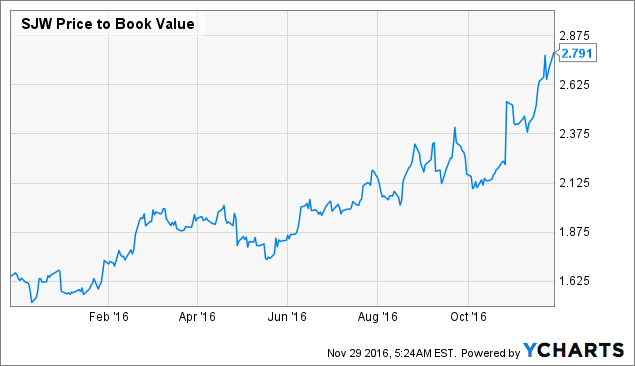 SJW Price to Book Value data by YCharts
The higher valuation at SJW is further supported by its increase in revenue at an average rate of 5.3% over the past five years whilst its industry group has seen an average decline of 5.3% over the same time period. Furthermore, SJW has a higher TTM ROE than its industry group, SJW has a 14.1% TTM ROE compared to its industry group's TTM ROE of 9.4%.
Conclusion
I remain confident in SJW's long term prospects. It is, however, necessary to consider that SJW may not be the ideal dividend growth stock to purchase at current levels and is currently more suitable for pure growth investors. From a dividend growth investor's perspective, I would downgrade SJW to a hold whilst maintaining a buy rating for those seeking capital growth.
I thank you for taking the time to read this article, if you liked it please follow me by clicking the follow button at the top of the page. If you wish to contact me with regard to any information contained in this article feel free to leave a comment in the comments section below or to send me a private message here on SA. I wish you all the best in your investing endeavors.
Disclosure: I/we have no positions in any stocks mentioned, and no plans to initiate any positions within the next 72 hours.
I wrote this article myself, and it expresses my own opinions. I am not receiving compensation for it (other than from Seeking Alpha). I have no business relationship with any company whose stock is mentioned in this article.