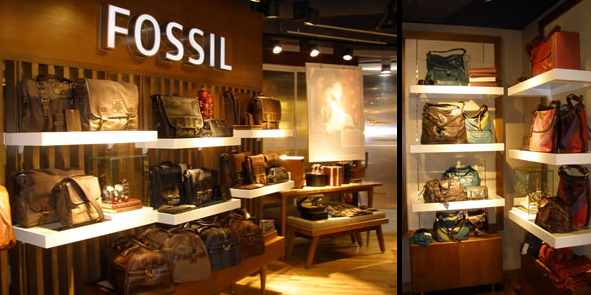 Fossil (NASDAQ:FOSL) is a name that I've been bullish on in the past on the idea that the smartwatch revolution wasn't going to be as detrimental to the company's core products as it has turned out to be. That's not something I say with pride as one glance at the chart says I was wrong the whole way down, but now that Fossil seems to have made a meaningful bottom, is it finally time for a sustainable rally? The Q3 report was still pretty rough but investors see cause for optimism.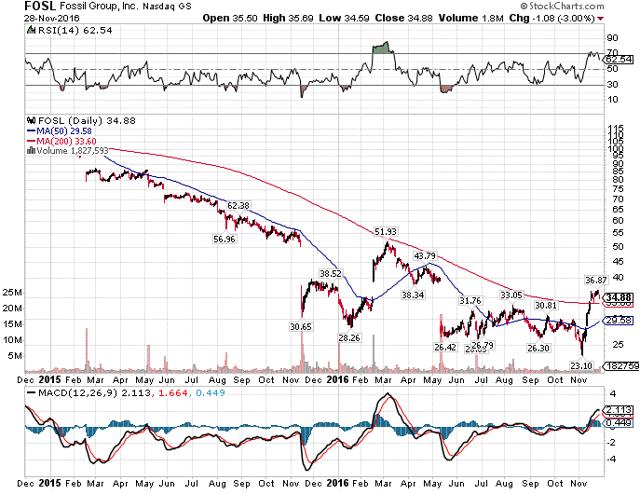 Click to enlarge
Revenue continues to be a huge problem for Fossil as it posted yet another sizable decline Y/Y in Q3. This table from the press release details the carnage: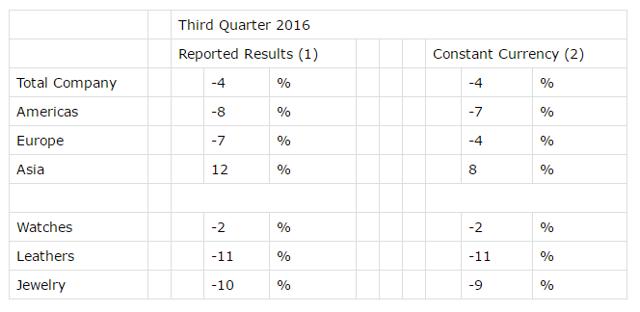 Click to enlarge
The consolidated company posted a 4% loss in revenue, but as you can see, without Asia, the results would have been much worse. In addition, while the watch category has rebounded nicely, it was still negative in Q3. The leather and jewelry businesses are still absolutely terrible, but some progress on watches is a welcome development to be sure. But not-quite-as-bad isn't the same thing as good and it is evident that Fossil is still struggling with demand. I'm encouraged by better watch sales, but the other two categories matter as well and they are still having a tough time.
To combat this problem, management announced a plan to close some stores and streamline its product offerings. Obviously, I don't want to see a company shrink its store base, but if that is what is needed to boost profitability, then so be it. In addition, I like the idea of streamlining the produce offerings because Fossil stores are crowded and tough to navigate. One thing you don't want to do is overwhelm or confuse customers and Fossil is doing what it can to fix that. The new strategy is well founded and should move Fossil in the right direction if it is executed well. It will be painful in the short term, but if it gets Fossil back to a place of sustainable growth eventually, it is worth it.
Unfortunately, Q3 saw some pretty ugly margin numbers pop up as well. Gross margins were down 200 bps as Fossil continues to struggle with profitability. Perpetually negative comp sales certainly aren't helping and as Fossil continues to work through its unwanted inventory, margins are going to suffer. In addition, sales are shifting towards lower margin categories, meaning that even if old inventory isn't a problem down the road, we may still see lower margins. Fossil can certainly survive on 50% gross margins but operating profitability will be slim at best at those levels. Fossil's turnaround needs to include a move to the mid-50s or higher in terms of gross margins or it is going to continue to struggle with profitability.
The reason is because operating expenses are now 48% of revenue, and while that includes some items that are non-recurring in Q3, we're going to see mid-40s or higher in terms of operating expenses for the foreseeable future. The only ways for Fossil to meaningfully reduce its operating expense level are to exercise some cost discipline or boost revenue. The latter has proven elusive for years now but management is in control of its costs. As the firm reduces its store count, I'd really like to see some deflation in operating costs. We haven't seen any evidence of that yet but to be fair, we are still in the early innings. Costs are going to be absolutely critical for Fossil going forward as it tries to turn things around and right now, it has a very long way to go.
Estimates for next year continue to fall, and while Fossil is taking steps to fix things, analysts aren't quite convinced. But with the stock now at 18.9 times next year's forecast, Fossil is getting to be a bit expensive again. Remember that this is a company that has struggled for years at this point and that it competes in some very competitive categories. I believe what management has proposed is the right course of action, but it still has a very long way to go. Sales growth is still negative and with lower gross margins and higher costs, operating margins were more than cut in half in Q3. Fossil is getting to the point where it has shot at just breaking even if things continue to get worse in 2017, and while I don't think that will happen, it is now a possibility. That's something that investors need to reconcile to be sure.
So what do we do with the stock here? Buying Fossil here is still a matter of faith that the turnaround is going to work because right now, there is no evidence of improvement. Sales and margins continue to fall unabated and that certainly worries me. On the other hand, bulls have pushed the stock over the 200DMA, and with the line flattening out, we could see it turn up and provide rising support for the stock going forward. That's certainly a positive development but we need fundamental progress as well starting in Q4. Fossil looks fairly valued to me with a slightly bullish tilt due to the technicals and the idea that the new strategy of a smaller store base and product assortment will resonate with customers. The recent rally has been nice for longs but at the same time, the stock is no longer cheap.
Disclosure: I/we have no positions in any stocks mentioned, and no plans to initiate any positions within the next 72 hours.
I wrote this article myself, and it expresses my own opinions. I am not receiving compensation for it (other than from Seeking Alpha). I have no business relationship with any company whose stock is mentioned in this article.