After staunchly recommending the GBP/JPY as a long trade after Trump's win, we have seen the currency pair shoot up to a level above 141, after I had predicted an eventual level of 144.
However, we now see that the currency is reverting to value, i.e. consolidation within the 8 and 21 day EMA bands: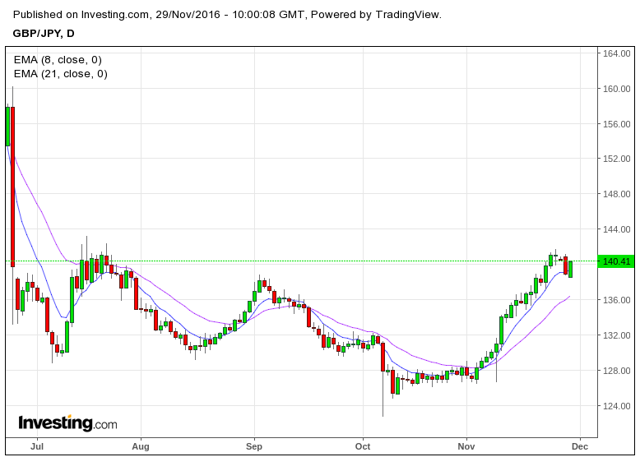 Click to enlarge
It is natural to expect that after a significant run up we would see some reversion. In this light, could this currency pair now be a good value play to buy on weakness?
At present, the rally that had been fuelled by a Trump win had sent the pound up on speculation that Trump would prioritize a US-UK trade deal and that similar populist movements in Europe would weaken the EU's negotiating position. Until Trump actually becomes president in January, this largely remains speculation, and therefore I doubt we will see a move of such magnitude upwards in the GBP before then.
Moreover, the upcoming Italian referendum has appeared to put markets in a risk-off mode, with the yen rising significantly while broader stock markets are taking a hit. In this regard, we could see a situation where the GBP/JPY weakens to the 136-139 level, which would then leave room for upside to 141. While a "No" vote will be perceived as a further eurosceptic signal (with reports Italy could even leave the euro if this happens and Matteo Renzi has pledged to resign in the event of such a vote), this would almost certainly push the pound higher as the euro would face severe downward pressure - markets could likely make a sudden switch to a risk-on mode as we saw in light of the U.S. election which would send the yen lower.
To conclude, while I see little upside in the GBP/JPY beyond 144 at this time, weakness below the current levels could provide a value opportunity, and a "No" vote from Italy could well push the pair further towards the 144 level.
Disclosure: I/we have no positions in any stocks mentioned, and no plans to initiate any positions within the next 72 hours.
I wrote this article myself, and it expresses my own opinions. I am not receiving compensation for it (other than from Seeking Alpha). I have no business relationship with any company whose stock is mentioned in this article.