This holiday season is a make or break opportunity for traditional retailers. They are engaged in a turf war with Amazon and are now using heavy discounting as a last ditch effort to prevent migration of customers to Amazon (NASDAQ:AMZN). Bloomberg news recently published an article where it looks at a Market Track study of holiday circulars. The study points at the higher levels of discounts available within stores compared to last year. Major retailers like Wal-Mart (NYSE:WMT) are giving an average discount of 39 percent compared to 35 percent offered last year. Target (NYSE:TGT) has increased average discounts to 38 percent from 36 percent. Other retailers have also followed suit.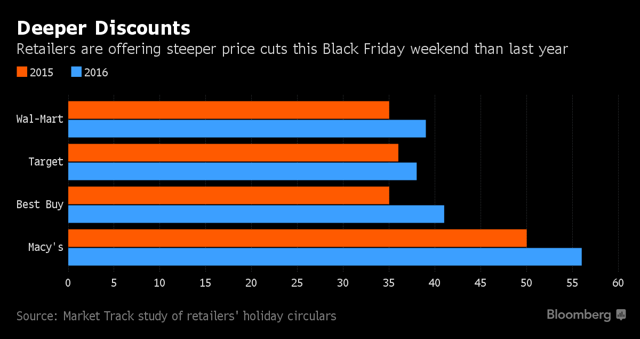 Click to enlarge
Fig: Higher discounts given by retailers to attract customers
Retailers like Best Buy (NYSE:BBY) and Macy's (NYSE:M) have also increased discounts by as much as 7 percentage points.
Retail business has always been fiercely competitive as there are few differentiators within rivals. In the past few years, some companies have been able to create decent moats. Wal-Mart did it with its scale, Whole Foods Market (NASDAQ:WFM) created a moat with higher-quality goods and dollar stores used their proximity to customers as a distinct advantage.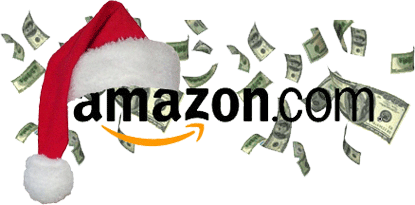 Amazon's moat is its prime membership through which it can tap a loyal user base to deliver ever more goods and services. Not only is the level of prime membership increasing within US, but there is also higher density of fulfillment centers. Currently 44% of domestic population is within 20 miles of an Amazon delivery station compared to only 7% in 2012. Going ahead, we should see this number reach high-70s to 80s level as Amazon increases its footprint in the remaining white spaces.
However, the reason why Amazon has the strongest moat is due to its stock. YES!!! Low profitability is also baked in within the stock price of AMZN. Current investors in Amazon do not look ahead for the dividend growth provided by the company or forward PE multiples or any other parameters which are a must for retailers.
If Wal-Mart declares a lowering of dividend, it will play havoc with its stock price. Hence, the company needs sustainable profit margins as it tries to turn around. Similarly, other retailers need respective PEs to make a case for investment. However, if Amazon, which is trading at over 170x PE, were to forecast loss for the next few quarters, the impact on price would be minimal. If the company can continue to deliver 20%-plus growth in sales, investors would be willing to forego dividends, massive logistic expenses, investments in new products or services, etc.
Brick-and-Mortar retailers caught between a rock and a hard place
These holiday promotions certainly help in lifting the sales number and also provide incentives for customers to visit the stores, but they also end up squeezing the margin. Last year, when Target gave similarly heavy discounts, it saw the comp sales rise by 1.9 percent, however, its gross margin also slipped from 28.5 percent to 27.9 percent. An additional 2 to 7 percentage point discount in this year would create further pressure on margins.
The traditional retailers cannot focus on sales growth, but have to show reasonable profit margins for dividends, investments and buybacks (in cases like Wal-Mart). This puts a ceiling limit to the level of discounts which the retailers can give. Seamless comparison of prices between different stores adds to their woes. It leaves little wiggle room to increase prices.
Online shopping options will continue to provide better deals than traditional stores, especially when one factors in the fuel costs and time invested in making purchases. Unless brick-and-mortar stores can move away from pricing and provide better "shopping experience" to customers, there will be a faster migration of buyers to online alternatives.
Amazon against other online options
Other retailers have increased their online capabilities and are looking for more omnichannel strategy. This not only requires massive investments, but also a change in leadership to a more tech-centric management. Wal-Mart has taken one of the boldest steps by not only purchasing Jet.com, but also giving its head, Marc Lore, a greater power over the future online segment of the company.
However, Amazon is light years ahead of other online retailers. Last year, the company cornered 60% of online sales growth in US. Further expansion of private labels and video services would give Amazon additional edge over other online competitors. It is also becoming a big player in international markets like India and is looking to enter Southeast Asia. But the biggest advantage with Amazon will remain its ability to grow without the pressure to deliver profits. If there is a race to the bottom within online retail space, Amazon will be a clear winner.
Even on a long-term horizon, retailers like Wal-Mart have little chance of taking away online market share away from Amazon. This is one of the reason why even a long-term investor like Buffett dumped Wal-Mart's stock during the quarter when it made the Jet.com purchase.
Investor takeaway
Amazon continues to attract bearish and bullish views on the future of the company. The current discount levels during the holiday season show a move of desperation from traditional retailers. They might not only see a big margin squeeze during Q4, but would also be forced to make major course correction in 2017. They would need to use levers other than pricing to attract customers to their stores and make it worth their while.
Amazon has significant tailwinds which support the bullish sentiment for the company. These include higher prime membership penetration, greater fulfillment center footprint, international growth prospects and increasing preference for online purchases by customers.
Disclosure: I/we have no positions in any stocks mentioned, and no plans to initiate any positions within the next 72 hours.
I wrote this article myself, and it expresses my own opinions. I am not receiving compensation for it (other than from Seeking Alpha). I have no business relationship with any company whose stock is mentioned in this article.