Enjoy the candy while it lasts. While it has received relatively less attention in the financial media since the election in early November, the new administration is likely to bring meaningful changes for the Federal Reserve and the direction of monetary policy going forward. And given that the primary driver of stock market gains throughout the post crisis period has been the aggressively easy and accommodative monetary policy from the Fed, the likely changes have the potential to completely transform what we should expect from investing in the U.S. stock market going forward.
I Want Candy
It was a paragraph by former Fed governor Kevin Warsh from a Wall Street Journal editorial dated November 12, 2013, that in my view summed up well the increasingly tight corner the Federal Reserve has unwittingly placed itself in the post crisis period.
"Market participants do not doubt the Fed's capabilities as an expert financial plumber. But the foremost attributes needed by the Fed to end its extraordinary interventions and, ultimately, to raise interest rates, are courage and conviction. The Fed has been roundly criticized for providing candy to spur markets higher. Consider the challenge when a steady diet of spinach is on offer."
Getting asset markets high by providing a steady stream of monetary candy is easy. But as I well know from raising two young children with my wife, a steady diet of candy is no way to foster sustainable strength and long-term health. In fact, it's a good way to end up sick and with some costly dental work along the way (who doesn't love getting a bunch cavities filled?).
So, we find ourselves today nearly eight years removed from the financial crisis. The Fed kept feeding the markets a boundless supply of liquidity via near-zero interest rates and repeated rounds of asset purchases because it was the easy thing to do. And stocks have loved it, with the S&P 500 Index (NYSEARCA:SPY) soaring more than 40% beyond its previous all-time highs thanks in part to increased financial leverage to fund such economically unproductive activities as share buybacks and dividend payments. But predictably, the broader economy has struggled all along the way with sluggish and uneven growth because it was getting fed nothing other than monetary garbage.
But now a new administration is coming to Washington. And while the president-elect will not be directing monetary policy, as the executive branch is responsible instead with carrying out fiscal policy in coordination with the legislature, he will be charged with the duty of appointing members to the Federal Reserve Board of Governors. And this is where things start to get interesting.
I Yam What I Yam And Tha's All What I Yam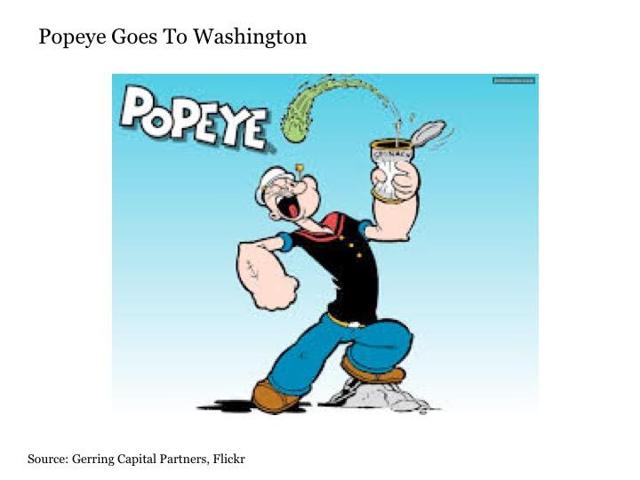 Click to enlarge
The president-elect is known to have a hands-on management style. With that said, he is also known for delegating the day-to-day decision making on a variety of tasks to those that he trusts if he has a good understanding of what is taking place. Thus, it is reasonable to assume that the team that he has assembled to advise him on monetary policy will provide a good sense of the philosophies that will guide his decision-making around the Federal Reserve going forward.
Most significantly, the president-elect will have the opportunity to appoint two members to the vacant seats on the Fed Board of Governors as soon as his first day in office. He also will have the opportunity to appoint someone to the new role of Fed Vice Chair of Supervision that oversees Wall Street. The position was created as part of the Dodd-Frank legislation, and although it has so far been unfilled, the duties have effectively been carried out by current Board Governor Daniel Tarullo along the way. Thus, Mr. Trump will have an opportunity to make his mark on the Fed right away.
But perhaps more significantly, the president-elect will eventually have the task of appointing a new Fed Chair in February 2018 and a new Vice Chair in June 2018. And it is at this time where the course of monetary policy will likely start to change in a much more meaningful way if it hasn't already by early 2018.
With all of this in mind, it is worthwhile to examine the policy perspectives of those that make up his advisory team as it relates to monetary policy. The following are some of the key members:
David Malpass: Mr. Malpass is the president of Encima Global and previously served in the Reagan and George H. W. Bush administrations. Mr. Malpass has been a vocal critic of the Fed's easy money policies during the post-crisis period, including its quantitative easing programs under the belief that it supported Wall Street at the expense of the middle class. He also supports strong dollar policies. The following editorial from the Wall Street Journal in May 2013 provides more detailed insight into his thinking.
Judy Shelton: Ms. Shelton is a Ph.D. economist and co-director of the Sound Money Project. As the title of her organization indicates, she is a vocal advocate for sound money and a return to the gold standard. The following editorial from the Weekly Standard from July 2014 provides insight into Ms. Shelton's perspectives on monetary policy.
Stephen Moore: Mr. Moore is a distinguished visiting fellow (former chief economist) of the Heritage Foundation and is an ardent supporter of economic freedom and supply-side economics. Like his peers on the Trump team, he is critical of the Fed's expansionary monetary policy and stimulus programs. Instead, he is a supporter of pro-growth policies via reduced regulation and targeted fiscal policies.
Larry Kudlow: Mr. Kudlow is a former CNBC television personality and commentator who also served in the Office of Management and Budget during the Reagan administration. Mr. Kudlow has long been a sound money and strong dollar advocate. He has also been critical of the harm caused by the Fed's ultra stimulative monetary policies, instead advocating for greater fiscal solutions instead. The following editorial dated March 2016 from the National Review provides more detail on Mr. Kudlow's views.
The key takeaway here is the following. The Trump team that is helping to guide his economic policy initiatives going forward are staunchly opposed to the candy serving monetary policy that has juiced financial markets during the post-crisis period. Instead, these are dedicated believers in the merits of the spinach-eating approach of less accommodation and higher interest rates on the monetary policy side offset by more pro-growth policies and less regulation on the fiscal policy side. And these will be the people who will likely be charged with the task of gathering names for the president-elect to consider in filling the currently vacant roles at the Fed as well as the leadership posts in 2018. Perhaps we may see the return of former Board Governor Kevin Warsh and former Kansas City Fed President Thomas Hoenig to roles at the Fed. In fact, members of Trump's policy team may even put themselves up for such positions if interested.
I'm Strong To The Finish 'Cause I Eats Me Spinach
What does this mean for the stock market? Enjoy the candy while it lasts, because the meals that you will be eating at the stock market (DIA) table each trading day are likely to become increasingly filled with much less tasty but far more nutrient rich spinach. It may not go down as nicely when you're eating it. In fact, it might even leave investors doubled over in a fairly nasty bear market for a spell just as the pro-growth fiscal policies of the early 1980s did - after all, the switch from candy to spinach is not likely to be an easy one for investors to make. But cleansing the system by getting off the addiction to the sugar-high of easy money policies and replacing it with the vitamin-rich strength of more productive fiscal policy spinach (not rampant deficit spending, mind you, but targeted and strategic fiscal policy) is a much more viable path to sustainable long-term economic growth.
Put more directly, the policy makers that have fawned all over the stock market (QQQ) for so many years during the post-crisis period are about to increasingly move on over the coming year. They're not likely to let stocks crash, but they're almost certain to completely walk away from the policies that have kept stocks propped up and floating higher for so many years and move in an entirely different direction that is much more stock market indifferent. So even if pro-growth fiscal policies start making the Main Street economy hum in a sustainable way at some point in the future, a long overdue multiple contraction from historical highs may keep stocks on the sidelines for an extended period in the meantime, particularly if interest rates from the Fed start normalizing.
Worried about what this might mean for your investment portfolio? A few key points to remember. First, just because the broader stock market might struggle does not mean that certain segments of the stock market can't continue to perform well. For example, a number of stocks across various industries performed quite well during the bursting of the tech bubble. Finding these stocks may not be easy, but nobody prior to the post financial crisis period ever said that investing was supposed to be easy. Also, despite what the mainstream financial media might lead you to believe, the stock market is not the only place in investment markets to generate a decent rate of return. If the stock market struggles, other major asset classes will be there to pick up the slack. Lastly, while holding some cash in reserve may be your enemy in a rising stock market, it can be your friend when the prices of the assets you would like to own are falling. Just as shoppers held back their cash in savings so that they could hunt for bargains on Black Friday, so to should investors remember that having some cash on hand to buy a great stock at fire sale prices can be equally rewarding.
So along with watching who the president-elect appoints to important cabinet positions like Health and Human Services, investors should pay much closer mind to any movement on the Federal Reserve front in the coming weeks. For it is here where the real impact on your investment portfolio will be felt in the long term.
Disclosure: This article is for information purposes only. There are risks involved with investing including loss of principal. Gerring Capital Partners makes no explicit or implicit guarantee with respect to performance or the outcome of any investment or projections made. There is no guarantee that the goals of the strategies discussed by Gerring Capital Partners will be met.
Disclosure: I am/we are long PHYS, TLT, IEF, TIP.
I wrote this article myself, and it expresses my own opinions. I am not receiving compensation for it (other than from Seeking Alpha). I have no business relationship with any company whose stock is mentioned in this article.
Additional disclosure: I am long selected individual stocks. I also hold a meaningful allocation to cash at the present time.