One of the best-performing shares in our portfolio in the last six months has been Ferrari (NYSE:RACE). Up 28% since the end of May, it is putting on a strong finish to the year following a stalled start. There's been a lot of talk about its valuation being stretched now, but we don't believe this is the case. In fact, we firmly believe it can continue to speed higher in 2017. Because of this, we continue to hold onto its stock with a long-term view.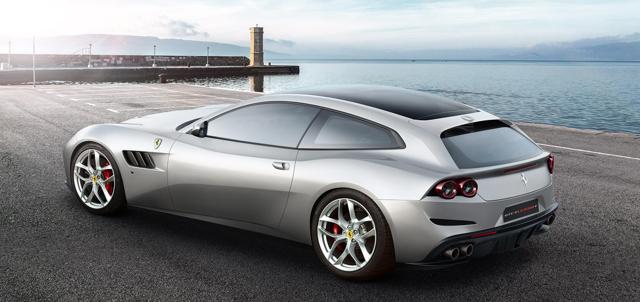 Click to enlarge
Since listing on the stock exchange just over a year ago, Ferrari has been a difficult stock to price. With its stock trading on a trailing price to earnings ratio of 28, it appears to be priced more in line luxury goods retailers than auto manufacturers. Which is exactly how we think the stock should be priced. Ferrari is not a mass producer of vehicles like Ford (NYSE:F) or General Motors (NYSE:GM). It crafts its car meticulously and aims to ship around 9,000 a year by 2019. By comparison, in 2015, auto industry giants sold the following:
"GM was the U.S. industry's sales leader last year, selling nearly 3.1 million vehicles, up 5 percent. Ford sold 2.6 million, up 5.3 percent. Fiat Chrysler sold more than 2.2 million, up 7.3 percent from 2014."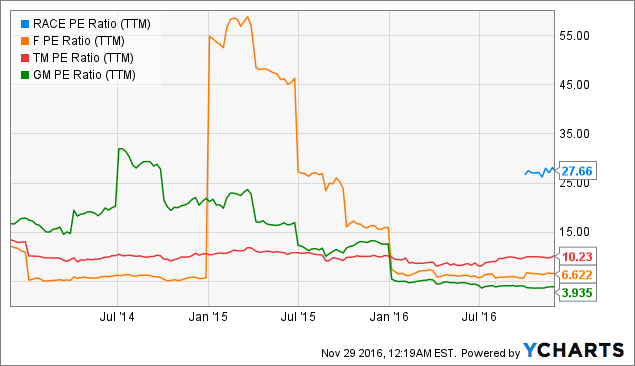 As you can see above the other auto manufacturers trade on significantly lower multiples. This is also the case when viewed on an EV/EBITDA ratio or a price to sales ratio. If Ferrari were to trade at 10 times earnings its stock would be worth around $19.45 today, or 64% lower than the most recent stock price. Thankfully, we don't see that ever being the case, and believe that Ferrari's current valuation is about right.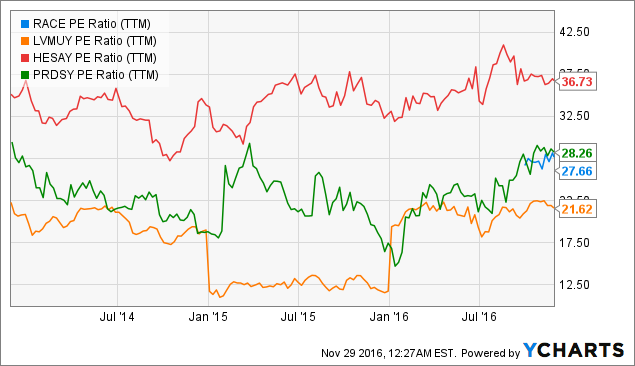 As you can see on the chart above, Ferrari trades in line with Prada (OTCPK:PRDSY) and close to Hermes (OTCPK:HESAY). LVMH Moët Hennessy Louis Vuitton SE (OTCPK:LVMUY) does trade on a lower earnings multiple, but that's hardly a surprise when you factor in its 37% drop in earnings year on year. Perhaps to be conservative a price-to-earnings ratio of 24 to 25 might be fairer, but overall we feel comfortable at 28 times earnings with its current growth prospects.
Ferrari is forecast to grow earnings at 17% per annum for the next five years, according to analysts. We believe this is very achievable and wouldn't be too surprised to see the company perform even stronger. As well as continued strong sales in its Americas and Europe, the Middle East, and Africa (EMEA) segments, we see a huge opportunity for Ferrari to grow in the China market. In the third quarter the China segment accounted for just 9% of shipments, up from 8% in the prior corresponding period. The Americas contributes 35%, EMEA, 44%, and the Rest of Asia-Pacific segment accounted for the remaining 12% of shipments.
We see no reason why in the future the China segment won't account for upwards of a third of shipments. The rise of the Chinese middle class will play a key role in this. Whilst the middle class itself are unlikely to be able to afford a Ferrari, there is a growing pocket of the upper middle class that certainly can.
According to the Economist Intelligence Unit, in 2015, approximately 2.6% of the Chinese population were classed as high-earners and had disposable income of $32,000 and above. That's about 29.9 million people, by our calculation. Not all of these will have the required funds to be able to afford to finance a purchase, but a reasonably lucrative number will do. The good news for Ferrari is that this number is only going to get bigger in the years ahead. By 2030 the research shows that this group of high earners will increase in size to 14.5% of the population. With a target market growing at such a strong rate, all Ferrari has to do is design and market a car that these buyers will want.
Management thinks it has done this with the GTC4Lusso, which is pictured at the top. The four-seat rear-wheel-drive turbocharged V8 appears to have been designed with China in mind. As well as being family friendly, the 3.9 litre V8, which goes 0-62mph in 3.5 seconds, falls under the all-important 4-litre engine size. In China imported cars come with extraordinarily high taxes. An imported car that has a 4-litre engine would be expected to double in price after adding in tax. By designing that car with a 3.9-litre engine, Ferrari can reduce the tax and increase the affordability of its cars in the country.
All in all we believe this sets up Ferrari perfectly for growth in the lucrative China market. So with such strong long-term growth potential we think that Ferrari is a keeper. As we are rapidly approaching the end of the financial year our valuation is based on our forecast for next year. We envisage earnings of $2.40 per share in FY17 at current exchange rates. Which means that at 25 times earnings we have a price target of $60.00. Ferrari last closed at $53.77, equating to an expected return of 11.6% for investors.
Disclosure: I am/we are long RACE.
I wrote this article myself, and it expresses my own opinions. I am not receiving compensation for it (other than from Seeking Alpha). I have no business relationship with any company whose stock is mentioned in this article.