A few days back, First Solar (NASDAQ:FSLR) was slapped with a series of downgrades and price target cuts after the company issued its guidance for 2017. For instance, UBS analysts are of the opinion that First Solar is now a "Sell" as compared to its prior recommendation of Neutral. The analyst firm cites that the absence of any growth drivers in 2017 will lead to a cash burn at First Solar.
On the other hand, Macquarie has also downgraded First Solar to Neutral from Outperform, citing that the company's move of canceling the Series 5 product line has reduced short-term catalysts for First Solar. However, in my opinion, First Solar seems to have made the right move by canceling the Series 5 product line and instead accelerating the Series 6 product. Let me tell you why.
Why First Solar has made a smart move
Earlier, First Solar was looking to transition from its Series 4 platform to the Series 5 platform next year, and then move to Series 6 toward the end of the decade. This looked like a good plan since the Series 5 would have allowed First Solar to reduce its costs impressively over the previous generation.
However, an anticipated slowdown in Chinese demand due to the Chinese National Energy Administration's latest announcement of reducing the country's installed solar capacity by around 25% for 2020 seems to have forced First Solar into making a change. As such, due to weak demand, it might not have been a good idea to bring online the Series 5 module since it would have suffered from lower pricing on account of oversupply.
Instead, First Solar has now accelerated the development schedule of the Series 6 platform, which is even better on the cost and efficiency front. More specifically, First Solar will start using the Series 6 module manufacturing platform from 2018, while phasing out the current Series 4 over the next couple of years.
Now, the launch of Series 6 will prove to be a strong growth driver for First Solar in the long run. This is because the Series 6 module will have an efficiency of more than 18%, while its peak power generating capacity will be more than 420 watts. In comparison, the Series 5 had a peak power generating capacity in the range of 365-390 watts, while the current S4 generation has a peak power generating capacity of 117 W. Thus, First Solar has made the right move by deciding to move to a more efficient product as it expects weakness in the market in the near term.
The following chart clearly indicates that the market conditions are currently not conducive to the launch of a new product in the market, which is why First Solar will take its time to come out with a stronger Series 6 platform: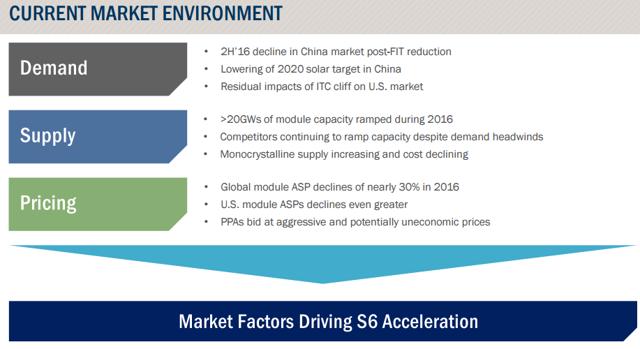 Click to enlarge
Source: First Solar
The new roadmap seems impressive
With the Series 6 module, First Solar should be able to tackle any upcoming challenges in the end-market due to a lower cost base. This is because the cost per watt of the Series 6 modules will be 40% lower than the current generation Series 4 and Series 5 modules. As a result of this lower cost base, First Solar has decided that it will now accelerate the development of the Series 6 modules in an aggressive manner.
This is evident from the roadmap given below: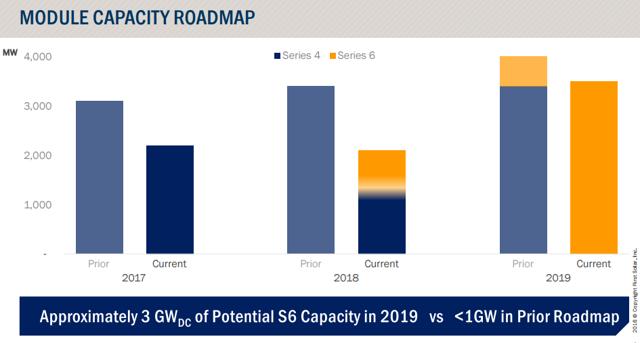 Click to enlarge
Source: First Solar
As shown in the chart given above, First Solar will start ramping up the Series 6 modules earlier than schedule. As a result, in 2019, First Solar will be able to transition all of its module capacity to the Series 6 platform, therefore achieving potential S6 capacity of 3 GW in 2019 as compared to less than 1 GW earlier.
As a result of this scaling up, First Solar will be able to enhance its operating margin on the product to 15% as compared to the prior expectation of 10%. Moreover, by working on just one product as compared to two earlier, First Solar will be able to reduce its research and development expenses. Moreover, since the company has scrapped the Series 5 platform, it will also have to incur lower selling, general, and administrative expenses next year. This is shown below: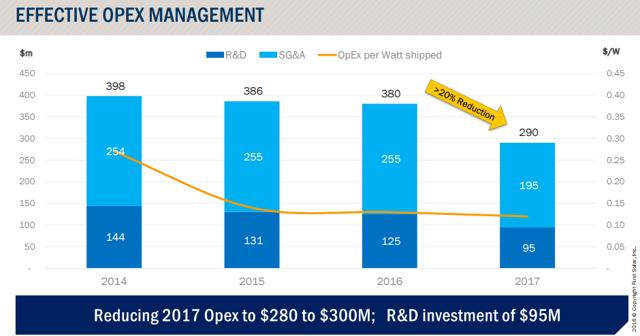 Click to enlarge
Source: First Solar
Hence, First Solar's operating expenses are set to go down by over 20% next year, which will have a positive impact on the bottom line.
Conclusion
Given the weakness that has started affecting the solar market, I think First Solar has made a smart move by accelerating the development of a more advanced product. This will enable the company to lower its costs and take on the pricing challenges in a more effective manner. So, it will be a good idea for investors to take advantage of the weakness at First Solar since it can deliver strong growth in the long run.
Disclosure: I/we have no positions in any stocks mentioned, and no plans to initiate any positions within the next 72 hours.
I wrote this article myself, and it expresses my own opinions. I am not receiving compensation for it (other than from Seeking Alpha). I have no business relationship with any company whose stock is mentioned in this article.