Construction of expensive upstream developments targeting Alberta's massive bitumen resources has wound down to just projects approved before the pricing crash (for the most part). New oil sands developments require a much higher crude pricing environment to be justified, especially when factoring in the Western Canadian Select - West Texas Intermediate pricing differential that eats up around $10/barrel (or more) alone.
Expansions on existing sites are the only developments being seriously considered, and usually are bets on a pricing recovery coming up over the next 18 months.
What really shock the oil sands industry to its core over the past two year was the harsh reality that ongoing operating costs were exceeding cash flow generation. This was especially seen in early 2016 when WTI crashed below $30 and oil sands activities started eating up upstream cash flow streams on top of the hefty construction costs incurred just to bring production online. That worry continued until WTI moved back over $45/barrel (a few of the most economical SAGD operations had a cash margin breakeven level at the mid-to-high $30s WTI range).
Significance for ConocoPhillips
Super-independent ConocoPhillips (NYSE:COP) has a 50/50 joint venture with Total SA (NYSE:TOT) at the Surmont SAGD facility and a 50/50 JV with Cenovus Energy Inc (NYSE:CVE) at the Christina Lake, Narrows Lake, and Foster Creek facilities through the FCCL venture. The ventures produce bitumen through the steam assisted gravity drainage method that involves pumping steam into the ground to heat up the bitumen resources so it can migrate to a producing well.
Expansions at the Christina Lake and Foster Creek facilities, which came online in Q3 - early Q4, are set to add a combined 80,000 BBL/d gross bitumen production to the venture. The Surmont 2 expansion is guided to add 109,000 BBL/d gross bitumen production as it continues to ramp up after reaching first-oil in September 2015.
Out of the 1.557 million BOE/d ConocoPhillips produced on average in Q3 2016, 309,000 BOE/d, or roughly 20%, of its output came from Canada. Two-thirds of that is bitumen with a small amount of crude production, ~7.5% was NGLs, and the rest is dry gas.
ConocoPhillips' oil sands developments have been a key part of its growth trajectory as the company aggressively scaled back drilling activities elsewhere. Oil sands operations have a very low decline rate and will help steady its production base going forward, which brings down Conoco's OpEx requirements (the annual capex needed to keep output flat).
Revamping oil sands assets to cope with the times
To revamp its large oil sands production base ConocoPhillips is focusing on a few key things; bringing down operating costs from its existing assets, improving well production, and cutting down development costs for future projects. The information below relates to its Surmont asset with a similar story playing out at its FCCL venture.
Surmont well costs have fallen by a lot since 2014 as well site facility expenditures dropped dramatically. Management noted that the firm has a "line of sight to a 50% decrease in our well and pad costs" by 2018 versus 2014 levels.
Conoco is achieving those cost savings by creating a standardized well and well pad design for its SAGD operations, which led to massive reductions in the amount of piping, electrical related infrastructure, and structural steel needed to turn a well online.
Further aiding Conoco's cost cutting quest was pressure on third-party suppliers to reduce their rates due to the low price environment, which they did. The cost to drill & complete a well also moved a tiny bit lower but primarily it's additional cuts to well site facility expenditures that will keep dragging costs down.
On the well productivity front, Conoco is rolling out a new flow control device that has been shown to double cumulative crude output from a producing Surmont well over the first twelve months of production. Management noted that "these FCDs have been so effective that we've even developed a way to retrofit them into wells that we drilled that didn't originally have them."
Beyond bringing down the cost of supply for future oil sands developments by reducing the amount of wells required to reach a certain production level, the rollout of the FCDs may slightly bring down operating costs on a per barrel basis as wells become more productive.
These factors mentioned above are the two biggest reasons Conoco thinks it has identified enough debottlenecking prospects to boost its Surmont output by 25% post-2018 with a cost of supply below $40/barrel. At its peak the Surmont facility will produce a gross 136,000 barrels of bitumen a day, maybe more due to productivity enhancements. Those debottlenecking projects represent an additional ~34,000 bo/d of gross bitumen production.
As production from the facility is still ramping up it will continue to generate output growth for Conoco and Total through 2018 and potentially beyond if the venture pursues debottlenecking endeavors. The venture also has identified several brownfield expansions that could bolster Surmont's production by an additional 25%, projects that may become economical post-2018 now that the cost of supply has come down considerably.
Co-injection test in the works
Specifically in regards to reducing ongoing operational costs, ConocoPhillips is moving forward with an injection pilot program. Conoco plans to "inject a small amount of methane with the steam, and it forms an insulating gas blanket at the top of the steam chamber to reduce heat loss to the overburden. Our modeling shows that this idea could reduce both steam/oil ratio and our greenhouse gas intensity by up to 20%. We have a low-cost NCG pilot planned to start before the end of the year and we'll expect to have results in 2017."
Bringing down the steam-to-oil ratio is the best way for oil sands operators to reduce operating costs, and the most economical SAGD operations are ones with the lowest steam-to-oil ratios. Fewer greenhouse gas emissions is a nice cherry on top as well. This is a pilot that should be closely monitored because it could have a significant impact on bringing down Conoco's cash margin level at its oil sands ventures, materially bolstering its cash flow streams going forward.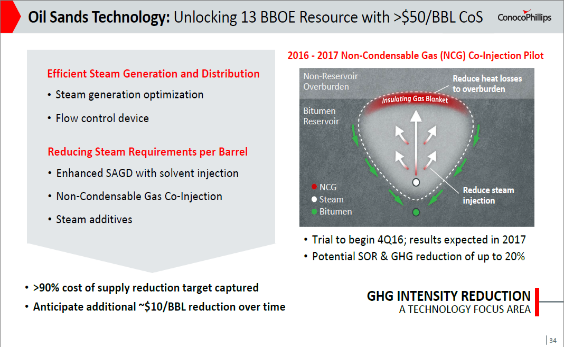 Source: ConocoPhillips Analyst Day Presentation 2016
When cash flow generation starts
During the analyst meeting ConocoPhillips' Al Hirshberg (EVP of Production, Drilling, and Projects) noted that (emphasis added);
"If you think about the newer pieces that people have been trying to understand in APLNG and Surmont and FCCL, those pieces tend to -- if we take the two joint ventures first, they both start to generate cash inside the joint venture at around $45 Brent. That doesn't mean we get the cash out of the joint venture necessarily.
Those ventures hold a certain amount of cash when they're generating not large amounts. But at around $50 is when we expect both FCCL and APLNG would send cash back to the shareholders. So that gives you an idea of the kind of range they are in. At Surmont, at around $45 you're roughly at breakeven on cash margins there. And of course, it goes up rapidly as prices go up from there."
Another member of ConocoPhillips' management team Don Wallette (EVP and CFO) further commented that the firm and its JV partners "would start contemplating distributions" in a $50+ Brent world. Probably a bit higher than that as there are some other projects in the works at both the Surmont (debottlenecking endeavors) and FCCL ventures (additional low cost of supply expansions). Ideally those JVs should have some cash on hand to fund those developments.
Most importantly, Conoco sees its FCCL and Surmont ventures generating cash flow in a ~$45 Brent environment, possibly a little bit lower than that. If the co-injection pilot pans out favorably and the FCD implementation goes smoothly then there is definitely room to bring that down by a meaningful margin.
Final thoughts
A very important thing to keep in mind is that if Brent were to climb and stay above $50/barrel, ConocoPhillips' understated oil sands ventures would become cash flow cows. Due to the stable production profiles of SAGD oil sands developments, ConocoPhillips doesn't have to keep pouring in capex to maintain output levels. As the spread widens between operating expenses and crude pricing benchmarks, ConocoPhillips' ventures will send increasingly larger amounts of capital back to the parent company. Cash which can be used to aid its debt cutting quest, share buybacks, and future dividend increases.
Then there are the operational gains to consider as ConocoPhillips has uncovered new bolt-on projects with a relatively low cost of supply that could be pursued to boost its production streams. The methane co-injection project should be monitored as it could lead to a significant decrease in operating costs, resulting in larger cash piles going back to the parent companies.
While the biggest catalyst from ConocoPhillips' oil sands operations was simply turning these projects online and watching the major development capex roll-off, the next big catalyst will be the cash infusions the upstream player was hoping for when it first decided to make those investments. Considering ConocoPhillips reaches cash flow neutrality in a high $40s Brent environment (as seen in its Q3 results), a $50+ Brent pricing paradigm starts looking very favorable for the firm.
Investors looking to read more about ConocoPhillips and why it is an investment worth considering should take a look at its updated battle plan here.
On a side note, if pipeline projects that would carry crude/bitumen from Alberta to the Gulf Coast start getting approved that could cut down on the WCS-WTI differential. That isn't going to be a quick process but one that could work out 'bigly' in ConocoPhillips' favor and would immensely behoove the entire oil sands industry. Just something to keep in mind.
Disclosure: I am/we are long COP.
I wrote this article myself, and it expresses my own opinions. I am not receiving compensation for it (other than from Seeking Alpha). I have no business relationship with any company whose stock is mentioned in this article.