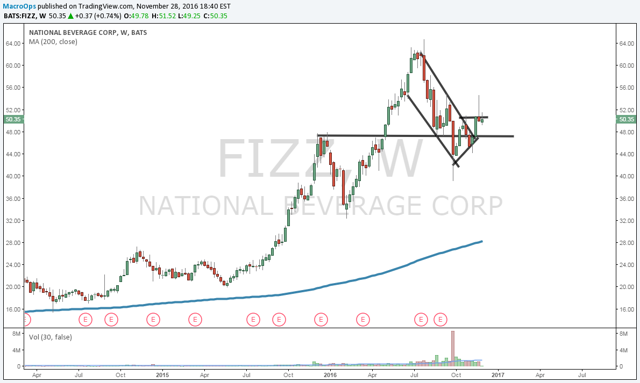 We've kept our eye on National Beverage Corp. (NASDAQ:FIZZ) since early this year, but have yet to enter a position. Now after a hefty 34% correction, FIZZ has an attractive setup with its compelling growth narrative still intact.
FIZZ specializes in producing and distributing sparkling water, juices, energy drinks, and other carbonated soft drinks. It sells under multiple brands, but the only one that currently matters (the one driving growth) is called LaCroix. It's a naturally flavored seltzer water promising no added sweeteners or caffeine. You might have noticed these colorful cans taking up more and more shelf space at the local grocery store. They come in 20 flavors, all with a colorful and flashy design.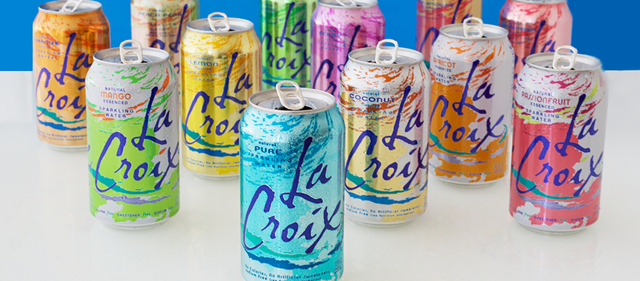 CEO of FIZZ, Nick Caporella, acquired LaCroix in 1996. Back in those days LaCroix was an alternative drink marketed to mid-western moms. You had to look hard to find these cans at the grocery store. They were tucked away behind mega brands like Coke and Pepsi. And for the next 18 years, LaCroix remained a stagnant product for National Beverage Corp.
Finally, in mid-2014, LaCroix cans started flying off the shelves. The drink spread like wildfire to the coasts and graduated its audience from budget mid-western moms to trendsetters in LA and NYC. Pictures of these colorful cans began to blow up all over social media and prominent blogging sites. The hipster-millennial types latched on in force, eager to show off their new trendy drink of choice.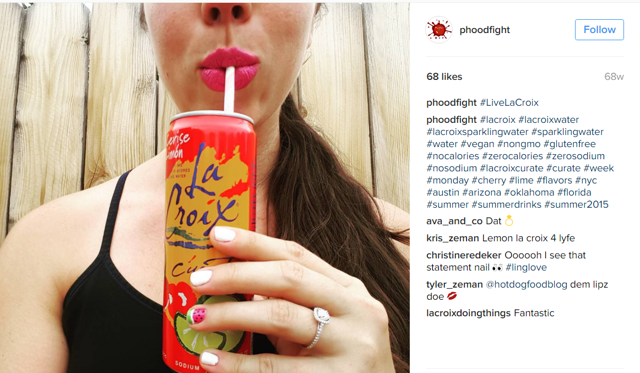 FIZZ embraced this social virality and let it run without trying to control the message or the perception of the brand. Instead it let its new raving fans do all the marketing for them. LaCroix has now taken the form of a "lifestyle brand", where drinking LaCroix is just as much a culture statement as it is a thirst quencher.
Social media has undoubtedly helped growth, but in our eyes, it was an accelerant to the real driver behind the uptick in seltzer water sales - a secular macro shift in America away from sugary sodas to healthier options.
Since 1998, the per-capita consumption of carbonated soda drinks has declined 25%. That money is instead now spent on bottled water and things like LaCroix. Analysts project that bottled water sales will actually surpass carbonated soda drinks for the very first time this year.
This change in behavior is a product of the war on sugar. High blood-sugar levels are now considered an American epidemic. Poor health puts pressure on the health care system, giving lawmakers an easy excuse to enact a "sugar tax" in order to collect more money.
Cook County (City of Chicago) just passed a brand new tax on sugary beverages that goes into effect July 1st of next year. It is following the footsteps of cities like Philadelphia, Oakland, San Francisco, and Boulder which have all voted in favor of sugar taxes.
And these new taxes are only one part of the sugar wars. The FDA has released recommendations that Americans limit their daily intake of added sugars to about 12 teaspoons, which is less than the amount in a 20-ounce bottle of Coke or Pepsi.
On top of that, the most popular diets all shun sugar and embrace fat. Atkins, paleo, slow-carb, and the ketogenic diet all emphasize extremely low amounts of sugar with high fat levels. This is a complete 180-degree flip from the "low fat" craze of the early 1990s. The trend is continuing to gain momentum because these new low-sugar, low-carb diets are working phenomenally well for the people sticking to them. Across all mediums of government and healthcare, sugar is the new anti-Christ and more and more Americans have stopped drinking soda altogether.
LaCroix benefits immensely from this macro shift in sentiment because it's becoming the go-to alternative for ex-soda addicts. Let's face it, soda is insanely addictive and a lot of people have struggled to kick their one-or-two-can-a-day Coke habit. LaCroix acts a methadone for addicts because it mimics the experience of cracking open a can of soda, but without the evil sugar calories.
As people flock to replace their daily soda with a more trendy and healthy option, sales for FIZZ continue to accelerate at an impressive pace. Latest numbers showed a 17% increase in sales from the same quarter a year ago.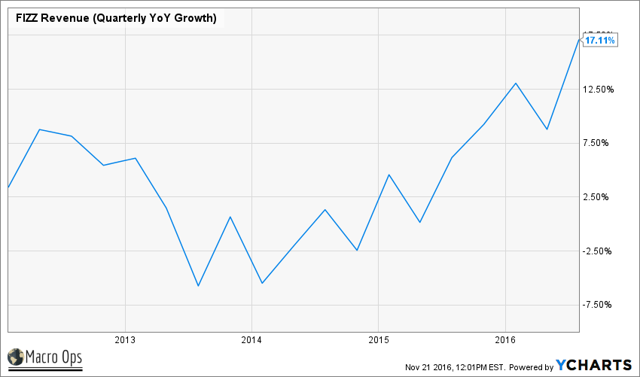 And while the company has enjoyed growing revenue, it has also been able to consistently grow operating margins from 11.5% up to 15.1%.

Growing in both revenue and margin create a powerful impact on earnings. That's why EPS has done a hockey stick move to new highs.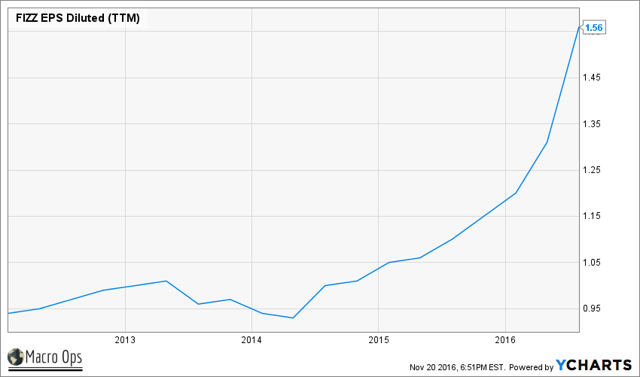 What's most encouraging is that the growth has been completely organic. FIZZ has no long-term debt to service, putting it in a prime position to generate massive profits as the macro shift towards non-sugary drinks continues.
FIZZ has all the characteristics of a great growth stock: a compelling narrative, growing sales, growing margins, growing EPS, and low leverage. LaCroix is also the No.1 brand of flavored bottled water in the United States with about 25 percent market share. It's a cash cow brand with a favorable macro tailwind. In bullish market conditions, this is one of our favorite longs. Our strategy is to go long as soon as the price breaks out from its current consolidation.
Disclosure: I/we have no positions in any stocks mentioned, and no plans to initiate any positions within the next 72 hours.
I wrote this article myself, and it expresses my own opinions. I am not receiving compensation for it (other than from Seeking Alpha). I have no business relationship with any company whose stock is mentioned in this article.