Baidu (NASDAQ:BIDU) and Alibaba (NYSE:BABA) are two well-known names in the growing internet industry in China. Baidu owns the main search engine in the country and is expanding in adjacent markets (online streaming, O2O services) and in less correlated fields (artificial intelligence, autonomous cars). Alibaba is an e-commerce giant with smaller operations in fields such as media and entertainment and cloud computing. Both companies are riding the trend in internet utilization in China, and have many years of growth ahead.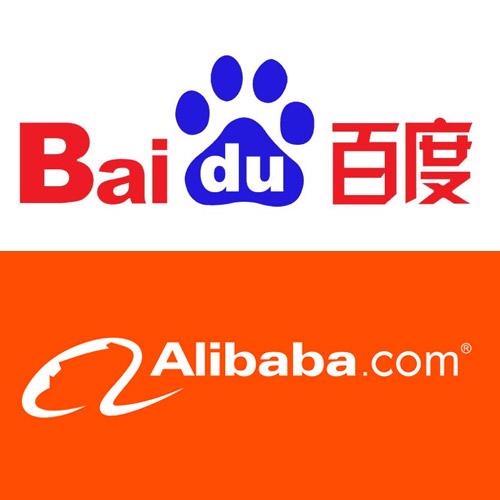 While they are both growth stocks in a growth industry, their performance in the last two years has languished because of macroeconomic factors and company-specific challenges.
Baidu's performance has languished because of its two unprofitable but growing divisions - O2O services and iQiyi. These two segments can exploit the growth trend in Internet consumption in China, but the rising operating losses have led to increasing pessimism about their future prospects.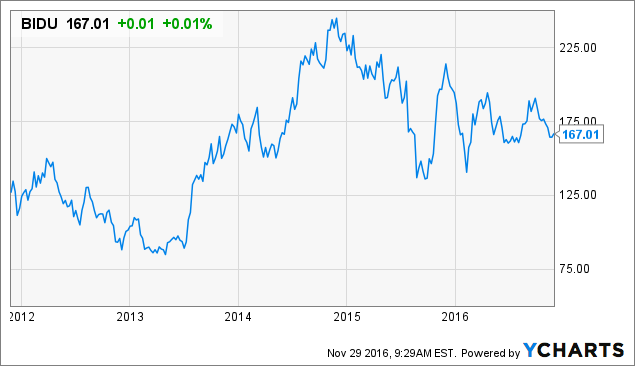 Alibaba posted a significant correction that started just two months after the IPO in 2014. After reaching a bottom at $57, the stock has recovered lost ground and is now trading around $93. Although in 2016 the company reported twice the revenue of 2014, the stock could not take off and is basically trading around the IPO level. Falling margins, competition from JD.com and the concerns about some of the company's accounting practices have contained the uptrend.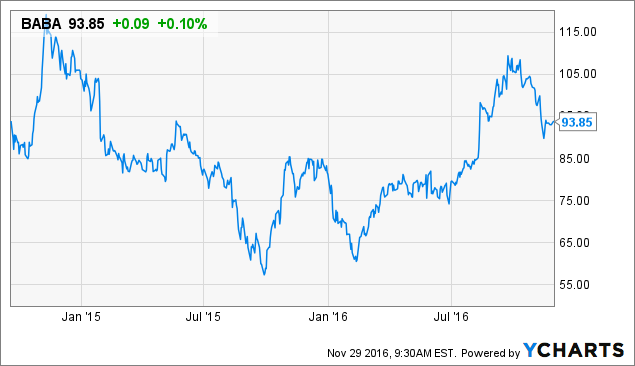 Both stocks have suffered because of the weakness in emerging markets the last two years and the appreciation of the USD against other currencies. The slowing growth of the Chinese economy and the depreciation of the Yuan against the USD have discouraged many investors from investing in Chinese stocks.
In the next paragraph I will analyze some positive trends that should benefit both companies. Then I will share a few thoughts about competitive threats and other company-specific issues.
Growth trends: Internet utilization, e-commerce and digital advertising
The first trend I would like to focus on is the growth trend in internet utilization in China. The number of internet users in China has grown by more than 56% since 2010, but it is estimated that almost 48% of people in China don't use the internet. To make a comparison, the penetration rate in the U.S. and Germany is 88%, while in the U.K. it's even above 92%. The number of internet users in China is estimated to grow at a 6.3% CAGR between 2016 and 2021.
The rising number of users is not the only positive trend in this industry. The average time spent on the internet has significantly grown too. From December 2010 to December 2016, the weekly average online time of internet users in China grew from 18.3 hours to 26.2 hours.
We don't need complex calculations to understand that this market has a lot of untapped potential that both companies can exploit.
A very positive factor for Alibaba is the Chinese people's rising obsession for online shopping. In this regard, it is estimated that almost half of global online sales are generated in China, an unequivocal sign of the country's addiction to e-commerce. The volume of online sales in China now exceeds that in the US, and online sales are expected to grow at a 10% CAGR until 2020.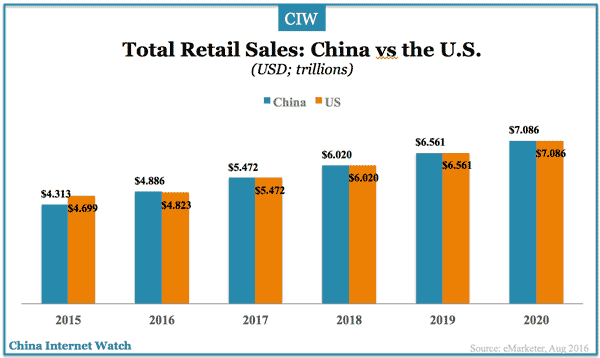 While the trend in online shopping mainly benefits Alibaba, the growth in digital spending is something that both companies are expected to exploit in the next few years. Total spending in digital advertising is in a strong uptrend in China. In late September, market research firm eMarketer revised its forecasts for China's digital advertising market for the years between 2016 and 2018, making upward revisions to both its total and digital ad spend forecast for the Asia-Pacific region, after some signs of increasing digital advertising in China. According to eMarketer, Alibaba, Baidu and Tencent (OTCPK:TCEHY) are expected to remain the top three companies by digital advertising revenues in China, but Alibaba's ad revenues will exceed $12 billion and surpass Baidu by the end of 2016 and will account for almost 29% of China's digital ad market. Overall, digital spending in China is expected to grow at a 22% CAGR between until 2020.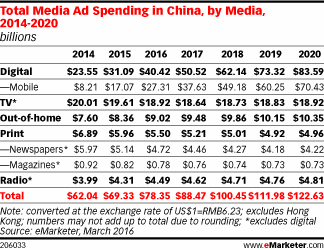 Competitive threats in the core business
While the growth trends in internet usage and digital advertising benefit both Baidu and Alibaba, they operate in different competitive environments.
Internet search appears to be a market that is winner take most, if not all, as Google (NASDAQ:GOOG) (NASDAQ:GOOGL) has shown in the last two decades. The Chinese market is not an exception. It is true that many Chinese users tend to utilize more than one search engine, but the scale advantages in the business remain solid. Search engines improve if more people use them because the companies that run the SE can collect more data about what people search for and how, which helps them refine their algorithm, improving the relevance of search results for users and the efficiency of their advertising system for advertisers. Moreover,"experience effects" of users and advertisers familiar with a search engine make them less likely to switch. These are the main reasons why I think it is very unlikely that Baidu will lose market share, which was estimated to be around 80% at the end of 2015 (70-71% according to analysis.cn). Baidu basically faces no significant competitive threats in the core search business.
Alibaba's core business benefits from economies of scale as well, but the competitive advantages of the biggest player are not as strong as those in the search business. Alibaba's Tmall and Taobao compete with many other platforms, including the giant of e-commerce JD.com (NASDAQ:JD), in a business where basically all retailers are trying to expand.
I have read many opinions about the strength of Alibaba's business model. Some analysts think Alibaba will not be able to build a durable competitive advantage since they believe their model is easy to replicate - or at least easier than JD.com's model, because of the lack of warehouses and control over the price of products, to name a few. My opinion about Alibaba's business model is rather positive. Alibaba is a form of "collective entrepreneurship" between the company and thousands of merchants that sell their products through the company's platforms. This model relies on revenue sharing rather than listing fees and makes it easier for additional merchants to join the network. This leads to a virtuous circle where the high number of merchants attract customers, and vice-versa. I don't think the model is so easy to replicate and I'm sure it's very difficult to gain a significant mind share for any new entrant in the market. What we could see is a higher number of specialized online retailers as is happening in the west with apparel websites such as Yoox (OTCPK:YXOXF) (OTCPK:YXOXY) and Zalando (OTC:ZLDSF) (OTCPK:ZLNDY), while brick and mortar retailers will keep developing their online business but probably we won't see big threats from new entrants with similar business models.
A few thoughts on Baidu
Baidu's core search business remains strong. Some short-term weakness has been triggered by the recent regulation of online advertising practices by the Chinese government, but those measures should bring no long-term pain. While revenue could decline this quarter as advertisers adjust their practices, the higher quality of the ads could bring long-term benefits and improve user retention rate, strengthening Baidu's already dominant position.
The main doubts remain in the two non-profitable divisions - O2O services and iQiyi.
The O2O business has very interesting growth prospects but generates huge operating losses (more than $3 Billion in 2015). It includes anything digital that brings people to shop in offline stores - services to connect users to merchants such as online travel, ticket booking, entertainment, food delivery, grocery and other services. The O2O business in China is developing fast and, according to Baidu's CEO Robin Li, it represents a $1.6 trillion market opportunity. The online to offline market is expected to grow in excess of 20% per year until 2018.
iQiyi's growth is as good as O2O's growth, but still generates significant operating losses ($1 Billion in 2015). The platform has seen the number of subscribers doubling every six months since 2015 - In June 2015 iQiyi had around 5 million subscribers, six months later it had over 10 million and in June 2016, it had 20 million.
Despite the lack of profitability, both divisions are exposed to massive growth trends in the respective industries and Baidu's prospects are promising since the company can leverage its user base to attract new customers in both segments.
A few thoughts on Alibaba
Alibaba's e-commerce business keeps growing incredibly fast, but margins appear to be contracting. The long-term opportunity in the Chinese e-commerce market is clear and I think there are no factors that could threaten Alibaba's revenue growth. Nonetheless, margins might suffer as a result of fierce competition.
One of Alibaba's strengths is in its international business. Alibaba.com remains the world's largest online business-to-business trading platform for small businesses and the network effect here is very strong. Revenue in non-core divisions is rising as well, with digital media and entertainment being the fastest growing division, but the competition in these markets is not easy to beat. The digital media and entertainment division faces competition from Baidu's iQiyi, Tencent Video and PPTV. We don't know whether so many platforms can coexist and be profitable since the pay-per-view business all around the world has shown to be particularly sensitive to the number of players in the market. As Europe has shown, competition between two or more players leads to a tremendous fall in profitability for all the businesses. The reason is that companies spend much more money on contents exclusive rights and advertising to attract customers. The biggest player usually enjoys slightly better margins thanks to the higher scale, but although iQiyi has overtaken Youku as China's most popular video service, it's still early to know which platform will dominate.
Every part of Alibaba's business is growing fast, including the cloud computing division, which is expanding in the western world, and Alipay, which already has 65% of China's online payments market. Nonetheless, some doubt about their accounting practices remain and are my main concern about the company. You can read more about this in the article below.
Analysts Seek Clarity on Alibaba's Accounting Practices
Final Thoughts - Which one would you choose?
Baidu and Alibaba are two giants in the booming Chinese internet industry. They compete directly in the online streaming business and indirectly by trying to attract digital advertising to their platforms. Both benefit from the growing internet utilization in China.
I prefer to invest in BIDU over BABA for a few reasons.
- I think the moat around the search business is better at defending margins than Alibaba's network effect. Competition can still threaten margins for Tmall and Taobao.
- Regarding the online video business, I think iQiyi has an advantage over Youku and Tudou thanks to the high quality content and the possibility to pick customers from Baidu's huge users base.
- Alibaba's accounting practices make it impossible to know precisely how much money the company is making. I can't rely on any valuation method if I don't know their margins. Baidu's accounting practices have never raised concerns, and the stock is trading at a discount to Alphabet despite a similar business but higher growth rates and margins.
If you had to choose between Baidu and Alibaba to invest in the Chinese internet industry, which one would you choose?
Thanks for taking the time to read the article. If you liked it, click on the follow button at the top of the page. You will get these articles as soon as they are published.
Disclosure: I am/we are long BIDU.
I wrote this article myself, and it expresses my own opinions. I am not receiving compensation for it (other than from Seeking Alpha). I have no business relationship with any company whose stock is mentioned in this article.
Editor's Note: This article discusses one or more securities that do not trade on a major U.S. exchange. Please be aware of the risks associated with these stocks.