In Part 1, I discussed:
The Preferred Stock offer on October 31, 2016, is potentially highly dilutive to Common Stock shareholders; amounts to a potential takeover at a discount rather than premium to market; and utilization of further Preferred Stock offers to raise necessary capital will further heavily dilute Common Stock holders;
it is in the interests of Common Stock holders for any further capital raised to be through a partnership or joint venture rather than further equity issues;
the Common Stock shareholders of record on December 2, 2016, can avoid loss of control to Preferred Stock holders by voting against the resolution for issuance of the Common Stock underlying the Preferred Stock at the special meeting to be held on January 9, 2017; and
the large volume of Sunshine Heart's (NASDAQ:SSH) shares traded on November 24 and 25 could be related to various parties securing voting rights for the January 9, 2017, meeting.
In this Part 2, I discuss:
History of the change from C-Pulse therapy to neuromodulation therapy;
about the neuromodulation therapy;
potential effectiveness of the neuromodulation therapy;
the management should already have a fair idea of if and how much superior the Sunshine Heart neuromodulation therapy is compared to the CVRx Barostim Neo therapy;
potential value of the neuromodulation therapy - a huge prize in the ($) hundred millions to ($) billions valuation range; and
summary and conclusions.
1. History Of The Change From C-Pulse Therapy To Neuromodulation Therapy
C-Pulse Therapy
At December 31, 2013, such was the promise of the C-Pulse therapy, based on its US Feasibility trial results, and the size of its potential market, Sunshine Heart had a market cap of over $160M. C-Pulse had CE Mark approval and results from its EU post market trial were even better than for the Feasibility trial. The subsequent US Pivotal trial was eventually suspended due to slow enrollments and difficulties in achieving minimally invasive implantation and a fully implantable device.
The Strategic Change From C-Pulse To Neuromodulation Therapy
By 2013/2014, it appears Sunshine Heart had recognised C-Pulse effectiveness was due more to a neuromodulation effect from the C-Pulse cuff action on the baroreceptors in the aortic arch rather than from its counter-pulsation effect. This is evidenced by the recruitment of personnel from CVRx, the inventors of the Barostim Neo, which targets activation of the baroreceptors on the carotid artery, to achieve neuromodulation. Personnel recruited from CVRx (see here):
Molly Wade joined Sunshine Heart in October of 2013 and currently serves as Senior Vice President of Strategic Operations. Prior to joining Sunshine Heart, Wade spent six years at CVRx, a small privately held company, conducting clinical research in both hypertension and heart failure. At CVRx, Molly was also promoted based on her ability to strategically execute and over deliver clinical trial recruitment while leading her team to similar success.
Dr. Dimitrios "Jim" Georgakopoulos joined Sunshine Heart in December 2014 as Chief Scientific Officer. He has nearly 15 years of combined medical device industry experience and academic research. Jim's area of expertise includes hemodynamics, cardiac and arterial mechanics, and neural control of the circulation, particularly as applied to heart failure and hypertension. Prior to joining Sunshine Heart, Jim was a Research Fellow at CVRx, Inc.
Dr. Eric Lovett joined the company in January 2016 as the Vice President of Clinical Affairs. He has been involved in the design, execution and administration of clinical studies for over 25 years. Prior to joining Sunshine Heart, Dr. Lovett was Vice President of Research and Innovation at CVRx, Inc. where he spent the previous eight years. CVRx, Inc. is a privately held company working on implantable technology for the treatment of hypertension and heart failure.
From a Business Update on March 3, 2016 (see here):
Newly announced CEO, John Erb, announced strategic changes.
Pursuing a more optimal clinical strategy focused on expediting U.S. approval of C-Pulse therapy.
Announcing the stopping of enrollment in the COUNTER-HF clinical trial and OPTIONS-HF post-market study in order to re-focus resources on revised strategy.
Recently published data from the OPTIONS HF Study shows clinically meaningful improvement in mean left ventricular ejection fraction along with strong trends on improvement of functional capacity. These results support belief that the C-Pulse mechanism of action may be both hemodynamic and neuromodulatory.
Ended the year with $23.1 million in cash, $8.0 million in total debt and focused on reducing operating cash-burn in 2016.
2. About The Neuromodulation Therapy
The C-Pulse attracted medical researcher interest due to the surprisingly good functional outcomes for heart failure patients implanted with the device, far greater than might be expected from an IABP. With its knowledge of the C-Pulse action, the company announced a new approach in a 24 August 2016 update as described in Figures 1, 2 and 3 below:
Figure 1

Click to enlarge
Figure 2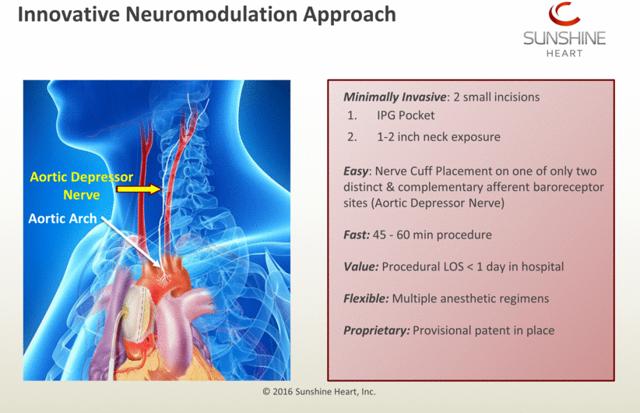 Click to enlarge
Figure 3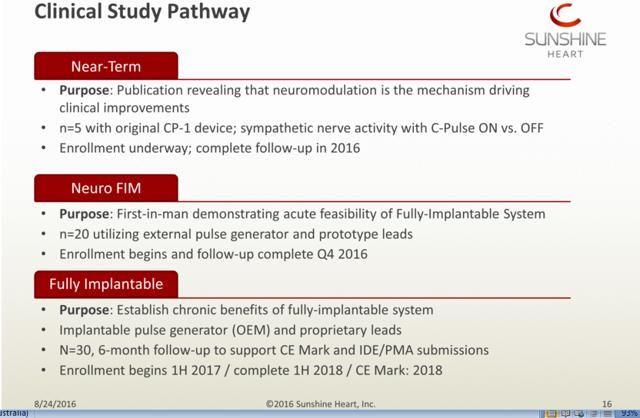 Click to enlarge
3. Potential Effectiveness Of The Neuromodulation Therapy
It has been stated by SSH that the primary effectiveness of C-Pulse derives from its neuromodulation effect, rather than from the counterpulsation effect. It should, therefore, be possible to obtain some idea of the potential efficacy of the neuromodulation therapy based on the results of C-Pulse trials. As mentioned above, the C-Pulse Pivotal trial was halted because there was a failure to achieve a fully implantable model, and the implantation operation was too invasive, resulting in a failure to recruit sufficient patient numbers. But, despite small trial numbers, the indications of efficacy were very strong, and arguably far ahead of any other device or drug for treating NYHA Class III heart failure. Novartis's (NYSE:NVS) Entresto was hailed as a new paradigm in heart failure therapy. Trial results for CVRx Barostim Neo neuromodulation device were published in 2015 (see here). TABLE 1 below compares the efficacy of Novartis Entresto, and CVRx's Barostim Neo therapy to Sunshine Heart's C-pulse therapy, showing the clearly far superior results for C-Pulse across almost all measures.
TABLE 1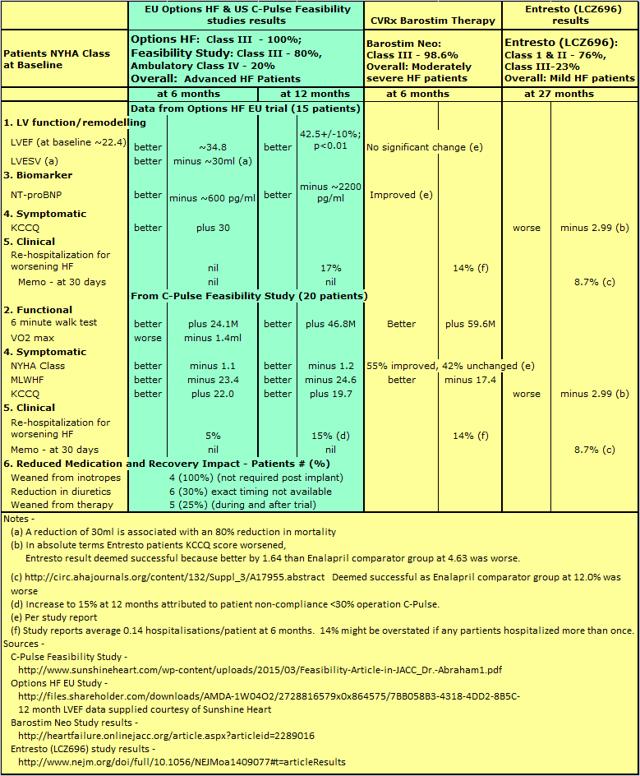 Click to enlarge
It can be seen from TABLE 1 above, the Sunshine C-Pulse therapy has shown far greater efficacy on almost all measures than Novartis Entresto or the CVRx Barostim Neo. Entresto and C-Pulse mostly address different markets. But the new Sunshine Heart neuromodulation therapy based on the effect of C-Pulse on the baroreceptors in the aortic arch, and the CVRx Barostim Neo therapy will be direct competitors. If one or the other proves to be the superior therapy, then that superior therapy will dominate and possibly eliminate the other. Clearly, if the efficacy of C-Pulse per TABLE 1 above translates to similar efficacy for the new neuromodulation therapy, this new therapy will prove far superior to the CVRx Barostim Neo therapy.
4. Sunshine Heart Management Should Already Have A Fair Idea Of If And How Much Superior The Company's Heart Neuromodulation Therapy Is compared to the CVRx Barostim Neo Therapy
The Ability To Directly Measure Efficacy In Real Time
The special thing about C-Pulse is it has been found to have this second mode of action, a powerful neurohormonal activation mechanism, in addition to counterpulsation therapy. Like Entresto, C-Pulse is known to work, with five (25%) of its feasibility study patients becoming asymptomatic for HF, and even better clinical results being achieved in the EU post-market trial. But, unlike Entresto, it is possible to actually demonstrate how it works. This is possible through the ability to switch C-Pulse on and off and measure hemodynamic, baroreceptor activity, and other measures while C-Pulse is switched on and off during calibration of the implanted device. The same can obviously be done with the CVRx Barostim Neo System.
The Ability To Directly Measure The New Neuromodulation Therapy Efficacy In Real Time And Compare To Already Recorded Measures Of C-Pulse Efficacy
The first-in-man acute trial of the new neuromodulation therapy took place in third quarter 2016, ahead of schedule. This news was disclosed to Sunshine Heart shareholders and the share market at the November 8, 2016, third-quarter earnings conference call. The testing showed a clear and immediate physiological response with drops in both heart rate and blood pressure (see here). It would be expected the real time tests performed for the first-in-man test of the new neuromodulation therapy would be similar to the real time tests of patients implanted with C-Pulse. Therefore, the company and its management must have a fair idea of whether and how much of the efficacy of the C-Pulse mechanism of action has been captured with this new mode of activating the baroreceptors in the aortic arch.
Only One Out Of The CVRx Neuromodulation Therapy and The Sunshine Heart Neuromodulation Therapy Is likely To Survive
Similar real-time measures to those available for C-Pulse and the Sunshine Heart neuromodulation device are also available with the Barostim Neo. That should enable a comparison to be readily made between the effectiveness of the Barostim Neo, activating the baroreceptors in the carotid artery, and Sunshine Heart's neuromodulation device, activating the baroreceptors in the aortic arch. With employees on staff who have extensive and recent experience with the Barostim Neo therapy, there must also be a very good idea of whether or not the Sunshine Heart therapy is potentially superior to the CVRx therapy.
The fact that the personnel and infrastructure to conduct trials continue to be maintained, at considerable cost and despite a lack of funds, and despite the pause in the trial, suggests the company believe strongly in the future of the therapy. The planned neuromodulation device will be fully implantable in a simple minimally invasive operation as described in Figure 2 above. As with C-Pulse, its effectiveness will be readily ascertainable due to the ability to switch on and off during calibration. With none of the disadvantages of C-Pulse, enrollments for the 20-patient acute trial and the 30-patient chronic trial should not be an issue. The implantable pulse generator for the chronic trial can be an existing developed pulse generator, such as the one developed by BioControl Medical for its unsuccessful Vagal nerve stimulation trial, or even utilization of the CVRx implantable pulse generator. This would avoid the time and cost of development of a new and unique implantable pulse generator. Here is what the CEO of Sunshine Heart had to say in the Q&A session of the second-quarter conference call (see here):
Well, part of our strategy is to not reinvent the wheel and there's a lot of good science out there, a lot of engineering that's gone into developing neuromodulation different applications and rather than go raise huge amount of money, hire a whole bunch of experienced engineers we thought it would be more productive, more capital efficient to partner with the company. And we've been in discussions with several. The scope of it is soup to nuts, really, it's really too early to be specific and I hope within the next not too many weeks, months to announce a partnership.
5. Potential Value Of The Neuromodulation Therapy - A Huge Prize In The ($) Hundred Millions To ($) Billions Valuation Range
To give some idea of the potential value of this technology, TABLE 2 below is a projection for the neuromodulation device with sales prices and costs based on guidance previously given by the company for the C-Pulse device. Assumptions on timing of commencement of sales are based on the clinical study pathway in Figure 3 above.
TABLE 2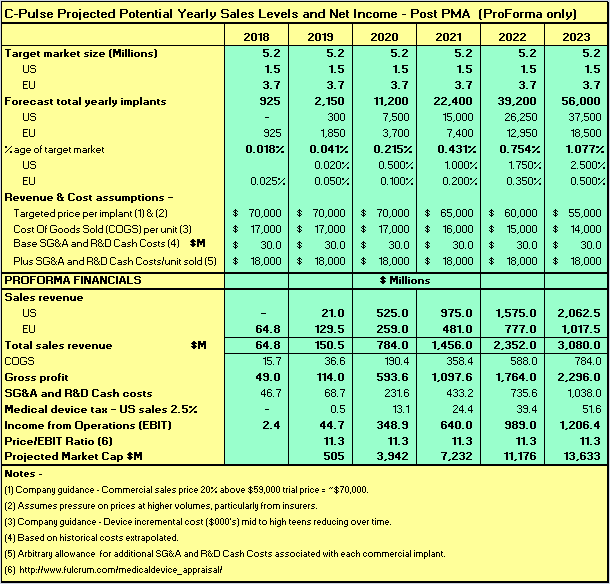 It can be seen from TABLE 2, the device is projected to be highly profitable even at very low market penetration percentages of 0.5% to 2.5% in the US and 0.1% to 0.5% in the EU. Even at these low percentages of the target market, the market cap projections in TABLE 2 above range from $500M in 2019 to $13.6BN in 2023. The potential market is huge. C-Pulse target market was the 3.7M patients in Europe and 1.5M patients in the US suffering from NYHA Class III and ambulatory Class IV heart failure. The simpler and minimally invasive neuromodulation therapy should have an either wider market.
6. Summary And Conclusions
The neuromodulation therapy is potentially an extremely valuable asset. Based on the projections in TABLE 2 above, even heavily discounting future market cap projected amounts, for risk and duration, would result in current day market valuations for Sunshine Heart in the ($) hundred millions to ($) billions.
The neuromodulation therapy is still subject to successful completion of trials, requiring additional funding. Even if trials are successful, CE Mark is not expected before mid-2018 with US PMA sometime after that.
Of considerable risk to Common Stock shareholders is potential further dilution from additional Preferred Stock issues while at the same time the company will definitely require further funding in the near term. It is in the interests of Common Stock holders for additional funds to be sourced other than through an equity raise, due to provisions in the Preferred Stock offer documents.
In Part 3 of this series, I will spell out the case for such funding to become available. I believe it is the Aquadex therapy, in combination with another company's therapy, that will be key to attracting early and large scale joint venture funding support for Sunshine Heart, thus obviating further equity offerings.
Disclaimer: The opinions in this document are for informational and educational purposes only and should not be construed as a recommendation to buy or sell the stocks mentioned or to solicit transactions or clients. Past performance of the companies discussed may not continue and the companies may not achieve the earnings growth as predicted. The information in this document is believed to be accurate, but under no circumstances should a person act upon the information contained within. I do not recommend that anyone act upon any investment information without first consulting an investment advisor and/or a tax advisor as to the suitability of such investments for their specific situation.
Disclosure: I am/we are long SSH.
I wrote this article myself, and it expresses my own opinions. I am not receiving compensation for it (other than from Seeking Alpha). I have no business relationship with any company whose stock is mentioned in this article.
Editor's Note: This article covers one or more stocks trading at less than $1 per share and/or with less than a $100 million market cap. Please be aware of the risks associated with these stocks.