I don't think many, outside of a core group of Glu Mobile (NASDAQ:GLUU) followers, thought that Design Home would be so well received. I wrote an SA article theorizing the next two Glu games would be of great importance to the company here. To me, Canada grossing figures told you all that you needed to know; I thought it was clear, Glu/CrowdStar was on to something with Design Home. For the time being, myself and others of the "Glu faithful" were right. Design Home was the #1 downloaded game for nearly 10 days, a feat not seen since, well not seen in a long while. Even some of the largest games don't enjoy the amount of time at #1 DL that Design Home enjoyed. It was quite something, even if the field is relatively sparse at the moment. We're still going to have to see where Design Home (DH) peaks on a grossing basis but I'm confident it will go higher before an inevitable crescendo.
DH, for this article, is in the past. The next data set Glu Mobile traders and investors will be looking at is the launch of Nicki Minaj's game "Nicki Minaj: The Empire." set to drop on December 8th, 2016. After rather sloppy info from Glu and CrowdStar regarding the launch date of DH, how do we know that date is legit? First, pocketgamer.com got the info from Glu Mobile and reported on it here. Second the official FB account of Nicki Minaj: The Empire (NMTE) told fans the game would be out on Dec 8th which happens to be Nicki's birthday seen here: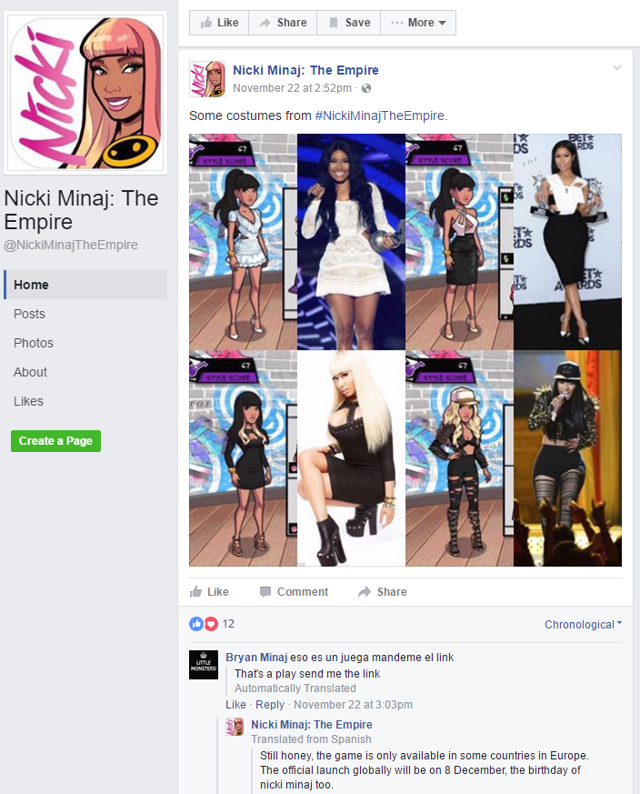 Click to enlarge
(Source: FB.com NMTE Fan Page)
I'd say between the two sources and the fact it IS Nicki's birthday on December 8th, we can be pretty confident that the game is launching then. Long-time GLUU investors know that the game will likely be available for download late on December 6th on iOS, then likely on Google Play on December 7th with the official company PR coming out the 8th regarding the actual launch. Enough about launch data and micro facts about a couple of hours here and there, how might this title do?
There have been six celeb games (seven including NMTE) that include Sniper X (with Jason Statham), Kim Kardashian Hollywood, Katy Perry Pop, Kendall and Kylie Game, Britney Spears: American Dream and Gordon Ramsay Dash. Which game is our best comp? At the current time, I'm going to have to go with Britney Spears: American Dream. Let's take a peek under the hood.
Britney Spears: American Dream
Many Glu Mobile investors will call Britney Spears: American Dream (BSAD) a bomb. They wouldn't be entirely wrong on an expectation basis. However, I think it probably did better than most expected. Looking at downloads (DL) ranking history, App Annie gives us the following information: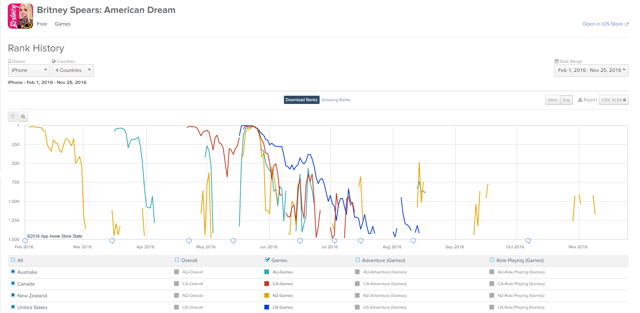 Click to enlarge
(Source: appannie.com)
BSAD DL's peaked at #13 in New Zealand, #34 in Australia, #13 in Canada and #3 in the USA. On a download basis at least, the beta countries didn't give us a good indication on how high it might rank. They did, however, correctly estimate how quickly they would fall off. All four countries' DL ranks fell off very quickly. At the very least, this shows how impressive DH's DL ranks have been. If you talk to anyone who follows the mobile gaming space, they'll tell you downloads, at least, later on, aren't very important, it's all about the gross figures. Gross numbers show how many dollars, euros, pounds, etc. the game is generating via IAP (in-app purchases) in a given day. So how do those look for BSAD: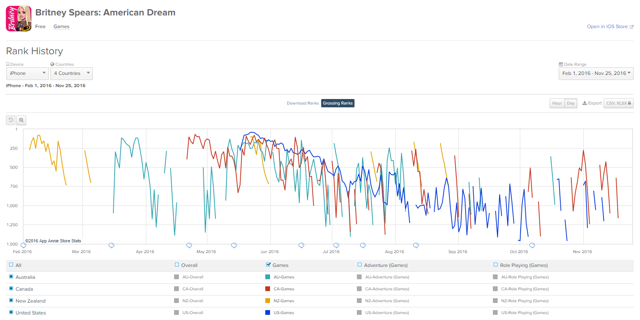 Click to enlarge
(Source: appannie.com)
BSAD grossing figures don't paint a much better picture. The game peaked at #81 in New Zealand, #116 in Australia, #70 in Canada and #42 in the USA. Like DL numbers, gross rankings for BSAD fell off much quicker than Glu and GLUU investors would have liked. BSAD gross figures in the US peaked at #42 in late May, by late June, the game was close to #500, in the mobile gaming world, this is relative obscurity.
Nicki Minaj: The Empire
What does this tell us about NMTE? Let's look at the data we have on hand at the moment: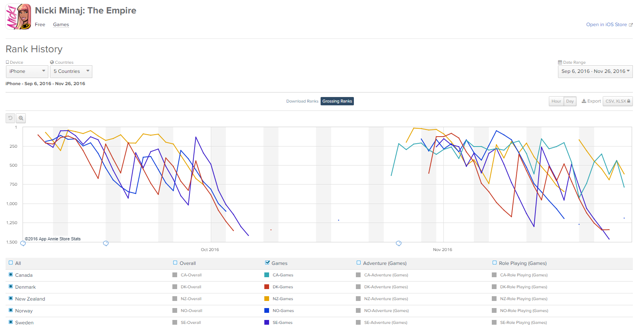 Click to enlarge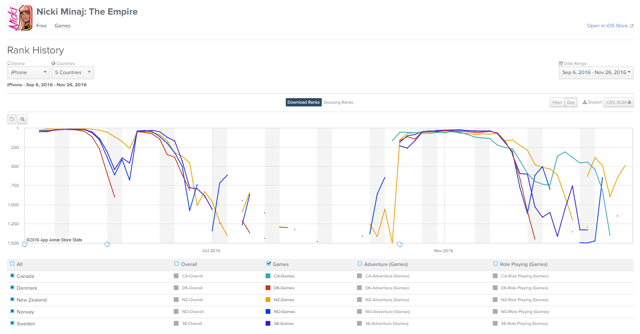 Click to enlarge
(Source: appannie.com)
NMTE is a weird one; it pulled the game from beta for nearly all of October. We can't be certain why it pulled the game, though I think it was likely to incorporate a feature in the game that lets you record your own music, music that Nicki the Boss herself will vote on. I'll go into more detail about that shortly but what can these rankings tell us? NMTE DL ranks peaked at #8 in New Zealand, #15 in Sweden, #13 in Norway, #16 in Denmark and #48 in Canada. The Canadian rank is troubling as it is a significant outlier and the country that tends to mirror US rankings most closely. On the grossing front, the game peaked at #14 in New Zealand, #48 in Norway, #47 and Sweden, #82 in Denmark and #154 in Canada. One positive seen is that gross levels on NMTE tend not to drop off as quickly as BSAD did, at least not in the beta trials analyzed. Alas, these rankings don't seem to tell us very much, NZ and the Scandinavian countries looked pretty good out of the gate but Canada remains a worry, we're going to have to look at less quantitative data on NMTE.
Does Nicki Minaj: The Empire have the "IT" factor?
In a world of viral loops and hit games that seemingly come out of nowhere, does NMTE have something going for it that the numbers aren't showing? Many probably wonder what exactly happened with Katy Perry Pop? A lot went wrong there. One of the biggest things to go wrong was bugs; the game had loads of them. For whatever reason, Glu decided to put the studio who made Racing Rivals in charge of Katy Perry Pop. The studio subsequently took too many liberties with the engine and the resulting game was chock-a-block full of bugs. When looking at the reviews, NMTE doesn't appear to have issues with bugs. Did bugs kill Katy Perry Pop? Perhaps but there were other reasons, any GLUU investor is probably familiar with this slide from Glu Mobiles investor deck: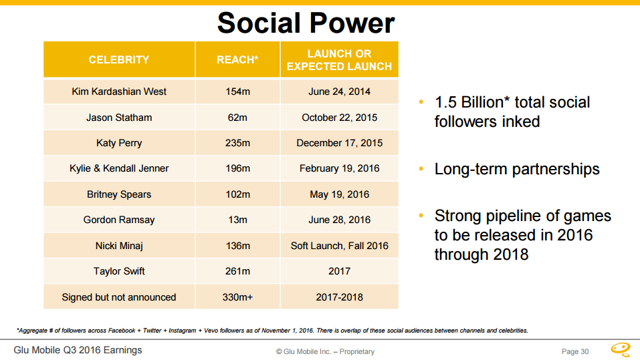 Click to enlarge
(Source: Glu Q3, 2016, ER Presentation)
Are Nicki's 136 million social followers THAT different than Katy Perry's 235 million? I'm not sure that it is. I think once you are north of 100 million followers you have plenty of reach. These celebrities should be able to convert 1% of their followers into players of their game. At least that's what Glu management thought. Perhaps Nicki's followers are on a percentage basis more likely to be fans of Nicki and thus more likely predisposed to download her game. That's a possibility. We know she hasn't pushed her game on social media yet and Katy Perry did very little after it was clear the game was full of bugs and likely a dud. 136 million followers is still a massive base, if she can convert just 20bps into DAU's the game would be more successful than KPP or BSAD, probably combined. It could bomb, but if Nicki at least puts in a college try on her social media the game could see some early success. I don't think all is lost just yet.
Another reason I'm not calling for NMTE to be DOA is due to some gameplay from the game. The game allows users to record lyrics of their own over beats and submit them in the game. The Rap Queen Nicki herself will choose her favorite compositions. I think this has the potential to be that "IT" factor that might resonate with users. See the pertinent screen shot below: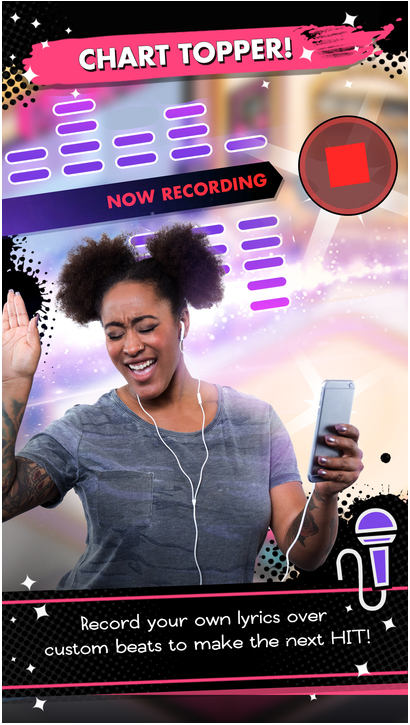 (Source: appannie.com)
This next section is going to be hard to quantify but here goes. Lots of people globally want to be a musician, a rock star, a famous rapper, etc. For example, on the American Idol Wikipedia page, sometimes over 10k people audition for the show in EACH city. Other sites have the total number of auditions at over 100k. That means over 3bps of American's audition for American Idol each season; that seems small but believe me, that's quite a lot. I think this game feature has potential to resonate with these aspiring musicians; Nicki was already a judge on Idol; this gives people another avenue to get in front of her. I did a pretty in-depth search on the internet, trying to dig up statistics regarding how many in the US aspire to be musicians. If you are privy to some data source on this matter, please share it below in the comment section, I'd love to see it. Some might think I'm grasping at straws here but no one can tell what will take off and what won't. I had an inkling Pokemon Go might be big, but never did I think scores of full grown men and woman would be chasing virtual monsters in central park. We won't know until it launches, but I think this feature has potential.
Conclusion:
The success of NMTE is not as certain as the success of Design Home, unfortunately for Glu and their investors. I'm not as sure it will be a bomb like so many current investors appear to be. We've seen time and time again, what clicks with game players is fickle. So now I turn to you, the reader, what do you think? I'd love if a reader could find some statistics related to the amount of people that want to be musicians, I couldn't seem to dig up. I think this feature has potential, and the reason its not showing in the gross figures yet as rather simple. Nicki Minaj is just not judging the music from this app as of yet; it hasn't been released worth wide when it does, she'll start listening in. For the time being it's one down and one to go. Design Home got Glu Mobile back on base, can Nicki bring them home? If enough people want her to hear them sing, maybe she can. It would give Glu investors something to sing about, that's for sure.
Disclosure: I am/we are long GLUU.
I wrote this article myself, and it expresses my own opinions. I am not receiving compensation for it (other than from Seeking Alpha). I have no business relationship with any company whose stock is mentioned in this article.