On August 1, Marathon Oil Corporation (NYSE:MRO) closed on its purchase of PayRock Energy Holdings for $888 million, a deal that was announced back on June 20. When the upstream firm posted its Q3 results investors got to see the firm's first quarterly results since that deal closed and what to expect going forward.
Financial update
First things first, Marathon Oil's decision to bolster its STACK position didn't ruin its financial standing. The company exited Q3 with $3.042 billion in current assets, including $1.953 billion in cash. Compared to $1.408 billion in current liabilities, Marathon Oil's liquidity position remains rock solid especially as it retains an undrawn $3.3 billion revolving credit line. That sets the stage for Marathon Oil's planned increases in drilling activity that I will get into later.
At the beginning of Q4, Marathon Oil was able to lock in another asset sale in a deal that closed later in October for $235 million. That cash, minus taxes and other closing adjustments, will be reflected on Marathon Oil's Q4 2016 earnings statement.
Marathon Oil generated $401 million in operating cash flow in Q3 before taking into account two key things. The first is working capital effects, which added $97 million ($78 million from operating activities and $19 million from investing activities) to its cash balance and the second is the $113 million termination fee as Marathon let go of its offshore rig in the Gulf of Mexico. When including those effects Marathon Oil generated $288 million in net cash flow.
That implies $1.6 billion in annual cash flow generation for Marathon Oil going forward (assuming neutral working capital effects), leaps and bounds ahead of where the firm was during the first half of 2016. Marathon Oil spends around $160 million - $170 million a year on its dividend payments and plans to exit 2016 with a quarterly capex rate of ~$400 million, implying a potential 2017 spend rate of around $1.8 billion.
More information is needed to see what Marathon Oil's 2017 spending levels will look like but for now, if prices hold, the company's outspend headache appears to have come to an end. Excluding one-time effects (closing of STACK purchase, rig termination fees) Marathon Oil's cash flow generation exceeded its expenditures in Q3.
As it appears oil & gas markets have continued to stabilize over the past couple of months, Marathon Oil is preparing its drilling operations accordingly. In order to ramp up its upstream output heading into 2017, Marathon Oil needs to increase its rig count.
The firm is adding a rig to its Bakken operations this quarter after previously halting drilling in the area. Marathon Oil is also adding another rig to its STACK operations, bringing its total to five, while boosting its Eagle Ford rig count by two to six this quarter. Overall, Marathon Oil unconventional rig count is moving from eight at the end of Q3 to 12 by the end of 2016.
Production update
Due in part to the completion of its Alba compression project in Equatorial Guinea in early Q3 and a very strong recovery at its oil sands mining unit, Marathon Oil's company-wide production grew by 5% sequentially to 402,000 BOE/d. On a quarter-over-quarter basis, Marathon's international output increased by 8,000 BOE/d to 128,000 BOE/d, domestic production fell by 8,000 BOE/d to 216,000 BOE/d (excluding divestitures it was up 3% as the company absorbed PayRock's output), and its OSM unit posted an increase of 18,000 Bbl/d as its OSM output grew to 58,000 BBL/d.
Strong sequential performance at its oil sands mining division was largely attributed to significantly less downtime in Q3 versus Q2, which was marred by wildfires in Canada. Other positive factors included more reliability performance from its mines and upgrader facilities which helped increase production by 1,000 BBL/d versus Q3 2015.
Investors shouldn't expect any positives on the output front in Q4 as Marathon is forecasting that its international production will stay flat, its OSM unit will produce between 40,000 - 45,000 BBL/d, and its domestic output is set to move down to ~210,000 BOE/d. Overall, that represents an expected 5% move lower in its production base q-o-q due to downtime at Marathon's OSM division and continued declines from its domestic operations as it will take a quarter or two for its higher rig count to kick in.
However there are several positives to look forward to next year, especially as Marathon steps up the development of its Eagle Ford and STACK positions.
Unconventional update
As I said up above, Marathon Oil is priming itself for a serious ramp up in unconventional drilling activity. Starting first with the Eagle Ford, well costs have continued to fall as Marathon leaned on tried-and-true methods to cut costs. Faster drilling times, quicker frac crews, and pricing pressure on oilfield services costs helped cut completed well costs by 20% year-over-year. Completed well costs are now down below $4 million for a standard Eagle Ford well.
On the productivity side of things, Marathon Oil continue to increase the number of frac stages per well while also increasing its proppant per foot. Endeavors that have been shown to unlock far more oil & gas resources per well at an economical rate. This resulted in Marathon building up a sizeable portfolio of EF wells capable of generation a 65%+ before-tax IRR at $50 WTI, $3.13 Henry Hub pricing.
To further bulk up its EF drilling inventory Marathon Oil has been moving into the Upper Eagle Ford (the Lower Eagle Ford has seen the most activity) and Austin Chalk horizons. So far Marathon Oil has had plenty of success with both EF intervals, turning 20 Lower EF and 15 Upper EF wells online on a gross basis in Q3. Only one Austin Chalk well was brought online last quarter but it remains a major opportunity for Marathon Oil and the upstream industry as a whole.
Up in Oklahoma at the STACK, Marathon Oil was able to show that it could effectively deploy its unconventional expertise to emerging plays like the Meramec shale. Two of its Meramec wells in Eastern Blaine County (in what is shaping up to be the core of the play) came online and yielded tremendous results. The Marjorie and Llyod wells were brought online with 7,700-foot laterals yet are exceeding the production trajectory of its 10,000-foot type-curve.
Standard length wells with ~5,000-foot laterals have also been outperforming as Marathon Oil brought ten gross operated Meramec wells online last quarter. Another sign of Marathon's strong Meramec well portfolio is that its Olive June and the Irven John XL wells continue to exceed type-curve expectations.
On the back of strong well productivity which can be seen in the pictures below, there is ample room for a bullish type-curve revision in the future. What that looks like is an increase in the expected estimated ultimate recovery rate, meaning each well is yielding more oil & gas. Longer laterals have shown to further increase well productivity, but keep in mind Marathon Oil is boosting productivity on a per foot basis which generally leads to better well returns.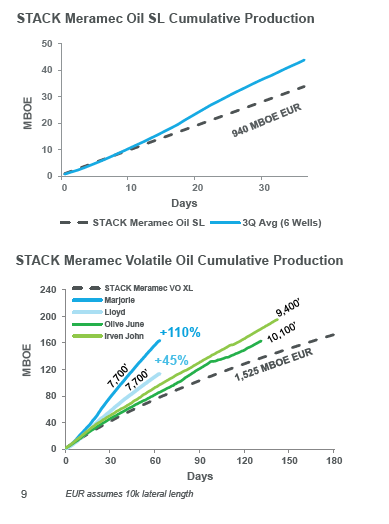 Source: Marathon Oil Corporation Q3 2016 Presentation
Keep in mind Marathon Oil has been using larger completion designs in the volatile oil window of the Meramec, especially in Q3 and most likely going forward. That pushed up completed well costs, but Marathon's Meramec activity is still in its infancy. Widespread pad drilling during the development phase (Marathon Oil is still trying to retain all of its STACK acreage by production, which means it is balancing economics with HBP concerns) will be a big help.
As Marathon Oil increases its drilling activity it will be able to speed up the delineation of the Austin Chalk play and its acreage retention plan in the STACK. Investors should keep looking out for updates on well productivity as that remains a great organic way to wring out as much value from each well as possible. Even if energy prices increase, leading to inflationary pressure from third-parties and labor expenditures, higher EUR rates will enable upstream players to better ride a recovery upwards as those are gains that will stick around.
Final thoughts
Marathon Oil Corporation has been able to salvage its financial position from the deepest and darkest depths of the downswing through capex cuts, well productivity improvements, cost savings, a dividend cut, a secondary share offering, and asset sales. While its long term debt burden of $7.28 billion remains a concern Marathon Oil Corporation's strong current ratio and managed maturity schedule makes it manageable.
As the company gears up for 2017 investors have plenty to look forward to, especially updates out of the Eagle Ford and STACK plays. Investors who see a continued oil & gas recovery heading into 2017 should check out Marathon Oil Corporation.
Disclosure: I/we have no positions in any stocks mentioned, and no plans to initiate any positions within the next 72 hours.
I wrote this article myself, and it expresses my own opinions. I am not receiving compensation for it (other than from Seeking Alpha). I have no business relationship with any company whose stock is mentioned in this article.