November 30th will mark the last day of fiscal Q3 for BlackBerry (NASDAQ:BBRY). While the company will report another large year-over-year drop in revenues, investors are looking to the future of this software and service company. The quarter's results will be reported in a couple of weeks, and it will give us the first glimpse at what the future of BlackBerry will look like.
Before we get to the current quarter, let's quickly review where things stand for the company. Over the last six quarters, as seen in the table below, revenues have dropped by nearly 50%. The decaying service access fees segment is headed to $0, while mobility solutions (hardware) revenues have also collapsed, leading the company to end all internal hardware development.

(Source: BlackBerry fiscal Q2 income statement supplement)
When the company reports Q3, currently scheduled for December 20th, the overall revenue situation is not expected to change much. The average analyst estimate for the company's top line is currently about $332 million, down just a little sequentially from Q2, but down almost 40% over the prior year period. The Street does not expect Q3 to mark the revenue bottom, but hopefully, that will occur sooner rather than later.
The composition of those revenues will change dramatically in Q3, however. Service access fees are expected to decline another 20% or so, putting them in the $70-$75 million range. For the company to be on track to meet its software and services yearly guidance, BlackBerry probably needs about 25% year-over-year revenue growth for that segment (and 30% growth in Q4 over a lower base number from the prior year period).
Rolling out Radar, an asset tracking IoT system, will help the top line. This will likely put the segment over 50% of total company revenues for the first time. Investors may be surprised, but as the chart below shows, software and services has been only a part of revenues in recent quarters.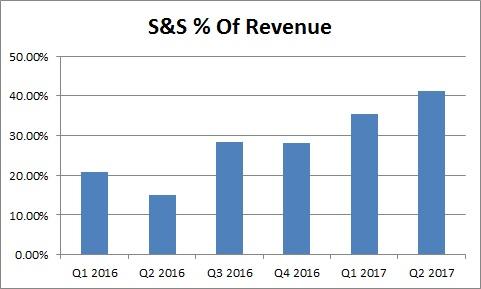 The key to Q3 revenues overall will be the mobility solutions segment. The company did launch the higher priced DTEK60 smartphone during the quarter, which should help phone average selling prices. On the flip side, the company has recently dropped the DTEK50 price by $70. If this segment doesn't completely bomb, like a 50% sequential revenue decline, there's a chance the company can beat analyst estimates for the quarter.
The company's GAAP bottom line results will not look pretty, primarily thanks to one-time charges taken in the quarter. As internal hardware development ends, there could be more write-downs of inventory and purchase commitments. We also will see the charge taken for the convertible note transaction that was completed in the quarter. Adjusted results could show a profit, but that would only be after taking out tens of millions in charges, if not more if there are intangible asset write-downs.
It is that convertible note transaction that will provide a major change to the company's balance sheet. More than $600 million of debt will come off, reducing future interest expenses, but that will also mean a decline in the company's cash balance, which has been a key part of the bull case for some time. Over the next few quarters, we'll also see the hardware transition change items like inventory and perhaps intangible assets. By the end of the fiscal year, the balance sheet will look much different than the one that started the year with a total asset base of more than $5.5 billion.
BlackBerry shares continue to stay in this $6.50 to $8.50 range, and that seems likely to continue until we get a bigger view of what the company is moving forward. Investors don't want to see a company where service access fees still represent 22% of revenues and failing hardware efforts crumple margins. We should finally see software and service revenues over 50% of the total in Q3, but investors want to see what the income statement looks like when this segment is the majority.
This evolving business will see numerous changes to the balance sheet over the next few quarters, with the convertible note transaction being the major item for Q3. BlackBerry's turnaround is ongoing, although much slower than expected, and perhaps a year from now we'll have a concrete view of what the future actually looks like.
Disclosure: I/we have no positions in any stocks mentioned, and no plans to initiate any positions within the next 72 hours.
I wrote this article myself, and it expresses my own opinions. I am not receiving compensation for it (other than from Seeking Alpha). I have no business relationship with any company whose stock is mentioned in this article.
Additional disclosure: Investors are always reminded that before making any investment, you should do your own proper due diligence on any name directly or indirectly mentioned in this article. Investors should also consider seeking advice from a broker or financial adviser before making any investment decisions. Any material in this article should be considered general information, and not relied on as a formal investment recommendation.