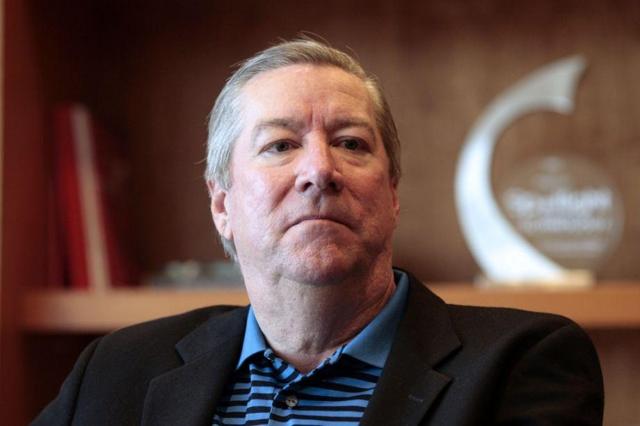 Click to enlarge
Halliburton CEO Dave Lesar
It has been an interesting month for Weatherford (NYSE:WFT). Market chatter suggested the company could breach its debt covenants, driving WFT to a 52-week low of $3.73. Its CEO resigned and the company later raised $540 million in debt and $450 in equity. A Forbes contributor suggested Weatherford's sell off was unwarranted and Halliburton (NYSE:HAL) might be interested in acquiring the company:
The stock of oilfield services company Weatherford International plc has been slammed over the past two days, down almost 7% yesterday and another 12% today, all because of a report from Wolfe Research saying that the company may have to sell hundreds of millions of dollars in shares to meet its debt covenant requirements if it can't generate more free cash flow.

Mark Brown, who follows Weatherford at Seaport Global Securities, wrote in a report Wednesday that the market response is "overly reactionary." ... There's also the possibility that Weatherford could be picked up by Halliburton Co. given consolidation in the sector that recently saw General Electric Co. (NYSE:GE) agree to merge its oil and gas business with Baker Hughes Inc. (NYSE:BHI).
In my opinion, Halliburton could not afford to take on Weatherford's $7.5 billion debt load and impaired balance sheet.
The Situation
Halliburton is still suffering from the $3.5 billion break-up fee for its failed Baker Hughes merger. I personally never thought regulators would approve a deal between the number two and three oil services participants. The notion that Halliburton would pursue another multi-billion deal so soon seems far-fetched. The notion that it - or any other oil services firm - could afford Weatherford seems even more far-fetched.
WFT Would Be A $12 Billion Mistake
A deal for Weatherford would result in Halliburton wasting another $12 million.
WFT Is Overvalued By $8.2 billion
Weatherford is overvalued by several metrics. The company trades at 26.7x last 12 months ("LTM") EBITDA. Selected oil services companies like Schlumberger (NYSE:SLB), Halliburton and National Oilwell Varco (NYSE:NOV) trade at an average of 22.7x EBITDA.

Click to enlarge
If Weatherford traded at the average multiple of selected competitors, its enterprise value would be $9.4 billion; its equity value would be $2.8 billion, or $1.7 billion less than its actual equity market capitalization.
It would equate to a share price of $2.84 or 38% below its current price of $4.57.
If the company traded at my 7.0x range for cyclical companies, its equity market capitalization would be -$3.7 billion, or $8.2 billion less than its current equity market capitalization. In effect, WFT shareholders would have to pay someone to take the company off its hands.
Based On Liquidation Value WFT Is Insolvent By $3.5 billion
Weatherford's unbridled expansion has gotten the company into dire straits. Its assets - particularly goodwill and PP&E - are in disrepair. Prior to its recent equity raise of about $500 million, I estimated that [i] the company's $12.6 billion in assets were overvalued by $6.4 billion and [ii] it was insolvent by $4 billion.
The company has burned through $547 million in cash through year-to-date September 2016. It has raised nearly $5 billion in capital to push back near-term principal payments, cure potential covenant breaches and fund cash burn. Its EBITDA does not cover its $129 million quarterly interest expense, so its cash burn will likely continue unabated.
Including Weatherford's equity raise, I estimate it is now insolvent by about $3.5 billion. If Halliburton acquired Weatherford without a takeover premium, it would overpay by $8.2 billion. Halliburton would then have to cure Weatherford's $3.5 billion insolvency. Combined, such a deal would result in a $12 billion waste of money
Halliburton Needs $3.8 Billion To Avoid Debt Downgrade
Weatherford is in dire need of capital, but Halliburton has problems of its own. Its balance sheet has been punished by its $3.5 billion gift to Baker Hughes. Secondly, though drilling activity has rebounded, the oil patch is still oversupplied. Halliburton's Q3 EBITDA was down 44% Y/Y. An oversupplied market and drillers' reticence to spend on services could tamp down future earnings.
Halliburton's debt/EBITDA is at 5.1x and I project it could reach 5.8x at the end of Q4. If Halliburton does not reduce debt/EBITDA to 4.0x in 2017, Moody's could issue another downgrade. Such an event, in concert with rising rates, could increase Halliburton's borrowing costs by a few hundred basis points. I project that a $3.8 billion debt pare down could reduce debt/EBITDA to 4.0x by year-end. It would behoove Halliburton to consider an equity raise to shore up its balance sheet and improve its credit metrics. The last thing it needs is exposure to capital-starved Weatherford.
Conclusion
A Forbes contributor suggests that Halliburton throw away another $12 billion by investing in Weatherford. I believe Halliburton needs to batten down the hatches, cut costs and raise additional capital. I rate both stocks a sell.
Disclosure: I am/we are short WFT, HAL.
I wrote this article myself, and it expresses my own opinions. I am not receiving compensation for it. I have no business relationship with any company whose stock is mentioned in this article.