In spite of lower oil prices having placed downward pressure on the Norwegian stock index in 2015, the index has since rebounded quite nicely to a level of 722.26 at the time of writing: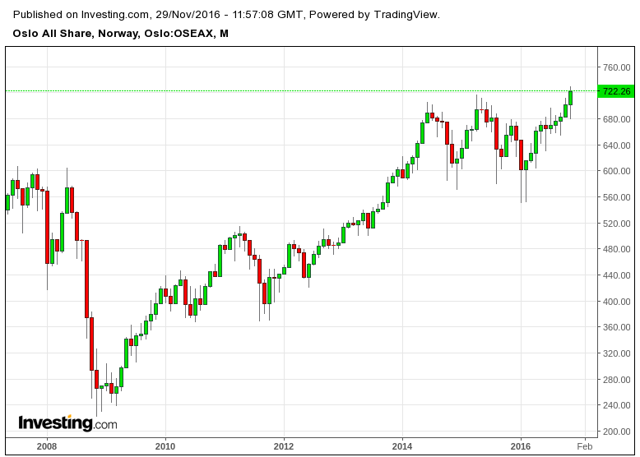 Click to enlarge
While I had recommended that investors avoid investing in neighboring Sweden due to a property bubble that appears to be on the verge of collapse, could the same be said about Norway?
Firstly, as a major oil-producing nation, the rebound in oil prices to the $50 mark has brought the OSEAX up quite nicely, and with talks of a Trump administration set to unleash an additional $1 trillion in spending for infrastructure investment, this is set to push oil prices up further.
However, aside from oil prices, can the rally in the OSEAX be sustained? Even though oil prices have been rising, this alone is not enough to sustain economic growth in Norway itself. For instance, Statistics Norway reports that GDP growth in the third quarter actually dipped by 0.5 percent, down from a growth rate of 0 percent in the second quarter.
Moreover, higher oil prices do not necessarily translate into higher economic growth - at least not immediately. For instance, while oil prices have been rising, petroleum activities and ocean transport have actually been declining; down to -3.1 percent in Q3 from -1.8 percent in Q2. While prices might be rising, it invariably takes time for companies to adjust projects accordingly. Therefore, it will likely be some time before real growth picks up from here.
Additionally, house prices in Norway seem to be rising sharply in a pattern similar to that of Sweden. For instance, it has been reported by NRK that house prices in Oslo are 12 percent higher than that of one year ago, and the weak krone has undoubtedly played a part in larger foreign investment which has continued to bid up house prices to potentially unsustainable levels. Should this continue, then any resulting crash would be reflected in Norway's stock markets.
To conclude, while oil prices are rising, Norway still has some way to go before reaching a sustainable path of economic growth. In this regard, I would be inclined to avoid the OSEAX index at this time.
Disclosure: I/we have no positions in any stocks mentioned, and no plans to initiate any positions within the next 72 hours.
I wrote this article myself, and it expresses my own opinions. I am not receiving compensation for it (other than from Seeking Alpha). I have no business relationship with any company whose stock is mentioned in this article.