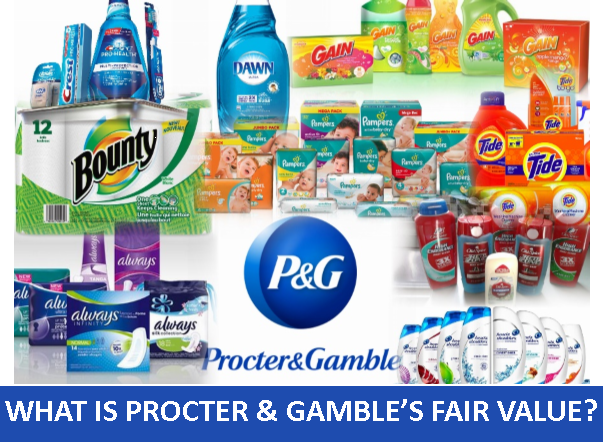 Procter & Gamble (NYSE:PG) investors have had quite the ride over the past year. Near the end of December 2014, PG was trading at $93.64. Over the next nine months, PG's share price would drop 33%. A year later, the share price returns to the $90s and is once again pulling back. The share price is currently trading at $83.46. With PG's recent stock price pullback, I am wondering if the shares are fairly priced or whether I should wait for a larger pullback.
WHERE ARE WE AT?
Let's start off looking at some current valuation metrics. PG is currently trading at 22.32x current earnings, which is right on its 5-year price to earnings average of 22.38x. PG's current price to free cash flow is 20.57, which is about double what many investors look for. The EV/EBIT ratio is also high at 18.72 when compared to Warren Buffett's standard of 10x EBIT.
Coming back to the P/E ratio, the market currently has a P/E of 25.5, while the household products industry has a P/E of 26.18. Both of these suggest that PG is trading below its peers and the market and could present some value. Comparing its current price to expected growth, the PEG ratio is at 0.6x next year's growth, which presents good value in the present. Finally, when comparing PG price to the value of its assets, the price to book ratio is 3.9x, which may be considered a little high but is undervalued compared to the household products industry average of 5.29.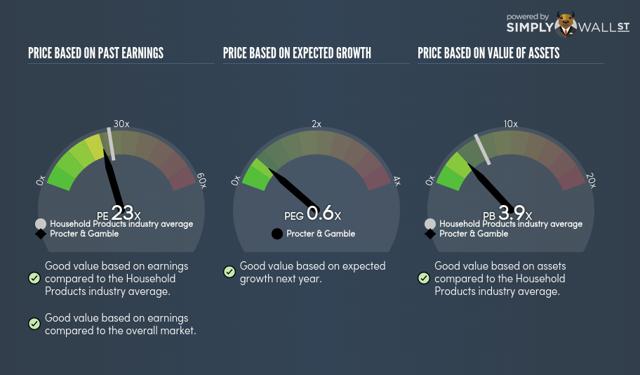 Click to enlarge
Source: SimplyWall.St
At the moment, there are 13 buy recommendations, 2 outperform recommendations, 9 hold recommendations and 1 sell recommendation. The consensus among 25 polled investment analysts is a buy rating.
WHERE ARE WE GOING?
Analysts have big expectations for next year but those expectations drop to more realistic growth prospects over the next following years. The following infographic presents the average EPS estimates with the range of estimates around the average.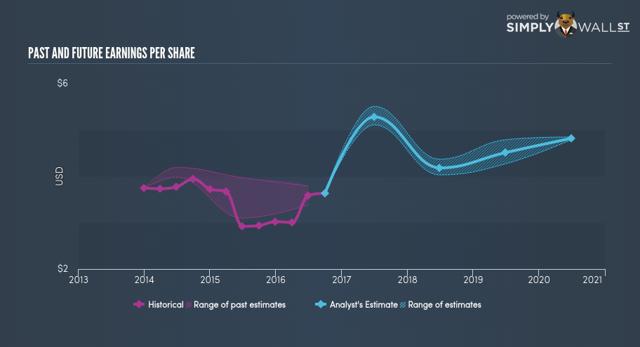 Click to enlarge
Source: SimplyWall.St
As you can see, FY2017 is expected to be a big year. In June 2016, PG reported its FY2016 EPS as $3.60. Average estimates are for an EPS in FY2017 to be $5.28 with a range between $5.11 and $5.51. An EPS of $5.28 would represent an increase of 46.67%. That is huge for PG! I do have other sources that suggest the average FY2017 EPS estimate is $3.89 which would represent an increase of 8.06% which to me seems more reasonable and likely. The estimates projected out into FY2018 and FY2019 are corroborated with my other sources. Speaking of the future, the FY2018 and FY2019 average estimates are $4.18 and $4.51 respectively. Overall, analysts anticipate a 5-year growth rate of 7.10% vs. the industry's 5-year growth rate of 7.70%. The growth in PG would represent a considerable turnaround since the past 5-year growth rate was -0.80%. Overall, analysts are predicting growth in PG future.
If the estimates hold up, then PG is currently trading at 21.4x FY2017 earnings estimate of $3.89, 19.89x FY2018 earnings estimate of $4.18 and 18.43x FY2019 earnings estimate of $4.51. PG would be considered more of a value now when compared to FY2018 since the P/E of 21.4x for FY2017 is slightly below its 5-year average and the current price to earnings.
The median 12-month price forecasts for PG have an estimate of $95.00 with a large range between $76.00 and $106.00. With PG currently trading at $83.13, this suggests that there is 14.28% upside potential and possibly 27.51% upside if the higher price estimate holds true. Downside risk appears limited as the stock price would drop only 8.58% if the lower price estimate holds true.
IS PROCTER & GAMBLE TRADING AT FAIR VALUE?
I used a Reverse DCF to determine how much the market expects PG's growth rate to be. With shares trading at $83.13, the market expects earnings to grow at 13.17%. This is nearly double what analysts are estimating for PG itself and even its industry. EPS growth of 13.17% would represent an EPS of $4.07, which is near the estimate for FY2018. The market appears to have gotten ahead of itself. The question then is what is the right price?
To answer this question, I calculated the fair value of PG using 3 models: Discounted Cash Flow, Graham's Formula, and EBIT multiples.
The inputs I used for the DCF was a growth rate of 7.70% which is a slightly conservative figure compared to next years estimated 8.06% growth however 7.70% is the long-term 5-year growth rate. I used a discount rate of 9%, a terminal rate of 2% and a starting FCF value of $12.12B. This provided a fair value estimate of $57.20.
The inputs I used for the Graham's Formula include a growth rate of 7.70%, and EPS estimate of $3.89 and a corporate bond rate of 3.56%. This provided a fair value estimate of $70.68.
The inputs I used for the EBIT model has a conservative, normal and aggressive case. Based on PG's past 5-year EV/EBIT history, I chose a multiple of 14.29x for the conservative case, 17.36x for the normal case (which also happens to be the median for the past 5 years) and 21.68x for the aggressive case. Revenue estimates were $65.9B in each case. This resulted in fair value estimates of $60.14, $74.22 and $94.04 respectively.
The table below provides a summary and calculations of the estimated fair value of PG.
| | | | | | |
| --- | --- | --- | --- | --- | --- |
| Current Price | DCF | Graham | EBIT | Average FV | Median FV |
| $83.13 | $57.20 | $70.68 | $74.22 | $67.37 | $70.68 |
Source: Old School Value
Based on these calculations, my estimated average fair value is $67.37 and the estimated median fair value is $70.68. Based on the current price, PG is overvalued by 23.39% and 14.98% respectively.
Below you will find my risk/reward chart based on the long-term growth rate (7.70%) and the median fair value estimate. The red and green lines in the price action chart below represent the trading range of PG based on that growth rate. Obviously, when the stock is near the top line, it is not the time to buy and when it is near the bottom line, it is time to consider buying.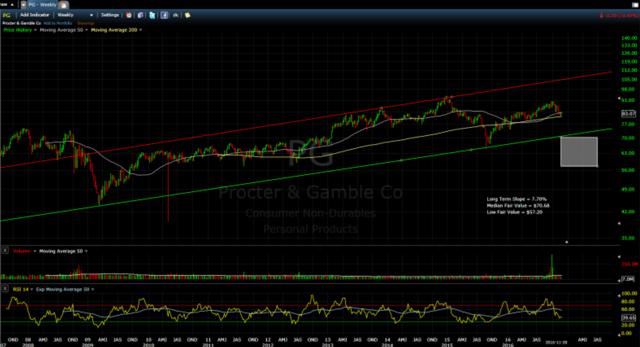 Click to enlarge
Source: Freestockcharts.com
At present, PG's stock price is trading in the middle of the risk/reward channel. The gray box represents the median fair value [high] and the DCF fair value [low]. Obviously if PG's stock price should drop down to $57.20, that would be a strong buy price as it would represent a margin of safety of 23.57% from the median fair value.
At the median fair value price of $70.20, PG would be trading at 18.0x FY2017 earnings estimate and 16.8x FY2018 earnings estimates. That is a much more ideal price to earnings ratio to me.
CONCLUSION
PG is currently restructuring. It is selling assets and brands that are less profitable and that no longer fit with its core. PG has reduced its brand portfolio from 160 to 65. The idea is to focus on quality rather than on quantity. Also, PG expects revenue growth to come from product innovation. Revenue is likely to be affected to the downside as a result in the short term. However, earnings are likely to rise because the company is leaner. The cost structure and capital expenditures are lower, which provides PG some opportunities to return more capital to shareholders.
The market has jumped the gun on this stock. The market has priced PG for FY2018 earnings when we are still working on FY2017. Analysts have an average price target of $95.00 over the next 12 months, which may have made the market a little giddy. However, based on fundamentals and the use of models that take into consideration free cash flow, earnings and the valuation of PG income statement, the stock has run away from its estimated fair value and is currently overvalued. I would wait for a pullback before considering PG further.
I hope you enjoyed this article. If you want to be notified when my future articles are published, please consider following me as a Seeking Alpha author by clicking the "Follow" button at the top of the article beside my name Accelerating Dividends. Thanks for reading.
You can also follow me on FACEBOOK and TWITTER!
Disclosure: I/we have no positions in any stocks mentioned, and no plans to initiate any positions within the next 72 hours.
I wrote this article myself, and it expresses my own opinions. I am not receiving compensation for it (other than from Seeking Alpha). I have no business relationship with any company whose stock is mentioned in this article.