American Eagle Outfitters (NYSE:AEO) has been giving great results for the past few quarters. The company seems to have figured out the puzzle about teen fashion retail. Its Aerie brand has been a great performer showing 20% comp growth in fiscal 2015. In the current fiscal, the brand delivered same-store growth of 32% in first quarter and 24% in the second quarter. The consensus estimate for this quarter is 20%.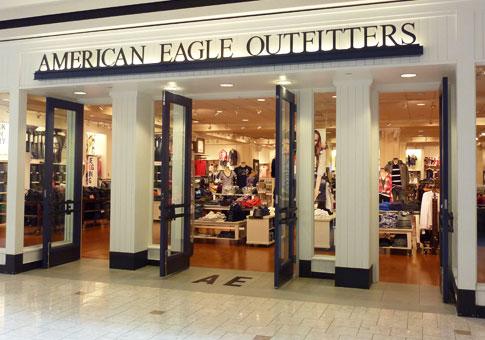 The company has improved its margins as it feels lower pressure for promotional activities. The operating margin in the last quarter rose by 169 basis points year on year and 183 basis points in the first quarter. The gross margin also improved to 37.33% in the last quarter compared to 35.74% in 2015 quarter. This improvement has been achieved while keeping the store base flat. The company will end this fiscal with 1,046 stores, the same number it had last year.
AEO has been beating consensus earnings estimates for the past six quarters in a row.

Click to enlarge
Fig: AEO has given positive earnings surprise from 1 to 4 cents in the past few quarters
The company is also seeing reasonably high revenue growth, considering its store base is flat and the retail environment is less than pleasant for brick-and-mortar stores. In the first quarter, revenue rose by 7.1% and by 3.2% in the second quarter. Average estimate is for a 2.3% growth in this quarter.
Slower store closings by Aeropostale
There is a huge overlap between AEO stores and those run by Aeropostale. When the company went under bankruptcy in May, it was expected that out of 780 stores around 550 would close by mid-September. However, after being bought by mall operators Simon Property Group (NYSE:SPG) and General Growth Properties (NYSE:GGP), more stores are staying open. Currently, only 275 of the stores have closed, half of the earlier planned 550 store closures.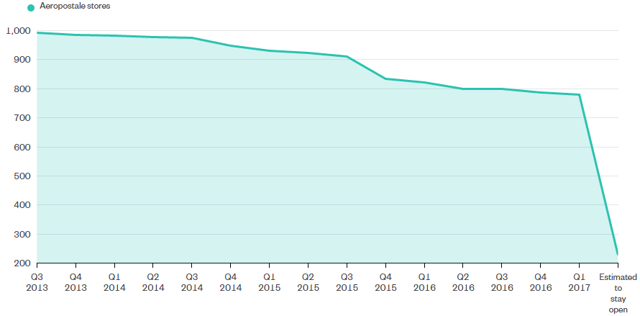 Click to enlarge
Fig: Store count for Aeropostale stores and estimated closures in the next few months
The mall operators might not be looking to run a full-fledged retail business but would rather be trying to manage the decline of these stores effectively. Aeropostale leased all its stores, most of which were leased for 10 years. By directly managing the store closures, the mall operators are in a better place to negotiate deals with new tenants.
AEO might see some headwinds from the locations where stores are still open as they might undertake heavier discounts. But by the first quarter of 2017, there should be a greater migration of business to AEO as the number of store closure for Aeropostale increases. It is estimated that another 100 stores would close in 2017 which can have sales benefit of $136 million for AEO.
Valuation
AEO is reasonably priced compared to other competitors. It is trading at a forward P/E multiple of 14.08x compared to 16.64x for Urban Outfitters (NASDAQ:URBN) and 13.16x for Gap (NYSE:GPS). The company also provides decent dividend yield of 2.72% compared to no dividends by URBN and 3.61% by GPS. GPS provides a better yield but has a higher payout ratio of 54.78% compared to only 39.3% by AEO. This gives AEO a lot more room to increase dividends, and as the earnings are increasing at a fast rate, there should be major dividend growth.
GPS is also closing a large number of stores and has delivered declining sales for the past few quarters.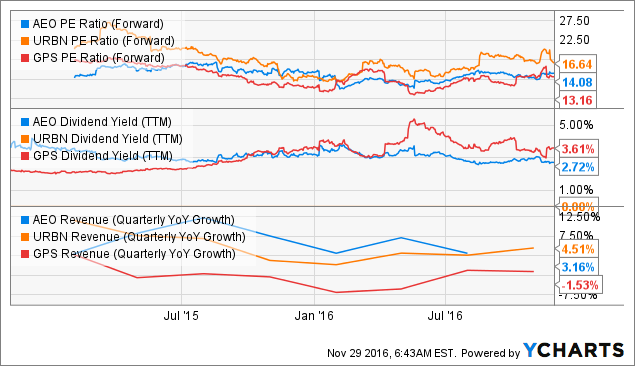 Fig: Comparison of forward P/E ratio, dividend yield and revenue growth (QoQ) for AEO, URBN and GPS
AEO is in a much better place than rivals to attract customers as store closures in GAP, Aeropostale, Macy's (NYSE:M) and others gain pace in 2017.
Investor Takeaway
American Eagle Outfitters has given impressive results in the past few quarters. It has shown good comp growth and exceeded earnings estimate while maintaining its store count. As other retailers start reducing their stores in 2017, AEO is well placed to gain a major share.
From a valuation perspective, the stock is priced reasonably and should easily attract a forward P/E multiple of 17-18x. The company has paid good dividends for over 10 years, even during the financial recession. The current yield of 2.72% with a payout ratio of only 39% is very attractive compared to other competitors. AEO stands as a good long-term investing option in the retail space.
Disclosure: I/we have no positions in any stocks mentioned, and no plans to initiate any positions within the next 72 hours.
I wrote this article myself, and it expresses my own opinions. I am not receiving compensation for it (other than from Seeking Alpha). I have no business relationship with any company whose stock is mentioned in this article.