When I wrote about the 3Q results of Regions Financial (NYSE: RF) one of my leading bullets was "Forward PEs are unchallenging, but RF is unlikely to re-rate without additional juice."
Trump has provided the juice. Regions financial was on $10.54 when I made that comment andis now on $13 having taken a look at 13.5 last week. The stock is 23% up from my last article, outperforming the KRE (which is up 19%) usefully. What should we do with it now?
All banks have enjoyed the prospective Trump economy despite what it actually means being a little hard to sketch from the haze of policy proposals and hyperbole that has emanated from the president elect in the last few months.
In the "pre-Trump" world I was minded to prefer regional banks exhibiting more growth than Regions and questioned whether the low PE of RF was enough to excite the market. As a reminder here is the glacial progress being made in the balance sheet: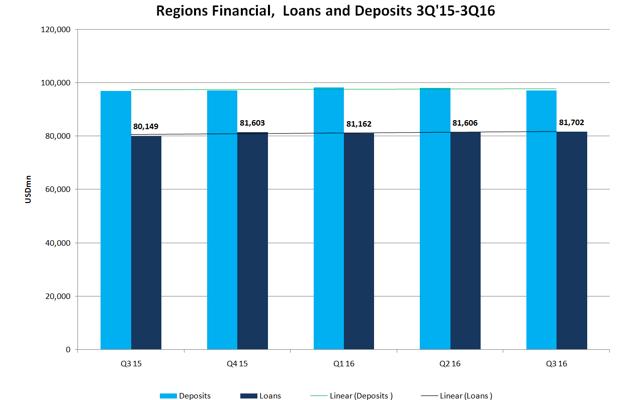 Click to enlarge
Source: Company data
In turn, the lack of dynamism in the balance sheet has fed through to the P&L with stagnant income trends.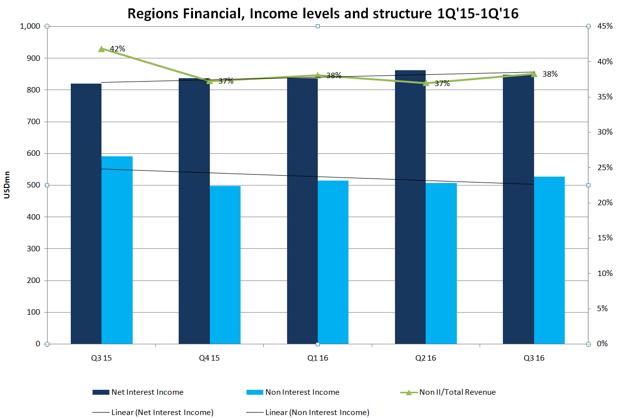 Click to enlarge
Source: Company data
My conclusion at the time was that while Regions was cheap in relative terms with a PE of 9.5x in 2018E, this was mainly driven by share buybacks and some modest targeted cost savings rather than growth and I wasn't that attracted to the low PE alone. The question now is that happens to the valuation if we allow for a bit more growth. After all, Regions might not have pushed for volume growth in the slow and low environment of the last few years, but some growth should come its way if Trump does lift the US economy.
Here are two proposed growth outlooks for Regions. The first, which is what I was valuing RF off back in October, is pretty pedestrian with one off expenses in 2016 allowing some decent growth in 2017 but then 2018 looking like the low single digit story that has been the underlying situation at RF.
The second set of forecasts, "post Trump", are also pretty conservative - as Warren Buffett would say, no need to go crazy. Imagine balance sheet expansion of around 5% and some margin uplift with earlier rate hikes allowing revenue to move a little faster. Planned cost savings are still made in both models (about $150m a year) and costs growth more or less in line with revenue (in fact 1% lower reflecting some of the revenue growth will come from rate driven margin expansion). Buybacks work as before, supported by RF's strong capital base.

Source: FIG Ideas forecasts
Running these numbers gives the following two valuation outcomes.
The first set, "pre-Trump" leaves RF looking OK.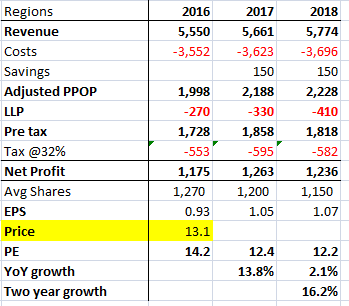 Source: FIG Ideas forecasts
The second set - a modestly enhanced growth outlook "post- Trump"doubles the growth outlook for EPS: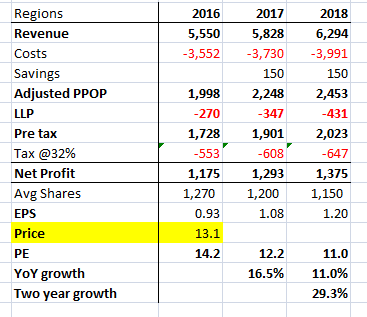 Source: FIG Ideas forecasts
We're still running tax at 32% in both scenarios . A 25% tax rate in 2017-18 would lead to a 42% EPS gain over the pre-Trump scenario.
Conclusion
It can be difficult to jump into a sector that's just shot up 20%. Regions is something I'd feel pretty comfortable climbing into here though. It's got one of the lower PEs in the sector and strong capital with a fully phased in Tier 1 ratio of 11% which gives it a great base to pursue loan growth when it gets the right quality of opportunity. More importantly, it's previously ultra low growth rates mean its outlook improves rapidly with modestly enhanced assumptions about its balance sheet and revenue outlook over the medium term. If you want to chase banks, RF is a good choice.
Disclosure: I/we have no positions in any stocks mentioned, and no plans to initiate any positions within the next 72 hours.
I wrote this article myself, and it expresses my own opinions. I am not receiving compensation for it (other than from Seeking Alpha). I have no business relationship with any company whose stock is mentioned in this article.