With only about a month left to the end of the year, it is pretty clear -- unfortunately for the bulls -- that General Electric (NYSE:GE) will not manage to hit a valuation of $40 a share in 2016.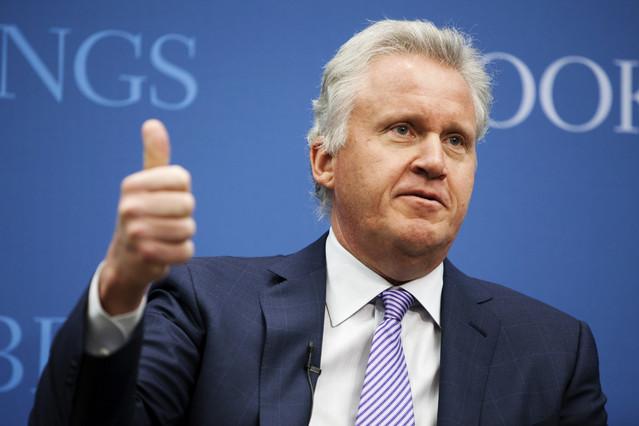 However, there remain high hopes that GE will rise the dividend, with some of my buy-side contacts speculating that a formal announcement is due on 14 December.
How likely is that?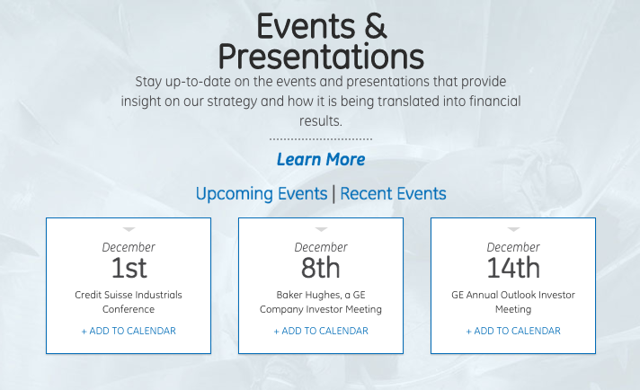 Click to enlarge(Source: General Electric)
Margins
If you want to know how the core business lines of GE are performing on an aggregate basis these days, then you should look at the chart below.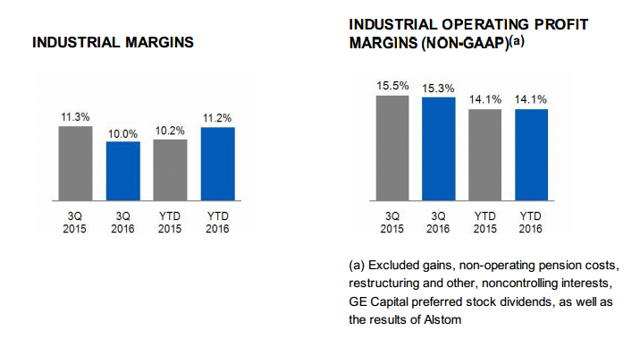 Click to enlarge(Source: General Electric 10-Q)
Without GE Capital, the appeal of the New GE hinges on how profitable its industrial operations will become over time -- which, in turn, will determine its earnings power and how rich a dividend it will be able to pay out to investors. Based on projected earnings per share of $1.25 and dividends per share at $0.94, the payout currently stands at 75.2%.
Rev Up, Core Income Flat
Despite large divestment and acquisitions, GE hasn't become more profitable year-on-year. As widely expected, front-loaded synergies need time to materialize and boost profits, but nonetheless, it is a good sign, the bulls insist, that its underlying profitability has not deteriorated since certain energy assets of Alstom (OTCPK:ALSMY) were acquired.
(Alstom-related synergy forecasts can be found here.)
As it said in its latest 10-Q, industrial revenues "increased $7.2 billion, or 9%, mainly from the effects of acquisitions of $9.3 billion, primarily Alstom."
The increase was partially offset by the effects of dispositions of $0.9 billion, primarily from the sale of our Appliances business to Haier in the second quarter of 2016, the effects of a stronger U.S. dollar of $0.7 billion and a decrease in Industrial organic revenue* of $0.5 billion."
By comparison, in 2015 the effects of "acquisitions and dispositions on industrial revenues were an increase of $0.2 billion and a decrease of $0.1 billion, respectively."
It's changing a lot, but its industrial cost base, meanwhile, isn't shrinking. SG&A is the heaviest cost of all after cost of goods sold and costs of services, and is on its way up.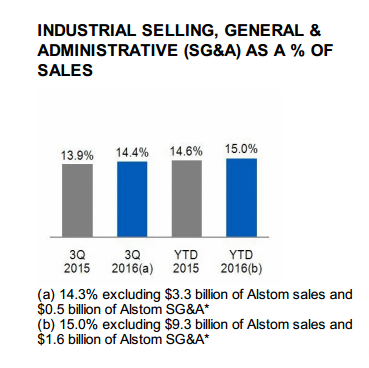 (Source: General Electric 10-Q)
When you consider that cost of goods sold -- these are non-operating costs -- represented about half of $90bn of revenues while other key costs continued to weigh significantly on earnings in the first nine months of the year, you will not be surprised to observe that, although GE booked a respectable amount of earnings, it did not churn out much cash flow out of each US dollar in revenue it generated across its multiple divisions.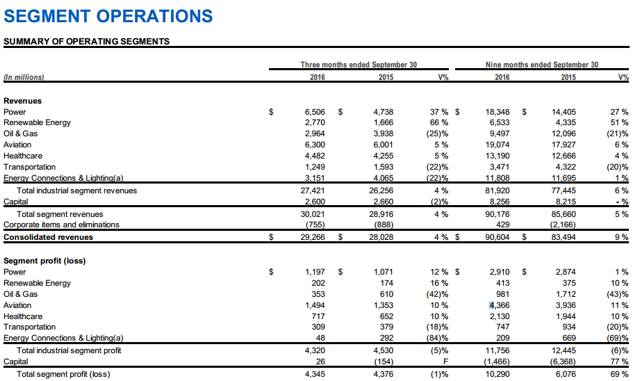 Click to enlarge
(Source: General Electric 10-Q)
Once the bank and the taxman are paid off, a back-of-the-envelope calculation suggests that GE, in its current form, should be able to generate between $11bn and $13n of annual net income at group level, on a reported basis -- but as a matter of fact, in the first nine months of the year it devoted all its pre-tax profits to dividend payments.
Well, it actually did not have enough income to pay for it, on a reported basis, in the first nine months of 2016.
Reported figures are increasingly important because the Security Exchange Commission seems to have become more interested in certain reporting habits of big corporations, so it is easy to speculate there could be unexpected adjustments to be made there; in short, the discrepancy between non-GAAP and GAAP figures could be a headache for GE.
Numbers
Short-term pressure on earnings is nothing new, of course.
One problem is that it decided to add to its vast portfolio of assets certain operations that bring additional revenues but very little in terms of profits, as the table below demonstrates, given $7.2bn of additional revenues and no additional earnings.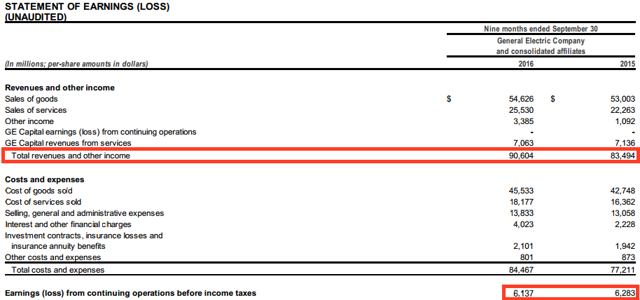 Click to enlarge
(Source: General Electric 10-Q)
As you know, income and core cash flows are two very different things. Inevitably, I must focus on the former, also because the cash flow statement of GE is where things become more interesting, and confusing, at the same time.
Capital Allocation
During the first nine months of 2016, we returned $24.5 billion to shareholders including $18.1 billion through buyback of our common stock and $6.4 billion in dividends," GE recently pointed out.
Its operating cash flow, however, fell significantly before certain adjustments at group level, as the table below shows...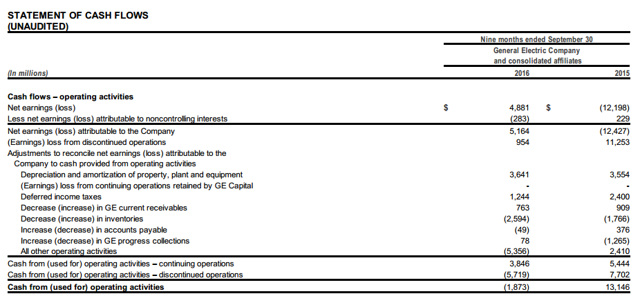 Click to enlarge(Source: General Electric 10-Q)
... which means that GE had to generate more cash from investing and financing to keep its accounts in order.
There is no way around it: when you spend more than you earn, as in GE's case after certain adjustments are considered, you either have to seek new financing or to sell assets that have some value on the market.
Cash from investing was down year-on-year in the first nine months to 30 September, and similarly its gross cash balances dropped, hit by cash outflows from financing.
Unsurprisingly, given its capital allocation strategy, it also paid less in dividends at group level than a year ago.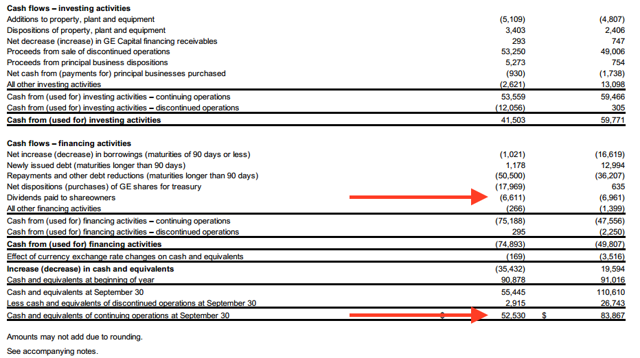 Click to enlarge(Source: General Electric 10-Q)
Crucially, cash outflows associated to dividend payments fell while its share count plunged by about 1.2 billion shares to 8.9 billion shares outstanding.

Click to enlarge(Source: General Electric 10-Q)
What is next is anybody's guess, but you are entitled to wonder whether GE management is mainly focused on capital gains rather than upping the dividend in December.
Income
GE will likely continue to shrink its share count, and that makes a lot of sense because managers do not know if their synergy target will be achieved in a trading environment where budgets and forecasts are often unreliable.
For accounting purposes, another interesting element worth some consideration is how its accounts will look like when the full divestment of GE Capital is completed?
I don't know what the answer to that is, but I know that GE Capital still contributes to the group in terms of dividend payments.
GE Capital paid common dividends of $5.1 billion and $16.1 billion for the three and nine months ended September 30, 2016, respectively. In October 2016, we received an additional $2.0 billion of common dividends from GE Capital bringing our year-to-date total to $18.1 billion," GE noted.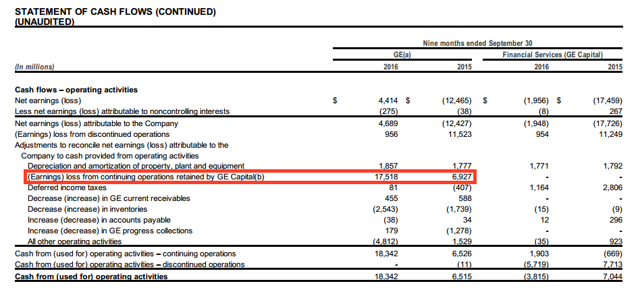 Click to enlarge(Source: General Electric 10-Q)
The table above shows certain operating cash flow items and adjustments that are virtually impossible to model accurately through to 2018, in my opinion, but once the performances of two units are separated, it is evident that GE spent about $500m less in dividends year-on-year until the end of September, as the table below indicates.

Click to enlarge(Source: General Electric 10-Q)
That makes me think management are eager to deliver capital appreciation rather value to income investors - so, in light of these elements, is $40 a share a plausible price target for its equity valuation?
That level, deemed possible by the bulls at the turn of the year, seems unlikely until June 2017 at least; GE has overpromised and underachieved based on its stock price performance in 2016, although its restructuring continues, and a leaner corporate structure makes a lot sense.
For the record, my price target remains unchanged at $24.5 a share, given the current macroeconomic environment, where steepening yield curves and a strong US dollar are more damaging than beneficial.
On this note, a senior economist based in Asia told me today:
"My God... the truth is so depressing, it's better people just don't know it."
Disclosure: I/we have no positions in any stocks mentioned, and no plans to initiate any positions within the next 72 hours.
I wrote this article myself, and it expresses my own opinions. I am not receiving compensation for it (other than from Seeking Alpha). I have no business relationship with any company whose stock is mentioned in this article.