Let's repeat a brief confession: I've been long and wrong on Carbo Ceramics (NYSE:CRR) for some time. That being said, my current opinion is that the chances of salvaging value are good enough that I should continue my efforts.
Sand vs. Ceramic Proppant
CEO Gary Kolstad has accepted that ceramic proppant has been displaced by high volumes of sand in many applications. From the 3Q 2016 Earnings Conference Call (Transcript):
Before addressing our long-term outlook, I'd like to make a few comments regarding the current ceramic proppant market. It's obvious that increased sand usage continues with low permeability shale wells benefiting from the increased contact area that more stages and more proppant bring. It is also obvious that there is currently a near-term focus on cost minimization at the risk of lower EUR and potentially unnecessary refracs. However, there is a place for ceramic proppant in the oil and gas industry, given that 50% of the wells today see greater than 6,000 psi closure stress, the point where the best sands, white sand, starts to fail, making them ripe to benefit from the use of ceramic proppant.

In addition, we need to remember that not all reservoir rocks are the same. The completion techniques have changed as the rocks we are frac'ing today have changed from higher permeability conventional wells to lower permeability shales. We need to remember that there are higher permeability rocks that require completion techniques that favor high conductivity proppant. In other words, not every well frac'ed today is a low permeability shale rock. There are a lot of conventional wells around the world that will still require the conductivity that only ceramic proppant can bring. So there will always be a ceramic proppant market. The size of the ceramic proppant market after the industry recovers is unknown. As a result, we are adapting our company to the current environment. (Emphasis added)
Huge Short Interest
As of November 8, 28.8% of the float was sold short. While they have been squeezed a bit from time to time, the trade has been extremely profitable. It's worth noting that even at current price levels many short-sellers have not covered.
Balance Sheet and Cash Considerations
The balance sheet is strong. The current ratio stands at 7.37, and the quick ratio is 3.98.
The company has established an ATM (at the market) facility, whereby they are able to sell stock on a regular basis at current prices, up to $75 million, of which $46 million has been used. Receipts came to $13.69 per share during the third quarter. With share prices in the $7 area lately, they are unlikely to tap this source unless desperate measures are called for.
The company is burning cash. CFO Ernesto Bautista has estimated $15 million per quarter, while noting that cash may be required if business picks up. Inventory, the second largest current asset (after cash), has not been reduced much in recent quarters, although Bautista says it may be drawn down going forward. With $108 million of cash, the company can tread water for quite a while.
Property Plant & Equipment, the largest non-current asset, stands at $505 million, or $20 per share, after depreciation. Valuation is dependent on finding a way to make these assets productive. At the present moment they are largely idle.
Management Actions
The Wilks Brothers at one time ran a large and successful fracking company, which they sold with exquisite timing. They have a significant position in Carbo and have been talking to management. From a 13D filing:
The Reporting Person typically does not file Schedule 13D reports because, even when it acquires a significant stake in companies, it typically does not seek to change or influence the control of the companies in which it invests. In the case of the Company, however, the Reporting Person believes that due to ongoing relative and absolute underperformance of the Company's stock price, the Reporting Person may need to take a more active role in order to preserve and maximize the value of its investment and, in turn, maintain and increase value for the benefit of all shareholders. As a result, the Reporting Person has engaged, and expects to continue to engage, in discussions with management, the board of directors, other stakeholders of the Company and other relevant parties concerning the business, operations, management, strategy and future plans of the Company.
I suspect that the Willks Brothers told CEO Gary Kolstad the facts of life: ceramic proppants aren't going to go back to where they were, even if fracking does. Also, CEO's a failing companies run a severe risk of unemployment.
On the last conference call, Kolstad mentioned efforts to find other uses for the company's Property, Plant and Equipment. They can make products for others. He also mentioned other markets for the company's products. They are currently used in certain industrial applications. Sales people are in place and a low double digit increase of industrial sales is possible. The company is not currently trying to sell its production assets, but would be gratified if an opportunity should fortuitously emerge.
What Would a Turnaround Look Like?
In the 2015 10-K management presents the scenario underlying their estimate of asset impairments. Briefly, it calls for a five year partial recovery, and resulted in impairments of $46 million. If that scenario plays out, a plausible argument can be made that the shares would trade at a P/B of 1X, vs. the current 0.3X.
However, a study of Carbo's revenue/rig shows a downward trend that hasn't reversed as rig counts have increased. Drilled but uncompleted wells are decreasing per EIA, which all else equal should have CRR getting more revenue per rig. The interpretation is, that completions are increasing and the company is not participating proportionately. Here's a chart: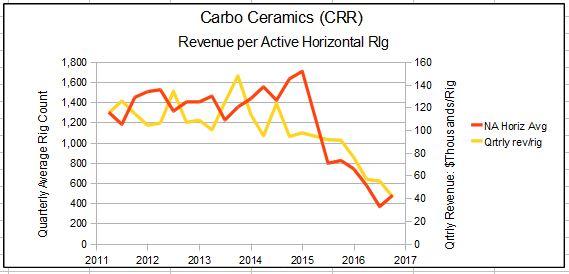 The data is quarterly, derived from the Baker Hughes report and the company's financials. Briefly, North American horizontal rig counts were averaged for each quarter, and Carbo's revenues were expressed in $thousands/rig. As rig counts decreased, Carbo's revenues went down even faster.
Over the next four years, if active rig counts increase to 1,500, and Carbo achieves $57 thousand dollars of quarterly revenue per rig, annual revenue will $342 million. Assuming net income will be 8.57% of revenue, earnings of $29.3 million come into view. Divide by 25 million shares, and EPS works out to $1.17. At a multiple of 12.5, shares might trade for $15.
With shares recently trading in the $7.00 area, a 4 year recovery to $15 would generate an IRR (internal rate of return) of 20%. I use 15% as a minimum for speculative investments.
Other Sources of Revenue
Carbo has always had a small amount of other business, selling their products outside the fracking industry. From the 10-K:
We make ceramic proppant and ceramic media used in foundry and scouring processes (the latter two items comprising a minimal volume of overall sales) by processes and techniques that involve a high degree of proprietary technology, some of which is protected by patents.
Kolstad refers to this as "industrial" and has added sales people to push it. Low double digit increases may be possible, starting at a "minimal volume". Hopefully at some future date he will quantify this concept.
The company's plants can also do work for others. From the Q3 2016 earnings conference call:
On the manufacturing opportunities for our plants, we are pursuing it on two fronts: The first is what mineral or products toll processing can we do for others; the second is, what products can we produce for ourselves and take it to the end markets. To-date, we have successfully produced two products for others and one product for ourselves. We are also in current negotiations with others to expand this, and are putting in personnel to market this opportunity.
Starting volume is trivial, two customers so far.
I plan to monitor these items on a quarterly basis. For now, I simply feather my estimate of what a recovery might look like up by some small amount.
There Will Always Be a Ceramic Proppant Market?
I refer the reader back to the quote from CEO Kolstad early in the article.
There may always be a market, but the size is unknown. The company improves its technology and products from time to time, and the fracking industry is evolving rapidly. The future trajectory of oil prices is uncertain.
Risk/Reward
I have presented what I regard as a plausible scenario for a doubler. In a previous article, I talked about how book value plays can develop very poorly. The investor sits there while cash burns and impairments chew up the balance sheet. The whole thing trends inexorably down toward zero.
I also noted that the high price in any given year will most likely be more than twice the low price.
This is a double or nothing situation. I plan to monitor developments quarterly and trade with the idea of buying low and selling high.
Disclosure: I am/we are long CRR.
I wrote this article myself, and it expresses my own opinions. I am not receiving compensation for it. I have no business relationship with any company whose stock is mentioned in this article.