Lattice Semiconductor (NASDAQ:LSCC), the third-largest FPGA, or Field-Programmable Gate Array, maker agreed to be acquired by Canyon Bridge Capital Partners in a $1.3B all-cash deal in early November. The deal represents $8.30/Lattice Semiconductor share, a good 30% premium for the shares. The deal is expected to be consummated in early 2017.
Curiously though, the proposed merger is a purely financial play since Canyon Bridge is only a global private equity buyout fund. Canyon Bridge will let Lattice Semi operate autonomously so to give it a chance to further develop its promising niches including low-powered FPGAs that are a good fit for virtual/augmented reality applications. LSCC's shares are currently trading at just $7.09, or about 14.6% below the takeout price. The shares have been sliding after a report by Reuters that the Chinese government will be partly funding the acquisition. There are fears that this might draw extra regulatory scrutiny from U.S. authorities, and the deal might not pass muster.
Assuming the deal eventually sees light of day, it will effectively leave Xilinx (NASDAQ:XLNX) as the only major FPGA maker. Xilinx boasts ~50% market share after Intel (NASDAQ:INTC) acquired Altera in a huge $16.7B deal (11% premium) last year. Xilinx and Altera are the biggest and second-biggest FPGA manufacturers in the country with a combined 87% market share while Lattice Semiconductor owns a 10% slice of the market.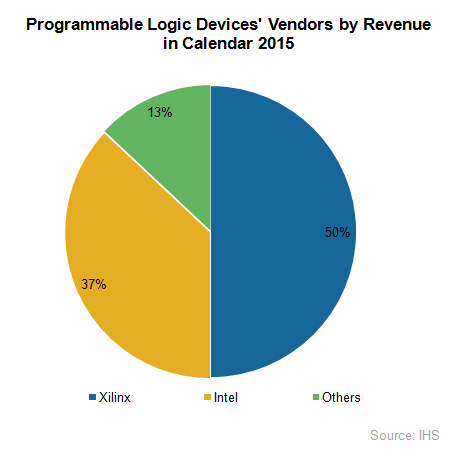 Source: Market Realist
Xilinx and Altera have done a pretty good job defending the duopoly over the years, although smaller players such as Microsemi (NASDAQ:MSCC), QuickLogic (NASDAQ:QUIK), and Lattice Semi have been nipping at their heels and have managed to steal 2% share from the pair over the past five or so years.
Xilinx's shares have climbed about 7% since reports of the merger hit news feeds. The company remains the only mid-cap semiconductor company that is yet to be acquired. XLNX has in the past been linked to potential mergers with suitors such as Broadcom (NASDAQ:AVGO), Texas Instruments (NYSE:TXN), and Qualcomm (NASDAQ:QCOM). But with Qualcomm's sight now set on NXP (NASDAQ:NXPI), Broadcom is now widely seen as the best candidate since the two companies serve similar markets including hyperscale, enterprise, and telecom. A merger between the two would provide clear cross-selling opportunities.
XLNX's shares are now up 13.5% YTD.
Xilinx YTD share returns

Source: CNN Money
Ironically, Xilinx's strong balance sheet and improving operational metrics might actually make the company less inclined to an acquisition. The company reported good Q3 earnings with revenue of $579 million, good for 10% Y/Y growth while GAAP net income of $163 million was up a healthy 29% Y/Y. Meanwhile, gross margin improved 15bps to 70.7% while operating margin improved to 32.4%. The company's other financial metrics look attractive too, including $3.7B in cash and $1B in long-term debt.
With Qualcomm effectively out of the picture, Xilinx might not fetch an attractive premium comparable to what Lattice Semi received. That, coupled with the fact that the company's business case is gradually improving, might discourage its management from going for an acquisition at the moment.
But XLNX investors will probably be fine either way.
Pushing FPGAs into the data center
Every new hardware that offers compelling benefits compared to legacy devices usually faces an uphill task trying to overcome the inertia from the mountains of software that run on older platforms. On the hardware side of things, FPGAs have been proven to offer compelling benefits compared to CPUs. An FPGA-accelerated platform offers similar performance to a generic Xeon cluster but with huge systems cost and power savings.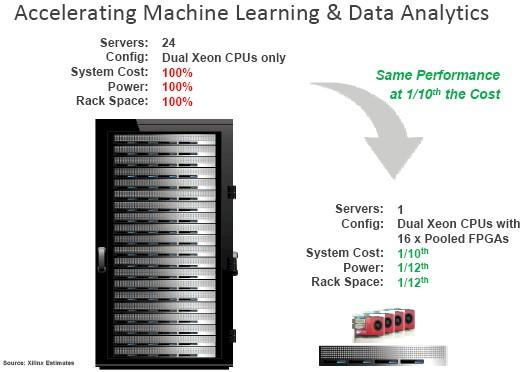 Source: The Next Platform
But the software side is something else. Programming FPGAs using hardware languages such as VHDL and Verilog might seem alien to Java and C programmers, not to mention that importing code from such high-level languages via an OpenCL framework is anything but straightforward.
Xilinx is aware of these obstacles and has been working hard to make its FPGAs viable replacements for CPUs and GPUs in the data center. The company has now built a Reconfigurable Acceleration Stack, or RAS, for companies that want to get the task of using FPGAs to accelerate their workloads much easier. Xilinx's new stack is aimed at hyperscalers, as well as High-Performance Computing and large enterprise players.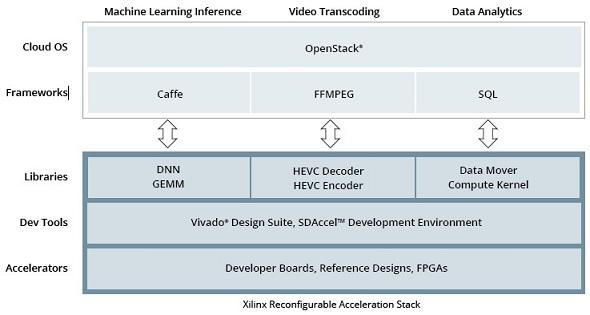 Source: The Next Platform
The stack's base platform allows framework integration for five key workloads namely machine learning inference, video transcoding, storage compression, network acceleration, and SQL query/data analytics. Xilinx is not so much focused on the revenue potential of its new acceleration stack as much as it needs to get hyperscale and enterprises to start viewing FPGA acceleration differently.
For companies that do not have the know-how or resources to learn how to run FPGAs, Xilinx has partnered with Nimbix, a top HPC provider, to provide a cloud-based environment to replicate the functions of its RAS.
RAS is not a turnkey solution for hyperscale players, but Xilinx says that it will get them 80% there. The company hopes that RAS will help FPGAs gain popularity in the data center the way GPUs have done. And who is to say that it cannot happen? The HPC community was responsible for popularizing the use of GPUs in tasks such as machine learning before hyperscale companies took the idea and ran away with it. And of course, GPU leader Nvidia (NASDAQ:NVDA) is now enjoying the rich pickings.
The same could start happen with FPGAs on a large scale. For instance, Microsoft (NASDAQ:MSFT), the second largest hyperscale cloud company, has designed its Project Olympus with room for both GPUs and FPGAs to be used as accelerators on a single node in the application stack. The HPC community has already demonstrated the usefulness of FPGAs in industries such as financial services, oil, and gas. But it's hyperscale companies such as Microsoft that will take FPGAs to the next level.
Xilinx is cagey about FPGA prices much the same way Nvidia prices or its Tesla GPU accelerators. The company though estimates that at hyperscale volumes, its high-end Virtex UltraScale FPGAs will be comparable in price to mid-to-high-end Xeon server chips.
That's half the battle won.
Good long-term outlook
Xilinx has started showing growing revenue momentum, and FPGAs in the data center might do for the company what high-end GPUs are doing for Nvidia. Currently, a large chunk of the company's revenue is coming from 4G LTE deployments. Further, the company is touting its leadership in 5G telecommunications, where it hopes to leverage 16nm and 7nm nodes to gain a one-year lead over Altera. The company has projected mid-single-digit growth over the next 12 months while analysts see earnings growth clocking in at around 9% CAGR over the next five years.
Give that XLNX's stock already trades at a premium to its peers thanks to its superior margin structure, that kind of modest top/bottom-line growth might not be enough to drive the 20%-plus annualized gains that investors crave over the next three of four years. XLNX's stock has a dividend yield of 2.48% and has compounded dividend at more than 12% over the past five years and more than 14% over the past decade. Assuming 8% dividend growth over the next five years, 10% annualized return should be in the cards at the very minimum (Total Return for Growing Perpetuity = Yield + Growth).
I, however, expect XLNX's stock to perform substantially better than that. We have all witnessed the kind of buzz that AI has created and the way NVDA stock has benefited (up 203% over the past 12 months). While I don't expect FPGAs to suddenly become darlings in the data center, the buzz created by hyperscale adoption would probably be enough to drive XLNX to 20%-plus annualized gains over the forecast period. After all, only around 0.1% of data center servers have deployed GPUs while only 10% of Nvidia's revenue is AI-related. If Xilinx is able to nab two or three major cloud customers, investors will be talking about a whole different ballgame.
Disclosure: I/we have no positions in any stocks mentioned, and no plans to initiate any positions within the next 72 hours.
I wrote this article myself, and it expresses my own opinions. I am not receiving compensation for it (other than from Seeking Alpha). I have no business relationship with any company whose stock is mentioned in this article.
Editor's Note: This article covers one or more stocks trading at less than $1 per share and/or with less than a $100 million market cap. Please be aware of the risks associated with these stocks.