Introduction:
Hologic (NASDAQ:HOLX) reported fourth quarter FY16 results that beat on both top- and bottom- line. According to the company's filings, this was driven by the continued penetration of their Genius device in the US. I think what stood out for HOLX this quarter is the higher than street expectations for 1QFY17, which explains why HOLX is holding up well post-results announcement. At 33x earnings currently however, I think the runway for any upside for HOLX will be capped at these levels. I will however accumulate in a meaningful correction. I am currently long HOLX.
Increased Product Adoption Drives Growth
HOLX reported 4QFY16 results that beat consensus estimates for both top- and bottom- line. During the quarter, HOLX's revenue of $726.8m and non-GAAP earnings of $0.520 came in above Bloomberg's consensus estimate of $721.9m and $0.498 respectively. The top-line beat during the quarter was driven by GYN Surgical, which grew by 17% on a year-on-year basis (y-y) but 18% on a constant currency basis.

Click to enlarge
Source: Bloomberg
The quarter also saw the continued penetration of the Genius 3D strength in the US that saw an overall 7.2% y-y growth in the US but international breast health sales declined 16.5% on a constant currency basis. According to management, there are roughly 3,600 systems installed in the US already, which is roughly 40% of the mammography installed base. This is an encouraging sign for HOLX in my view, regular followers of HOLX will recall that in my initiation report on HOLX last year, I had discussed about the huge opportunity that the digital tomosynthesis will bring for HOLX, the past year has shown the superiority in the technology of their product, which has resulted in increased adoption in the US.
Guidance for 1QFY17 beat street expectations
Of focus this quarter however, was the initial softer than expected 2017 guidance to be provided by management. There were concerns earlier that initial 2017 guidance would come at around 3%, but the guidance of 4 - 5.5% constant currency growth guidance came out on top of the street's forecast.

Click to enlarge
Source: Bloomberg
Whilst operating profit margin (OPM) of 33.3% for the quarter was slightly lower than consensus estimates of 33.8%, management has guided for 100bps of expansion next year to come from operating leverage from the lower marketing and R&D expenses. On the back of this, the street has revised upwards their top- and bottom- line forecast for HOLX in 1QFY17, you can see this on the image above.
For 1QFY17, the consensus estimates for top-line growth is for a 4.3% expansion, at the lower end of management's guidance. I think the street's caution in the company meeting their guidance is reflected in their adjusted numbers above. That said however, management has a track record of performing better than their guidance going by their results in the last two years. I would also note that the current numbers are also lower than what management has guided for the street to model, which is about 4.75% growth. This in my view, sets HOLX up for a nice beat in 1QFY17, and could lead to further re-ratings in the year.
Key Operating Metrics: Valuations
HOLX is currently trading at 33x of FY16 earnings with an expected 8.2% to 10.2% growth in reported earnings per share for FY17. The street however, is currently modeling a 10.5% y-y growth for FY17, above management's guidance.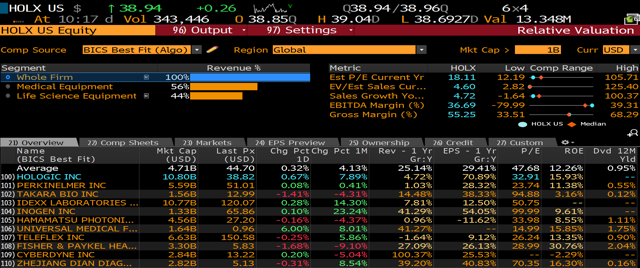 Click to enlarge
Source: Bloomberg
I note that this is due to the street's overall sentiment that EPS was guided a little conservatively, specifically on the tax rate guidance of 31%, which has led to the street modeling a higher EPS vs. the guidance set by management.
Final Thoughts
The recent results announcement marks the close of FY16 for HOLX. I think management can be proud of their results for the financial year with non-GAAP EPS coming in at 17.4% growth y-y, higher than the street's and management's initial guidance. HOLX's plan to continue lowering their leverage ratio (net debt/ebitda) from 2.8x to nearer to 2.5x will also see improvements to the company's return on invested capital (ROIC). I think management has also done well in guiding the street for a more cautious FY17 as they remain cautious on new product launches. On the back of this, I think HOLX is currently pretty fairly valued at this point. I currently own HOLX but will not be accumulating further at this price.
Disclosure: I am/we are long HOLX, BDX.
I wrote this article myself, and it expresses my own opinions. I am not receiving compensation for it (other than from Seeking Alpha). I have no business relationship with any company whose stock is mentioned in this article.