With Dollar General (NYSE:DG) reporting earnings this Thursday before market open, investors are jockeying with each other about how Dollar General will match up against the EPS consensus of $0.93. Some point optimistically to the success of Dollar Tree (NASDAQ:DLTR) beating earnings by reporting $0.81 EPS versus the consensus of $0.79. Dollar Tree saw a healthy 10% jump after reporting these earnings. However, Dollar Tree beating earnings does not create a safe bet for Dollar General to beat earnings this Thursday.
The earnings reports of Dollar Tree and Dollar General have not proven to be well correlated. In recent earnings reports, the two companies have reported:
January 2016:
Dollar Tree: $1.01 vs. $1.04 estimate (-2.88%)
Dollar General: $1.30 vs. $1.27 estimate (+2.36%)
April 2016:
Dollar Tree: $0.89 vs. $0.80 estimate (+11.25%)
Dollar General: $1.03 vs. $0.94 estimate (+9.57%)
July 2016:
Dollar Tree: $0.72 vs. $0.73 estimate (-1.37%)
Dollar General: $1.08 vs. $1.09 estimate (-0.92%)
So Dollar General beat earnings while Dollar Tree missed earnings for the January quarter. And just because the two companies both beat in April and both missed in July doesn't guarantee Dollar General will beat like Dollar Tree did this quarter, too. The earnings reports of the two companies have been too inconsistent in the past three quarters to make a solid bet.
The real issue of making an incorrect bet on Dollar General this week is its price reaction to its latest earnings miss. Dollar General missed earnings by just 0.92% in its past earnings report. This small miss along with strong quarterly revenue growth over the past year did not stop Dollar General from being hammered down over 20%.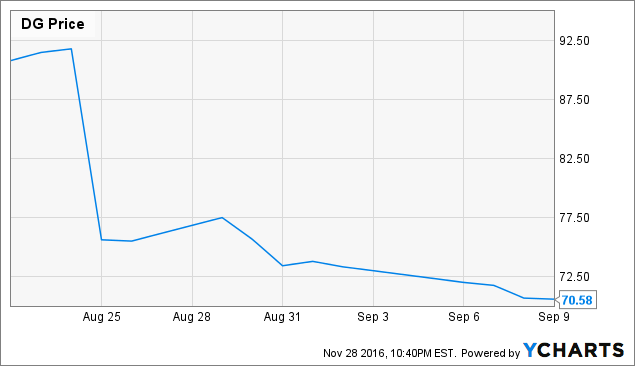 The chart above shows Dollar General's price reaction to the quarterly earnings miss reported on August 25th. The stock dived 20% initially and continued to slide and failed to gain momentum in the following weeks.
So you could take the gamble and predict that Dollar General beats earnings this quarter. If it works out, you'd probably make a nice 10-15% return based on the stock's reactions after recent earnings beats. However, the inconsistency of Dollar General's earnings, its poor correlation to Dollar Tree's earnings, and eye-watering slide from its last earnings miss do not make this a safe bet. It might be good to sit this one out and watch the stock rip or dive later this week.
Disclosure: I/we have no positions in any stocks mentioned, and no plans to initiate any positions within the next 72 hours.
I wrote this article myself, and it expresses my own opinions. I am not receiving compensation for it. I have no business relationship with any company whose stock is mentioned in this article.