Some investors are still trying to decide between buying stocks, including REITs, and investing directly in physical real estate. Since I spend most of my time analyzing interest rates and mortgages, it seems like a good time to bring up this topic. Investors should expect home values to slam on the brakes this winter unless there is a huge reversal in rates. Remember how normal people buy a house? They talk to the bank to find out what they can "afford". A better way to write that would be to say they find out what the bank is willing to underwrite. What the person can afford is not necessarily the same, but there is a very strong correlation. Underwriting departments generally are not stupid. Today, they aren't stupid. This is not an article about the underwriting standards of 2007.
What They Can Afford
Say you have a family that wants to buy a home and they have a combined income of $75k. Let's assume they have no other debts and that the underwriter after assessing their credit and all other relevant factors decides to go with a 33% ratio of income to housing costs. So that brings us to $25k per year. Realistically, they will have insurance and taxes to consider, but I don't want to overcomplicate this.
Assuming a ratio of 33%, the homeowner can afford a payment of $2,083 per month. If the mortgage is going to run 3.5%, that payment allows them to service a loan of about $464k. Assuming a loan to value ratio of 80%, this buyer could leverage themselves into a home worth $580k if they had the down payment. This would not be a wise choice (in my opinion), but theoretically, they could do it if we ignore taxes and insurance. If we incorporate those, it will decrease the value moderately.
The important thing to understand is that the recent environment was extremely favorable for allowing homeowners to leverage into very large houses. What happens when that buyer gets stuck with a rate of 4.25% instead of 3.5%? They get a new max loan value of $424k. Assuming 80% leverage again, he or she can only leverage up to reach about $530k.
Taxes and Insurance
Realistically, the impact of taxes and insurance would cut into what the borrow can leverage into. Having other debts to service (such as student loan debt) will also be factored in and will lower the size of the mortgage the investor can acquire. However, the impact remains relatively linear. The tax impact should be linear, but the insurance should scale a bit in a way that makes it worse for our potential homeowner.
If the homeowner has any variable rate debt, the higher rate on that debt will also weigh on what they are able to buy.
Nutshell
The buying power for a potential homeowner is falling by nearly 10% on that kind of change in rates. If the rates are allowed to go much higher, the housing market will hit a nasty glut because suddenly buyers can't afford the houses they were shopping for a month ago.
This change in the fundamentals comes about right as the housing market is hitting record highs. The previous highs, set in July 2006, were beaten. For another perspective, NAHB (National Association of Home Builders) wrote:
"The CS Home Price Index rose at a seasonally adjusted annual growth rate of 10.4%, the fastest in the past 36 months. After the deceleration in the beginning of 2016, house prices have accelerated since May due to tight inventory and high demand, reaching the pre-recession peak in 2006."
I would like to politely point to the reason for high demand. Remember how interest rates were trending lower? During the summer, the bottom in interest rates came shortly after Brexit. I believe rates were the primary factor. Yes, median household income increased materially after years of stagnation, but I believe it comes down to rates. Alex Starace on Redfin recently published the words that complement my theory perfectly:
"After a strong September, October saw fewer homebuyers going on tours and making offers; new listings and overall homes for sale were also down."
Even though the huge spike in rates didn't occur until November, we were seeing glimpses of rates moving higher during October. By my theory, we should see these stories start to reverse with a fairly weak performance for home prices between September 2016 and September 2017.
Implications for Home Buyers
One Twitter post sums up the data for millennials: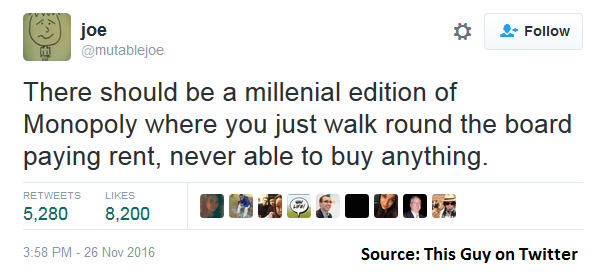 Implications for Investors
The fair value of houses should hit the skids pretty hard and the same should be true for the value of apartment buildings. Beware that this can be reflected in the share prices for any REITs holding onto residential properties.
On the other hand, rental revenues shouldn't take a big hit. Higher rates on the mortgages just trapped quite a few aspiring homeowners into remaining renters for an indeterminate length of time. Consequently, rental revenues should be solid. Combine that with the potential for deficit spending to drive unemployment lower and rental revenues could climb while the fair value of the assets would fall lower.
Was That Weird?
I guess investors have to wonder if this is normal. The answer is yes. If Treasury rates are moving higher, then mortgage rates move higher. If mortgage rates move higher, capitalization rates move higher. Capitalization rates refers to NOI (net operating income) divided by the cost of the property. If net operating income is only moving gradually higher but the capitalization rate increases significantly, then fair values must be lower.
Stock Choice Implications
I wouldn't want to rush into buying a house or condo in this scenario. The prices on apartment REITs can separate materially from the fair value of their assets (net of debts), but the fundamentals are much trickier. Higher rental rates should lead to higher FFO (funds from operations), but higher capitalization rates should cause the fair value of their portfolios to stagnate.
Negative for:
I don't usually cover Home Depot (NYSE:HD) or Lowe's (NYSE:LOW), but this could be a significant headwind for both. I'll refrain from establishing any ratings in this article because I prefer to do a great deal of work specifically on each company before establishing the ratings. For REITs focusing on housing like Preferred Apartment Communities (NYSEMKT:APTS) or ETFs like the iShares Residential Real Estate Capped ETF (NYSEARCA:REZ), this could be a headwind. Since REITs also have a positive correlation to other yield investments, the movement higher in rates could hammer them anyway.
I don't track any of the stocks involved in building homes, but I would expect to hear that demand is lower within several months and that would be a negative sign for the sector. It also seems like a major headwind for realtors, and thus I would expect it to be a negative factor for RE/MAX Holdings (NYSE:RMAX).
Neutral for:
Caterpillar (NYSE:CAT) sells a great deal of construction equipment, but infrastructure plans under the new president could offset any decrease in demand for equipment from homebuilders.
Disclosure: I/we have no positions in any stocks mentioned, and no plans to initiate any positions within the next 72 hours.
I wrote this article myself, and it expresses my own opinions. I am not receiving compensation for it (other than from Seeking Alpha). I have no business relationship with any company whose stock is mentioned in this article.
Additional disclosure: Information in this article represents the opinion of the analyst. All statements are represented as opinions, rather than facts, and should not be construed as advice to buy or sell a security. This article is prepared solely for publication on Seeking Alpha and any reproduction of it on other sites is unauthorized. Ratings of "outperform" and "underperform" reflect the analyst's estimation of a divergence between the market value for a security and the price that would be appropriate given the potential for risks and returns relative to other securities. The analyst does not know your particular objectives for returns or constraints upon investing. All investors are encouraged to do their own research before making any investment decision. Information is regularly obtained from Yahoo Finance, Google Finance, and SEC Database. If Yahoo, Google, or the SEC database contained faulty or old information it could be incorporated into my analysis. Tipranks: Assign no ratings