Investment Thesis
In spite of the share price falling more than 70% since its IPO last year, Fitbit (NYSE:FIT) is still not cheap enough. Also, the company's sales growth is an illusion that has reflected itself in poor earnings quality.
Business Overview
Fitbit provides fitness tracking devices and wearable devices ("wearables"). It provides a platform for people to lead healthier lives by tracking their data and offering guidance to reach their goals.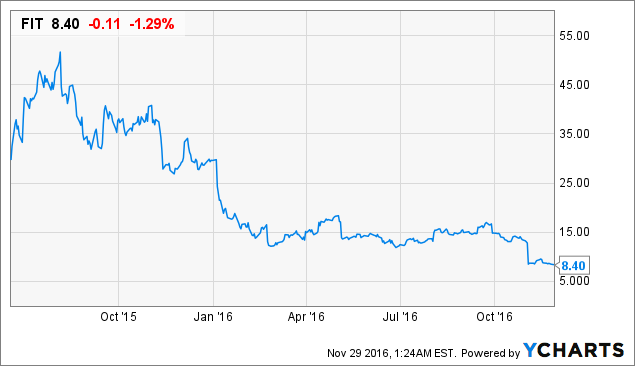 Short Interest
FIT is already heavily shorted (~41%), so a lot of pessimism is already priced in. However, I do not believe all investors currently realize that this young company is not growing anywhere near the level it needs to be growing at to warrant such a heavy price tag on its stock (currently $1.9 billion).
This has clearly not been missed by insiders, as seven different individuals have been selling stock in this young company. Insiders do not own a considerable amount of A shares. (I have not accounted for shares owned under Mr. Murray, as these are actually owned by a Japanese private equity venture capital group that offers seed money to new enterprises, and they will continue to sell at the earliest opportunity. I have also not included the B shares or voting shares, as management would need to keep hold of these in order to prevent any shareholder activism.)
As I go through the article, I will highlight a couple of red flags that show an investment in FIT at the current price has significant risks.
Lack of Growth
This young company is not growing fast enough to justify its market cap. Its growth is slowing very dramatically.
[For Q4 2016] the company expects revenue between $725 million and $750 million, representing growth of 2%-5%.

- 2016 Q3; Press statement

This quarter things changed, and we had greater softness than anticipated, which is impacting our full-year projected growth rate.

- 2016 Q3; Earnings call
Since FIT cannot grow its revenue, it has resorted to manipulating its earnings, as I highlight below.
Warranty Reserve Changes
Having changes in the estimates "warranty reserves" allows management to manage earnings. This is known in the industry as "cookie jar" reserves, and it allows management to smooth future earnings when the underlying business is quite volatile. You can see in the table below that product warranty reserve has outpaced revenue growth by more than 100% YoY.

Click to enlarge
(Source: 10-Q 2016 Q3, author calculations)
In the latest earnings call, FIT management has gone so far as to boldly state they are trying to smooth earnings:
We are not pleased with the volatility in some of our metrics, and we'll be striving for more consistency and predictability in the future.
However, smoother earnings will not fix the underlying issues with FIT. There is simply too much softness in demand for wearables, and the company should not trade for $1.9 billion.
Days Sales Outstanding
Another red flag is presented in the number of days sales outstanding (DSO) sharply increasing during the last 9 months, as the table below shows.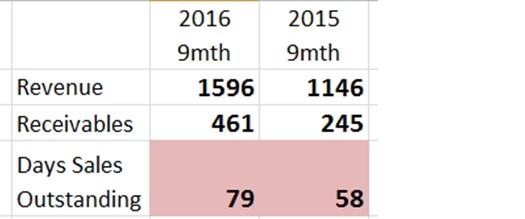 (Source: 10-Q 2016Q3, author calculations)
By itself, a sharp increase in DSO raises a red flag. But this, combined with the "cookie jar" created in the warranty reserve change above, further demonstrates management's clear earnings manipulations.
Shares outstanding
Next, the graph below is really interesting. No, it is not the growth in revenue. It is, in fact, the continual growth in the number of shares outstanding.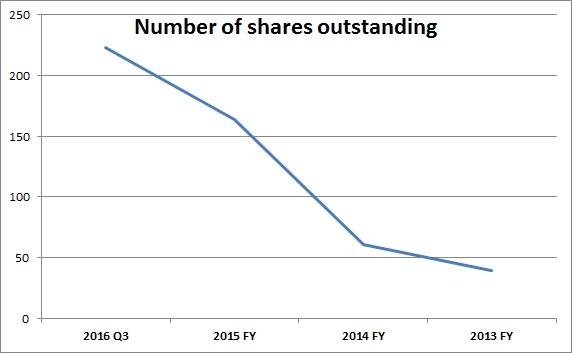 I understand that this company is young and needs cash, but there is simply not enough revenue growth to warrant such a huge amount of equity raises.
Valuation and Conclusion
FIT's valuation is very tricky because the company has embarked on several earnings manipulations, giving way to poor earnings quality. Although FIT has a large amount of cash on its balance sheet, the company is not cheap enough to be acquired, so it would be inappropriate to use Enterprise Value (and the B "voting" shares would prevent this anyway).
Furthermore, as the table below shows, the free cash flow (FCF) from operations is too volatile and unpredictable for a suitable DCF. I have highlighted the last 9 months' FCF in red on the chart below.

Click to enlarge
This is compounded by the fact that the company is simply not growing fast enough to offset the small amount of FCF.
However, I have given it the benefit of doubt and assumed that these problems are temporary and FIT will return to growing its top line (which is very aggressive, given the fact there is no evidence to support this assumption).
To put the current valuation of FIT ($1.9 billion) in context, I have forecast that the company would grow by 15% over the next 5 years (which is very generous). I have also given it terminal growth of 5% (which again is very generous). Finally, I discounted the growth back at 10%, because the company has a significant amount of cash on its balance sheet, while still being young and risky. I get a valuation of about $1 billion. This is way off the $1.9 billion it currently trades for, and therefore, an investment in FIT has no margin of safety. I recommend that investors look for better opportunities elsewhere, such as here or here.
Thank you so much for reading my article. If you have enjoyed reading this article, please click "Follow" to get more articles of mine in real time.
Disclosure: I/we have no positions in any stocks mentioned, and no plans to initiate any positions within the next 72 hours.
I wrote this article myself, and it expresses my own opinions. I am not receiving compensation for it (other than from Seeking Alpha). I have no business relationship with any company whose stock is mentioned in this article.