Resource Capital Corporation (NYSE:RSO) is one of the mREITs I've been inspecting thoroughly. I called for investors to get out over the summer (multiple times), which turned out to be a very prudent call. After the mortgage REIT reported allowances for loan losses and large impairments in the third quarter, investors ran first and asked questions later. The stock had a healthy rally, but now it is trading down again. Some investors flocking to the name could be unsure of what they purchased. To understand where RSO wants to go, it helps to have a bit of a blue print. The blue print for the desired situation is Blackstone Mortgage Trust (NYSE:BXMT). Of course, RSO has a long path to travel to get there. I intend to show investors precisely the path I believe RSO can use to get close.
Estimates and Method
These calculations should not be seen as precise estimates or indicative of expected results for 2017. Instead, this is a combination of where I think management wants to take the business and where I would like to see it take the business.
A New Simpler Business
RSO's current business is a bit of a mess. It should be no surprise the company trades at a large discount to book value. However, the new manager has been vocal about cleaning things up. They already impaired asset values and laid out expectations for investors regarding the impairments they expected for the fourth quarter.
From page 68 of the 2016 Q3 10-Q:
"The Company has evaluated subsequent events through the filing of this report and determined that there have not been any events that have occurred that would require adjustments to or disclosures in the consolidated financial statements, except the following:

Subsequent to quarter end, the Company's board of directors approved the framework of a plan to streamline the Company's operations by focusing on CRE lending and exiting underperforming non-CRE businesses and investments. As part of this plan, the Company expects to discontinue operations in its middle market lending segment, its residential mortgage lending segment, and other non-real estate related portfolios. In addition, the Company intends to sell several of its legacy CRE loans and classify them as loans, held for sale as of December 31, 2016."
This is excellent because those segments were undesirable. Those segments added too much overhead cost and the new RSO needs to be a smaller and more efficient company. If it can become that smaller and more efficient company, then it could see prices increase substantially and may be able to grow the business.
The CRE Segment
The result of closing those lines of business is that the company should be left with two segments rather than five. Those segments will be Commercial Real Estate Lending and "Corporate & Other". The second "segment" in this case is primarily a cost center. Costs that couldn't be traced effectively to a single segment get lumped into this area.
Consequently, I went back to the statements to pull out the data by segment and create a rough estimate of how the CRE segment would've been performing for the first three quarters. Data presented in thousands of USD: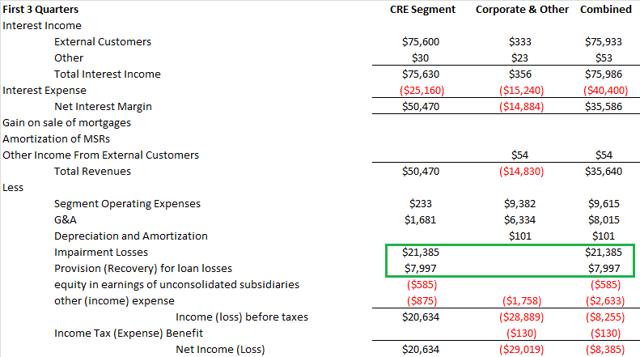 Click to enlarge
While a cumulative loss of $8,385 sounds bad, it compares very favorably to the performance for the entire company, which was a cumulative loss of $27,072.
Further, this loss includes exceptionally high charges on the provision for loan losses and the impairment losses. Those huge losses reflect management going through the portfolio and decreasing the recorded values after doing the necessary due diligence. To demonstrate that point, I suggest page 66 of the 2016 Q2 10-Q:

Click to enlarge
The red box there highlights the entries for impairment losses and provisions for loan losses. Notice the entries for commercial real estate were both dashes (zero values) for the first six months of the year. The entries were recorded entirely within the third quarter when the new management team went through the portfolio and reassessed the values. Provision for loan losses could usually be accrued across each quarter as seen as a drag on the interest income from loans, but instead all the charges along with huge impairments were taken in the third quarter.
The point here is that the costs recorded in the third quarter for those categories may be materially higher than the value would normally need to be for nine months of operations.
Consequently, I believe RSO's future performance should materially outperform the pro forma statements based on combining performance for the last three quarters. This is the first step in creating a business that is closer to BXMT. If the mortgage REIT makes this transition, it should be rewarded with a higher price to book ratio which implies significant upside potential for the stock.
No More Residential Mortgage Lending
I don't like segments where revenue is less than the G&A expenses. It is good to see that go.
Price Target
My range of price targets for RSO runs from about $9.56 to $11.03, but if I had to narrow it down to a single estimate, I would pick $9.97. This still represents a huge discount to the trailing book value per share.
Conclusion
RSO made a great decision to close down or sell off the segments where it wasn't reaching sufficient economies of scale. A transition into a focus on only CRE assets should lead to a much more profitable business as expenses come down. A higher valuation should be warranted due to both the lower expenses (not wasting shareholders' money) and the simpler plan providing much better transparency. I've heard investors remark lately that RSO seemed like an mREIT so complicated no one was going to get their head around it prior to my work coming out. I'll be talking more about RSO, and I'm upgrading it back from a moderate buy to a strong buy rating. These prices, around $8.40 to $8.50 on 11/29/2016, are simply materially too low.
If it sounds like I'm cheering for the company now, remember I was the most vocal bear on the stock for the summer. I hammered away arguing against its high operating expenses, convoluted business, and dividend funded by returning capital. Now the company has a much better plan and the stock has a much lower price.
Want to see these articles before they go public? Want to see the research I'm doing each week to pick the investments for my portfolio? Consider joining The Mortgage REIT Forum. For the cost of one lunch per month, you can get access to the research I'm using for managing my own investments. On average, I publish about three subscription articles per week. One is for calculating new estimated book value for several mortgage REITs and finding the current discounts to those estimates. Another covers the preferred shares for each mortgage REIT that has preferred shares. The third is used to either preview articles I'm working on for the public or to provide real-time updates on liquidity failures where prices for a small number of securities detached from other similar stocks. When RSO released its earnings and cratered, I was the first one there to spot shares under $8.00. I called it out when Resource Capital Corporation went on sale.
Disclosure: I am/we are long RSO, RSO-B.
I wrote this article myself, and it expresses my own opinions. I am not receiving compensation for it (other than from Seeking Alpha). I have no business relationship with any company whose stock is mentioned in this article.
Additional disclosure: Information in this article represents the opinion of the analyst. All statements are represented as opinions, rather than facts, and should not be construed as advice to buy or sell a security. This article is prepared solely for publication on Seeking Alpha and any reproduction of it on other sites is unauthorized. Ratings of "outperform" and "underperform" reflect the analyst's estimation of a divergence between the market value for a security and the price that would be appropriate given the potential for risks and returns relative to other securities. The analyst does not know your particular objectives for returns or constraints upon investing. All investors are encouraged to do their own research before making any investment decision. Information is regularly obtained from Yahoo Finance, Google Finance, and SEC Database. If Yahoo, Google, or the SEC database contained faulty or old information it could be incorporated into my analysis. Tipranks: Assign buy rating to RSO.