PNC Financial Services (NYSE:PNC): Why It Was My Top Bank Holding
Earlier this year, I jumped on PNC stock when sellers were as eager to dump it as buyers are eager to buy it today. Back at the end of June, in the immediate aftermath of the Brexit vote, some sellers handed me their shares for less than $79 apiece. Until June I had been happy to take shares off their hands at $84.
Here's why I saw PNC at the time as a solid investment offering a comfortable margin of safety:
The company has a long history of delivering satisfactory risk-adjusted returns on equity.
PNC's ownership of 21.5% of BlackRock (NYSE:BLK) has been underappreciated by investors.
The bank's traditional focus is commercial lending, a business line that has delivered superior through-the-cycle risk-adjusted returns across the industry.
PNC was buying back a lot of shares at bargain prices.
Management is prudent, often reminding analysts on recent earnings calls that fast growth comes with unacceptable increased risk.
The financials are straightforward.
The bank, though not terribly fat, is not lean, i.e., management can and should accelerate expense cuts to improve earnings.
PNC stock was dirt-cheap.
Fast-forward to the end of November, and everything I liked about PNC earlier in the year remains true except for my greatest motivation in accumulating outsized shares: it is no longer dirt-cheap.
PNC in Four Charts
Chart 1 is a baseline chart showing the daily market capitalization of the bank as well as its ownership interest in BLK from the end of November 2011 to November 28, 2016. The top line denotes the market cap for PNC, which is currently $53.4 billion. Its 21.5% interest in BLK is worth $13 billion. Simple math shows that the valuation for PNC as a standalone business is just north of $40 billion, as reflected in the middle line on the graph.
Chart 1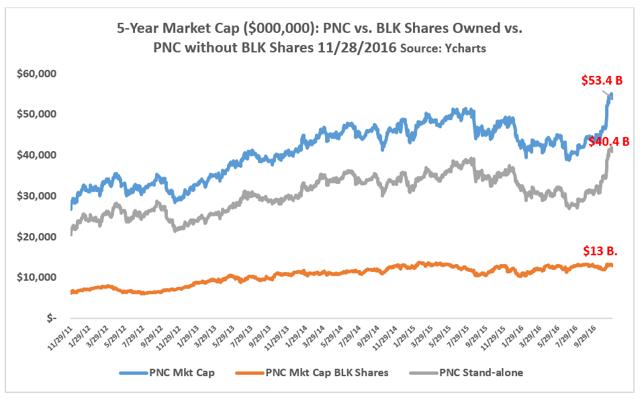 Click to enlarge
Chart 2 introduces trend line data to the previous chart. Let's start with BLK, which has been a steady performer for the past five years. For this chart, it has been assumed that PNC's interest in BLK has remained steady at 21.5% since 2011, although in reality, it has actually increased moderately as BLK bought back shares. PNC's current ownership interest in BLK at $13 billion is in line with the five-year trend.
Looking at PNC as a standalone business, the current valuation is $40.4 billion, a figure that is approximately $5.4 billion greater than the five-year daily trend. Like other bank stocks across the US, subsequent to the election of Donald Trump as president, PNC shares have been bid up in anticipation that earnings will improve because of a stronger economy which will produce faster loan growth, less regulatory burden, and rising interest rates (which some investors argue is good for banks).
Chart 2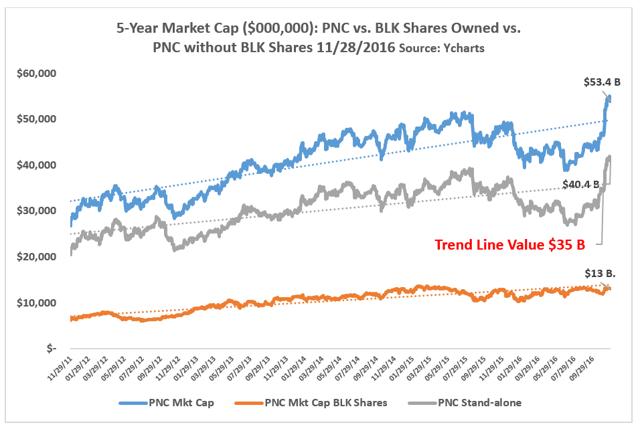 Click to enlarge
Chart 3 layers select insider trading activity onto the prior two graphs. Five of the transactions are associated with the sale of shares by the bank's CEO, including the most recent of 179,000 shares which occurred on November 14 at $107.61 a share. As evidence of the CEO's prudent risk management, he has routinely sold shares to diversify personal assets. But note that the CEO has never sold shares at prices below the trend line.
PNC has not witnessed significant insider buying over the past couple years; however, one director bought 23,600 shares in January 2016. It's worth noting that this director is a professional investment manager whose purchase at the time was at a price well below the bank's valuation trend line.
Chart 3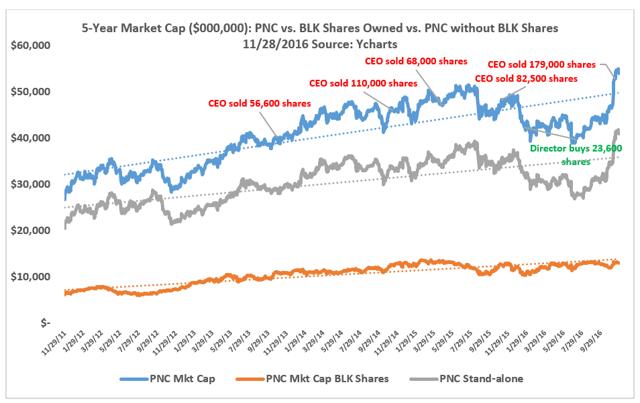 Click to enlarge
Chart 4 shows two fundamental measures for valuing publicly traded companies: the Price-to-Earnings (P/E) and the Price-to-Book Value (P/BV) ratios. The y-axis of the graph indicates that the bank's average P/E ratio has ranged between 11 and 12 over the past five years. The z-axis indicates that the average P/BV has held steady until recently at 1.0 to 1.1. A current P/E of 15 and P/BV of 1.2 suggest that investors are expecting earnings to accelerate significantly faster than historical trends. Given PNC's conservative risk profile, which has rewarded shareholders with long-term risk-adjusted returns superior to the industry, it seems unlikely management will change its stripes and engineer aggressive growth in assets (loans) and, thereby, short-term profits.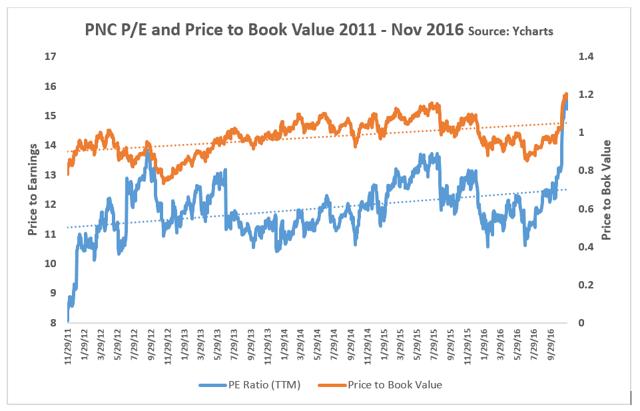 Click to enlarge
Concluding Thoughts
First, there remain good reasons to hold PNC shares. This is a solid bank led by managers who understand the relationship between risk and return. Nonetheless, like PNC's CEO, I have sold a slug of PNC shares (although not in a taxable account).
Second, investors in PNC - and other rock-solid banks for that matter - are too fickle. Twice during the past year - in February and in late June - bank investors dumped shares indiscriminately. In the process, shares in banks like PNC were available for patient investors at a deep discount to true value.
Third, to that point, the run-up in the stock price in recent weeks has very likely attracted some fickle investors who will dump the stock at the first whiff of bad news. When that happens, PNC stock price - as well as that of other well-run banks - will fall. I expect to be a buyer of the shares in the mid-$90s over the next year.
Finally, there are two factors that could ultimately justify the bank's elevated valuation. These represent risks to my decision to sell PNC shares recently.
One of those factors is related to President-elect Trump's intention to lower federal corporate tax rates. Research I shared recently with Seeking Alpha readers indicates that the 18% increase in bank stock prices since the election has been fueled by factors other than expected tax relief (see "The Hottest Sector: 3 Insights Investors Need To Know Today"). If tax rates fall precipitously, the bank's earnings likely will improve. However, PNC's effective overall tax rate is approximately 25%, suggesting the upside from lower tax rates is of marginal benefit to the bank's investors.
The second factor could be linked to the potential PNC's directors elect to sell the bank. Although the likelihood of PNC's sale is small today, there is a plausible scenario for this to happen. This topic may be addressed in a future post.
Disclosure: I am/we are long PNC, BLK.
I wrote this article myself, and it expresses my own opinions. I am not receiving compensation for it (other than from Seeking Alpha). I have no business relationship with any company whose stock is mentioned in this article.