CF Industries (NYSE:CF) has been written up on many different occasions already. So I will not go into too much detail on the business here, and instead focus on some of the things that have been ignored in other articles. What other authors are missing is that in the longer run, prices should revert back to breakeven prices of marginal producers. Many analysts are focusing on what will happen in Q1 or Q2 next year, and not what will happen in 2018 and 2019. I think it really pays to look beyond 2017 here.
If you are not familiar with this stock yet, I would advise to first read some of the other articles posted on this site. Other interesting (but more risky) plays on a fertilizer market recovery include CVR Partners (NYSE:UAN) and LSB Industries (NYSE:LXU).
Marginal costs of nitrogen fertilizer producers
I will dive straight into it. As this is a commodity stock, being the low-cost producer is important (which CF Industries is). And if you want to model cash flows of a commodity company, marginal producers are important as they tend to determine long-term pricing trends. And as mentioned in other articles, even if all planned capacity is added, 30% of nitrogen fertilizers still need to be imported into the US. So breakeven costs of overseas producers are very relevant here. I will focus on that first before analyzing what that means for CF's bottom line. As of 15 November, the cost curve looks like this:
(click to enlarge source)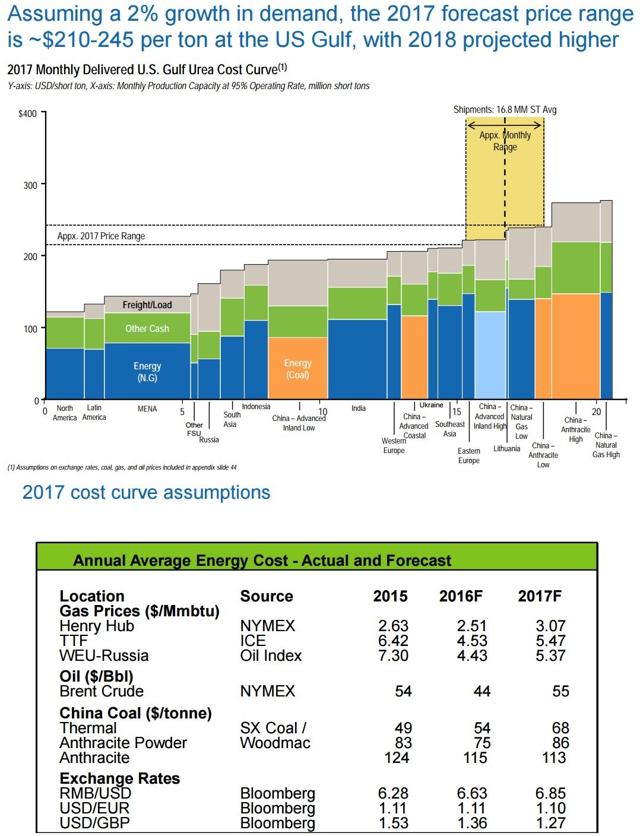 Click to enlarge
Note that this curve uses $75-85 per ton anthracite prices, more on that later. And in November 2014, it roughly looked like this:
(click to enlarge source)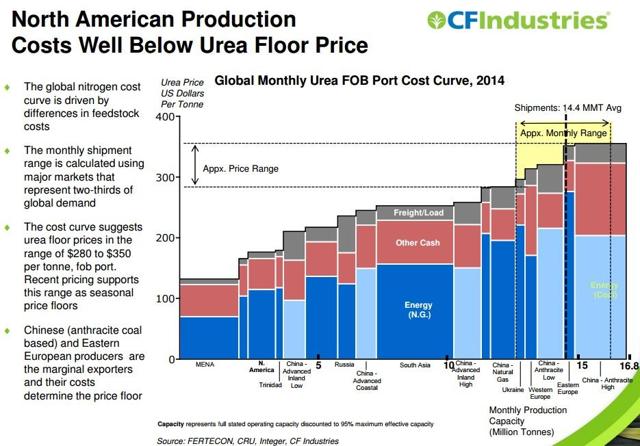 Click to enlarge
Judging by these graphs it seems that marginal producers' urea breakeven costs are between $290 and $375 per ton. This is largely determined by the price of anthracite coal. Currently the price of urea is in the $200-230 range and even dipped below $200 this year. This explains of course why fertilizer stocks have been hammered.
The price of anthracite as of November 23 looks like this:
(click to enlarge source)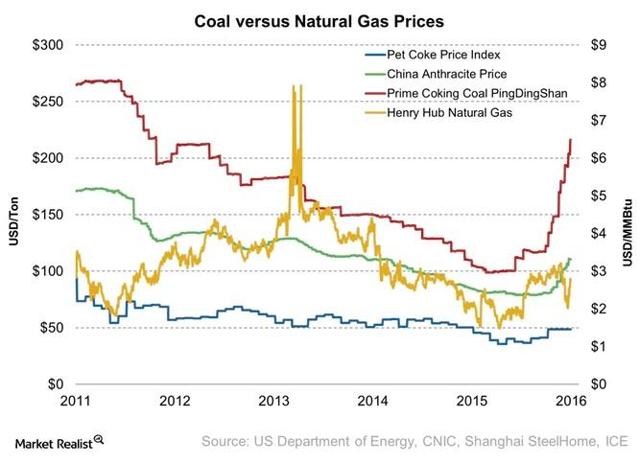 Click to enlarge
As you can see anthracite prices have recovered to 2014 levels in the past few weeks, as a lot of Chinese coal mines have shut down.
Based on this I think that urea breakeven prices for marginal producers have already reverted back to $350-375 per ton. At urea prices of $200 per ton, Chinese producers are burning cash at a rate of 80-90 cents per dollar of revenue before capex or interest costs! The latest CF presentation sums up the argument on why marginal production should fall in line sooner rather than later and why new capacity cannot quickly re-enter the market:
(click to enlarge source)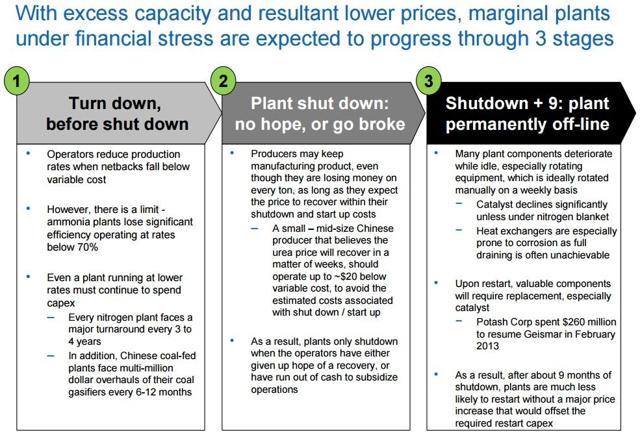 Click to enlarge
What that means for CF's bottom line
So what does this mean for CF's bottom line? At a market cap of $6.5 billion the market has not really priced in a recovery yet. This is probably because the last few quarters look ugly and urea prices have yet to make a big move. Let's look at CF's EBITDA sensitivity to urea prices:
Source: SNL.com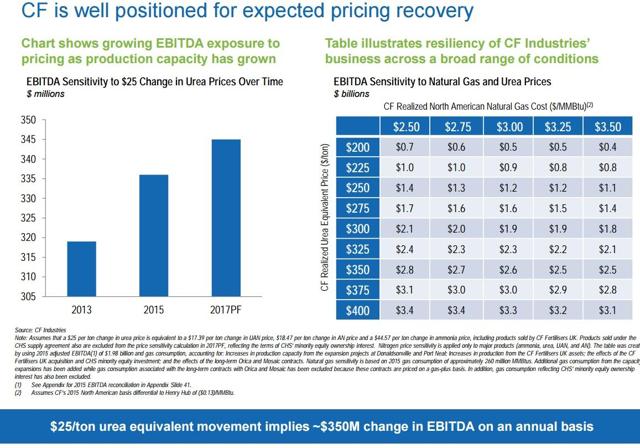 Click to enlarge
(Note that this already includes minority interest. You can verify this by looking at older EBITDA sensitivity charts before its deal with Chico's FAS (NYSE:CHS).)
Assuming natural gas prices average at $3/MMBtu and urea prices between $275 and $325, EBITDA would average at about $1.9 billion. Depreciation would be about $560 million. And interest $120 million. That means $1,220 million of pretax income. Applying a 35% tax rate would mean about $800 million of net income. Maintenance capital expenditures tend to be much lower though, especially since almost all plants went over budget. So it is safe to say that free cash flow would be roughly $1 billion in this price environment.
Assuming the same thing but with urea prices between $350 and $375, EBITDA would average at about $2.8 billion and net income would be roughly $1.6 billion. And free cash flow about $1.8 billion.
So this means the stock is trading at a potential 15-25% free cash flow yield! Of course, you need to believe that some Chinese producers at some point will have to reduce production and won't keep burning cash. And this will likely not happen within the next year, so patience is needed. Assuming an 8% yield two years from now, upside would be between 92% and 207%.
If we assume that urea prices will not recover beyond $250 per ton (which seems unlikely) the stock is already trading at an 8% FCF yield. Given that net debt is at a very manageable $3 billion, this really seems like a 'heads you break even, tails you win big' type of situation. Insiders seem to agree, as they have bought seven figures worth of stock in the past year (source).
Disclosure: I am/we are long CF.
I wrote this article myself, and it expresses my own opinions. I am not receiving compensation for it (other than from Seeking Alpha). I have no business relationship with any company whose stock is mentioned in this article.