Cisco (NASDAQ:CSCO), while not exactly a household name, is a highly respected American technology company. With a $150 billion market cap, including a 9.5% increase in 2016, CSCO is 34th largest public company. The company's stock price has increased 58.5% in the last five years, which is somewhat surprising given a relatively flat top line (and cash flow).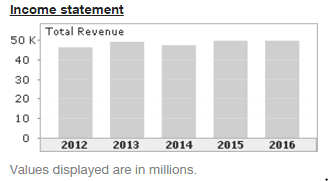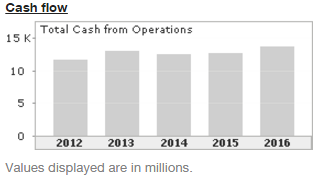 (Source: TDAmeritrade)
Since November 8 (immediately prior to the US election), CSCO has underperformed the S&P 500 by more than 6%, declining 3.5%. The DJIA (NYSEARCA:DIA), of which CSCO is a component, was up 4.2% during the same period.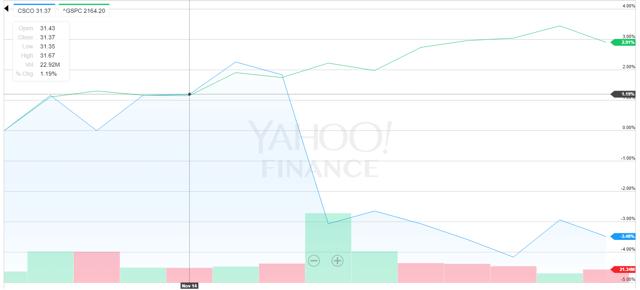 (Source: Yahoo Finance)
While the market as a whole, including "traditional" tech companies such as IBM Corp. (NYSE:IBM), has increased post-election, CSCO is one of the few companies that have materially sold off. While 12x forward P/E certainly does not imply a rich multiple (in line with that of IBM and higher than Apple's (NASDAQ:AAPL)), investors need to be cognizant of the risks the Trump presidency will/may hold for CSCO. The company's estimates have partially reflected these risks, with forward estimates down $0.07/share in the last 90 days. However, as 2016 estimates dropped $0.06/share over the same time period (CSCO guided next quarter to $0.56/share, down from then consensus view of $0.59/share), the decrease is likely more highly correlated with current challenges than future risks.

(Source: Yahoo)
Trade Barriers and Tariffs
President-elect Trump's campaign platform loudly called for tariffs and competitive retaliation against both countries and companies. In 2016, CSCO is deriving over 40% of its sales revenue (and a similar percentage of margin) from outside the US. As the market for routers/switches matures, the company's growth had been expected to come from Asia-Pacific markets (15% of sales) like China and Japan. President-elect Trump has vowed to name China a "currency manipulator" and has threatened to impose 45% tariffs on imports from the country. China would almost certainly retaliate against the US in general, as well as against iconic brands like Apple (NASDAQ:AAPL), Boeing (NYSE:BA) and CSCO. The China Times, as reported in HotHardware.com, noted, "China is willing to use the nuclear option with regards to trade... a batch of Boeing orders will be replaced by Airbus... US auto and iPhone sales in China will suffer a setback." These are not idle threats. In 2014, amid charges of hacking, China retaliated against Cisco.
The impact on revenues from trade retaliation is hard to predict. It is hard to envision a scenario where increased tariffs and/or a trade war would be anything but negative for the company.
Currency
While not as dramatic, as the rise of the US dollar in 2014, the US dollar has appreciated about 4% and 6% against the euro and yen, respectively, as well as against other relevant currencies in the post-election period. As of the most recent quarter, CSCO derives 25% of its revenue from Europe (EMEA segment, includes the Middle East).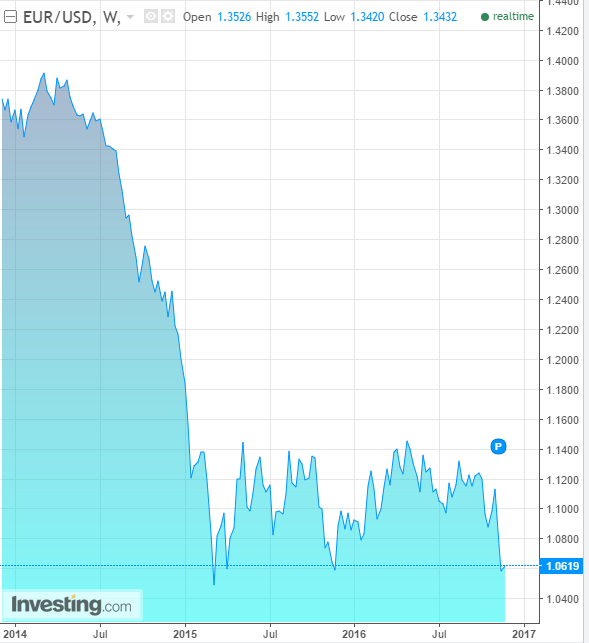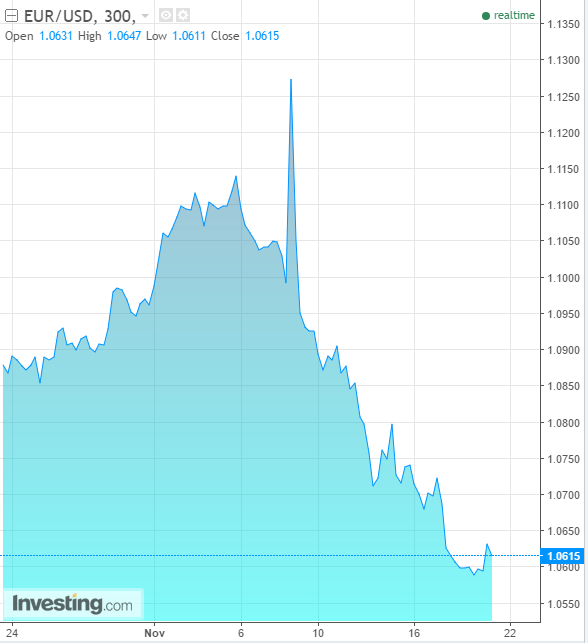 (Source: Investing.com)
Unlike other exporters, the impact of a strong US dollar will be seen indirectly on reduced sales (as prices rise) and/or lower margins (price cuts to hold market share) as opposed to a loss on currency translation.
As noted in the Wall Street Journal, multiple analysts, including Citibank and Brown Brothers Harriman, are projecting the US dollar to reach parity with the euro within 6-12 months.
In a report earlier this year, analyst Palwasha Saaim noted, "The Asia-Pacific region - which includes Cisco's biggest emerging markets of India and China - is its strongest growth market after the Americas. The strengthening dollar is making cheaper Chinese vendors the more attractive substitutes."
With over $60 billion in cash offshore, CSCO will have to mark-to-market reduced values of cash (and other assets) held overseas if the euro (or other currency) declines in excess of amounts hedged. For example, if the company had $50 billion in euros, a 5% decline (net of hedging) in that currency value would result in a $0.37/share blow to the income statement (assuming a 25% tax rate, higher than recent periods).
Interest Rates
As readers know, we have been in a period of historically low interest rates. Post election, the yield on the US 10-year has increased by about 50 basis points.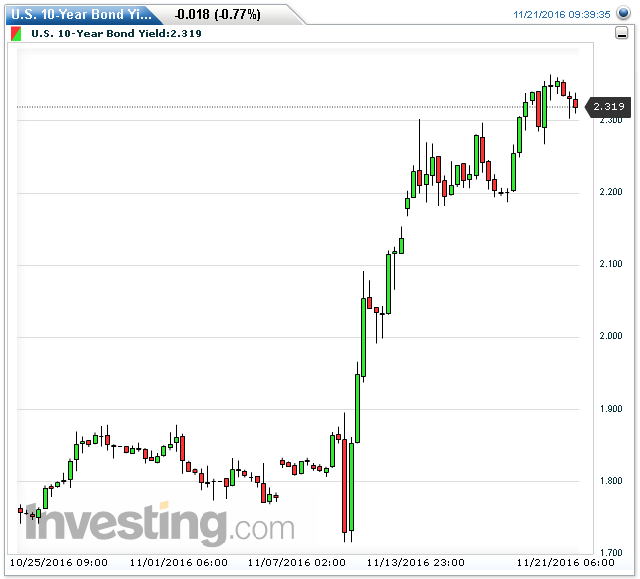 During the last three years, CSCO borrowed about $20 billion to fund dividends and buybacks, while avoiding the tax liability associated with repatriating cash to the US. If CSCO were to borrow a similar amount ($6.6 billion) and repeat this transaction in 2017, an incremental 0.5% would cost about $0.01/share (assuming a 25% tax rate in 2017 and 5.0 billion shares).
Potential Positives
There are, of course, potential positives from Trump's likely legislative agenda.
Cash Repatriation
Moody's Investor Services estimates CSCO will have $62 billion in overseas cash by the end of the year. If legislation is changed, enabling cash held overseas to be repatriated at a lower tax rate, the company would book a non-cash income statement benefit. CSCO's net tax rates have averaged around 20%, so a change to 25% would only drive a one-time gain on deferred taxes (the portion accrued at 35%). Cash repatriated could be used to fund dividends or stock buybacks. The company could avoid incremental borrowings currently used for these purposes.
Higher Interest Rates
CSCO would benefit from being able to receive higher returns on any idle cash on its balance sheet. However, as the company would likely make extensive use of short-duration, low-yield instruments such as commercial paper, the impact would likely be minimal (30-day LIBOR is up about 2 basis points since the election, longer durations are up a bit more).
Reduction in Corporate Tax Rate
A decrease in the US tax rate would also benefit CSCO directly for US profits and to the extent the rate would drop to source country tax rate for overseas profits. As the US corporate tax rate is currently 35%, a reduction to 20% or 25% would result in material savings on US-sourced (and repatriated) profits. A net 20% reduction in gross taxes (these estimates are tricky because the impact on current and future deductions, source of income, etc. is not easily calculated) would result in a $0.09/share increase in earnings.
Conclusion
CSCO continues to be a leader in the highly competitive switching/router industry. I sold my position earlier this year, but continue to monitor the stock. I'm concerned the current price (and lack of estimate movement related to the election) fails to consider the negatives associated with the Trump presidency. Specifically, trade restrictions and a stronger US dollar will have not insignificant impacts on CSCO's earnings and, hence, its stock price.
In the risks to earnings section of its analysis, S&P does not mention the above, only commenting, "the potential for a downturn in enterprise, and increasing competition." It is my opinion that the market has not properly considered the "Trump negatives" in the wake of euphoria about lower US tax rates and a more favorable domestic environment.
Disclosure: I/we have no positions in any stocks mentioned, and no plans to initiate any positions within the next 72 hours.
I wrote this article myself, and it expresses my own opinions. I am not receiving compensation for it (other than from Seeking Alpha). I have no business relationship with any company whose stock is mentioned in this article.