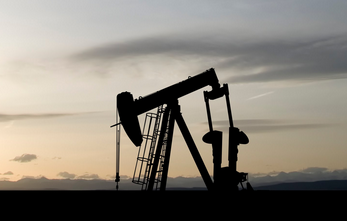 Recently, I published an article about, Wolfcamp, the largest U.S. oil find ever in the West Texas Permian Basin extending into eastern New Mexico. Estimates of 20 billion barrels of oil and 16 trillion cubic feet of natural gas there are an immense amount of fossil fuel energy.
Permian Oil Field
The Permian Oil Field itself is 300 miles long and 250 miles wide. It is the world's second-largest oil resource with a potential of more than 75 billion barrels of oil equivalent in the Spraberry/Wolfcamp shales. The Wolfcamp find has re-ignited oil industry activity in the Permian Basin. And make no mistake, this represents "a new oil order" that is a challenge to Saudi oil dominance.
Pioneer Natural Resources (NYSE:PXD)
Pioneer continues to be the largest producer in the Spraberry/Wolfcamp with a resource potential of more than 11 billion barrels of oil equivalent and an inventory of more than 20,000 untapped horizontal drilling locations.
Significant for Investors
Developing perspective about the drillers in the area, their acreage, fundamentals about drilled wells, expected outputs and production efficiencies is useful, as these are all important variables for investors to know about.
Foundations in West Texas
This is where PXD began in the early 1980s by acquiring its largest lease holdings that include 785,000 acres in the Spraberry oil field. Now, there is a focus on developing several game-changing shale formations.
In 2011, conventional vertical drilling and production changed to operations that required horizontal drilling and hydraulic fracturing technologies.
Presently, the Spraberry and Wolfcamp acreage is a world-class horizontal play that "concentrates efforts on more capital-efficient horizontal shale development."
Optimization Leads to Greater Profits
Focusing each rig on one interval by drilling one shale interval per rig can reduce drilling and completion time.
Drilling multiple wells per pad reduces the surface footprint.
Casing design modifications decrease drilling time and can save $500,000 to $1 million per well.
Completion optimizations improve cost structure by testing a variety of factors in horizontal well completions. Using that information can leverage future drilling costs.
Testing dissolvable plug technologies that are expected to save $300,000 per well.
Still Standing
Pioneer CEO Scott Sheffield has used heavy trash talk to make it imminently clear to OPEC that multi-pad drilling, seismic data crunching and long-lateral extending frackers are still standing, despite two years of Saudi Arabia flooding the world with cheap crude.
Sheffied said that the Permian production costs had fallen to $2.25 per barrel, a price so low that the region will keep growing no matter how low the price of West Texas Intermediate crude goes. It's going to grow on up to about 5 million barrels a day from 2 million barrels now. That's enough to replace all our declines, and then some. We can definitely compete, toe to toe, head to head.
12-Month Interactive Chart Comparisons
The chart below compares shale players Pioneer Natural Resources with Apache Oil (NYSE:APA), EOG Resources (NYSE:EOG), Anadarko (NYSE:APC), and ConocoPhillips (NYSE:COP).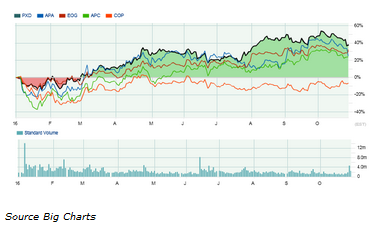 PXD Daily Chart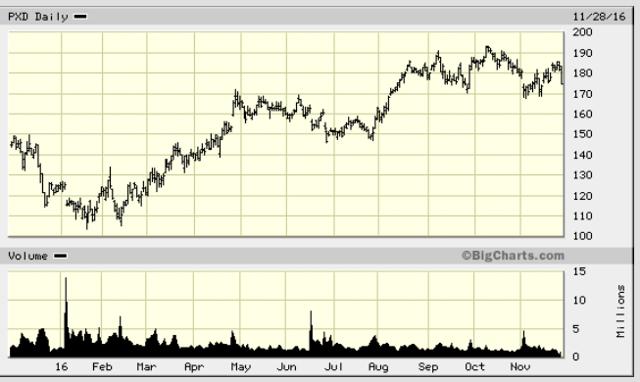 Click to enlarge
(Source: Big Charts)
In late February, PXD began to climb moving from a low of approximately $105 to a high of $193. A recent decline to the $175 level still shows a gain of about 40% from the low to closing price.
Earnings
PXD disappointed with Q3 earnings of 13 cents a share, missing consensus estimates of 17 cents. Revenues fell 47% to $1,186 million from $2,237 million.
Oil production averaged 133.8 thousand barrels per day. Daily production is up 22%.
Takeaway
Shale oil is here to stay! With the Wolfcamp find, the amount located in the Permian Basin alone is the largest oil reserve in the U.S. and second largest in the world. In my opinion, shale guarantees U.S. oil independence, and the economic benefits that will accrue are a considerable bounty that Americans will reap.
That bounty goes beyond jobs and company profits. It is also manifest in geopolitical power - a weapon, if you will, that frees us from the horrific cost in treasure and blood necessitated by dependency on other nations for our economic survival, something we would make every attempt to secure, no matter what the cost. Think back to the first Gulf War and its aftermath, the Middle East. We cannot gauge the future fallout from that and subsequent related events.
I have singled out Pioneer Natural Resources because of its long-standing strong position and vast reserve holdings in the Wolfcamp Permian. It has had considerable experience with vertical drilling and then shifted its entire operation to horizontal drilling, while evaluating numerous variables to promote greater efficiencies and cost reductions. The company has survived two years of cheap oil meant to destroy it as other shale operators collapsed. And it is primed to succeed and ready to challenge OPEC.
Note: Thank you for reading and commenting. You can follow my articles on SA by clicking on "Follow" directly after my name.
Disclosure: I/we have no positions in any stocks mentioned, and no plans to initiate any positions within the next 72 hours.
I wrote this article myself, and it expresses my own opinions. I am not receiving compensation for it (other than from Seeking Alpha). I have no business relationship with any company whose stock is mentioned in this article.
Additional disclosure: The information and data that comprise this article came from external sources that I consider reliable, but they were not independently verified for accuracy. Points of view expressed are my reasoned opinions, not investment advice. I am not responsible for any investment decisions you make.