Verizon's (NYSE:VZ) shares have traded relatively weak the last 3-6 months, as have most interest rate sensitive, capital intensive businesses like utilities, REITs, and telephone/cable communication providers. The sharp "unexpected" jump in interest rates globally since mid-summer is causing Wall Street to re-discount earnings and cash flow values for high dividend payout, heavily indebted businesses like Verizon. As noted on the chart below, the company's stock price has underperformed the S&P 500, NASDAQ Composite, Dow Jones Industrials, and Russell 2000, while largely mimicking the Dow Jones Utility average the last six months.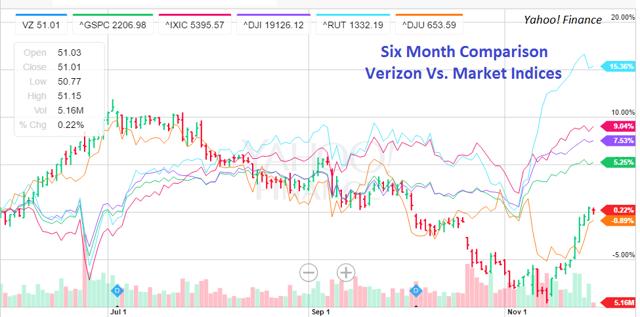 Click to enlarge
In terms of Verizon's $100 billion net debt load, $220 billion in total liabilities vs. just $22 billion in shareholder equity (negative -$101 billion "tangible" book value) on its balance sheet as of September 2016, the corporation is one of the highest leveraged enterprises in America. Ongoing capital expenditures, $17 billion annually of late, and continuing investment requirements to keep the company's communication networks working smoothly and technologically up to date means new debt accumulation is inevitable. All told, ANY rise in borrowing costs moves to the bottom line (business earnings) rapidly, as new debt and debt rollovers at maturity become more expensive.
Already, the huge liability numbers for the corporation are holding the stock price back on a long-term basis. Look at the weak Verizon equity performance below vs. the S&P 500, Dow Utility average, plus overly leveraged sister phone giants AT&T (NYSE:T) and Sprint (NYSE:S) since April 2013: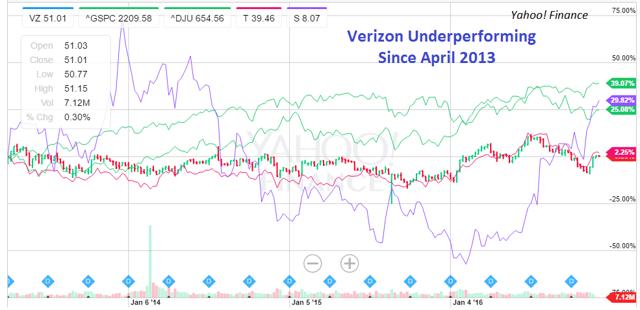 Click to enlarge
Today's high dividend yield of 4.6% and 14x multiple of GAAP earnings may look appetizing at first glance, but a large jump in interest rates during 2017 and/or economic recession could torpedo the underlying worth of Verizon's shares quickly. To boot, the dividend payout is an elevated 70% of GAAP earnings; not much room for error.
An old real estate axiom is investors earn their profits on the buy, not necessarily the sell. Whether it's a low price or particularly good terms or purchasing at a cycle bottom, getting a good deal upfront is paramount. Many stock market traders understand profits follow those patiently waiting for the right set-up. Verizon's latest bump higher back to its 200-day moving average since the November election may provide such a setup for long investors to sell into or shorts to enter new positions. A variety of negative factors from a continuation of rising interest rates, a stagnant economy with increased competition affecting demand for Verizon telephone and communication products, or even a general stock market sell-off, could lead to much lower quotes in coming months.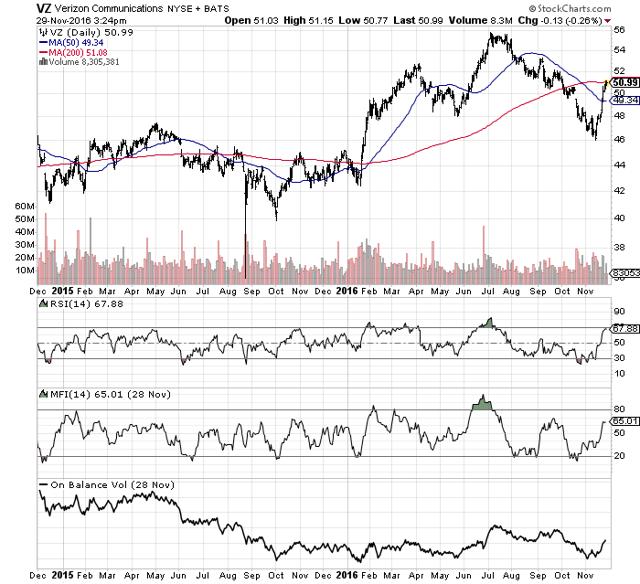 Click to enlarge
I have been intensely researching and experimenting with my Victory Formation momentum-based system to develop successful entry setup situations. The current opening in Verizon fits well with some of my more profitable pattern setups in 2016, and I recently purchased some 2017 put options on Verizon. As a way to control my downside if Verizon's price actually rises from $51 this week, while leaving potential profits quite high using leverage, long put options (at the money roughly) offer a speculative way to play future downside in the company's stock quote.
Note: In terms of portfolio creation, small option position sizes are a requirement when compared to overall portfolio value. For example, my current Verizon put position represents about 1% of my financial assets today. The odds of success in any single at-the-money long option position are considerably less than 50/50 statistically, as you are paying a time premium, either in calls or puts, and being wrong means you lose your entire investment.
Selling Verizon to invest in another blue-chip equity, selling your shares for cash, or even going short may prove a sound move for traders and speculators the next 3-6 months. My momentum system is highlighting a great point in time and price to re-evaluate your view of this overly leveraged company. Historically speaking vs. decades of past trading with stronger underlying financial metrics, Verizon is at much greater theoretical risk of cutting its dividend or even filing bankruptcy when the next recession develops than ever before.
At a minimum, I would expect Verizon's enormous funding needs to slow equity appreciation against the average blue-chip investment going forward. If you believe interest rates have finished rising and the U.S. economic future is bright next year, I am guestimating market typical performance for Verizon's common stock in 2017, as large debt overhangs any outsized up-move.
Disclosure: I am/we are short VZ.
I wrote this article myself, and it expresses my own opinions. I am not receiving compensation for it (other than from Seeking Alpha). I have no business relationship with any company whose stock is mentioned in this article.