We expect -53 Bcf for this week's storage report, increasing our estimate from last Friday by +1 Bcf. The change isn't very meaningful, and the market seems to be paying much closer attention to the 11- to 15-day outlooks vs. what this storage report holds. Current consensus estimate pegs an average of -57 Bcf, so we are higher than where the consensus currently stands.
If storage draw comes in around our estimate, -53 Bcf would be the same as last year and match the five-year minimum, and 35 Bcf lower than the five-year average. Storage at the current pace is expected to fall to a year-over-year deficit by the week of December 9. Overnight model runs show slightly warmer temperature through the week of December 9, while the week of December 16 was revised lower again. The 11- to 15-day outlook is certainly bullish for the natural gas market. This was EIA's update from yesterday: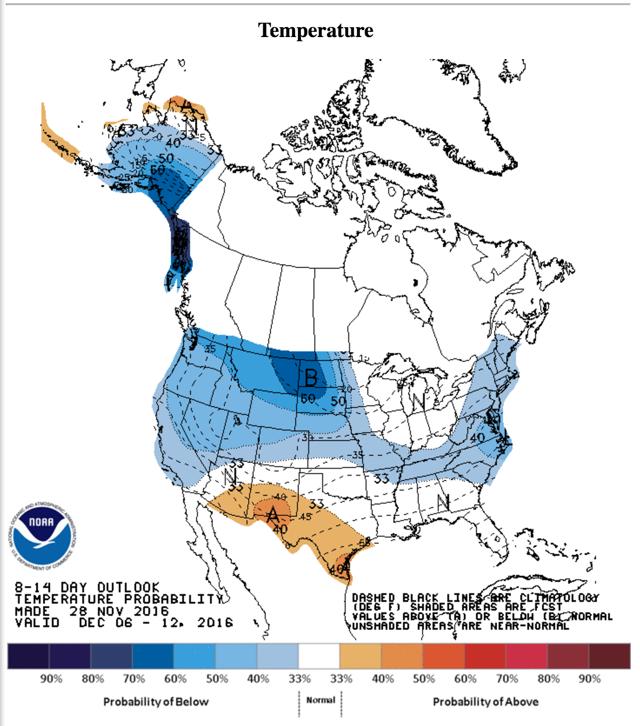 Click to enlarge
In addition to our weekly oil and natural gas market outlooks, we have started a daily article that's published after market close. It includes updates on some portfolio positions we own as well as updates on the oil and natural gas market, along with any fundamental updates with regard to weather or U.S. gas production. The daily article is still in the beta phase, but if you are interested in something like this, you can sign up here.
Looking at natural gas prices, they're slightly down today on the bearish revision. And looking at the CFTC trader report, positions up to November 22 saw net-long exposure increase for the first time in six weeks.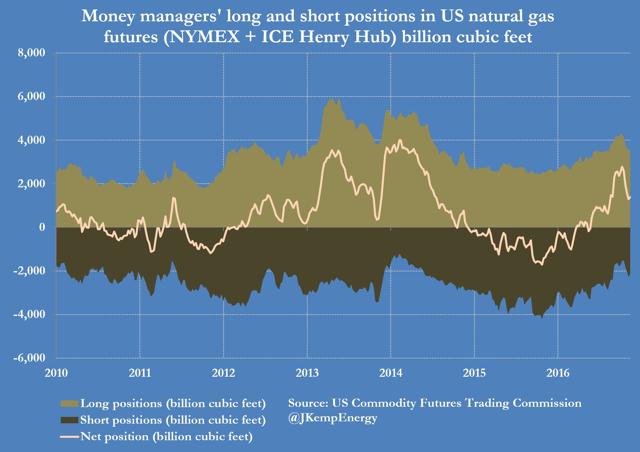 Click to enlarge
The bulk of the change came from shorts covering 126 Bcf, while longs actually sold another 30 Bcf. Traders we talk to are feeling much more optimistic about the gas market, despite not being properly positioned.
For those who remember our natural gas articles from the beginning of October, we said that FOMO (fear of missing out) played a large role in driving natural gas prices to $3.30-plus. Well, the traders capitulated and sold most of their positions as November temperatures turned out to be much warmer than expected. Most of these traders have not re-entered the market, and it will be interesting to see how much the next FOMO ride up will impact gas prices.
Disclosure: I/we have no positions in any stocks mentioned, and no plans to initiate any positions within the next 72 hours.
I wrote this article myself, and it expresses my own opinions. I am not receiving compensation for it (other than from Seeking Alpha). I have no business relationship with any company whose stock is mentioned in this article.