Oil prices have been volatile going into the 171st OPEC meeting on Wednesday, Nov. 30. Although Brent and West Texas Intermediate were up over 2% on Monday, they fell more than 4% on Tuesday after Iran's oil minister said the country is inclined to leave its oil production levels at the same level it agreed upon in September at the Algiers meeting. If the 14-member OPEC cartel is unable to reach an agreement to cut production on Wednesday at the meeting in Vienna, it could send oil into a steep price decline. This meeting holds even more weight than the meeting in Doha in April and the meeting in Algiers just over two months ago.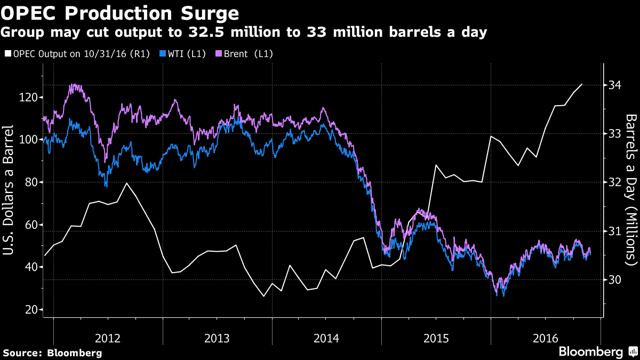 Over the weekend, Saudi Arabia stated that the producer group doesn't necessarily need to curb oil output after pulling out of a scheduled meeting with non-members, including Russia. Iraq's Oil Minister Jabbar al-Luaibi said Monday that he's "optimistic" a deal will be reached at the OPEC summit.
On Tuesday morning, Goldman Sachs (NYSE:GS) stated that there is only a 30% or so chance of an agreement. There are lots of disagreements over the past few weeks. Will Iran freeze its production? Will Iraq agree to a cut? Are the Saudis just playing poker with its other members? Russia, a non-OPEC member, seems to be out of the picture at the moment given that the minister said he's not going to travel to Vienna:
If OPEC does not come up with a credible agreement to cut production on Wednesday oil prices will end the year below $40 a barrel and be chasing down $30 a barrel early next year," said David Hufton, chief executive officer of brokers PVM Group Ltd. in London, as reported by the Chicago Tribune.
The stocks that are expected to benefit from an announcement of a cut in production, if there is an agreement reached, are the large- and mid-cap companies that have been through this before. I've identified those that look well-prepared for 2017 and that should benefit from an increase in oil prices.
Exxon Mobil - Dividend Yield: 3%
Exxon Mobil Corporation (NYSE:XOM) is witnessing an improvement in its bottom line that is expected to continue in 2017 due to higher upstream oil price realizations. In the most recent quarter, upstream earnings increased to $620 million from $294 million in the prior quarter. The downstream segment isn't performing too badly either. Earnings from its downstream operations declined to $825 million in the second quarter as opposed to $906 million in Q1, but earnings jumped to $1.229 billion in Q3, boosting overall performance.
Exxon Mobil's downstream performance for Q3 was 49% higher than the previous quarter. Domestic refining margins were lower, but international operations buoyed the company's performance. I believe that downstream earnings could improve, even on the domestic front, if there were better refining margins.
The World Bank raised its 2017 forecast for crude oil prices to $55 per barrel from $53 per barrel. XOM should be able to take advantage of an increase in oil prices due to its improving upstream oil production efficiency, which will lead to a stronger earnings performance. Rising oil prices could be a cataclysmic event for Exxon Mobil. If a deal is reached, it would allow it to revive projects that it had abandoned to do due to the slump in energy prices and bolster the finances of countries, such as Mexico and Russia, that are in need of cash.
Exxon Mobil also stands to benefit from the Trump presidency. If sanctions are dropped against Russia, 63 million acres that it agreed to develop with Russian oil concerns will open up. That represents 4x the amount of land available for development in the U.S. without the environmental concerns we have domestically. The company is also increasing its production from unconventional oil plays in the U.S. such as the Bakken and the Permian, where development costs are low and production is high.
Exxon Mobil has an enviable, strong set of fundamentals. It has $40.6 billion in cash and LT investments, and with $32 billion in debt on the books it generates about 1% of interest expense. I always look at cash flow for companies, but it is especially critical with XOM stock because it has tons of capex requirements. With a little over $19 billion in operating cash flow in the trailing 12 months (during tough times, I might add), and offset by about that much in capex, Exxon Mobil has decided to make certain it is investing in its future while still spending about $12 billion to pay its dividend.
For the fourth quarter, analysts are expecting EPS of $0.71 on revenues of $67.5 billion as compared to EPS of $0.67 and revenue of $59.81 billion last year. For 2016, analysts are expecting EPS of $2.18 on revenues of $237.98 billion. Goldman Sachs has a price target of $93, as reported by 24/7 Wall St.
Hess - Dividend Yield: 1.9%
This stock is off over 50% since last spring. Hess Corporation (NYSE:HES) is an exploration and production company that develops, produces, purchases, transports and sells crude oil, natural gas liquids and natural gas. It primarily operates in the United States, Denmark, Equatorial Guinea, the Joint Development Area of Malaysia/Thailand, Malaysia and Norway.
Hess has announced a significantly lower capital expenditure budget for 2016 in an effort to contain costs. Capital spending on exploration and production will be reduced this year 40% from 2015 to $2.4 billion. Its 50% sell-down of its interest in the company's Bakken Midstream assets to a strategic partner, Global Infrastructure Partners, should result in after-tax proceeds to Hess of ~$3.0 billion after a leveraging transaction providing an enhancement to its liquidity, which is key, noting its extensive upstream footprint. This implies a $5.35 billion valuation, 32% of its market value, for the assets.
HES shares moved to $52.73 on Monday, trading at a ~18x multiple of forward-looking EBITDA. For the fourth quarter, analysts on average predict that earnings will come in the range of $-1.44 to $-0.59, compared to a loss of $1.40 last year. The median one-year price target of 22 analysts covering the company is $63.50, which suggests the stock could still rise over 20%. Merrill Lynch's price target is $85.00, as reported by Analyst Ratings.
Anadarko Petroleum - Dividend Yield: 0.32%
Anadarko Petroleum's (NYSE:APC) stock has rebounded close to 20% in the last three months. Its oil and gas exploration and production segment explores for and produces natural gas, oil, condensate and NGLs. The midstream segment provides gathering, processing, treating and transportation services to Anadarko and third-party oil, natural gas and NGLs producers, as well as owns and operates gathering, processing, treating and transportation systems in the United States.
The stock has recently moved higher as a result of its acquisition of deepwater assets in the Gulf of Mexico from Freeport-McMoRan (NYSE:FCX) for a sum of roughly $2 billion, about 1.5 times EBITDA, as reported by Forbes. This is expected to strengthen its position in the region and increase its ability to expand its output in the Delaware and DJ basins. This results in an increase in cash flow toward $3 billion in 2017, and could potentially give Anadarko a 10-12% in oil volumes over the next five years, assuming a $50-60 oil price environment.
In its most recent fiscal quarter, Anadarko reported a loss of $0.89 per share as opposed to a loss of $0.72 per share last year, missing the Thomson Reuters' consensus estimate of ($0.54) by $0.35. The firm earned $1.89 billion during the quarter, compared to analysts' expectations of $2.19 billion, up 12.1% compared to the same quarter last year. The analysts' consensus is that it will post ($3.05) EPS for the current fiscal year.
If the OPEC cuts are announced on Wednesday, oil prices should bounce back faster, causing a rise in Anadarko's price realization over the next few years. Given the upside potential from this deal, coupled with the expected recovery in commodity prices, analysts have a price target as high as $77 per share (Deutsche Bank (NYSE:DB)), as reported by MarketWatch.
Pioneer Natural Resources - Dividend Yield: 0.7%
Pioneer Natural Resources Co. (NYSE:PXD) is the ultimate crude oil play and a shale oil growth story for the past five years. The stock started selling off a year ago, but rebounded nicely since the summer. It was hit hard recently and could be offering aggressive investors a very timely potential entry point.
Pioneer continues to execute soundly on its strategy of increasing production and slashing costs. Although it is extremely difficult environment for oil producers to make money in the current environment, Pioneer has done a lot much better than most the industry's companies. The company has been successful at opportunistically hedging the price or oil and slashing its operating expenses. Pioneer's annual production has grown at an annual rate of 16% since 2011, and although it has been successful in reducing costs, it has not been able to entirely offset the sharp drop in the price of oil.
In its most recent quarter, Pioneer reported net income attributable to common stockholders of $22 million or $0.13 per diluted share. Pioneer's latest outlook maintains the 2016 capital budget at $2.1 billion, while the production growth forecast increased from 13%+ to 14%+ to reflect improving Spraberry/Wolfcamp well productivity. The 2017 capital program is expected to be provided by the forecast cash flow, a strong derivatives position and a strong investment grade balance sheet.
Pioneer has a major presence in the Permian basin which has tens of billions of barrels of oil equivalent (BoE) resources and represents a competitive solution, even at WTI prices of less than $50/barrel. Speculation is always swirling around that Pioneer could be a takeover target. If Exxon Mobil were to purchase Pioneer, it would give the company 800,000 gross acres of Spraberry/Wolfcamp shale in the basin, 664 million barrels of proven oil equivalent and billions of more in potential, roughly 224,000 BOE production a day. Pioneer's proven reserves are growing and last year it added 210 million barrels of proven oil equivalent despite the drop in oil prices. Stifel Nicolaus just raised its price target for Pioneer to $215 from $177, as reported by MarketWatch.
OPEC Meeting Outlook
These stocks range from a huge integrated to nimble exploration and production companies that have had some difficult times. If the overall picture improves, and OPEC cuts even a little, the upside could be significant. Although it seems less likely than before, many analysts outside OPEC still believe that Saudi Arabia intends to announce a cut in production, with 32.5-33.0 million barrels per day (mmbd) as a cartel target.
However, as we learned from the U.S. presidential election, nothing is for sure and there is the potential for traders to be disappointed and for oil to fall. Energy Aspects Ltd. Chief Oil Analyst Amrita stated that if OPEC fails to reach an output deal this week, oil prices may fall to as low as in the $20s, as reported by Bloomberg. If a cut isn't announced and oil sells off, oil stocks in general will decline. But if they do announce a cut, I would use that as an opportunity to establish a long position in one or more of the aforementioned companies that have been through this before.
Disclosure: I/we have no positions in any stocks mentioned, and no plans to initiate any positions within the next 72 hours.
I wrote this article myself, and it expresses my own opinions. I am not receiving compensation for it (other than from Seeking Alpha). I have no business relationship with any company whose stock is mentioned in this article.