Yesterday, I wrote an article on Amazon (NASDAQ:AMZN), the first report of a short series in which I look at my best- and worst-performing calls of the past 18 months and ask myself: are those stocks worth a shot now?
As a quick recap, I have been up 11.0% since I started DM Martins Research in August 2015 through this year's Thanksgiving weekend, according to Tip Ranks, compared to the S&P 500's (NYSEARCA:SPY) 5.3% - beating the benchmark by more than 100%.
But not all my calls have played out favorably. The table below summarizes DM Martins' five best and five worst calls over the period.

Click to enlarge
(Source: DM Martins Research, using data from Seeking Alpha and Yahoo Finance)
For my second article in the series, I turn my attention to Microsoft (NASDAQ:MSFT) - a stock whose double-digit beat over the broad market benchmark I did not see coming.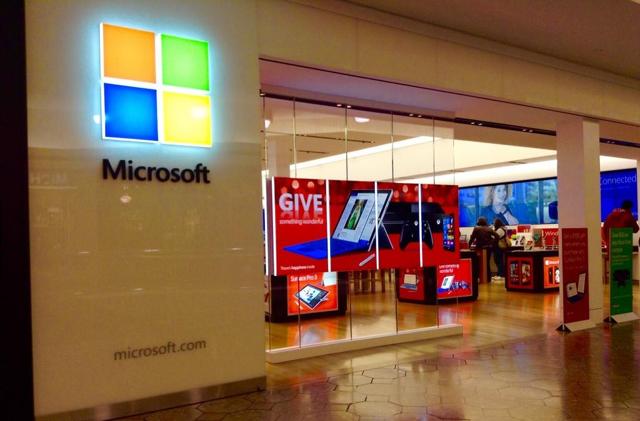 Click to enlarge
(Image Credit: flickr.com)
My initial views on Microsoft
In June of this year, shortly after the LinkedIn (NYSE:LNKD) acquisition announcement, I wrote an article arguing that Microsoft had been "betting big bucks on low earnings-producing assets (specifically referring to LinkedIn and the 650x forward multiple that Microsoft agreed to pay for that company), and its stock [looked] very expensive given the uncertainties and the company's low-growth profile."
To be fair, I did not see major drawbacks with Microsoft as a business, and even stated, in September, that by combining "inorganic growth with CEO Nadella's reported 'momentum' in cloud [...], the elephant [might] still be able to dance."
I also liked Microsoft's low but double-digit growing dividend, and that future payment hikes seemed relatively safe given the company's low FCF payout of only 44%. But the bull argument quickly gave way to the bear case once I looked at valuations:
"I [believed] much of the upside [had] already been priced into the stock. MSFT's valuation [seemed] much more in line with that of Alphabet (GOOG, GOOGL) which has, in my view, many more opportunities to ignite sustainable growth in the fields of AI, VR and the other areas in which the company's 'moonshots' operate, than with mature, cash-cow names like Apple (NASDAQ:AAPL) or Cisco (NASDAQ:CSCO). For a FY17 forward P/E multiple of 20.1x to be justifiable, given Microsoft's profile, I [believed] the Street [was] already betting on a good dose of top-line uplift, most likely from intelligent cloud and acquisitions like LinkedIn, as well as improvement in cloud margins, which dipped over 500 bps YOY in FY16 (GAAP basis)."
Ironically enough, after my June article, MSFT shares skyrocketed by +21% to close Cyber Monday trading at $60.61.
Before I take another pass at my investment thesis, let me summarize the stock's performance during 2016 and then determine whether an investment in MSFT makes more sense to me today than it did earlier in the year.
A quick look at the YTD performance of the stock
MSFT spent most of the first half of the year trading sideways and ended June down -8% YTD, even as the broad market returned about +2.5% in 1H16.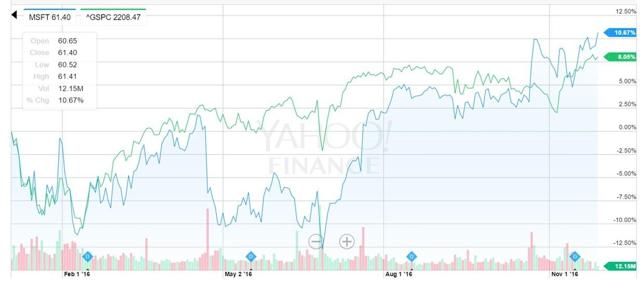 Click to enlarge
(Source: Yahoo Finance)
The quarter-long nose dive that started in early April was triggered by a worrying calendar 1Q16 earnings miss. Windows underperformed, held down by "the worst quarterly PC numbers since 2007." But CEO Satya Nadella ensured that the company's move into the cloud was taking place at a fast pace.
With calendar 2Q16 earnings being guided very conservatively, it wasn't hard for Microsoft to beat consensus EPS by 19% when the company reported on July 19th. That nudge was all the stock needed to shake off the bad taste left by the acquisition of LinkedIn announced in mid-June.
As revenues of Microsoft's enterprise cloud platform (Azure) increased 102% YOY and Surface sales remained healthy, MSFT stock reached 52-week highs in August. The company seemed to be firm on its "transition from traditional software sales models to an increasing focus on cloud platforms and services."
Calendar 3Q16, reported in October, was more of the same - and the Street liked it. Azure was up +116% YOY, pushing intelligent cloud revenues to high-single digit YOY growth.
Where do we stand today?
It seems clear to me that MSFT is running on cloud fuel. The company's 2017 EPS consensus estimates have increased +12% since June of this year, in great part justifying the +22% stock run. The improved expectations happened even as the Personal Computing division (the company's largest, representing 47% of total net revenues) shrank -6% YOY in FY16 and another -2% in F1Q17. At the same time, the Intelligent Cloud segment rose 8%, propelled by the still small Azure business (the cloud compute, network, storage, database, and management platform that I estimate to represent less than 2% of Microsoft's total net revenues).
The first problem I see, however, is that Microsoft's Azure business is a small fish in a pond infested with sharks. This is not to say the company cannot be competitive in this space - the young platform, made commercially available only in 2010, has been growing at a faster pace than possibly any other in the market and adding over 120,000 new client subscriptions per month. But Azure is in very good company, having to fight for market share with none other than Amazon, Google, IBM Corp. (NYSE:IBM), Oracle (NASDAQ:ORCL), Salesforce.com (NYSE:CRM), VMware (NYSE:VMW), and other open source offerings.
As a result, Azure is likely to suffer a rapidly declining rate of growth in the (not-so-near) future once it ceases to be a newcomer and becomes a more meaningful revenue generator. Pricing pressure is also likely as the cloud space becomes even more crowded. As Amazon's management team has argued recently regarding pricing:
The thing I can tell you about [AWS'] pricing is that [...] price reductions are a core part of our philosophy, of course. We had a price decrease in Q3, and that was our 52nd since we started this business. So we are comfortable with price decreases. Not only did we lower the prices of our products but we also create new services that are cheaper that customers can switch to."
Lastly, one of my key arguments against owning MSFT originally remains intact: aggressive stock valuation. As the table below suggests, shares continue to be the most aggressively priced, on a PEG and net cash-adjusted PEG basis, among the top five technology names - a group that includes high-flyers like AMZN and FB.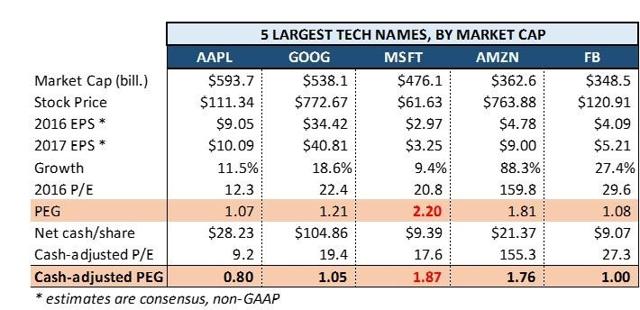 Click to enlarge
(Source: Yahoo Finance, Market Watch and SEC filings)
At nearly the same 21x forward multiple, I continue to find names like GOOG a more appealing, higher-GARP (growth at a reasonable price) play.
Disclosure: I am/we are long SPY, CSCO, AAPL, GOOG.
I wrote this article myself, and it expresses my own opinions. I am not receiving compensation for it (other than from Seeking Alpha). I have no business relationship with any company whose stock is mentioned in this article.