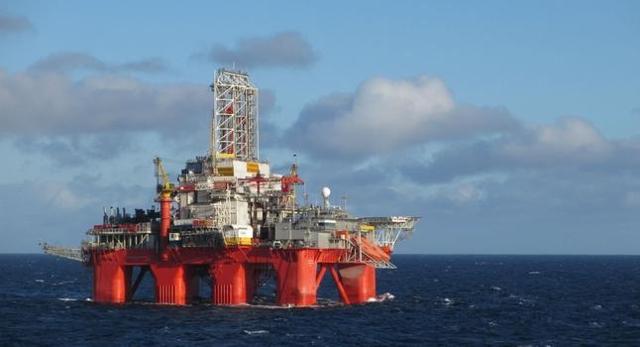 The SemiSubmersible Transocean Spitsbergen.
This article is an update to my preceding article on Transocean (NYSE:RIG), published on September 12, 2016, regarding the Spitsbergen.
On November 28, 2016, We learned from OffshoreEnergyToday the following:
UK-based oil and gas company Hurricane Energy has exercised its option over the semi-sub rig Transocean Spitsbergen to drill the Halifax prospect off the Shetland Isles.

The option was exercised on November 25, 2016. According to the rig contract amendments entered into with Transocean, the oil company exercised its option over the Transocean Spitsbergen in order to drill the Halifax prospect.

The prospect was recently awarded to Hurricane by the Oil and Gas Authority in an out of round application. The license extends northeast from the Hurricane's existing Lancaster license. Hurricane identified a well location on Halifax and acquired a site survey over the prospective well location in preparation for the drilling of an exploration well.

The Halifax well, located in P2308 license off the Shetland Isles, will be drilled after completion of the Lincoln well which Hurricane started drilling on November 8. The Lincoln well is targeting a basement prospect geologically similar to the nearby Lancaster structure.
SemiSubmersible

2010 - SemiSub

12/16

12/16-3/17 (?)

3/17 - 4/17

Undisclosed (110? See note)

Undisclosed (110?)

[Hurricane Energy]

UK-NS

[Repsol]

Norway-NS
Note: Current contract provides for a bonus incentive opportunity not reflected in the current contract day rate (Hurricane Energy only).
If you want to read more about the Lancaster field, click here.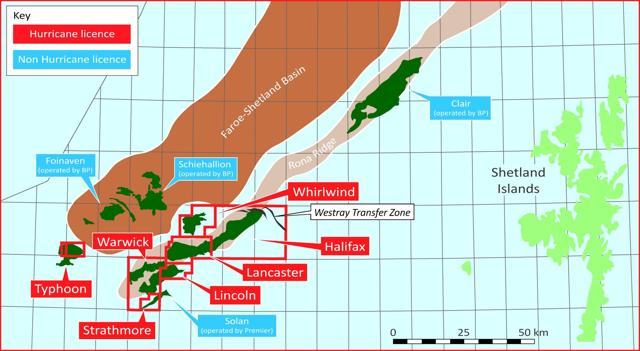 Courtesy Hurricane Energy.
The Halifax well, located in P2308 license off the Shetland Isles, will be drilled after completion of the Lincoln well which Hurricane started drilling on November 8.
Commentary:
Hurricane Energy exercised its option and will drill the Halifax well in direct continuation of the Lincoln well started on November 8, 2016, by the Transocean Spitsberger.
This is about 40 days to 60 days. The day rate is not known and I estimated the backlog addition of approximately $8 million. This is another example of a new surge in drilling activity in the North Sea deepwater segment. Most of the new contracts involve small IOC such as Hurricane Energy and small duration contract at ultra-low day rate. This is a trend that we have been experiencing in the North Sea sector and is spreading in the entire offshore sector.
It is an important and rather encouraging development, which demonstrates even further that we may soon experience an offshore recovery, whether it is due to the oil prices slowly inching up to the "sweet range" at $55-60 a barrel; or because, in fact, many O&G operators are now forced to act aggressively and replenish their dwindling reserves starting no later than H1 2017. At least, in the UK and Norway part of the North Sea.
Mr. Alf Ragnar Lovdal, North Atlantic Drilling's (NYSE:NADL) CEO, said recently in the 3Q16 conference call:
[W]hat we have seen now - this autumn is a shift in the number of tenders. And obviously we are involved, active on 23 different tenders, and then it's split between some 50% UK Norway, and the majority is start up in 2017 already in March and throughout the year [...] In a way, I feel we have bottomed out activity level.
This is a good news for Transocean, because the company has a solid presence in the North Sea sector.
Transocean sees many opportunities for harsh-environment fleet in 2017 and 2018. It is important to notice that RIG managed to get about 40% of the entire contract opportunities these past six months, and will be ready for this potential increase in tendering, if it materializes which is depending highly on the prices of oil next year.
Mr. Jeremy Thigpen, RIG CEO, said in the 3Q16 conference call:
in the last month, oil prices have rebounded somewhat, exceeding and holding above $50 per barrel until just recently. As was the case earlier in the year when oil touched $50 per barrel, our customers, primarily the independents and national oil companies, are once again approaching us with inquiries around rig availability and day rates. For the major integrated oil companies, we still think an oil price approaching $60 per barrel is required to compel them to commence new projects. However, as long as oil prices remain around $50 per barrel, we would expect them to engage in conversations around blend-and-extend opportunities, which would enable them to reduce their near-term obligations and secure additional term at discounted rates.
Conclusion:
RIG will be trading as a proxy for crude oil prices. When oil prices are pressured the stock will drop to its support, and when oil prices rally then RIG will establish new highs, period.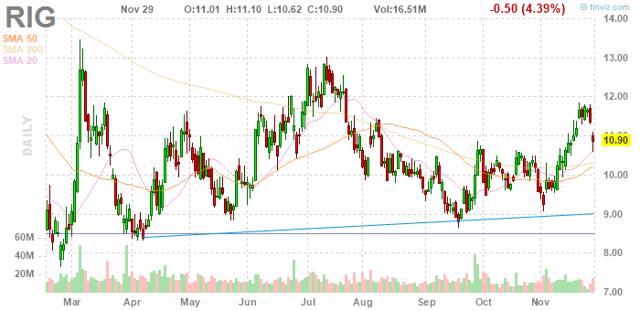 I see now a support at $10.25 and it should hold strongly.
OPEC is now playing the "chicken" debilitating game, again, but it realizes deep inside that there are not many options left on the table. Producers must agree to a production cut or the oil prices will collapse, well below $40 a barrel, and no one wants this eventuality again.
Then, reluctantly, the producers will agree with what is needed to fix the prices of oil back to $55-65 a barrel. Any other choice will be suicidal for the entire oil industry.
Thus, I recommend to accumulate RIG on any weakness, especially close to its support, which will trend higher, as oil prices increase.
Important note: Do not forget to follow me on RIG and other offshore drillers. Thank you for your support.
Disclosure: I am/we are long RIG.
I wrote this article myself, and it expresses my own opinions. I am not receiving compensation for it (other than from Seeking Alpha). I have no business relationship with any company whose stock is mentioned in this article.