Amazon Echo Gets a Facelift
Amazon's (NASDAQ:AMZN) not afraid to try out new products. Just think about its more successful run with Kindle… and its not-so-successful attempt at smartphones.
Well, it looks like we can count the Echo as one of its more successful endeavors.
The device sold well over the Thanksgiving to Cyber Monday stretch and is one of the best sellers on Amazon in its electronics category, trailing only its Fire TV product. Incidentally, the Fire TV Stick is also powered by Alexa, the artificially-intelligent brains behind the Echo.
Now it looks like this category-leading product is about to get a facelift. Reportedly coming as soon as Q1 2017, a seven-inch touch screen Echo with better speakers and a higher price point is on the way.
Good idea? Most definitely. The company's A.I.-powered device is an area that others - like Alphabet (NASDAQ:GOOG) (NASDAQ:GOOGL) - are getting involved in and Apple (NASDAQ:AAPL) sort of has via Siri. However, Amazon is a leader in that category and as its capabilities expand and versatility grows, it will be more and more useful for its customers.
Amazon has every reason to continue building out the Echo lineup, be it from direct sales and a more personal, direct link to its most valuable asset: the customer.
Just like with the Fire phone, Amazon knows how to react. It pulled the plug on its phone device when it didn't gain traction. The opposite is happening here, in that Echo has a lot of early traction and Amazon is pressing it along to take advantage.
Good call, Bezos.
Netflix, TiVo Sign Deal
Shares of TiVo (NASDAQ:TIVO) were up about 10% in Monday's after-hours trading session after it signed a deal with Netflix (NASDAQ:NFLX), but those gains evaporated in Tuesday morning's trading session. The stock finished higher by just 0.24%, while shares of Netflix climbed about 50 basis points.
TiVo says it will integrate NFLX into its set-top boxes, and include searches across the content catalog and a Netflix button on remote controls; a separate agreement between the two companies gives NFLX a license to TiVo's patent portfolios."
Is this a win-win for both companies? Think about it like this: Netflix gains access to patents and presumably a wider audience base. TiVo latches on to what many consider the future of TV/video consumption.
While TiVo isn't exactly a mega-sized set-top box provider, it is noteworthy that Netflix has found itself working with another, more classic company. Earlier this year it signed a deal with Comcast (CMSCA) to get exposure to its customers as well.
It's like cable companies are finally admitting that Netflix isn't going away anytime soon and instead of fighting the tide, the company will make incremental changes to be a part of it as well.
It's more than likely a smart move. Netflix may have its own share of execution issues from quarter to quarter, but make no mistake about its long-term potential. The company has been a true disruptor to the video consumption world and with big (albeit expensive) deals coming down the pipe, I don't think its popularity will fade anytime soon.
Intel Into Self-Driving Cars?
Auto parts maker Delphi Automotive (NYSE:DLPH) and Mobileye (NYSE:MBLY) are putting an Intel (NASDAQ:INTC) chip at the heart of their joint effort to produce self-driving cars by 2019."
The sole comment on that announcement comes from Dr. Polaris, where he says, "Intel needs to do something to avoid becoming the next Xerox."
I agree with Dr. Polaris and man, wouldn't it have done Intel a lot of good to get in on the M&A consolidation storm that has been sweeping through the semiconductor space.
Yes, yes, Intel has made a number of small acquisitions over the year, like in virtual reality or deep learning (and yes, there was Altera last year). But do you know what company is crushing it when it comes to growth in a number of emerging technologies? Nvidia (NASDAQ:NVDA).
Unfortunately, Nvidia now sports a market cap close to $50 billion thanks to the 200% appreciation in its stock price this year. However, even earlier this year the stock traded with a market cap south of $20 billion.
While we will never know if Intel made an offer for Nvidia and while hindsight is indeed 20/20, it seems like the company should have pulled the trigger and tried. For the first five months of 2016 or so, a $36 billion offer would have represented about 100% premium to the company's current price.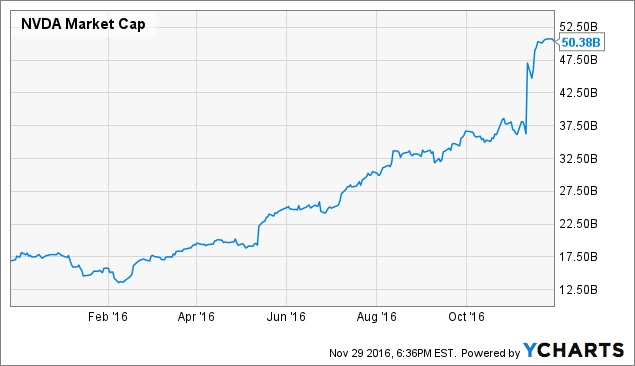 NVDA Market Cap data by YCharts
It would have given Intel growth in self-driving cars, A.I., VR and a number of other markets. Technically standing at $167 billion, Intel could still do the deal. But it's too late for that now. Perhaps its recently formed Automated Driving Group can help too, but even that feels too late.
It's a good idea for Intel to work with others in the space to get there. But I don't know if working with Mobileye and Delphi will be what ultimately gives Intel the growth boost it needs. Perhaps a bigger partnership or an acquisition would get Intel pointed in the right direction.
Disclosure: I/we have no positions in any stocks mentioned, and no plans to initiate any positions within the next 72 hours.
I wrote this article myself, and it expresses my own opinions. I am not receiving compensation for it (other than from Seeking Alpha). I have no business relationship with any company whose stock is mentioned in this article.