Click to enlarge
Cinedigm (NASDAQ:CIDM) is a dual business combination of a legacy digital film distribution and a newer OTT (Over The Top) online distribution business.
It recently registered 1.1 million shares for its selling stockholders, and I previously wrote about the company here: "Cinedigm Registration To Put More Downward Pressure On Stock."
In that article, I looked at CIDM's operations across the company's four business segments, including its legacy digital cinema assets, newer distribution play and burgeoning OTT (Over The Top or Internet video) strategy via its CEG, or Cinedigm Entertainment Group, division.
Since then, I have spoken with senior management and focused my questions on the company's OTT opportunity, which is the subject of this article.
CIDM has a 58,000-title content library that it distributes in a variety of channels through its legacy digital cinema services group, physical media and now OTT. The legacy digital cinema group accounts for much of the company's debt, which is non-recourse debt secured by those legacy assets.
In 2013, the company bought content assets and exclusive distribution rights from Gaiam, and management has admitted to overpaying for it. However, CIDM has made nearly $10 million in operational cost cutting to "right-size" it, and that group is now EBITDA breakeven.
Cinedigm's Future: OTT
With millennial "cord cutters" moving to access their entertainment via online video, content distributors are being forced to make a strategic move into these cloud-based delivery networks, or OTT.
The Global OTT TV & Video Forecast puts the worldwide market at $29 billion in 2015, growing to $65 billion by 2021: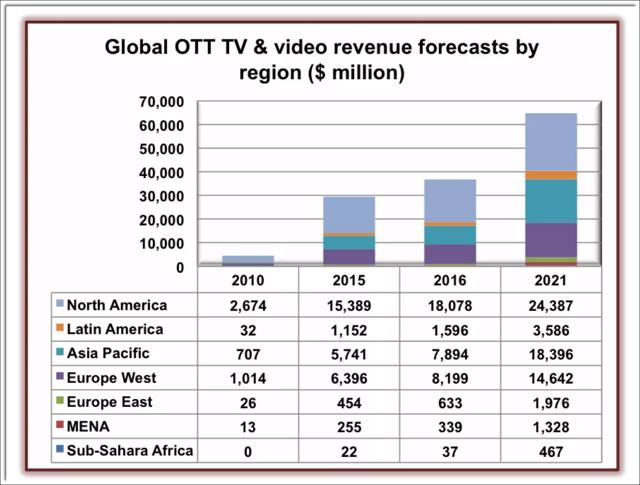 Click to enlarge
(Source: Broadband TV News)
North America is expected to rise from $15 billion in 2015 to $24 billion in 2021 for SVOD (Subscription Video on Demand) and AVOD (Advertising-based Video on Demand) combined.
Cinedigm currently offers three SVOD "channels" at a $4.99 per month subscription price point via online video services such as Amazon (NASDAQ:AMZN) or (soon-to-be) China-based LeEco Pass:
Docurama - A documentary channel
Dove - Family-oriented entertainment
ConTV - Comic-Con-themed entertainment
A fourth undisclosed channel in development
Management told me its OTT strategy is to go after "niche, narrowcast" audiences with each channel, and more channels are planned.
Company CFO Jeffrey Edell said that each of the three live channels cost $5 million to stand up; so upfront costs are still significant, while the monetization of that content takes time, so the CIDM still needs capital to execute on its strategy.
This is the classic problem for subscription-based businesses: the need for upfront investment while waiting for subscription revenues to ramp up over time on the "back end." On the other hand, subscription businesses tend to have steady revenues that are predictable, increasing visibility into the company and the stock.
On the cost side, the main cost is content, since subscribers will drop off quickly without fresh and engaging content to view. An additional major cost is marketing the service to obtain new subscribers.
However, while management is looking for "niche, narrowcast" network opportunities for each of their channels, the costs associated with those niche channels are significant, potentially reducing the profitability on a per-channel basis. So, the "niche, narrowcast" channel strategy will be able to succeed to the extent that management can keep content and customer acquisition costs well below subscriber revenues.
On that issue, CIDM now has an in-house production studio to create content for the OTT channels, such as talk shows for the ConTV channel and family-friendly movie reviews for the Dove channel.
It is unknown whether users will find this low production cost content compelling enough to retain their subscription. I suspect Cinedigm will need to expand on this to develop more unique and interesting content that will justify the $5 per month subscription fee to more subscribers.
As the entertainment industry moves online, competitors abound:
Anchor Bay Entertainment
Image Entertainment
IFC Entertainment
Lions Gate Entertainment (NYSE:LGF)
Magnolia Pictures
The Weinstein Company
Crunchyroll
Entertainment One (OTC:ENTMF)
Roadside Attractions
Additionally, in selected niche markets, the majors are moving in. Time Warner (NYSE:TWX) announced it is acquiring Machinima for access to its network of gamers and comic fans. Machinima has a 12-million strong subscriber base on YouTube and more than 220,000 on Twitch.
Cinedigm will need to move quickly to add differentiated channels, and do so in a capital-efficient manner, while avoiding overspending on content and marketing. That's a challenging prospect.
Current Status
The current status of Cinedigm's OTT efforts, per its most recent earnings call, is that it now has 76,000 subscribers between its three operating channels. These channels have accounted for 3.1 million app downloads and 570,000 registered users between them.
CIDM booked $300,000 in subscription revenues in FY 2016, and expects $2 million in FY 2017. If so, that is a quite respectable ramp.
Current LTV or lifetime value per customer has not been disclosed. I suspect it will vary depending on the channel, and it is still early days for this metric.
For example, the Dove family-oriented channel may have more longer-term subscribers due to families having young children of viewing age over several years, whereas ConTV's young male subscriber may be more volatile and short-term oriented.
Management expects to launch its fourth OTT channel in 1Q2017 on the LeEco North American ecosystem. It is in discussions with Amazon Streaming Partners and six additional partners about making its channels available on other services.
The company is also in discussions with strategic investors for its three existing OTT channels to add capital and other strategic assets, such as "content, viewership, subscriber acquisition and expanded distribution footprints."
Commentary
CIDM's value proposition as a distributor to content producers is expanding, from its legacy cinema and physical distribution business to the OTT side now, increasing the company's value-added distribution capabilities. This promises to enhance its ability to attract more content for distribution.
However, the company's OTT channels require high up-front investment and can be subject to a slow subscription revenue ramp, so management is smart to be focused on partnerships that will bring both investment capital and viewership to the table.
By embracing OTT, management is developing the necessary expertise in this new online environment, which no doubt has different rules for success, given its younger, niche target audiences and the vagaries of a high upfront investment, coupled with a subscription-oriented business.
The subscription business effectively puts greater market power in the hands of consumers. If the content provider doesn't keep content fresh and interesting, the consumer will quickly cancel the subscription.
In a 2014 Seeking Alpha PRO analysis of Cinedigm, large investor Sabra Capital Partners' Zvi Rhine, who is also a Cinedigm board member, valued the legacy business alone at $1.55 per share, before the company's 1 for 10 reverse stock split in May 2016.
Therefore, if that valuation is still valid, the legacy business is worth $15.50 per share today. However, it is clear the market does not share that valuation opinion. If that is accurate today, the stock is effectively trading solely at that legacy valuation.
I'm cautiously optimistic about CIDM's focus on the future of OTT, which is a multi-billion SVOD market in the U.S, and on its potential to drive the stock upwards if management is successful in exploiting the new opportunity.
An important unknown is how well the market will take to paying subscription fees for via the company's SVOD model versus whether the market will move toward an advertising-based, or AVOD, model.
The jury is still out on that aspect of the opportunity, especially relative to CIDM's library and its ability to create fresh, premium content that subscribers will want to pay for.
So, things to watch for with respect to the company's OTT business in 2017 are:
Rate of subscriber growth in gross subscriptions
Subscriber revenues
Customer acquisition costs
Subscriber retention rates
Content production costs
Strategic investor/partner announcements
Hopefully, with the next earnings results announcement in February 2017, we will know more about the fourth OTT channel launch, additional partnerships and subscriber numbers.
The stock presents a potential "long" opportunity to watch closely over time in 2017, but the proof for CIDM will be in management's ability to cost effectively create, distribute and market "niche, narrowcast" digital content across a range of online video platforms, while acquiring subscribers at a low enough acquisition cost and retaining them with fresh content.
---
I write about IPOs, M&A, and follow-on offerings. If you want to receive future articles automatically, click the +Follow link next to my name at the top of this article.
Disclosure: I/we have no positions in any stocks mentioned, and no plans to initiate any positions within the next 72 hours.
I wrote this article myself, and it expresses my own opinions. I am not receiving compensation for it (other than from Seeking Alpha). I have no business relationship with any company whose stock is mentioned in this article.
Editor's Note: This article covers one or more stocks trading at less than $1 per share and/or with less than a $100 million market cap. Please be aware of the risks associated with these stocks.