Ventas (NYSE:VTR) is a leading real estate investment trust (REIT) with a diversified portfolio of nearly 1,300 seniors housing and healthcare properties in the United States, Canada and the United Kingdom, Ventas benefits from the highly fragmented $1 trillion healthcare real estate market. Demographic trends in an aging population and healthcare policy are driving demand for the care provided at their properties.
Since January 1, 2000, Ventas has delivered an industry-leading compound annual total return to shareholders of 26 percent. Since 2001 VTR has provided 10% CAGR in the dividend paid (up till the end of 2015 with CCP dividends included).
At the current market price of around $60 VTR is fairly valued. For those investors looking for dividend growth, VTR at its current price represents a good opportunity. However, Fed action on interest rates in December could make for an even better opportunity. Whether you wait till after the meeting or buy it now all depends on what you think will be the price reaction to the Fed announcement.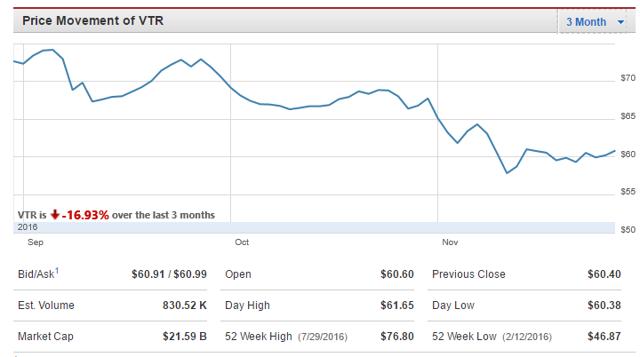 Click to enlarge
What does the latest earnings report say?
Brad Thomas gives a good run down of what was in the earnings report here, so all I will say on it is that it's a good thing for operations and share price growth that the beat expectations and increased guidance.
From the earnings conference call transcript, I see several areas that point towards good future growth. The Ardent purchase from last year has led to more growth with the announced deal to acquire LHP.
The Wexford deal also represents an area for future growth:
" First, during the quarter we closed on our exciting and accretive $1.5 billion acquisition of institutional quality life science, innovation and medical real estate leads by top universities, academic medical centers and research companies. Our new tenants include Yale, UPenn Medicine, and WashU. Like other areas of our business, our tenants are market leader accounting for fully 10% of all university life science, research and development spending in the US. This investment represents a great entry into the large and growing healthcare related R&D space."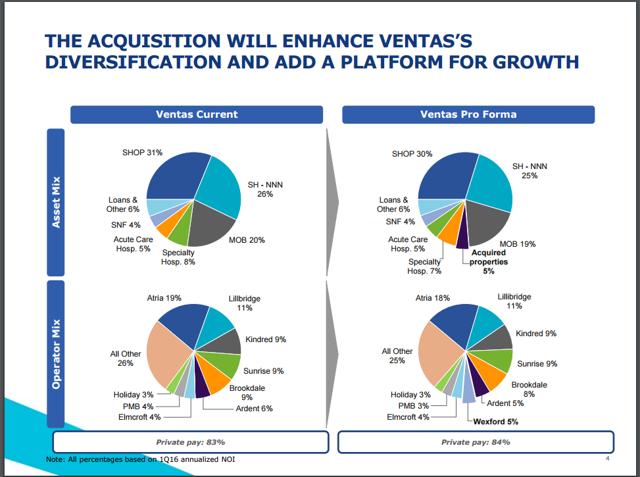 Click to enlarge
What about interest rates?
Interest rates are a significant factor in price movements for REITs and VTR is no different. In this article I gave my opinion on what I think it most likely to happen with interest rates and how that will tend to effect REIT share prices. OPEC ministers are arriving in Vienna for their meeting, and already a pessimistic note is being sounded. A big disagreement at this meeting could have a big impact on the price of oil. Here is the latest news on the meeting.
If the Fed does bump up the overnight rate, I expect the market to move longer term rates up by about the same amount initially and then to slowly return them to about where they are now. I think REIT prices will follow the inverse path.
What's a good price?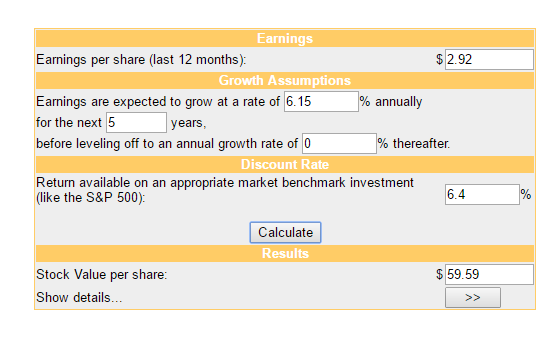 I again use DDM to figure out a fair value price figuring that the present value of the future dividend payments is fair value. As I typically do for REITs, I put the current dividend annualized as the earnings number, the lowest rate from the last increase, the 1 year DGR, 3 year DGR and 10 year DGR as the growth rate and use a terminal growth rate of 0%. I use twice the long term inflation rate as my expected rate of return and the discount rate. That gives me a value of $59.59.
Morningstar rates it with 3 stars for fairly valued and gives a fair value price of $64. Brad Thomas also likes it. I think buying anywhere below $60 is a good value.
Can options help?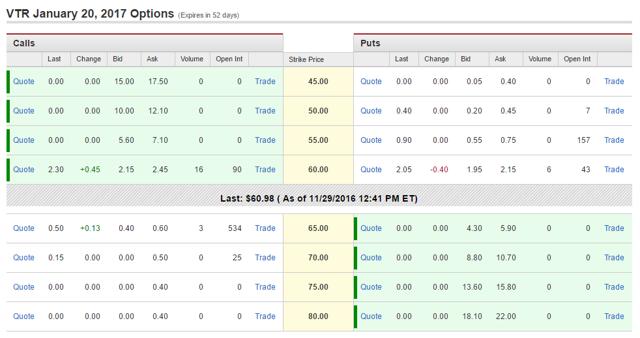 Click to enlarge
Since the Fed has its meeting December 14 th, the December expiration date allows too little time to react if the Fed or the market does something unexpected. The January expiration date looks better and gives some more time value as well.
Doing a buy-write or just writing a covered call for January with a $60 strike price does offer an opportunity with some risk. If the Fed does raise interest rates and VTR's share price reacts as I think it will (a drop immediately and then a gradual recovery), the $60 call should expire without being exercised, but it will be a close thing. With the premium over $2, an investor will need to decide if the risk is worth it. While I would normally look at Delta to get an estimate of the chances of losing the shares, since I know that the Fed will be taking some action in December (its an action that will effect share prices even if the Fed elects not to raise interest rates) that will have significant impact on share price, Delta will just be misleading at this point.
The $60 put for January looks pretty good to me. Again because of the Fed action I don't think Delta will provide much guidance. Given how close the current market price is to the strike and given that I expect the price of VTR to be a bit lower even as far out as January 20 th, I think the put is a good trade. And with a premium around $2 for holding cash for 52 days, the premium exceeds the dividend payment that the investor might collect from holding shares of VTR.
Conclusion
VTR is a good strong REIT in the healthcare sector. Just being in that sector puts demographic trends working in its favor. Add to that the solid execution VTR has shown over the years, and I have no hesitation to recommend VTR to any DG investor. With its current dividend and likely growth rate it's trading at fair value. Various option trades can improve your cost basis as well.
If you think the price action after the Fed announcement will be as I have described (an initial drop and then a slow recovery) you will do better waiting till after the announcement. If you think the Fed won't increase rates or that VTR will react by going up in price immediately, you should buy now. I think the most prudent course, if you have the money, would be to do two buys, one now and one after December 14 th.
Note: I hope you all got something out of this article. I do appreciate the time you took reading it. If you are one of those who follow me here, I appreciate it; if you'd like to include yourself amongst those individuals, please hit the "Follow" button next to my name as well as following other contributors whose work you enjoy. As always, please leave any feedback and questions you may have in the comments below.
Disclosure: I am/we are long VTR.
I wrote this article myself, and it expresses my own opinions. I am not receiving compensation for it (other than from Seeking Alpha). I have no business relationship with any company whose stock is mentioned in this article.