While gold prices - as represented by the SPDR Gold Trust (NYSEARCA:GLD) - saw their largest single day up move since the announcement of the unexpected Brexit vote, prices of the yellow metal quickly reversed as markets calmed and U.S. equity markets recovered. Gold futures were up about 5% on the news, but since November 9, 2016, the GLD has fallen from nearly $122 to just above $116 per share, while major stock indexes remain higher. The question now for investors is where does gold move as President-elect Trump prepares to take office. As much as the election made for some temporary drama across markets, the answer for gold investors remains largely unchanged: over the long-term gold is attractive.
Two Reasons Gold is the Right Investment
While the economy under President Trump has the optics of a renewed period of growth and prosperity, the reality is that very little is known about what his economic plans are going to look like. What is certain is that those plans will take time to implement and the problems that existed before the election have not magically disappeared. Thus, the two strongest arguments for gold investments right now are first that the era of central banks behaving as if they can save the world is ending, and the reality that the commercial banking system is badly overextended.
As for central banks, global markets should be seeing one of the longest periods of quantitative easing in history coming to an end. On November 17, 2016, the Wall Street Journal reported that "Ms. Yellen told lawmakers in testimony Thursday that the Fed could move "relatively soon," after the government released a grab bag of economic data all pointing to a stronger economy." This bolsters the belief that the Fed will begin to raise rates as soon as the December FOMC meeting. The U.S. dollar has risen to rates not seen in over a decade and U.S. Treasury yields are at their highest points of the year.
The problem with this reality is that the extended QE drove financial assets higher and caused hard assets to stagnate without creating any actual growth. With bond rates rising around the globe, the real risk in bonds is shooting higher while no one is watching. Meanwhile, the value of gold does not reflect either default risk or the pending changes in interest rates. In simpler terms, despite the exuberance for a Trump economy, there is actually far more risk in the economy and when the risk-on trades suddenly shift to the risk-off preference, gold will benefit.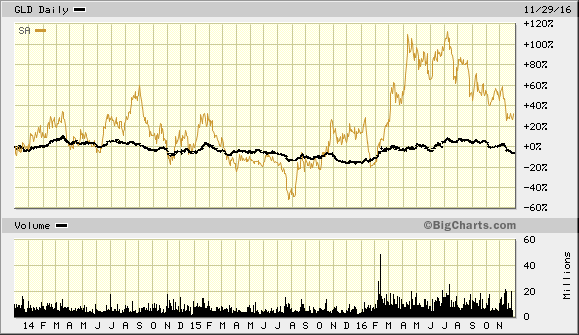 Secondly, the commercial banking system is due for its cyclical implosion, especially in Europe. Non-performing assets in Europe are near record highs - perhaps most severe in Italy where they hover around 30%. The overall exposure and leverage seen in the Eurozone speaks of substantial instability that, when it flushes out will leave hard assets and safe-haven investments more attractive than ever.
Where to Invest
I continue to believe that one of the best sources of investment information for precious metals investors is industry insiders who, while having an undoubted bias in favor of their own industry, are privy to market trends and realities on a first-hand basis. I recently had the chance to speak with Rudi Fronk, Chairman and CEO of Seabridge Gold (NYSEMKT:SA), and Jim Anthony, co-founder and major shareholder of Seabridge, to get their insights on the gold market; many of their views are expressed above.
One of the things that makes Seabridge such an attractive gold investment is a metric that is often overlooked by gold investors, namely the ratio between the number of shares of stock outstanding to the number of ounces of gold that back up those shares. As Fronk points outs, Seabridge has ten to thirty times more gold ownership per share than other gold companies. "Where other companies mistakenly consider themselves in the business of turning gold into cash, Seabridge is in the business of turning cash into gold."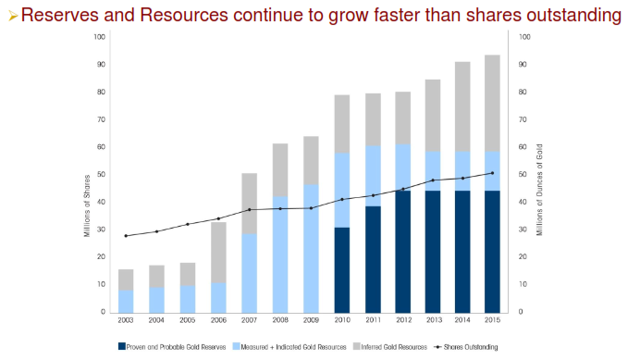 Click to enlarge
Source: Seabridge Corp Presentation
The mission of the company is to create what the CEO refers to as a "below ground ETF." While this concept may seem somewhat unconventional, as the price of gold increases, the value of below-ground gold rises in value just as does above-ground gold; hence, CapEx is not the critical metric to consider when selecting a gold investment to profit during a period of rising gold prices. Since the company's inception, the price of gold has risen by 370%. During that same period, Seabridge's price has risen by 2000% and the share price of the gold major has lagged both.
Ultimately, I believe that President Trump will be good for the price of gold, and investors should look for good entry points from here. Seabridge has figured out how to deliver shareholder value and should be considered a buy at current levels.
Investors who would like more information on the company are invited to participate in a town-hall style conference call directly with the company; the next two dates are December 6, 2016 at 4:05 p.m. EST and December 20, 2016 at 4:05 p.m. EST. To participate, simply contact Campbell McCrary at 212-207-9249 or campbell@om-partners.com to register. Seabridge represents an attractive investment opportunity, as is willing to grant interested investors access to its CEO to help you form your own opinion beyond the arguments offered above.
Disclosure: I/we have no positions in any stocks mentioned, and no plans to initiate any positions within the next 72 hours.
I wrote this article myself, and it expresses my own opinions. I am not receiving compensation for it (other than from Seeking Alpha). I have no business relationship with any company whose stock is mentioned in this article.