Welcome.
This article features a discussion between myself and Premium Contributor Ian Bezek. We talk business moats, Hershey's track record for investor returns, and how it compares to publicly traded peers.
The Hershey Company (HSY)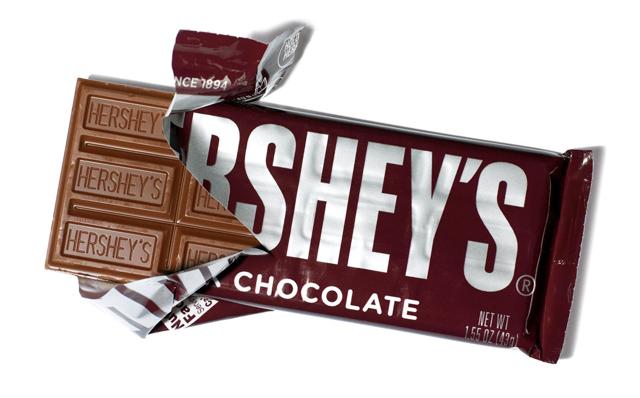 Click to enlarge
(Source: Clipartkid.com)
Ian Bezek: Let's talk Hershey.
This is one of my favorite conservative positions. Terren, when I suggested Long Hershey, you said the business sure looks expensive. So let's discuss that question and more.
Terren Faloh: Hi Ian. Let's talk Hershey. You and I agree this is a great company. Their brands' long histories have cemented the company into the American consciousness.
I did my due diligence on Hershey after you suggested the company and found some interesting results. I'm looking forward to sharing with you today.
Is Hershey's expensive? By one major yardstick, it sure is -- a quick glance at the quote's summary tells me the company is trading at a premium price-to-earnings ratio of 26.
A high price-to-earnings ratio can be justified a few ways but generally it comes down to one question: Will profits increase going forward?
How come Hershey has this valuation, Ian?
Ian Bezek: Sure, there are several factors at play here. First, the company is moving out of a period where it had some one-time accounting charges. The forward PE comes in at a much more reasonable 21.
That said, I'd argue Hershey does in fact deserve a premium valuation due to several unique factors.
Among them, it's unique ownership structure (via the Foundation) makes the company more valuable than if it were just another packaged foods maker. More on that soon.
Also, its particularly recession-resistant business. Its strong and persistent cash flow generation ability make this company a good choice late in the economic cycle, as we probably are now. I'd much rather own Hershey at 21x earnings than the S&P 500 as a whole at 20x.
Terren Faloh: Hershey's earnings will be much more stable through economic setback than many companies.
Ian Bezek: That comes in large part from the company's exceedingly high profit margins and returns on capital - and that holds even compared to its immediate peer group - see this: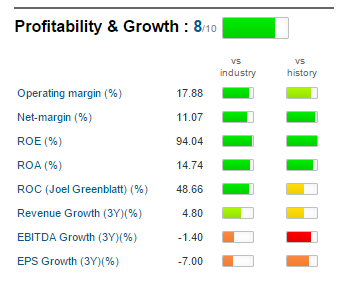 (Source: Gurufocus)
Terren Faloh: I like Hershey's relatively stable profit margin throughout the years: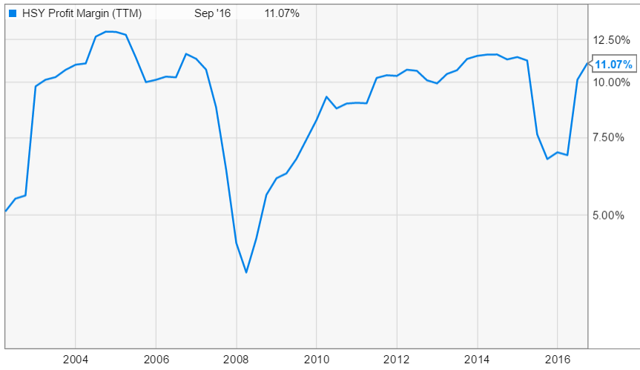 Click to enlarge
(Source: Faloh Investment)
Net Income and Free cash flow have also largely been growing and predictable at Hershey, hearkening to the stability enjoyed as a branded snack business: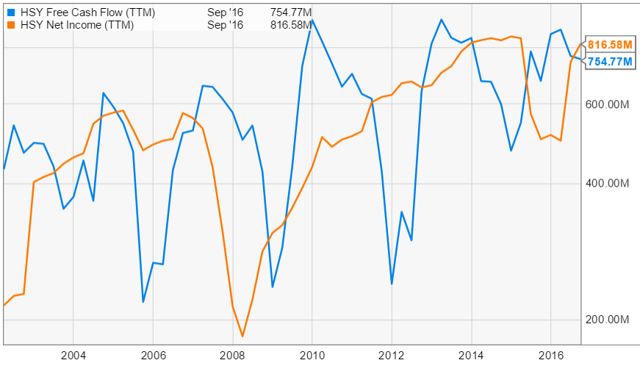 Click to enlarge
(Source: Faloh Investment)
Ian Bezek: Assuming forward earnings do reach 2017 estimates, I have trouble foreseeing many scenarios where Hershey at 21x earnings underperforms the S&P 500, also at 21x earnings, over the next decade.
Since the US market is facing significant demographic headwinds, and a stagnant corporate earnings picture over the next few years, and the economy will probably run into a recession at some point before the decade's end, choosing the stock of a durable company like Hershey seems wise.
Terren Faloh: The company even earned profits at the very bottom of the fallout resulting from the 07-08 global financial crisis!
Ian Bezek: Indeed, the Foundation's ownership stake forces management to run the business thinking beyond the current quarter or economic cycle. Hershey's owner prioritizes increasing dividends over a generational span above all else.
You can argue that this strategy might not generate the best total returns, particularly if you're buying stocks at the beginning of a new fresh bull market. But at this stage in the cycle, if I can get a business as solid and predictable as Hershey near the same multiple as the whole market, it seems like an easy decision. And Hershey yields more than SPY as well.
Terren Faloh: I follow you. According to the financials, the company is on-track to pay just over $500M in dividends during the coming year. The dividend appears sustainable at these levels when comparing it to the company's recent track record of annual free cash flow generation in excess of $700M.
Ian Bezek: Within the same category - dependable consumer staples - you can find other stuff at similar price-to-earnings multiples, but they are inferior choices. Take Kimberly-Clark (NYSE:KMB) for example, it trades at 21x earnings, but revenues have been flat for the past five years. Hershey is still managing decent growth and has more opportunities in emerging markets.
Terren Faloh: Good point. The high P/E leads me to compare Hershey's performance with its peers, but I found there are not many public and companies in directly comparable businesses.
I chose Mondelez and Tootsie Roll as the most direct peers, Nestle as the more diversified competitor, and the SP500 index to give us a baseline for the market.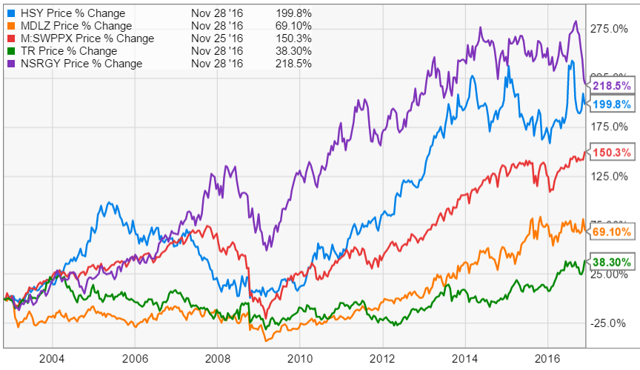 Click to enlarge
(Source: Faloh Investment)
The redline is Charles Schwab's S&P 500 Index and serves as a benchmark comparison.
The 15 year price return at Hershey reflect the underlying business's steady growth.
Ian Bezek: Indeed, and there aren't many comparable companies. That's part of Hershey's great strength!
According to Statista.com, Hershey (31%) and Mars (29%) control more than half the U.S. confections market between the two of them. Mondelèz is in third, and Nestlé trailing far behind with 4.5% of the market.
And notably, Hershey stock has done next to nothing since late 2013, with the stock price just slowly going sideways while the business continues to grow steadily.
Terren Faloh: I noticed the sideways action in Hershey's trading price. What do you chalk it up to?
Ian Bezek: The company reported a quarterly loss last year related to issues in China that rattled some investors. And the ever-strengthening dollar continues to make life difficult for companies such as Hershey that rely on foreign sales for a significant portion of their revenues.
Terren Faloh: I see. If Hershey continues to successfully expand in China, there is a lot of room to grow revenue and earnings. Company CEO J.P. Bilbrey recently reported the belief they have about 10% of the e-commerce market share for confections in the country.
Ian, I like the company's long track record of success. The dividend is well secured by cash flows, and the confection business has proven stable even during the worst of economic downturns.
What is a Hershey's stockholder getting into?
Ian Bezek: I'm glad you asked. Here's my conclusion for investors.
Over the past 10 years, Hershey stock has never traded at a less than 18.6 PE Ratio, and that time period includes the great financial crisis. If you're waiting to buy it "cheap", you'll probably never end up owning any. Yet, as the total return chart above showed, you can buy Hershey when it's "expensive" and still make superior returns.
Similarly, outside of the financial crisis, Hershey's hasn't yielded above 3%. Yet an investor who bought five years ago is already looking at a 4.5% yield on their investment outlay due to the company's rapid and persistent dividend increases.
Hershey is the sort of company where only looking at the current valuation ratios can lead one to miss the bigger point.
Over the past 30 years, Hershey stock has returned 12.2% annually, turning $10k in 1986 to $310k today.
Past returns are no guarantee of future performance, but nothing has changed with Hershey's economic engine or moat - it still is one of two players in a duopoly market, and thus should be able to generate 10% returns annually compounded going forward.
Terren Faloh: Great summary. Thank you for joining me to discuss Hershey today.
Ian Bezek: Good speaking with you today.
Takeaway
Hershey's Chocolate Company, founded in 1894, is one of America's longest standing businesses. If you're out shopping and pick up a random piece of candy on your way through checkout, its likely to be a Hershey product. Wikipedia has a great list of the company's products for your perusal.
As for my own view on Hershey's stock today, it somewhat diverges from Ian's. Hershey is an opportunity to own a piece of a wonderful business. But I think that at today's price of 28 times free cash flows, its just too expensive to buy right now. Its one of those companies I'd really like to own and will be keeping an eye on its price moves.
Additional Disclosure: This article presents the opinion of the author as of the date of this article. This article is based upon information reasonably available to the author and obtained from public sources that the author believes are reliable. However, the author does not guarantee the accuracy or completeness of this article. It is merely the author's interpretation of the information contained in the article. The author may close his investment position at any point in time without providing notice. The author encourages all readers to do their own due diligence. This is not a recommendation to buy or sell a security.
Ian Bezek and Terren Faloh of Faloh Investment have agreed to continue discussing investment opportunities and produce another article together in the future.
Please click the + icon next to my user name and follow me, Faloh Investment, as I work to keep you informed on further developments as the market continues to present major value opportunities.
Disclosure: I/we have no positions in any stocks mentioned, and no plans to initiate any positions within the next 72 hours.
I wrote this article myself, and it expresses my own opinions. I am not receiving compensation for it (other than from Seeking Alpha). I have no business relationship with any company whose stock is mentioned in this article.