Occidental Petroleum (NYSE:OXY) has long been a favorite upstream oil company of mine, mostly because of its gigantic position in the Permian Basin and its solid balance sheet and cash flow, which could maintain its generous dividend even in bad times. And, in fact, Occidental has maintained its dividend all through the downturn in crude oil prices. All during that time, I believed that the company would be able to pay for both its capital expenditure projects and its dividend once its major projects were finished.
As I've said in a number of other articles, it's my belief that energy investors should only own energy companies that can fund their operations and dividends from the cash they generate, at least in this market paradigm. Those companies who cannot maintain cash flow neutrality, for whatever reason, will face hard choices in the future.
Based on management comments on capital expenditure for next year, and some of its comments on major projects, it looks like Occidental is opting to try and 'have its cake and eat it too,' by continuing to grow production while paying a big dividend. This means that unless realized crude prices increase, Occidental will once again have to finance a significant cash flow gap in 2017.
This article looks at Occidental's latest quarter, some of its plans for 2017 and what it has achieved this year. This article also looks at cash flow expectations for the rest of this year and also next year.
Bullish all the way through
This quarter, Occidental grew production 4% year-on-year, and is on track to hit the higher end of its expectation for 5%-8% production growth for the full year. Production growth this quarter was driven higher by new production from block B1-62 in Oman, a ramp up in production from the Al Hosn plant, in the UAE, and finally production growth from shale operations in the Permian Basin.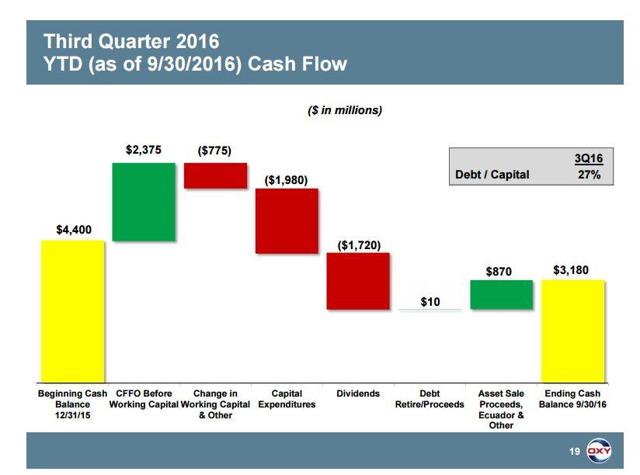 Click to enlarge
Courtesy of Occidental Petroleum Investor Relations.
That production growth, impressive as it is for such a large energy company, comes at a cost. Over the course of this year, capital expenditure came in just below $2 billion, and operating cash flow was $2.375 billion. The company's current projects include an ethelyne cracker joint venture in Houston, an crude oil terminal near Corpus Christi, Texas, and ongoing shale efforts in the Permian.
If Occidental didn't pay a dividend, it would be able to fund all these continuing growth projects. However, a $1.7 billion dividend means that Oxy had to sell $870 million in assets and still came up $1.2 billion short so far on the year, and that gap is set to widen before the year is up.
During the second quarter conference call, I got the impression that 2017 capital expenditure could be more flexible, but that management leaned towards keeping the budget roughly the same. That means if crude prices also remain the same, as I believe they will, Occidental will run a similar deficit in cash flow. When asked about this exact dilemma in the third quarter conference call, Hollub said that cash flow neutrality was 'a priority,' but that they viewed 2017 as a 'transition year' where Oxy would probably run some kind of cash flow deficit while working on major projects and drilling new horizontal wells in the Permian Basin.
To cut to the chase, my issue is this: Oxy spent well above cash flow this year, and did the same in 2015 as well, so, counting 2017, that's three 'transition years' in all. In an environment where crude prices are low and where cost of debt could go up at any time, I think most energy companies would be wise to re-balance their cash flow within a year, two at most.
To be sure, cross our fingers, Oxy should be able to maintain its dividend anyways. The company has an A3 rating at Moody's and the outlook is stable. Oxy might be able to squeak through 2017 paying its dividend without sustaining a downgrade. The company has also done a great job in 'catching up' with other shale operators in the Permian, and has made two good acreage acquisitions with private holders in the Permian this quarter.
I like all of those things, especially the timely acquisitions in West Texas, which can be a difficult place to acquire because it is so well-developed. However, I disagree with Oxy's philosophy of continuing to spend above it's cash flow. Essentially, Oxy is continuing to grow its production at roughly the same rate as when oil was at $90. I also disagree with this philosophy. I think Oxy should either cut its dividend or moderate its production growth, depending upon how flexible capital expenditure is. With the amount of short-cycle spending Oxy is doing in the shale, I suspect that capital expenditure is quite flexible, although right now that is a moot point.
Conclusion
I've liked Occidental for awhile, and in a lot of ways this quarter affirmed much of what I liked. For example, in the Permian Oxy reduced its drilling costs by 38% by 1,000 feet of drilling. In addition to that, drilling costs for enhanced oil recovery in the Permian are 22% below benchmark costs for the year. Oxy also acquired 35,000 shale drilling acres in Reeves and Pecos county, with 700 drilling locations near Oxy's Barilla Draw acreage.
Despite all that, I feel much more comfortable recommending energy companies that are spending and operating within their cash flow in 2017. Investors can certainly afford to be picky with oil producers at this time. That's why I prefer names like Exxon Mobil (NYSE:XOM). ConocoPhillips (NYSE:COP) aims to be roughly within cash flow balance next year, and I would prefer to be in either of those names over Oxy.
If you're interested in Occidental Petroleum, feel free to follow me here on Seeking Alpha. I've been following Oxy for quite some time, and I will continue to provide update articles when doing so is both material and relevant.
Disclosure: I/we have no positions in any stocks mentioned, and no plans to initiate any positions within the next 72 hours.
I wrote this article myself, and it expresses my own opinions. I am not receiving compensation for it (other than from Seeking Alpha). I have no business relationship with any company whose stock is mentioned in this article.