In the early 2000s, a group of enterprising masters of the universe implemented complicated and opaque trading strategies in order to make a market for electricity in California. This group dazzled Wall Street investors with financial wizardry and sky-high returns on capital, somehow able to print money out of thin air by adeptly navigating the complicated world of electricity trading in never before seen ways.
The company saw its market capitalization swell to as much as $70 billion as investors flocked to take part in what felt like an energy trading revolution. The entire time, the group's trading strategies remained a black box, impenetrable from the outside and impossible to understand. And in our experience, when black box "trading strategies" seem too good to be true, they always are.
The scheme, of course, was Enron. And according to the New York Times, a key piece of Enron's many wrongdoings was that it deceived California into buying power it did not need. The company's trading "strategies" were able to exploit weaknesses in California's energy markets through multiple avenues, filling Enron's coffers, while leaving Californians with rolling brown outs and tax payer losses.
In many ways, we see significant similarities between the ad tech industry today and the energy trading markets of the Enron-era. The ad tech industry has similarly dazzled Wall Street investors - just look at the number of ad tech companies that have gone public in the past few years. The IPO prospectuses have been filled with dizzying jargon and buzz words that leave investors with very little true understanding of underlying business models.
Like Enron in the case of California power, the ad tech industry as a whole has tricked unsuspecting advertisers into buying ads they don't need - specifically, because the ad tech industry has "looked the other way" while fraudulent web traffic pads their bottom lines. At the end of the day, all traffic is good traffic for the ad tech industry, regardless of source.
According to industry estimates, the revenue tied to fraud in the ad-tech industry is somewhere in the range of $7.2 billion to $18.5 billion. In fact, some industry watchers have argued that more than half of the ad tech space is just a big fat fraud - fake traffic being used to skim advertising dollars due to the opaque nature of the middlemen. It's not just industry associations that have called out the massive fraud in ad tech. In July 2016, Senators Mark Warner and Chuck Schumer wrote to the head of the FTC asking her office to look into digital advertising fraud.
The World Federation of Advertisers projects that ad fraud is likely to exceed $50 billion globally by 2025 on current trends, second to only the illegal drug trade as a source of income for organized crime. The WSJ also recently highlighted advertiser doubts about digital ads after revelations from industry giants including Facebook (NASDAQ:FB) suggesting that viewership metrics have been materially overstated. Therefore, while consumers clearly continue to spend more time online and away from traditional media, internet advertising remains riddled with fraud.

Enter Criteo (NASDAQ: CRTO). Criteo is a bit of an outlier when it comes to the ad tech space. The company operates within the opaque ad tech re-targeting space. When you visit a website - such as Toms.com - and then bounce to a different website - i.e. DrudgeReport.com - you will often find yourself inundated with ads for Toms that include a small AdChoice banner on the right hand side. These ads are often placed by Criteo. Criteo clients hope that by bombarding you with ads for products you have recently looked at, you will eventually come back to their website and purchase.
Summary Of Thesis: Why We Think Criteo Is On The Verge Of A "Client Revolution"
There have been several epic blow-ups in the ad tech space over the past few years. Rubicon Project, Rocket Fuel, Tremor Video, RetailMeNot, and Tube Mogul (which was taken out at a price well below its all-time high) are just some of the high profile disasters.
Our analysis hinges around a few key third party data points, including recent litigation between Criteo and a competitor Steelhouse. Criteo was recently involved in a very public, bitter and ugly, lawsuit with Steelhouse. Criteo struck first, alleging its competitor was a thief, and the competitor (Steelhouse) struck back with a countersuit, alleging Criteo is running a click fraud scheme.
Based on Criteo's stock price move, the market has clearly ignored the claims made in the litigation and has jumped for joy now that the litigation was recently settled.
However, we think the market is getting this one totally wrong. We think Criteo's decision to settle its litigation with Steelhouse comes from a place of weakness, not strength. Steelhouse made a number of claims about Criteo, essentially alleging that a significant chunk of Criteo's clicks (and therefore revenues) are derived from fraudulent sources.
Despite having a strong case against Steelhouse in its original lawsuit, Criteo voluntarily settled its dispute with Steelhouse weeks ago in exchange for Steelhouse also dropping its countersuit. We think Criteo was terrified about the potential revelations that would come out about its business practices in the discovery phase of a potential trial.
Many market participants / Criteo bulls share Criteo's view that Steelhouse is a bad actor and therefore were dismissive of the lawsuit.
However, our own forensic analysis into Criteo suggests the market is potentially making a huge mistake by ignoring the claims that Steelhouse made against Criteo. We believe we have surfaced evidence (including Criteo's ties to a notorious adware company, and Criteo's advertising relationships with highly suspect websites) that appear to corroborate many of Steelhouse's claims. We provide just some of our evidence in this report.
Up until now, Criteo shares have meaningfully outperformed ad tech peers. We share the view of an esteemed Harvard Business School professor who has suggested publicly that this outperformance is misguided and based on incorrect analysis. Our report includes information pertinent to advertisers evaluating the true effectiveness of Criteo's business because we also present evidence that undermines the quality of clicks Criteo is delivering to advertisers.
While Criteo has touted its "return on advertising spend" metric, we demonstrate that such metrics are notoriously unreliable and subject to gamesmanship. Most notably, we surface evidence that we believe is not well known on Wall Street about how critics have already accused Criteo of manipulating ROAS data in the past through relationships with shady adware companies that remain a part of Criteo's business model that management and the sell side never discuss publicly.
Don't take our word for it - Professor Benjamin Edelman of Harvard Business School (cited later in this article) has openly and publicly admonished Criteo for its business practices.
We believe that as advertisers digest the information in this report and the Steelhouse lawsuit, Criteo could be forced to cut pricing and/or provide rebates in order to appease customers who have been overpaying for useless clicks for years. We see ~65%+ downside in Criteo shares.
"Success Based" Pay Per Click Model - The Supposed "Secret Sauce" Of Criteo:
The key issue that differentiates Criteo is how it operates its algorithm. Criteo prides itself as being differentiated because it buys "traffic" on a CPM (cost per impressions) basis, but sells ad space on a CPC (cost per click) basis. For readers less familiar with what this means - let us explain in the graphic below.
ILLUSTRATION OF UNIT ECONOMICS EARNED BY CRITEO (DO NOT TAKE THIS LITERALLY):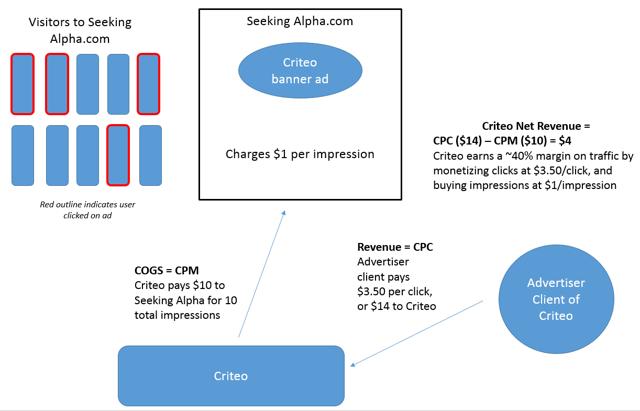 Source: Friendly Bear graphics
Let's use the example of Seeking Alpha. The Seeking Alpha example is PURELY ILLUSTRATIVE, and is NOT based on any conversation we had with Seeking Alpha - we simply wanted to use a website as an example in the illustration of the business model for readers.
Seeking Alpha has millions of visitors and wants to monetize those visitors, so it asks advertisers / ad tech companies that want to place ads on SeekingAlpha.com to pay $1 per every impression on the website. Criteo, which is paid by advertising clients, offers to buy that space. Criteo would only do so if its algorithm believes that the traffic on Seeking Alpha's website is likely to translate into clicks because Criteo's "revenue" is ultimately dictated by click-through rate NOT by impressions (this is important).
In other words, Criteo's algorithm is designed to only keep ads on a website if the click through rate is strong.
(Update 12/2/2016 4:05 p.m.: A Criteo representative disputes this characterization: "Criteo's algorithm is designed to purchase any display where the expected cost-of-sale of the associated e-commerce transaction is below the client's target cost of sales. Criteo might thus choose to buy ads on a website where the click-through rate is relatively weak, but where such clicks have a higher-than-average conversion rate once they land on the e-commerce website. The actual bidding formula used by the Criteo engine contains, among other terms, the product of the predicted click-thru rate and the predicted conversion rate, ensuring that Criteo only buys traffic that converts into e-commerce sales.")
If Criteo advertised on sites that didn't provide a strong click through rate, Criteo would effectively guarantee losses given that it has to pay for the impressions regardless of whether the impressions are generating any clicks. For instance, if Click Count = 0 but an ad is displayed, then Criteo's CPM is a positive number, meaning has paid the website (Seeking Alpha) but has earned zero revenue (no clicks), and thus, Criteo guarantees itself losses.
Naturally then, Criteo will not leave ads on websites that generate no clicks. Keep this fact in mind as you continue to read this report. This fundamental principle - that Criteo should ultimately only bid on websites that generate clicks - is crucial to your understanding of whether or not the allegations that Steelhouse made are true.
Most of the players in the ad tech space are simply playing the CPM arbitrage game (i.e. buying at one CPM and trying to sell at a higher CPM). However, Criteo's value proposition to its clients is that it is providing a "performance" based system - by only charging customers for clicks. This helps Criteo differentiate itself in sales pitches as the company can claim to clients that it is getting paid for only clicks. However, our research as well as court filings both suggest that the quality and source of some of Criteo's clicks is highly suspect in nature.
In other words, Criteo's entire business model is predicated on finding websites that generate heavy amounts of traffic but also have users that tend to click through at a high enough rate to offset Criteo's CPM costs (unsuspecting advertisers assume this equates to websites that are trafficked by humans who click on ads).
Time To Toast Some Balls!
When we first started researching Criteo, we came across an article that discussed an obscure website called "ToastedBalls.com." We had our fair share of ToastedBalls sent our way when doing our work on MeetMe, so were naturally cautious about opening the link.
To our surprise, rather than re-directing us to a pornographic or otherwise smutty website, we found ourselves at a website about… absolutely nothing. Just a bunch of links to videos ripped from other websites. A totally junky garbage website.
Similarweb.com provides web statistics on ToastedBalls.com that paints a pretty fascinating picture… a website that has no original content and looks like it was made up on the fly boasts between 25-60M+ unique visitors per month from May 2016 through Oct 2016 (for context, this level of unique visits puts ToastedBalls.com in a similar league to the Wall Street Journal in terms of monthly unique visits):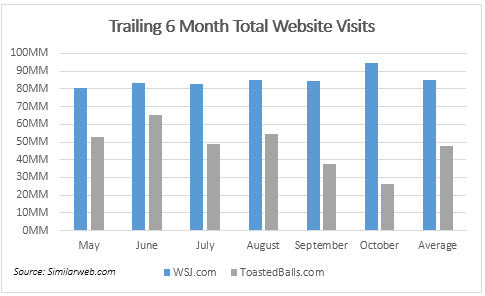 Source: SimilarWeb
And these "ToastedBalls" visitors happen to largely end up on ToastedBalls.com after first visiting the following porn sites: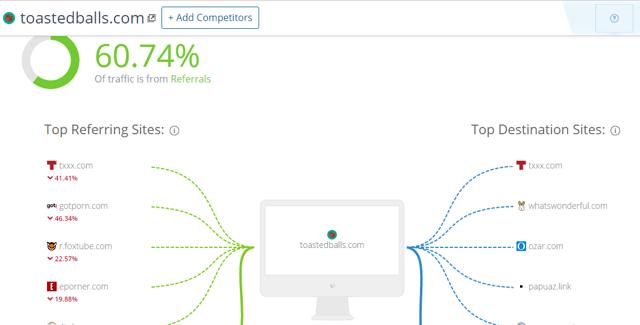 Source: SimilarWeb
None of the porn websites referenced above were mentioned in a fairly recent Buzzfeed story about the top 13 porn sites on the web. While this point may seem obscure now, later sections of this report that touch on the role porn websites play in ad tech traffic laundering schemes. The fact that ToastedBalls.com derives so much traffic from relatively unknown porn sites is a major red flag. Genuine human interest in porn (which clearly exists) presumably finds itself on the most well trafficked sites first, leaving a significant risk that third tier porn websites such as "eporner.com" are in fact pieces of elaborate traffic laundering schemes.
But this totally junky website - that appears to be largely frequented by "individuals" coming directly from porn websites (or bots given the vast number of views despite the low quality of the ToastedBalls content) - also just so happens to host a Criteo ad link in the top right corner of the page (we did a mouse over the link when we were in the process of taking screenshots, so you can see the Criteo link in the bottom left of our screen shot):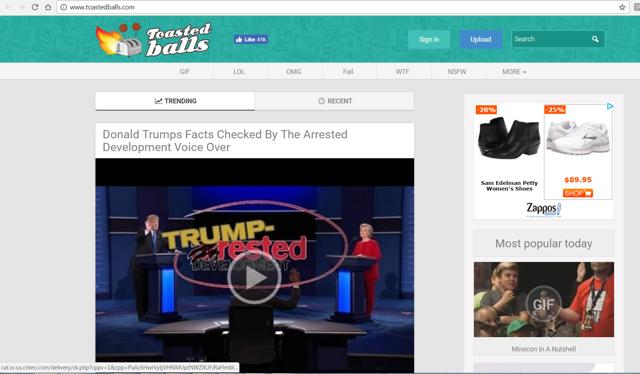 Some readers may be wondering why we make such a big deal out of Criteo's ad appearing on ToastedBalls.com.
We think the appearance of a Criteo ad on ToastedBalls.com may potentially be a crucial evidence regarding how Criteo's business model works and that ties back to a recently settled legal battle between Criteo and a competitor named Steelhouse.
To return to our original Enron analogy - we believe that the appearance of Criteo ads on ToastedBalls.com suggests that advertisers are buying ads that they may not need!
Before we explain why we think a Criteo's ad showing up on ToastedBalls.com is potential evidence of the type of 'click fraud' Steelhouse alleged, we first want to provide a little more color on the Criteo/Steelhouse litigation.
The Litigation that Exposed the Rampant Fraud in the Ad Tech Industry:
Back in July 2016, Criteo found itself in a rather ugly legal dispute with Steelhouse, a much smaller private competitor. You can find a timeline of events here. The litigation was fairly well covered in the press - we suggest turning to Business Insider for both copies of the lawsuit as well as commentary.
Despite being well covered in the press, we think the market has completely dropped the ball when it comes to the implications for Criteo coming out of the (now settled) litigation.
Criteo initially sued Steelhouse, alleging that Steelhouse had improperly gamed the "click attribution" system, effectively a system that ad tech companies (including Google) use in order to be given "credit" for generating ad traffic. Criteo claimed that Steelhouse used a ploy to take so-called "last click attribution" credit for clicks on ads that should have actually been credited to Criteo.
Steelhouse then fired back with a countersuit, claiming among other things that:
~25% of Criteo's 2016 projected revenues are based on fraudulent clicks
Over 50% of Criteo's clicks (as measured by Steelhouse) had no original source (6x greater than industry average), suggesting potential "bot" traffic
3.6% of Criteo's "user's" generate 25% of its clicks
Criteo is engaging in "click cluster generation" even after the customer has purchased a product
44.9% of Criteo clicks come from "clusters" - 13x the industry standard
SteelHouse found 1 IP address that clicked on a Criteo ad 20,647 across 96 of all 99 advertisers queried
Criteo's general click rates were simply too good to be true
Steelhouse went as far as referring to Criteo as "the true fraudster in the Ad Tech industry."
The mere fact that a Criteo ad (and ONLY a Criteo ad) is appearing on ToastedBalls.com should give any shareholder in the company real pause for concern as we show below that this fact strongly corroborates some of the claims that Steelhouse lobbed in against Criteo regarding "traffic laundering."
The Steelhouse filing against Criteo reads like a short report - full of hard hitting allegations and charts and tables (that we will go into more detail on later in this article) that essentially allege that Criteo is engaged either knowingly or unknowingly in a massive click fraud scheme that results in its clients paying for advertising they do not need. It is worth remembering that Steelhouse's aggressive filing against Criteo came only after Criteo, the initial aggressor in this legal situation, essentially accused Steelhouse of being a thief (or a "Stealhouse" as referenced in the litigation!).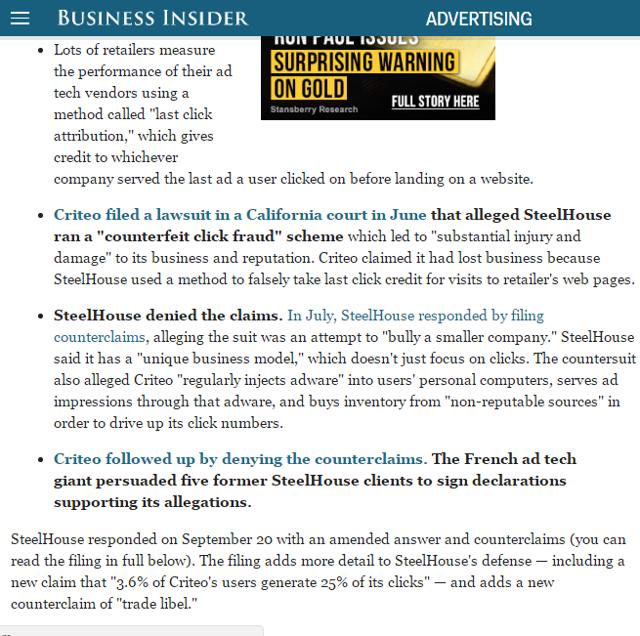 Source: Business Insider
It is not every day that a company comes out publicly and essentially calls its competitor a fraud. Competitors will quibble over who has the better quality product or the better customer service approach. But to outright call a competitor a fraud is a VERY serious allegation that should not be ignored by investors.
Case in point… Allergan (NYSE:AGN) and Valeant (NYSE:VRX).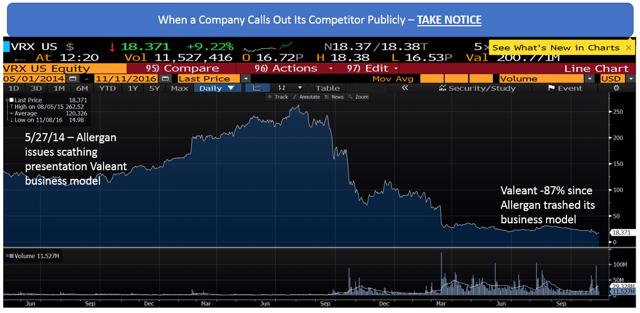 In May 2014, Allergan issued a scathing presentation that painted Valeant's business model in a highly unflattering light - and went into great detail regarding Valeant's business model, showing various charts and tables that suggested Valeant's business model was not all that it was cracked up to be at the time. While Valeant's stock continued to soar for a period of time following Allergan's initial presentation, we all know what eventually happened to Valeant. The stock is down almost 90% since Allergan put out its presentation on Valeant.
We therefore think investors would be well served to take Steelhouse's legal claims very seriously.
For some reason, investors appear to have forgotten about this litigation all together, particularly after Criteo and Steelhouse settled their disputes and CRTO's stock was back off to the races: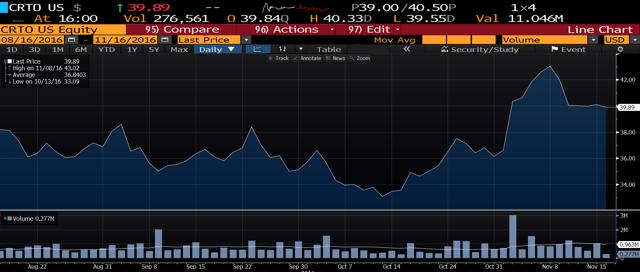 We think investors have learned nothing from the events of the Allergan/Valeant debacle. Again, it is not every day that a company calls out and refers to its competitor as a fraudster. While investors now appear excited about the settlement of the Criteo/Steelhouse case, we actually think Criteo's decision to settle the case is a HUGE red flag.
To recap, Criteo was the initial aggressor and filed suit against Steelhouse. Criteo then went as far as requesting sworn declarations from five of its customers to help strengthen its case against Steelhouse on the matter of last click attribution theft. If Criteo was afraid of the PR implications of getting involved in litigation with Steelhouse, it would likely not have requested sworn declarations from its customers alleging to strengthen its case, as this maneuver clearly drew attention from customers to its legal dispute with Steelhouse. Based on our reading of the litigation, we also think that Criteo genuinely believed it had a very strong case for theft of last click attribution against Steelhouse (particularly given the sworn declarations of shared customers).
Therefore, we are left to believe that a major reason Criteo suddenly, mysteriously, and voluntarily backed out of the litigation is potentially because Criteo was uncomfortable with going forward with the discovery phase of the Steelhouse countersuit. Did Criteo not want customers and investors finding out ugly aspects about its business?
Until today, to our knowledge Criteo fielded almost no questions on public calls that went into the detail of the accusations Steelhouse lobbed against Criteo (citing a desire to not discuss ongoing litigation).
Given that Criteo has had ample opportunity to address Steelhouse's claims over the, we did not reach out to Criteo for comment regarding Steelhouse's claims. Instead, we point readers to Criteo's legal filings in response to Steelhouse that attempted to dismiss Steelhouse's claims, that can be found in Case 2:16-cv-04207-SVW-MRW Document 40 Filed 10/04/16 and Case 2:16-cv-04207-SVW-MRW Document 44 Filed 10/24/16.
The Steelhouse litigation makes our analysis of the ToastedBalls.com Criteo ad all the more crucial.
The existence of a Criteo ad on ToastedBalls.com causes us to seriously question what is going on with Criteo's algorithm and what types of revelations could have potentially surfaced over the course of a prolonged legal discovery process with Steelhouse.
Using the Ghostery browser plug-in, you can easily find out what advertising trackers are associated with a website. As one can see below, Criteo stands out in the list of ad tracking companies tied to ToastedBalls.com.

Source: Toastedballs.com & Ghostery plug-in
So why does this even matter?
As outlined in the Kalkis research piece, the relationship between Criteo and ToastedBalls.com is described in the following way:

Source: Kalkis-Research.com
So why, we ask, would a Criteo ad ever end up on this website that is so obviously suspect in nature from a traffic perspective, and potentially riddled with fraudulent / "laundered" traffic derived from porn websites?
First of all, Criteo's algorithm is not in the business of signing up to lose money. As described previously, Criteo should only place an ad on a website where the clicks are sufficient enough to offset the CPM costs of placing a banner ad on the website.
So somehow, in some way, ToastedBalls.com is a hot bed for clicks. Despite the fact that the website that has some sort of ties to obscure porn websites and traffic that suggests "bot views."
Kalkis first wrote its article in June 2016. We have visited ToastedBalls.com's website for over a week straight now and have consistently been served a Criteo ad in the top right of the window.
This leads us to question Criteo's algorithm. The algorithm has to be written in a way to maximize margins and has somehow been "convinced" into keeping an ad up on ToastedBalls.com. The only way this could happen is if ToastedBalls.com is somehow generating robust amounts of clicks for Criteo (the Criteo ad link has been on Toastedballs.com live since June 2016, so it is clear we did not just catch ToastedBalls.com at an opportune time and that Criteo is well ingrained in the site's ad framework).
While we are speculating, we ultimately highly doubt that ToastedBalls.com - a clearly very highly suspect website - is receiving many actual human being clicks.
So where does this leave us?
For Criteo's algorithm to be willing to place ads on ToastedBalls' website, we believe that Criteo is potentially monetizing highly suspect clicks. A website that is largely a "tier 2 porn" redirect website is unlikely to be generating the volume of human clicks that one would envision are necessary to justify trying to pull off a CPC/CPM arb spread trade.
If Criteo were like other ad tech companies and charged on a per impression (CPM) basis, then ads showing up on ToastedBalls.com would only be a modest red flag. We are pretty sure advertisers would prefer their content not show up on some joke of a website such as ToastedBalls.com. But, in a CPM world, ads showing up on Toastedballs.com would be akin to ads showing up on MeetMe - honest mistakes as algorithms are running simple screens based on demographic data.
However, given that Criteo charges on a per click basis, the fact that Criteo's algorithm has deemed ToastedBalls.com as economically lucrative enough to justify laying out an ad STRONGLY suggests that ToastedBalls.com has found a way to "generate" enough clicks out of Criteo ads to get Criteo's algorithm excited to view ToastedBalls.com as a credible website for the purposes of publication.
If we (and others) were able to dig up Toastedballs in short order, what does this say about what other publishers are hiding under the hood?
We decided to take Toastedballs and run with it. So we did an exhaustive search of internet metacode that included entries for the term "Criteo." Our search returned hundreds of thousands of results. As of publication, we were still working through the dense record set. While there were some benign websites that came up in our work - such as Zerohedge.com and Drudgereport.com - we also quickly found numerous instances of other suspicious and shady websites such as Toastedballs.com. We summarize just some of the websites that came up in our research to date below: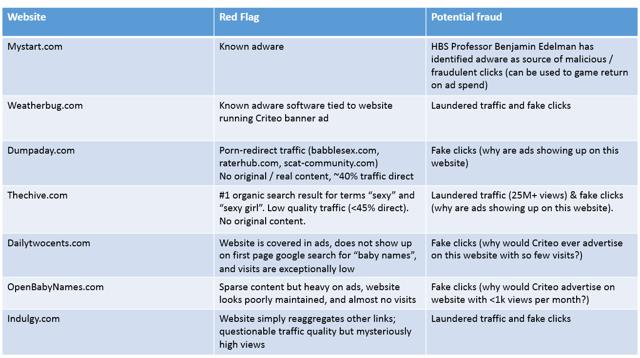 Source: Friendly Bear color - websites were found through metacode record searches
We prepared a set of slides (that include evidence of Criteo's ads on the sites) available below:
We also found direct evidence of Criteo's ads being involved in elaborate click fraud schemes. We encourage readers to read through this article from Sentrant, a company focused on detecting and mitigating online advertising fraud, regarding an elaborate click fraud scheme that Sentrant alleges resulted in 154 million fake ad impressions a day. Sentrant goes into great detail regarding a bot scheme referred to as the Bedep Ad-Fraud Botnet. Sentrant also shows how this click fraud scheme took advantage of ads run by Criteo.
This confirms both our hypothesis as well as allegations from Steelhouse that Criteo's business model is plagued with click fraud issues. Given its pay per click business model, this should give any investor concern about whether Criteo is truly on top of the charges it is assessing its customers.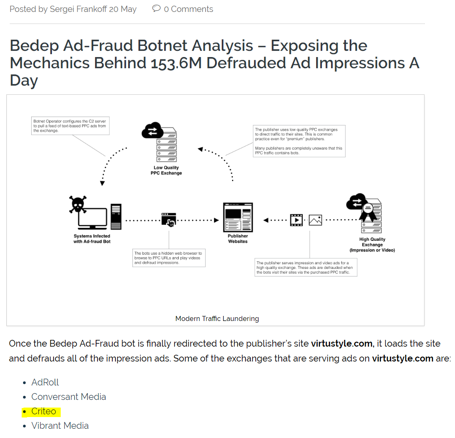 Source: Sentrant
So do the highly suspicious websites - like the ones identified in the Sentrant analysis above that took advantage of Criteo ads - result in material amounts of clicks for Criteo? If so, what is Criteo doing to combat these click fraud schemes? And how much faith can investors and Criteo clients really put in the metrics reported by Criteo?
Would any advertiser actually want to pay for clicks on an ad placed on websites such as ToastedBalls.com and Dumpaday.com?
What About Criteo's Purported Return on Ad Spend? Shouldn't that Give Us Comfort that Click Fraud Is Not a Big Deal?
Some readers are likely to argue that "fraud is part of the business" in ad tech. When we spoke to a tech executive who regularly uses ad tech companies and asked about fraud in the industry, he laughed and said "Of COURSE there's fraud." (Hmm…note to self…an industry that is "riddled with fraud" seems like a great place to park capital, right?)
However, Criteo seemingly works its way around claims of impression fraud by pointing to its unique "click" driven business model that should - theoretically - subject it to less risk of fraud. It is easier for "bots" to create fake impressions than fake clicks. However, we showed in both the Sentrant and ToastedBalls case studies that there is clearly a very high likelihood that websites have managed to find a way to get traffic to create fake clicks as well. As an aside, we find it hilarious that people actually "click" as a free-lance job.
Ad tech companies such as Criteo are obviously heavily incented to "look the other way" when possible instances of fraud do emerge. Why? Because all traffic is ultimately good traffic for an ad tech company as it is traffic that turns into revenues. While one would hope that ad tech companies are behaving ethically and cutting off traffic to potentially fraudulent sources, the "bad guys" are always getting smarter about how to game ad tech algorithms. And ad tech companies have a natural disincentive to "police" fraudulent traffic in the short term - as it would result in a hit to revenues. This makes policing ad tech fraud particularly challenging for public companies such as Criteo that face the quarterly Wall Street gauntlet.
So what do advertisers do to keep ad tech companies honest? They try to measure the effectiveness of ad spend and use that as a tool for marketing / determining pricing.
Criteo touts its "return on ad spend" aka ROAS as the holy grail of all metrics, used in competitive bake off situations to win and retain clients. The actual calculation of this ROAS is opaque itself, with Criteo providing little color to investors on how it arrives at ROAS figures.
But what happens if Criteo's "return on ad spend" metric itself cannot be trusted?
We point readers to this crucial presentation (actual audio available) from Professor Benjamin Edelman of Harvard Business School that explains how Criteo has used unethical and unscrupulous adware injections in order to artificially inflate its return on ad spend metric.
If you either own Criteo shares or are a client of Criteo and have not yet seen this video (recorded in April 2015) - do yourself a favor and watch right now (starts at 24-minute mark):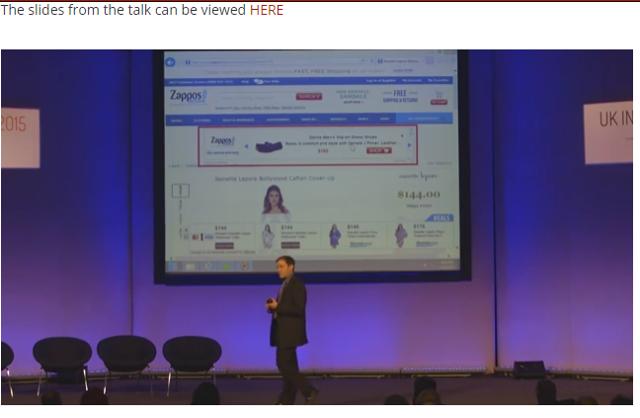 Source: Original video can be found here - Criteo section begins at 24-minute mark
We took the time to transcribe key lines out of Professor Edelman's presentation and provide them below: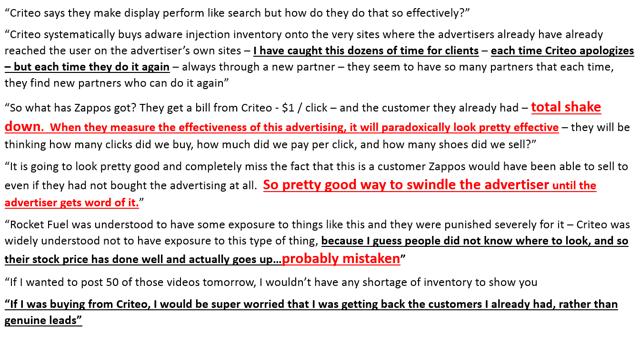 Source: Transcription of Professor Edelman's speech (TFB Transcription Services)
We did NOT contact Criteo with respect to Benjamin Edelman's claims that were lobbed in against the company back in early 2015. However, we conducted a Google search and transcript search on Criteo to determine if the company had ever responded to these claims and found no such evidence. Edelman himself does suggest Criteo has spoken with him about the issues in the presentation - which again, we think you need to watch if you have any position in Criteo shares.
We think it is worth pointing out again in bold face font - an esteemed professor at Harvard Business School outright claimed that Criteo is involved in nefarious business practices that 'swindle' and 'shake down' advertisers.
Professor Edelman's claims provide support to allegations made in the Criteo v. Steelhouse countersuit:

Source: Criteo v. Steelhouse (countersuit filing)
Our own deep forensic analysis of Criteo not only confirms that Criteo has direct ties with adware companies - but also appear to support the notion that Criteo's dealings with adware companies persist through the present (Professor Edelman's presentation was made in April 2015).
In our metacode records analysis, we came across Criteo's involvement with a company called Montiera. Numerous malware tracking websites confirms that Montiera is quite notorious in computer protection circles as it is seen as a nuisance adware toolbar enabler: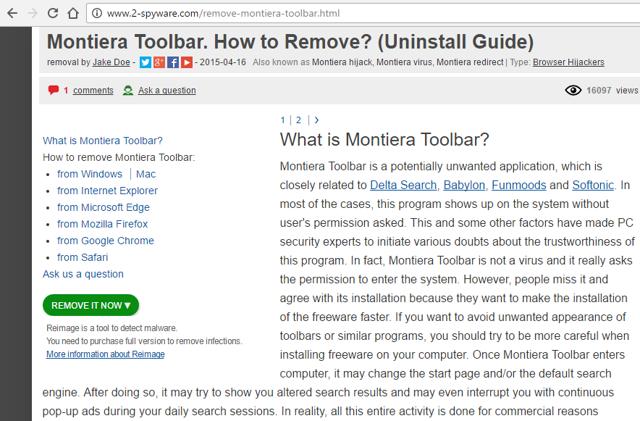 Source: Spyware.com
A simple Google search for Montiera also confirms its ties to adware (amazingly, a Google search for Montiera does not even return the corporate website in the top search results, instead returning results that point to Montiera being a notorious adware company):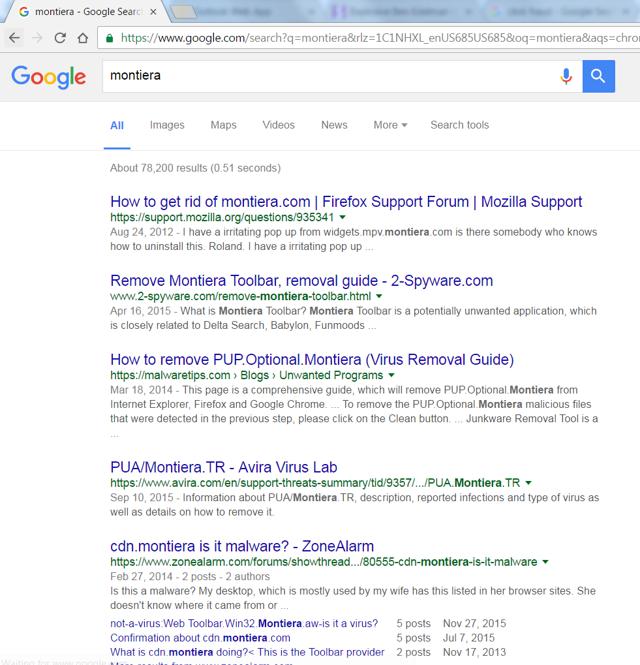 Source: Google
Given Professor Edelman's claims that he could easily find "50 examples" of Criteo improperly using adware injections to wrongly take credit for sales, you will not be surprised to discover that Montiera proudly touts Criteo as the first on a short list of third party partners that work with Montiera: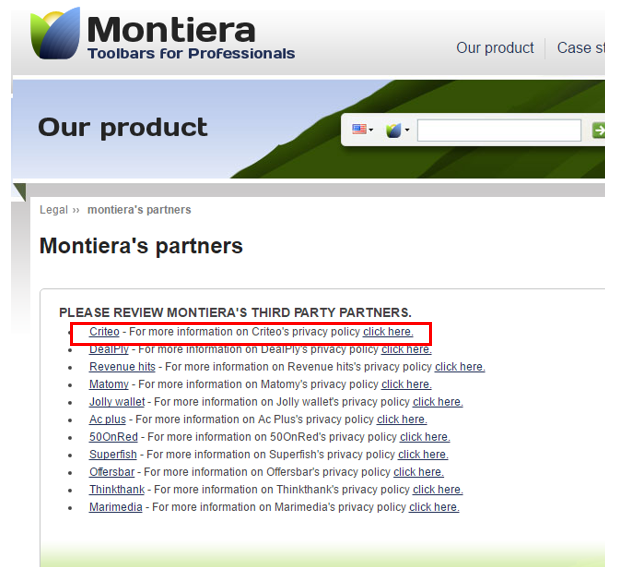 Source: Montiera Website
It is important to note that this is Montiera's representation of its relationship with Criteo. Criteo does not disclose its partnership with Montiera in its SEC filings and we did a transcript search for the terms "adware" and "Montiera" and found no mentions in Criteo transcripts. We question whether advertisers are aware of Criteo's reliance on a company that is known to power numerous suspicious adware toolbars.
In light of the claims put forward by Professor Edelman, Criteo's apparent relationship with Montiera leaves us highly suspicious about any claims made by Criteo regarding the accuracy of its "Return on Ad Spend."
And if you still trust Criteo to get attribution calculations "right" - then perhaps this recent news release from Facebook will make you rethink your belief: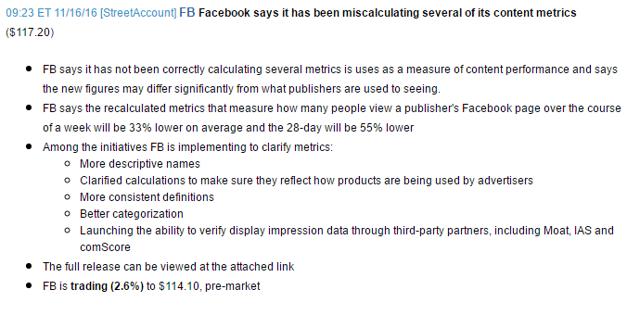 Source: StreetAccount
If Facebook - the second most powerful digital advertising business in the world - can't get attribution and measurement metrics right - then HOW can any advertiser trust numbers coming out of much smaller companies such as Criteo that has partnerships with adware companies, runs ads on suspect websites such as ToastedBalls.com, and gets into legal spats with competitors that are 1/10th its size?
Perhaps this is why the Wall Street Journal recently suggested that rebates are on the way across the ad tech space:

Source: WSJ (link provided in earlier section of document)
We believe that Criteo is ultimately going to have a mea culpa moment that will be far more damning than Facebook's and will require the company to return huge sums of money associated with invalid clicks. Google already has a program to return revenues from invalid clicks -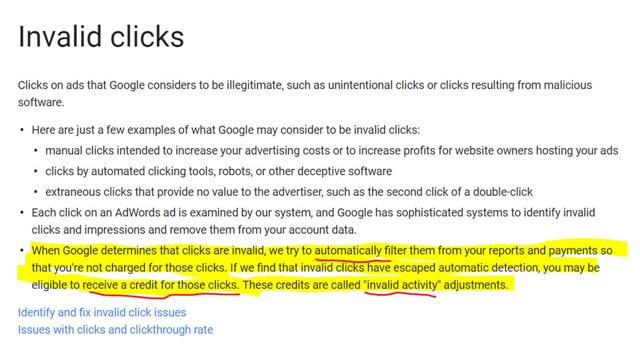 Source: Google Support
Simply put - we think that the Criteo/Steelhouse litigation opened Pandora's box in terms of advertisers (and hopefully investors) beginning to ask questions about what is actually going on inside the Criteo blackbox. In turn, we expect that savvy and sophisticated ad buyers will begin to demand rebates. Particularly when they find out that their ad dollars are being wasted on websites such as ToastedBalls.com and that Return on Ad Spends are allegedly being gamed through complicated adware schemes.
While our report has focused on ads from desktop sites, we believe that all of the issues that we have identified in this report impact the mobile side of Criteo's business as well. Many of the ads we pulled are also available in mobile browsers (i.e. many of the ads we found will show up on both your PC as well as through Safari on an iPhone).
Furthermore, sophisticated scammers have already figured out numerous ways to game ads that are served on mobile devices. Scammers go where the money is, and the money is moving to mobile. Therefore, all of the issues we have raised thus far in this report (in our view) apply equally to both desktop and mobile viewership with respect to ads served on websites.
The main exception to this claim comes through ads served through mobile apps (i.e. banner ads at the bottom of the MyFitnessPal app). Given the need to actually drive an app install in order to game these types of ads, they are harder (but not impossible) to defraud. We take comfort in our view that a very small piece of Criteo's business is driven through in-app ads.
The company recently suggested that in-app ads are growing at a rate of >300% per year (3Q16 earnings call) which is ~10x higher than the company's overall growth rate. In other words - in-app ads - the kind that are less impacted by the issues we raise in this report - are growing off a very small base, and likely remain immaterial as a percentage of Criteo's overall business.
Toastedballs, Montiera adware, and suspect ROAS are only some obvious red flags that should give any Criteo shareholder heartache.
We see many other grave problems with Criteo that appear to be somehow overlooked by the market.
Other Red Flags That Lead Us To Believe Criteo's Blackbox Should Terrify Investors
#1 - Surprise History - How Can A Business With Presumably Low Visibility Always Crush Revenues?
It is always a real treat to see a company that never misses on revenues. Usually we see companies that never miss earnings as exhibiting signs of possible accounting fraud because earnings can easily be "massaged" through accrual games etc. It is far less common to see a company - particularly one in the volatile advertising space - that has such incredible visibility into its revenues…yet Criteo has done so quarter after quarter:

Source: Bloomberg
We think Criteo's revenue history should cause any naturally skeptical person to start asking questions about what is going on…
#2 - When Every Other Ad Tech Company Has Blown Up - How Has Criteo Magically Bucked The Trend?
… The backdrop for other ad tech companies has been downright ugly - yet Criteo has somehow magically been able to buck the trend. This should cause any naturally skeptically investor to ask serious questions about how Criteo was able to generate the stable revenue trajectory relative to consensus described above…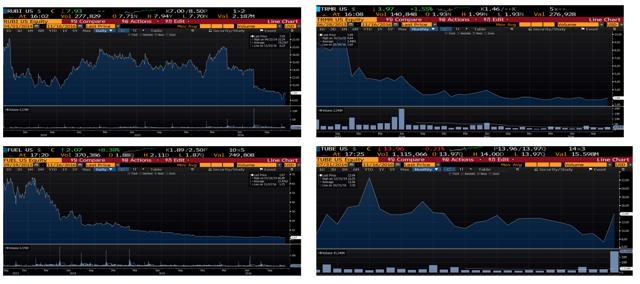 Source: Bloomberg
#3 - With 57% Of Its Business Allegedly "Mobile" Today, And That Figure Growing Rapidly, Why Did Criteo File An Ugly And Expensive Lawsuit That Was Essentially All About Desktop Last Click Attribution?
This claim requires a bit of education but is arguably the most significant red flag we saw when researching Criteo.
Criteo's mobile business is allegedly 57% today according to management. On earnings calls, the company claimed that mobile was >47% of the business in 4Q15, >50% in 1Q16, >50% in 2Q16, and now is 57% as of 3Q16.
It is also well understood today that mobile is the future - in fact all digital growth is now coming from mobile usage according to studies.
Criteo's mobile business - if you believe management's claims - are growing at an incredible clip that is far in excess of desktop. And over time, this trend is likely to continue given the explosive growth in mobile is clearly coming at the cost of desktop share - just see the table below: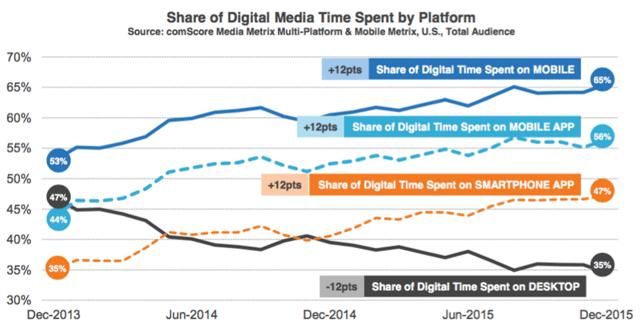 Source: Marketingland.com
So take a step back and noodle on this point. The original lawsuit that Criteo filed against Steelhouse all related back to "utm" codes being slapped onto URLs. For readers less familiar with the ad tech space, "utm codes" are a VERY desktop-centric methodology for last click attribution. This is because the utm code methodology works quite well when it comes to desktop clicks. The declaration from Criteo's Vice President of Analytics (can be accessed in Case 2:16-cv-04207-SVW-MRW as Document 14-7 filed on 7/1/2016, "Declaration of Jaysen Gillespie") goes into great detail about how utm codes work - so we will let readers do their own homework on this point.
However, when it comes to mobile attribution - utm codes are far less effective. Context is lost when ads are placed inside apps - making it harder for app based advertisers to determine source of attribution. The blog excerpt below provides some color with respect to tracking data issues that go along with app based ads. The blog also provides some detail on the solutions to attribution puzzle in mobile that involves a newer version of attribution called "deep linking."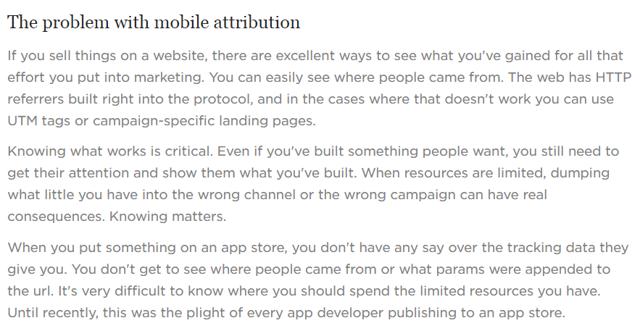 Source: Attribution App Blog
We also spoke to a very senior level former executive in the mobile gaming space - experts in app based attribution given their insatiable desire to drive higher installs - and they told us that mobile attribution remains the Wild West where no one is quite sure of where clicks really came from.
Based on the litigation, it is apparent that Criteo's main beef with Steelhouse was around utm codes relating to desktop last click attribution. Furthermore, Steelhouse is a fraction of the size of Criteo - having done around $130 million of revenue on a run rate basis in 2015. This compares to Criteo that is on track to do $1.6 billion of gross revenues (before traffic acquisition costs) this year.
So why sue a competitor that is a fraction of your size (1/10th based on our estimates) over a spat relating to desktop last click attribution when your mobile business is a) growing much faster, and b) clearly should be turning into the focal point of your business given secular market dynamics?
Why subject your company to public scrutiny and enter into costly and expensive litigation against a competitor over something that on FACE VALUE appears to be such a nonevent? An alleged desktop last click attribution scheme hatched by a tiny competitor?
We think investors ought to be asking this question of Criteo. We think the mere decision of Criteo to enter into an ugly and messy spat with Steelhouse over what appears to purely be last click attribution issues in desktop suggests to us that Criteo's mobile business may not be all that Criteo claims it is cracked up to be, poking a major hole in the bull case on Criteo. And Criteo really did appear "in it to win it" - even going as far as taking the unusual step of asking clients to provide declarations in support of Criteo's position - effectively drawing more attention to the ugly legal spat.
Ultimately, we think Criteo's decision to enter into aggressive litigation with Steelhouse in the first place suggests that the company remains far more economically reliant on desktop than it lets on. Suing a competitor 1/10th the size (and getting clients involved in the spat) over a business segment that is not of significant importance to your company would be a very unusual move.
#4 - How Has Criteo's Shift Into Mobile Resulted In No Margin Pressure?
Conversion factors in mobile are far lower than in desktop - with smartphones having less than 1/3rd the conversion rate of desktop, and tablets having ~3/4th the conversion rate.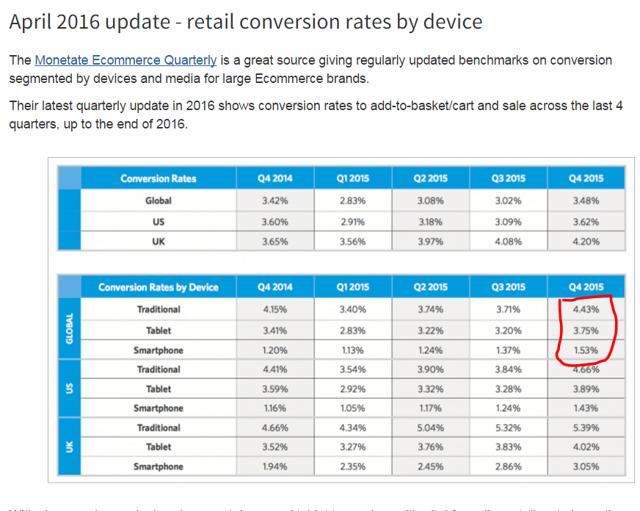 Source: SmartInsights
From a practical perspective, this means that in order to generate the same amount of clicks on a mobile device, you need to buy far more impressions (people are simply clicking ads far less frequently on mobile versus desktop).
We also believe that mobile CPMs are actually higher than desktop CPMs, removing the possibility that higher volume buys could be offset by lower price points.
One would therefore naturally assume that in the near-term, Criteo's margins should have come down as Criteo has been forced to go out and buy more impressions - increasing the "CPM" side of its two-sided margin equation, in order to keep the CPC side intact.
However, instead of net revenue margins going down, they have actually shot up despite Criteo's alleged massive growth in mobile since 4Q15:

Source: Friendly Bear analysis of CRTO SEC filings and transcripts
This makes no sense to us.
However, Criteo's odd and illogical progression in net revenue margins is not the only metric that leaves us puzzled…
#5 - After Guiding The Market To Expect Header Bidding To Be A Near-Term Headwind, How Did Criteo Magically Overcome The Headwind IMMEDIATELY?
Header bidding is a bit of a complicated topic. Historically, publishers have taken a sort of waterfall approach to the auction process of bidding for advertising inventory, meaning that certain demand side platforms get first dibs at the inventory. The larger and more prominent demand side platforms (i.e. the Criteos of the world) were given opportunity to bid first for inventory, giving them a distinct advantage - they could clear out available CPM inventory before smaller competitors stepped in.
Under the new world of header bidding, this VIP status for larger ad tech companies has effectively been done away with, making the overall system more egalitarian - at the cost of larger companies such as Criteo and Rubicon Project. This article provides some color on what has been happening with header bidding.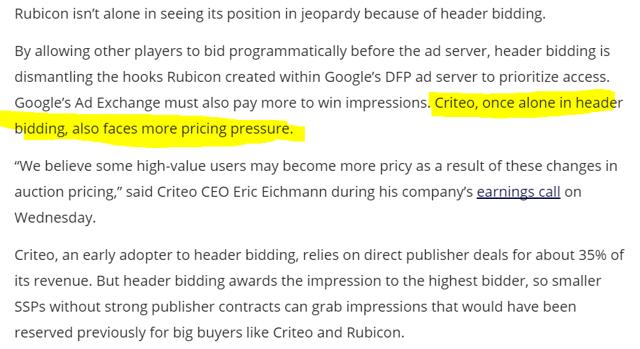 Source: AdExchanger.com
In its analyst day in September 2016, Criteo even highlighted the issues with header bidding and called out the expectation that its margins would erode in the near to medium term as a result of the new header bidding rules: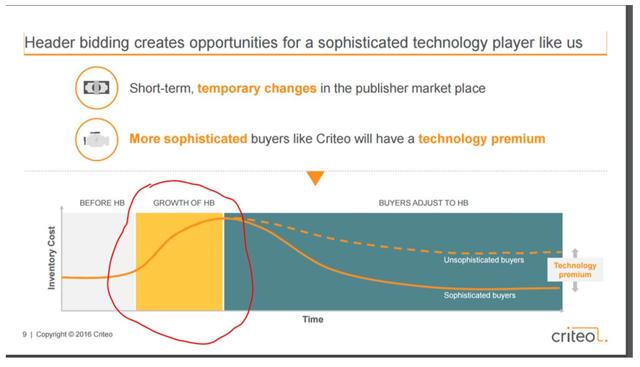 Source: Criteo September 2016 Investor Day Packet
Keep in mind that header bidding implementation changes have been taking place for the last several months - so should have been seen in Criteo's numbers by now.
Instead, magically, Criteo was able to show a 4% constant currency DECREASE in its CPMs (its cost for acquiring traffic):

Source: Bloomberg transcript of 3Q16 Criteo Earnings Call
Now we are left with two puzzling dynamics. First, Criteo has been blowing out its mobile growth - yet net revenue margins have done nothing but increase despite the conversion dynamic described in the prior section. Second, Criteo itself told us to expect an INCREASE in traffic cost as a result of the header bidding "challenge"…yet the company reported a 4% decrease in traffic cost on a constant currency basis in the most recent quarter.
So something smells fishy to us.
#6 - For A Supposedly Disruptive Technology Company, Why Is R&D Spend So Low?
If CRTO really is a cutting edge technology company, then why is its R&D spend so low when compared to its comp set? Low R&D spend relative to peers is often a glaring sign of problems to come. The earlier analogy we used - Valeant - will remind readers that when companies with "trust management" and "blackbox" approaches to business have low R&D, it is wise to take notice and remain very skeptical.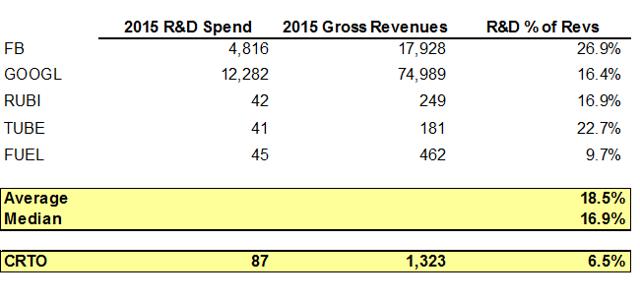 Source: Bloomberg
#7 Why Are Criteo's Alleged Click-Through Rates So Much Higher Than Much Better Funded And More Sophisticated Competitors?
According to Steelhouse in its litigation, Criteo's click-through rates look too good to be true… and we agree: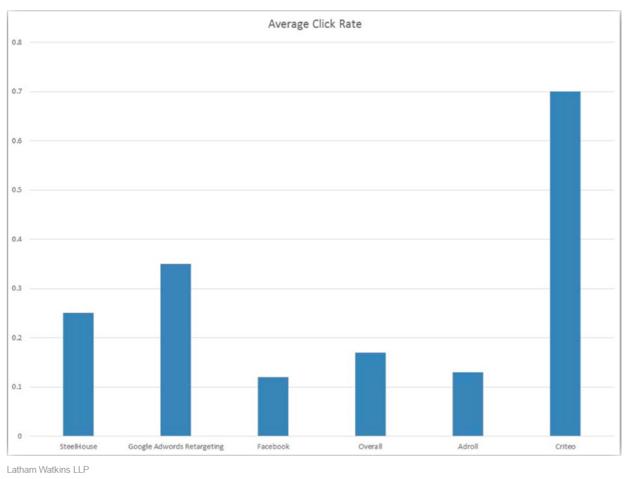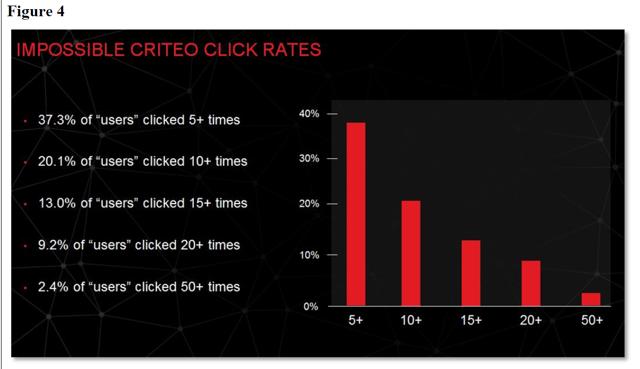 Source: Criteo v. Steelhouse (Steelhouse countersuit)
In light of us finding a Criteo ad - and only a Criteo ad - on ToastedBalls.com, we have to wonder how this allegedly "rocket fueled" click rate at Criteo is being generated.
#8 - Why Is Criteo Apparently The Only Company That Is Using A "Cost Per Click" Methodology When Every Other Player Has Moved Away?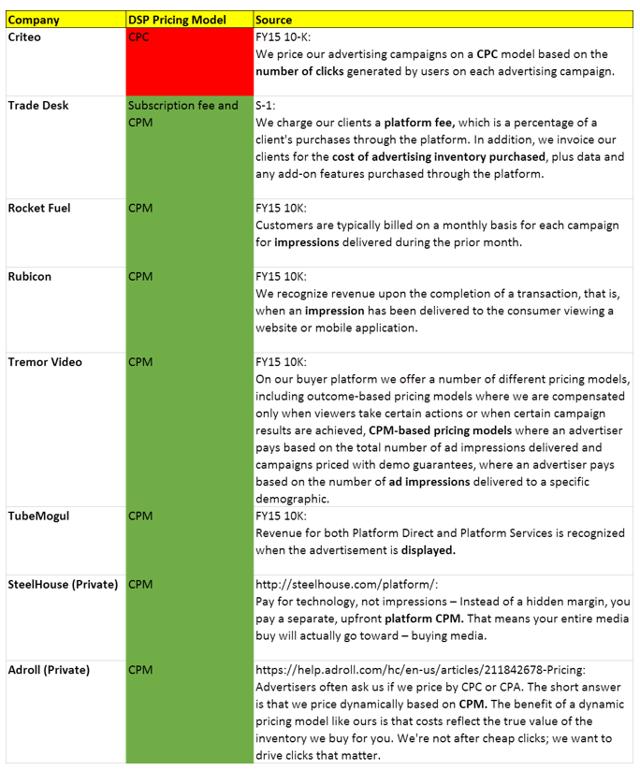 Source: See table for individual sources
#9 - Why Are Criteo's Margins Literally Double That Of Its "Transparent" Peer 'The Trade Desk' (TTD)?
The Trade Desk recently went public and prides itself on being a "clear box, not black box":

Source: TTD prospectus
Perhaps not surprisingly, TTD's "clear box" results in 50% lower margins than Criteo's "black box":

Source: Friendly Bear analysis of TTD and CRTO SEC filings
Simply put - we have no good explanation for why Criteo is literally twice as profitable (on a net revenue basis - i.e. just factoring in traffic expense) when compared to The Trade Desk.
The fact that Criteo is the only player in the industry we have found using a "CPC" model and is somehow able to put up spectacular margins that are 2x higher than a very closely linked peer in The Trading Desk should cause any reasonable investor to question what is going on with Criteo, particularly in light of the allegations from Steelhouse.
#10 - Despite Criteo's Obvious Fear Of Adblockers (Evidenced By The Company Paying To Get On A Whitelist), Why Has The Company's Top Line Continued Surging Without A Hiccup?
Business Insider reported that Criteo paid to be part of Adblock Plus's "Acceptable Ads Initiative" so that some - not all - Criteo ads would be whitelisted from adblockers.
This clearly suggests that Criteo is concerned about the future of adblocking - as it should be: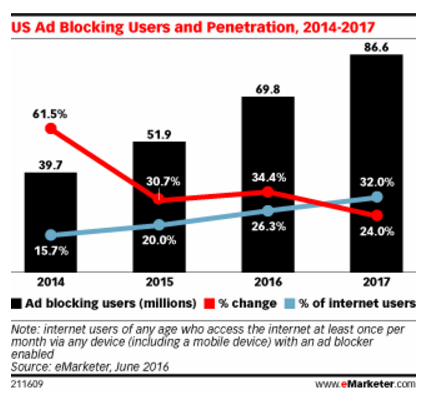 Source: eMarketer.com
Of course, with ad blocking penetration set to reach almost 1/3rd of internet users next year - and the safe assumption that 100% of clients with "ad blocking" technology are in fact human and not "robot" in nature - we wonder - is Criteo either a) about to hit a wall in terms of growth, or b) going to have to soon provide massive rebates to its customers who have believed they are paying for human clicks when evidence continues to mount that the actual proportion of human clicks may be far lower than one thinks.
#11 - How Many Instances Are There Of Criteo Serving Ads That Should Never Have Been Served In The First Place?
In a presentation from Professor Benjamin Edelman of Harvard, he shows an example of a Zappos ad being served to a customer already on Zappos.com. This should obviously never happen. How forthcoming and honest has Criteo been with its clients in terms of these types of obviously objectionable situations?

Source: Benjamin Edelman Presentation
In our research, we also came across an instance of Criteo serving a "re-targeting" styled ad to us for a website we have never visited!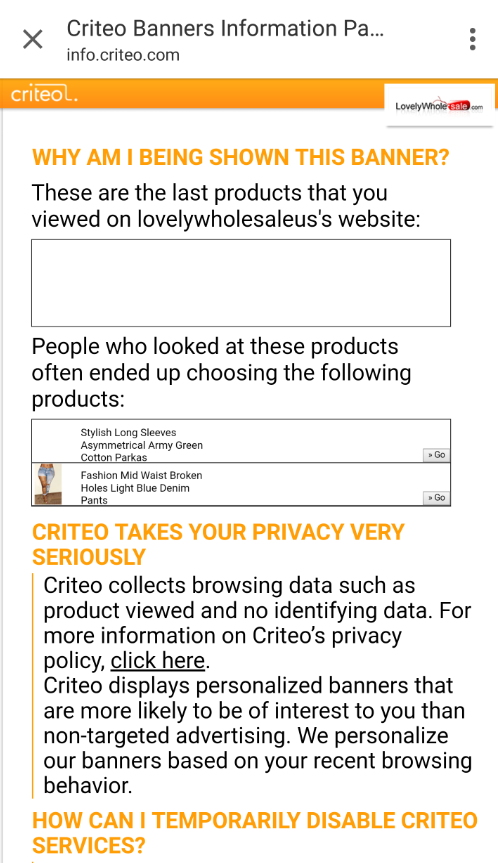 Source: Ad from Zerohedge.com pulled on an Android
The ad itself establishes that there was no reason cited for why we got served a re-targeting ad from lovelywholesale.com. We hypothesize that Criteo served this ad to us based on our general browsing behavior. Which is a major red flag from an advertiser perspective as it suggests Criteo may be serving ads based on data collected from OTHER advertisers (otherwise why serve this ad at all?). Would other advertisers - potentially competitors of lovelywholesale.com - be comfortable with competitor ads being served based on our browsing behavior? We doubt it.
#12 - Why Did Two Chief Product Officers (One Who Was Also The Co-Founder) Both Resign In The Past Year?

Source: Bloomberg

Source: Criteo 8-K for 3Q earnings
Mr. Niccoli resigned in October but had only been Chief Product Officer for a few months. This is because the Chief Product Officer who came before Niccoli resigned in April 2016:

Source: LinkedIn
This is also probably a good time to note that after years of insiders not selling stock, the mass dumping began around late 2015, and since then, insiders have never looked back in their quest to get out of the stock:

Source: Bloomberg
#13 - How Is Criteo Going To Handle The Fundamental Headwinds Facing Its Business?
Our analysis suggests that Criteo's average revenue per client has been going the wrong way for several quarters in a row. We believe that this is a sign of either a) mix shift away from high quality customers into lower quality and smaller customers, or b) existing clients are reducing spending with Criteo.

Source: Criteo SEC filings and Friendly Bear estimates
As we have already outlined in detail in this report, we believe Criteo's business model remains highly economically levered to desktop clicks - a relative secular share loser relative to mobile today. This alone is a huge headwind to Criteo's growth going forward.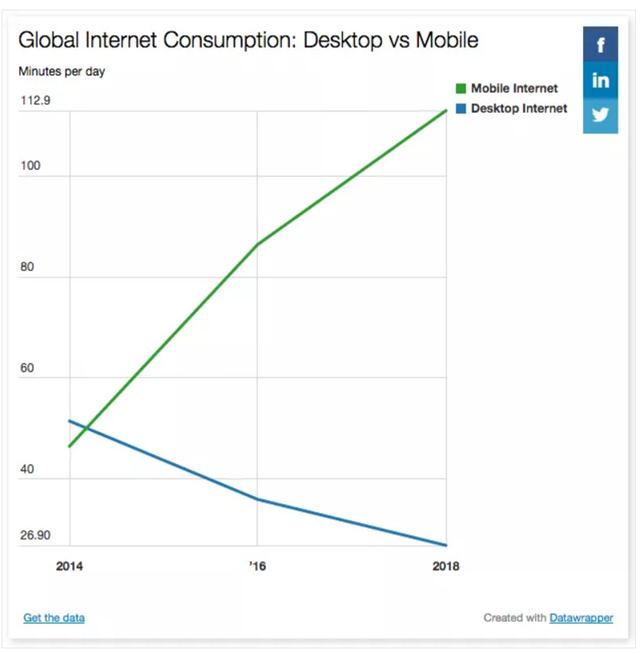 Source: Digiday
Second, Criteo's mobile business leaves us asking more questions than having any real view given how much data we have surfaced that calls into question the real strength of that business.
And Criteo has essentially no meaningful video ad capabilities today in our view.
Furthermore, our conversations with industry experts suggest that many advertisers are bringing their ad tech budget back in-house, and transacting directly with publishers. The chart below from an industry rag helps explain the upside from bringing an ad budget in-house: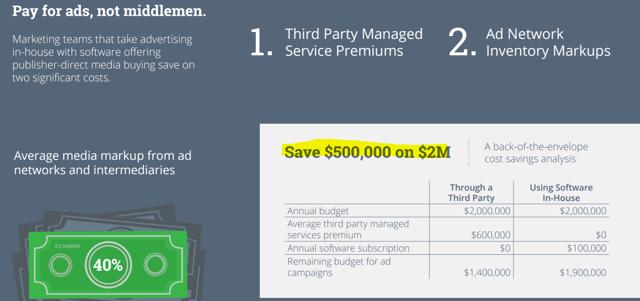 Source: Nanigans
Furthermore, Criteo is notoriously weak in video. This is despite the fact that video is widely expected to be the future of digital advertising going forward.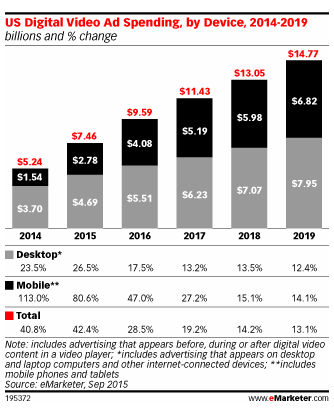 Source: eMarketer.com
Adobe (NASDAQ:ADBE) recently purchased Tube Mogul (a video ad tech specialist), speaking to the interest in the space.
And Mark Zuckerberg recently highlighted the significance of video for Facebook going forward on his earnings call: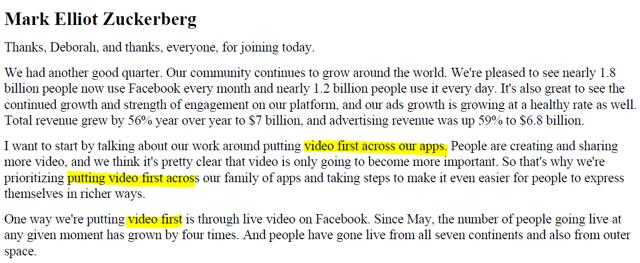 Source: Bloomberg transcript for Facebook 3Q16 call
Valuation
Criteo is a difficult company to value. One could argue that a business with no long-term contracts and accusations of massive click fraud should not be valued on the assumption of any terminal value.
The market broadly has agreed with our view that genuine terminal value should not be ascribed to these ad tech arbitrage schemes. RUBI and FUEL both trade at pathetic valuations, and even Tube Mogul, that had strategic value to Adobe due to its video capabilities, was sold for a relatively paltry sum in the grand scheme of things.
The way we approach valuation is to take Steelhouse's litigation claims - that never had the chance to be heard in court - and assume they are true. Our own analysis into ToastedBalls.com suggests that there is clearly merit to some of the claims Steelhouse made, and the forensic analysis included in Steelhouse's litigation holds weight with us.
First, on the comps, we pulled RUBI, FUEL, and TUBE as the most relevant comps. Below we show TUBE's valuation including the M&A deal: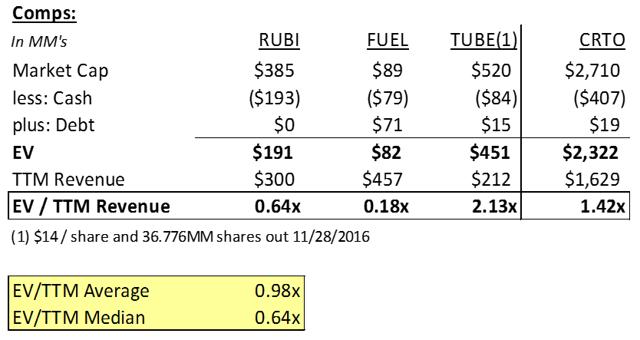 Source: Bloomberg and Friendly Bear analysis
Next, we take Steelhouse's case at face value and assume that ~50% of Criteo's clicks are in fact fraudulent, and that the company is going to get pressure from clients to return revenue dollars tied to fraudulent clicks in the upcoming year as pressure mounts for greater ad tech transparency: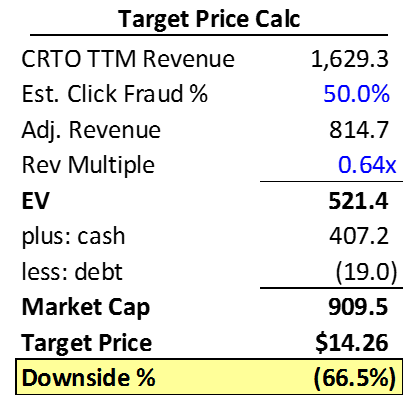 Source: Bloomberg and Friendly Bear analysis
We use a 0.64x revenue multiple - the median of the 3 best comps. We think this is a generous valuation because we believe the TUBE comp is a poor proxy for Criteo's valuation due to TUBE having strategic value in its video capabilities. Professor Benjamin Edelman also directly compared Rocket Fuel to Criteo, suggesting they are in fact very similar business models that could warrant similar valuations. On our math, we see ~67% downside in Criteo shares.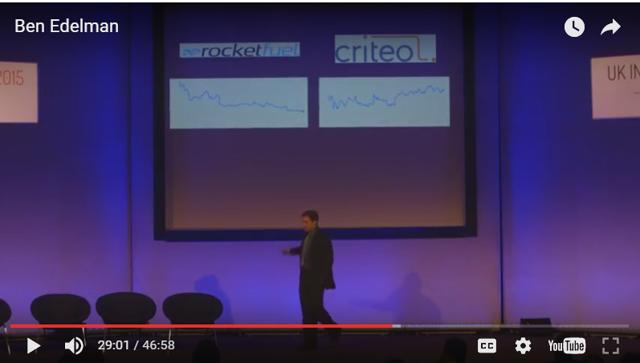 Source: Professor Benjamin Edelman presentation
Conclusion:
Take notice when competitors get into public spats about topics pertaining to fraud. Lawyers do not take tossing out such accusations lightly. And both law firms involved in the Criteo/Steelhouse spat were of top notch caliber.
Take notice when a company that claims to have a success-based click model is placing ads on a suspect porn redirection website that we have a hard time believing sees many if any genuine human clicks.
Take notice when a company in the online advertising space is freely willing to associate with suspect adware manufacturers. Take notice when a Professor at Harvard Business School has outright accused a company of being involved in nefarious billing activities.
Take notice when a company's margin profile makes no sense and does not even follow the path that management guides towards - particularly when the business that management runs is a blackbox that no one truly understands.
We think Criteo does not deserve a genuine terminal value multiple and is a very dangerous stock position. The company has no long-term contracts so advertisers can pull dollars with a moment's notice. We ultimately believe that longs who own the stock are playing a waiting game. Sure, Criteo may continue to put up a few more "awesome" quarters - but we think those awesome results are coming at the cost of advertisers who may not (yet) fully understand the lack of value we believe Criteo is providing to its customers.
Over time, we believe that Criteo's customers will discover that they are buying ads they do not need from Criteo, just as Californians discovered in 2002 that they were buying power they did not need from Enron.
Disclosure: I am/we are short CRTO.
I wrote this article myself, and it expresses my own opinions. I am not receiving compensation for it (other than from Seeking Alpha). I have no business relationship with any company whose stock is mentioned in this article.
Additional disclosure: I am/we are short CRTO. All information for this article was derived from publicly available information. Investors are encouraged to conduct their own due diligence into these factors. Additional disclosure: This article represents the opinion of the author as of the date of this article. The information set forth in this article does not constitute a recommendation to buy or sell any security. This article contains certain "forward-looking statements," which may be identified by the use of such words as "believe," "expect," "anticipate," "should," "planned," "estimated," "potential," "outlook," "forecast," "plan" and other similar terms. All are subject to various factors, any or all of which could cause actual events to differ materially from projected events. This article is based upon information reasonably available to the author and obtained from sources the author believes to be reliable; however, such information and sources cannot be guaranteed as to their accuracy or completeness. The author makes no representation as to the accuracy or completeness of the information set forth in this article and undertakes no duty to update its contents. The author may also cover his/her short position at any point in time without providing notice. The author encourages all readers to do their own due diligence.
Editor's Note: This article covers one or more stocks trading at less than $1 per share and/or with less than a $100 million market cap. Please be aware of the risks associated with these stocks.