Analysis:
Ares Commerical Real Estate (NYSE:ACRE) was stumbled upon when building a screen that found companies with a low chance of drastic price movement in either direction while also being cheap enough to comfortably invest in with a small or moderate sized portfolio.
The Screener -

Click to enlarge
First we want to find companies with a beta between -.8 and .8. These companies are less likely to have large moves in either direction
We make sure that this lack of any real volatility has existed for at least a month's worth of trading days.
Since we are looking for cheaper companies, we put the parameter that the share price needs to be under $20/share
Using the Num Times Large Change indicator, a calculation that looks for the number of times a company has had a 10% move in either direction over the last month, we isolate only those that have moved less than 2 times.
The Close needs to be within 5% of the low over the past month.
The dollar value of the volume needs to be at least $200,000.
So what kind of stocks does this screen return?

Now, how does this screen perform over the past three years?

Alright, not too bad, 12.39% a year isn't anything to scoff at. Over this time period the strategy made less than the S&P 500 annually. This would typically make us shy away from this strategy, but if we take a look at the standard deviation, the strategy's deviation is 33% lower than the S&P's making it mathematically less risky than the general market for roughly the same return. a
When it comes to selecting our prospective investments from the pool offered by this screener, we first need to plot a few variables, giving us further insight into these companies.
The variables that I've plotted are as follows -
· Sharpe Ratio
o Looks at performance of the share price in respect to the level of risk brought on by investing in that security.
· Piotroski F Score
o This is one of my personal favorites when it comes to looking at companies. This score looks at the fundamentals of a company and helps establish whether the company is doing what it needs to do in order to be profitable in the future.
· Beneish M Score
o As long as the Beneish M score is below -2.22, the company is likely not doing anything illegal in their accounting procedures. However, if the score is higher than -2.22, they may be "cooking their books"

After spending some time looking at the results, we are going to focus on Ares Commercial Real Estate (ACRE) They have no large movements, a low Beneish M score, a positive sharpe ratio, and a high piotroski score. All in all, sounds like our type of investment.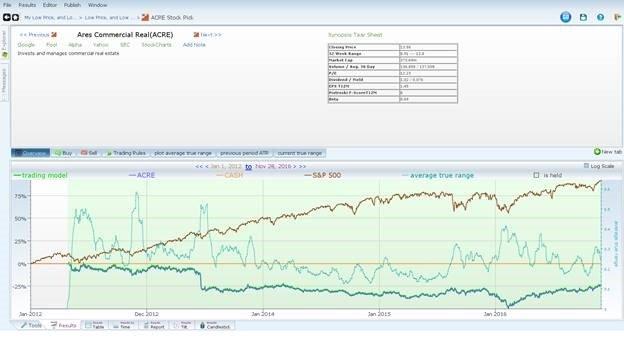 This chart isn't the most promising chart I've ever seen. That being said, it looks like the company has begun to bounce back slightly since the beginning of this year. We can't say that for certain as it's just a chart movement, but let's hold onto that hope as we continue to analyze the company.

In order to get a better overall picture of ACRE's performance we have included the year 2012 - the year that Ares went public in this new chart. This chart gives a little bit of a better outlook on how the company performed when compared to the benchmark we have set. It is a bit worrying that the company has had down years every year since its IPO. Is there something we're missing?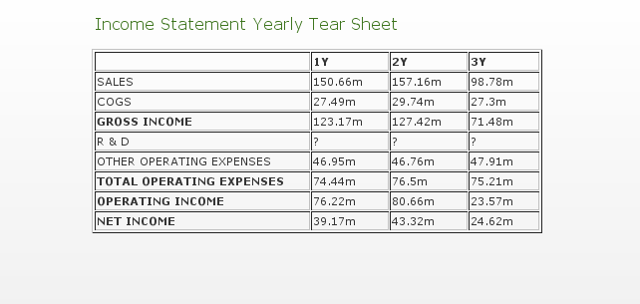 Click to enlarge
I thought, maybe this consistent drop was thanks to a lack of sales or profit that would make it virtually impossible for them to back up their .076 dividend yield for any real period of time, but, though they aren't exhibiting any growth, they are a stable enough company that has no problem paying out their dividends.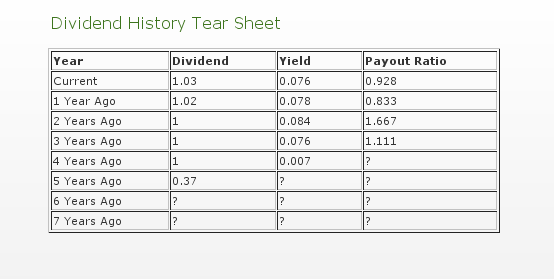 Maybe this company just isn't for the long term minded investor (> 1 year)?

This is a more in depth version of the yearly chart I posted earlier. This breaks down the performance down to a monthly basis, and it seems like ACRE has actually been doing pretty good this year - after its massive drop in price in December of last year and January of this year. At the very least, you'll notice that a "massive" change in price for this stock is less than 10% in a month in either direction. Being the risk adverse person I am, this is extremely attractive to me. I'd rather give up a little upside to protect myself from a massive downside.
Overview:
When taking everything into account we believe that ACRE, would be a good shorter term buy with a horizon of no more than a month or two if you're looking for a company with growth. If you're looking for a more long term income based investment, they do offer a fairly large and consistent dividend at, what I believe, to be a low price.
Disclosure: I/we have no positions in any stocks mentioned, and no plans to initiate any positions within the next 72 hours.
I wrote this article myself, and it expresses my own opinions. I am not receiving compensation for it (other than from Seeking Alpha). I have no business relationship with any company whose stock is mentioned in this article.