The past several days have been fascinating if you're a follower of politics. After news broke that some computer scientists believe they have found evidence that the 2016 Presidential election was hacked, Green Party Candidate Jill Stein has raised $6.3 million of the $7 million she needs in order to get a recount in certain key states that Hillary Clinton lost by narrow margins. In what follows, I will detail what I believe this could mean for investors in certain groups moving forward should data show these allegations to be accurate.
Beware if you're in healthcare
Since Trump won the election on November 8th (technically results were announced on the morning of the 9th), the stock market has moved higher despite initial declines in global markets. The S&P 500, for instance, has gained, as of the time of this writing, 3.2%. That said, not every area has fared the same. One example of outsized gains has been healthcare, largely for companies in the insurance industry.
Such names include Anthem (NYSE:ANTM), Aetna (NYSE:AET), United Health (NYSE:UNH), Cigna (NYSE:CI), and Humana (NYSE:HUM). The average gain between these companies has been 11.4%, driven largely by Humana rising by 16.2% and with United Health bringing up the rear with a gain of only 5.9%. Three of the five players have seen a gain exceeding 10% due to the fact that Trump's views regarding decreased regulations (he is more likely than Clinton to cut regulations as opposed to increasing them, but even Clinton could have been mildly bullish for these firms because of her desire to reform Obamacare instead of gutting the bill) should result in more profits for them. In addition, in an environment where deregulation is promoted, the market may be pricing in the opportunity for these firms to succeed in mergers and acquisitions.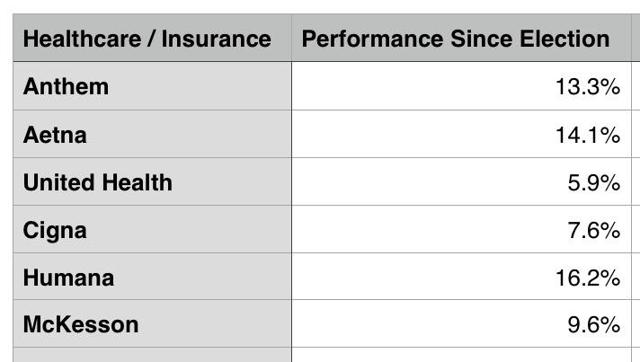 Click to enlarge
*Created by Author
This last point is especially significant four of these firms are in the M&A process as we speak. If all goes according to plan, Aetna should be able to acquire Humana, while Anthem is due to buy up Cigna. Another interesting company that has performed well since Trump won has been McKesson (NYSE:MCK), which has seen its share price soar 9.6% since November 8th. While not an insurance company, its exposures to the healthcare industry through its sale of both branded and generic pharmaceutical products would likely make it a key beneficiary since the pharmaceutical market is plagued by regulations (some necessary and some maybe not necessary).
Energy is also exposed
Another area outside of healthcare that investors should keep a close eye on is energy. In the table below, you can see the performance of large energy players like Chevron (NYSE:CVX) and ConocoPhillips (NYSE:COP), as well as the performance of smaller players like Whiting Petroleum (NYSE:WLL), Chesapeake Energy Corp. (NYSE:CHK), Legacy Reserves (NASDAQ:LGCY), and Approach Resources (NASDAQ:AREX) since Trump won on November 8th. As a group, their share prices have soared 13.6%, led by Chesapeake's rise of 23.5% and with ConocoPhillips bringing up the rear with a small gain of 4.4%.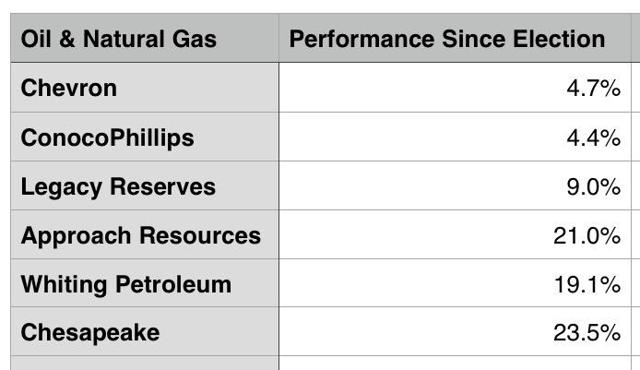 Click to enlarge
*Created by Author
One part of Trump's platform during the campaign was that he wanted to remove regulations on energy companies (not just oil but coal as well) in order to push the US toward energy independence. Truth be told, unless the US is okay pay far more for energy prices than we are paying today, it's practically impossible to make that happen with or without renewable energy sources at this time (especially without). That said, by removing regulations relating to the environment and lowering taxes, it's certainly likely that energy companies would see their costs decline under a Trump Presidency.
Infrastructure
Truth be told, I don't follow infrastructure as an industry as much as I should but another key area, if Trump gets his way, to watch is infrastructure. I previously wrote about this in another article where I said that both candidates wanted to pass infrastructure bills but at $1 trillion for Trump's compared to just $275 billion for Clinton's, it's clear that Trump's would be more beneficial (keeping all else the same). As such, companies that directly cater to infrastructure through the sale of railcars (they lease them too), inland barges, and other goods and services like Trinity Industries (NYSE:TRN) would be sure to benefit. This is probably why shares of Trinity are up 19.6% since Trump's victory. However, pure infrastructure companies, especially those in the energy space like Chicago Bridge & Iron (NYSE:CBI), whose share price is up 16.8%, could see a double win thanks to his energy objectives.

Click to enlarge
*Created by Author
What a Clinton surprise would mean
So far, what I've outlined is the fact that certain companies in certain industries have drastically outperformed the market which, itself, has performed quite well since Trump's victory a few weeks back. The question though is what would happen to these if data shows that Hillary actually won enough votes in key states in order to take the election. Based on her rhetoric during the campaign, I believe those hit the hardest would be the healthcare stocks, especially with the recent vitriol (which is at least partially justified) against companies like Mylan (NASDAQ:MYL) and against people like Martin Shkreli.
Energy (mainly oil and coal) would also likely see some sort of pullback but it's important to keep in mind that, in the case of oil at least, a bigger driver for the industry will be OPEC's decision of whether or not to go through with an oil production cut moving forward. For investors who are bullish regarding cut prospects from OPEC and at least a freeze from some non-OPEC nations, a Clinton surprise likely means little to nothing even if it does materialize. Infrastructure would also likely experience some pullback but Clinton's pro-infrastructure mindset would still be bullish for them in the long run (just not as bullish).
How likely is a Clinton surprise?
All of this looks good on paper and investors who expect a Clinton surprise may be tempted to short one or more of these companies in anticipation of a favorable outcome for her supporters. However, the odds of her actually winning appear to be very slim. This is due solely to the fact that, of the 4,687 state-level general elections that took place between 2000 and 2015, only 27 of them have gone on to be recounted and, of these, only 3 of them resulted in a change in the results.
Now, with votes so close in Wisconsin, Michigan, and Pennsylvania, we really aren't that far away from a scenario where a flip could take place, but are the results close enough. Take Michigan for instance. With 96% of the votes counted for right now, there is a spread of just 11,612 votes separating Clinton from Trump. In Wisconsin, which has 95% of the votes accounted for, the spread is a little larger at 27,257 votes, while Pennsylvania is the largest with a spread of just 68,236 votes with 99% of the votes accounted for.
In the grand scheme of things, these results are very close indeed but when you look at historical recounts over the 2000 to 2015 timeframe, the mean difference across the 27 cases was just 282 votes (219 for the median), and the largest difference was in the case of Florida in 2000 with Bush vs. Gore, which saw a difference of just 1,247 votes. Now, it is possible that this time is different because if the computer scientists who brought these allegations are right, Clinton received 7% fewer votes in counties using electronic voting machines across these three states than in counties that didn't use electronic voting machines. Even if they are correct, however, a recount may not change anything because, in the case of Wisconsin at least, which recently approved a recount, they will not be counting votes by hand, meaning that it will be harder, most likely, to catch instances of fraudulent voting.
Takeaway
Based on the data provided, investors who believe a Clinton recount will result in a surprise wherein she was the actual winner of not just the popular vote (contrary to Trump's assertion that he won it), but the electoral college vote as well, it may be a good idea to consider shorting one or more of these firms. However, in some cases a Clinton surprise could still be bullish for some firms (mostly infrastructure ones) and the probability that she will actually take all three states, let alone one, is probably very close to 0% unless definitive proof of fraudulent voting is revealed.
Disclosure: I am/we are long LGCY, AREX, CBI, TRN.
I wrote this article myself, and it expresses my own opinions. I am not receiving compensation for it (other than from Seeking Alpha). I have no business relationship with any company whose stock is mentioned in this article.
Additional disclosure: I may buy into WLL or CHK at any moment. I own LGCYO, not LGCY.